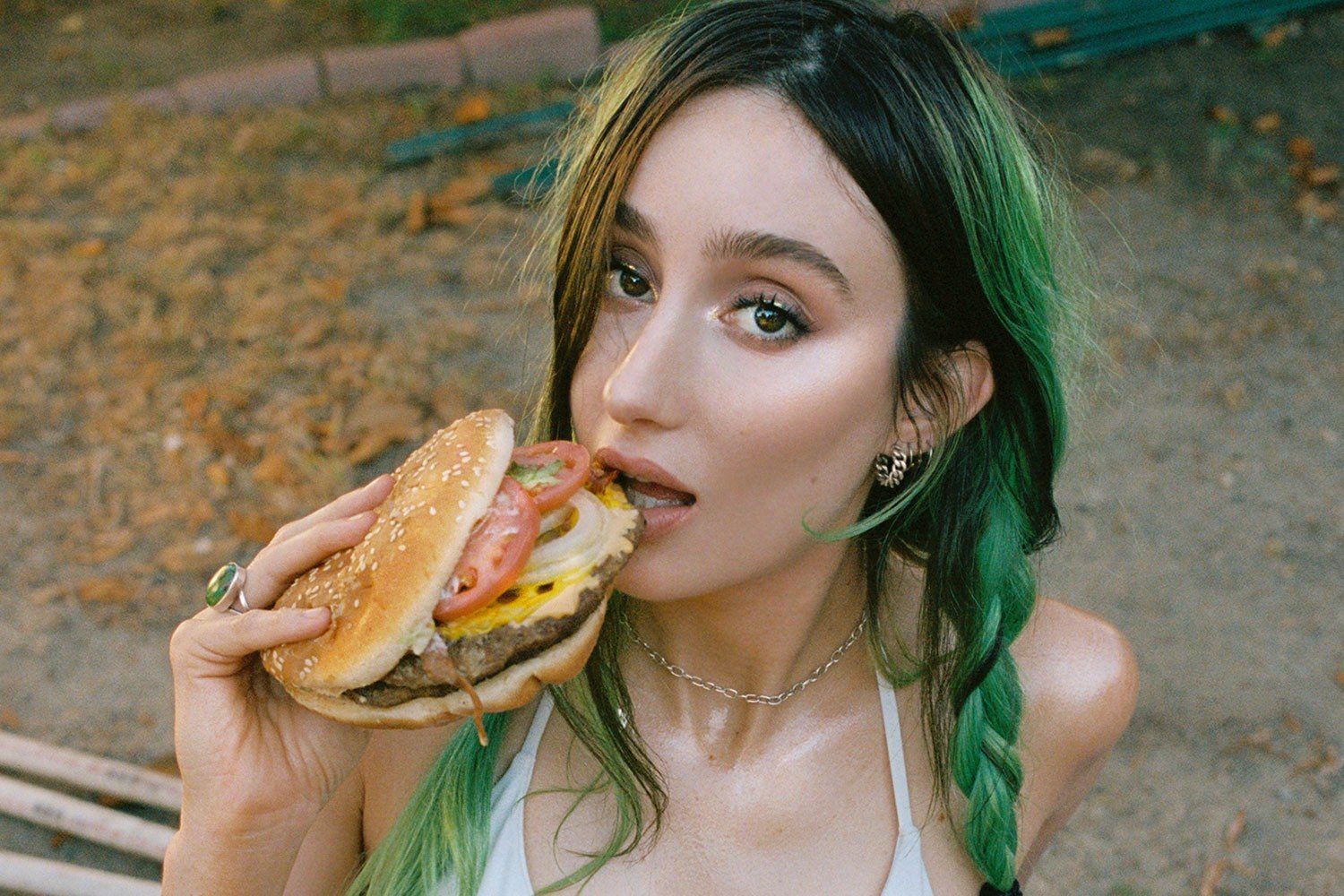 phem
No one analyzes themselves (and writes hit songs about what they find) better than genre-blurring rising LA artist phem.
When you're listening to phem's music, there's a reason why there's a slight feeling of awkwardness, as if someone is holding up a mirror to your brain for you to see the good, the bad, and the ugly. In her own unique way, phem's music shows you for who you are and, in return, she does the same; baring her soul and her flaws for the world to experience and hear.
Following the release of her hit 2020 EP how u stop hating urself (part 1) is the obvious conclusion to this era for phem — how u stop hating urself (part 1.5). On the EP, phem explores everything from sexuality to isolation to religion, all themes and topics both important to phem and her feverish fans. Zeroing in on herself, the deluxe edition of the EP and the two new tracks give insight into where phem's mind is at, which is a place of neutrality and cordial towards herself. At its core, how u stop hating urself (part 1.5) is a journey to come to terms with who we are because of our flaws, not despite of them.
1883 caught up with phem to chat about her new EP, working with Tyler Posey, and more.
Your EP 'how u stop hating urself part 1' was released late last year — the follow-up to your 2019 release 'VACUMHEAD'. How would you say you grew as an artist between those two projects?
I feel like I've grown a lot since my first ep. I feel like as a writer I can express myself a lot better than I did when I wrote my first ep, and I also feel like I've crafted my production taste a little more.. but in between the two I lost myself for a little and had to find my way back. 
The EP navigates working through a lot of big feelings as a young person and it's incredibly confessional; has it ever been difficult for you to release tracks that are vulnerable and open about what's in your head?
Every time I release a track it is extremely vulnerable, and a little bit scary for me, but I owe myself the gift of self-expression and I owe my fans emotional honesty. I don't really see the point of making art if I can't be vulnerable. 
With it being 'part 1' it insinuates there's a second part coming — what can listeners expect from that?
There won't be a second part to the EP. I gave two extra songs.. and we're gonna wrap the "how u stop hating urself" era with the 1.5 and that's about it. 
The music video for 'stfu' was in collaboration with Arizona Iced Tea for their new '99 Projects' which helps fund creative endeavours for young people. Why was it important for you to collaborate with Arizona for the video and your chosen charity, The Trevor Project?
Ironically Arizona has been a staple drink for me and my friends since we were kids. It's a very LA brand.. especially with my friend group. I'm super grateful to Arizona for helping fund the video, and I think it's great that they are supporting new artists and helping their dreams come to life. Trevor Project is a really special charity because they help homeless queer youth. I know a lot of people who have not been accepted by their families and been kicked out of their houses so we must have programs like the Trevor Project help so these kids aren't left with anywhere to go. 
The song 'Shut Up', your collaboration with Tyler Posey and Travis Barker was released today — how did that collaboration come about and what it was like working with Tyler and Travis?
John Feldmann called me in so I could work with Tyler and helped write… we did a few songs before Tyler brought in 'shut up'. I knew it was special when I heard him play it on guitar… eventually, during the session, Feldy asked me to hop on the mic, and it was a different experience… Once I stepped into the booth I realized how special the track was. when I stepped out after recording he was crying!! I couldn't believe it. Working with Tyler has been awesome.. he's super talented.. and I can't wait for the world to hear what else he has to release. 
Tyler also joined your "Valentine's Day in Hell" musical-horror comedy podcast that started with the first season, "Halloween In Hell". It's an amazing concept — what was it like recording a follow-up to the first season and can we expect more in the future?
Jared is awesome and super inspiring.. he's a creative weirdo/entrepreneur. I love working with him, so when he asked me to do the Valentine edition I was so down. I think he's planning a prom in hell, so I will keep you posted!
I loved your live concert "pheelings fest" — what was that experience like?
Pheelings fest was amazing. It was my first live stream and my first time putting together my festival. The fans seemed receptive and it also was just refreshing to finally get up on stage again and try the new songs live. I wanna do it every year. 
A deluxe edition of your EP will be out shortly with two new tracks — "Congrats" and "American Beauty". Can you tell me a bit about the songs and why you decided to release a special new edition of the EP?
American Beauty marks the first step into exploring a newer sonic sound for me. .. a step in the direction of where I'm going.. Also the subject matter is a commentary about society and what people expect of women. I'm kind of tired of it.. and I feel like not a lot of people address this issue. Also, American Beauty is my favourite movie of all time. "Congratulations" is written about an ex of mine. I just felt like I tried so hard to keep things together and it felt like no matter what I did, it was never right for them…. eventually I just got tired of being broken down.. and this song came out of it. 
What else can people expect from you in the next year?
I'm going to release a lot more music this year.. the best I've ever made. I'm excited to get going with the next era!
Interview by Kelsey Barnes
"how u stop hating urself (pt 1.5)" is out now!