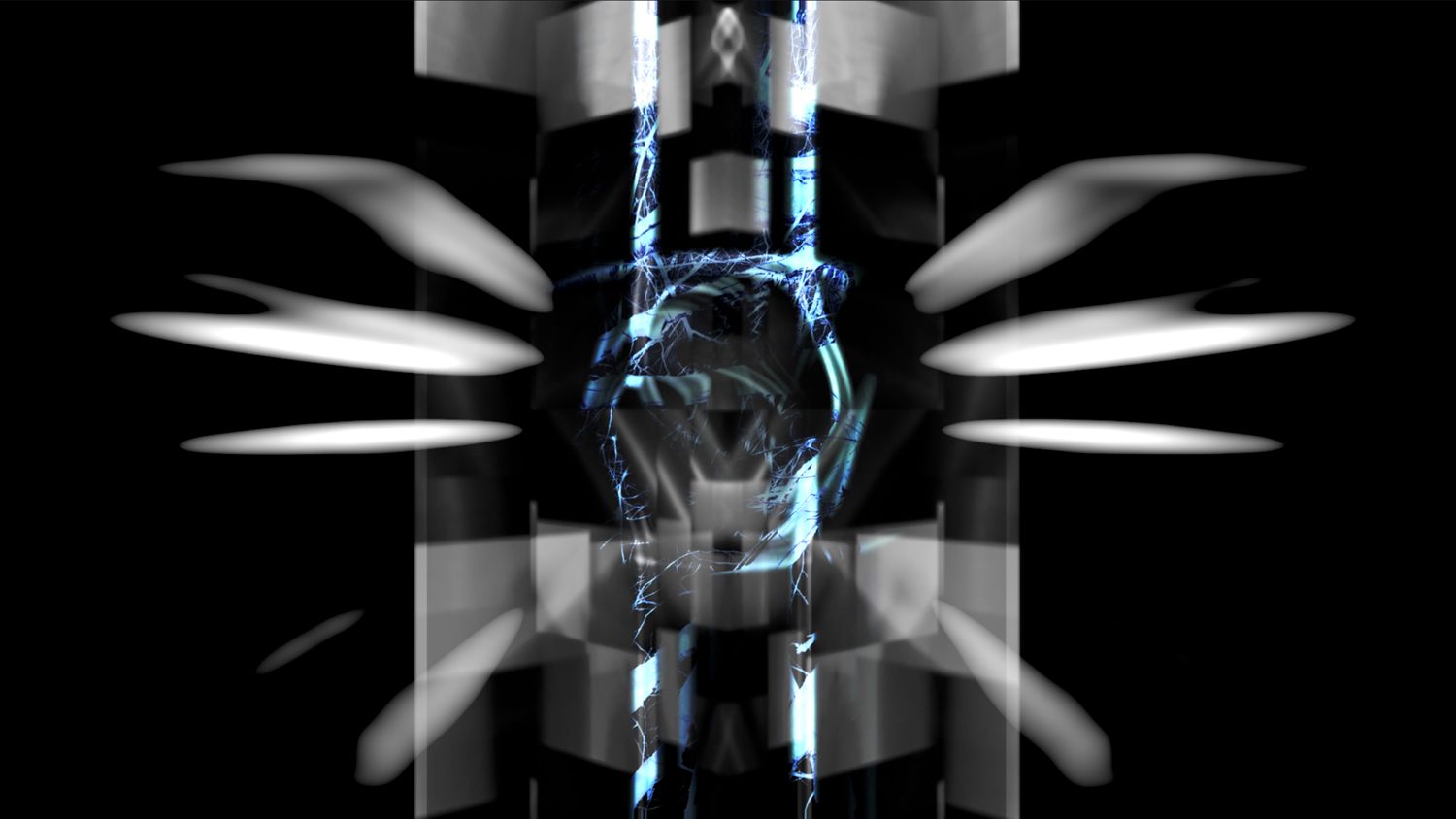 Edward Quist – Triode
1883 Arts Editor meets Edward Quist aka Embryoroom for a second interview to discuss his collaboration with Derek Gruen and his new film, Triode Kuvaputki, a fitting tribute to late Pan Sonic Mika Vainio and his lasting impact on the contemporary music scene
Multidisciplinary NY-based artist Edward Paul Quist aka Embryoroom doesn't like to sit back; after our interview in November, he dove into art to emerge with two spellbinding and haunting new works.
With its title inspired by the final book of the New Testament – the Apocalypse – Enter the Whore is QVORG (aka Edward Quist and Del Marquis/Derek Gruen) and Paul Stein's latest collaborative endeavour. On display at Empirical Nonsense, New York, until June 28th, Enter the Whore is descried as a genre warping film and soundscape where images and music come together to limn a man's plunge into the darkest depth of a dystopian New York City in the 80s.
On June 19th, at the same venue, Edward Quist will also present his new Triode Kuvaputki, a film inspired by and celebrating the life, work and lasting music legacy of late Pan Sonic Mika Vainio, and featuring audio work from an array of musicians, including Edward Quist himself, QVORG, and former Pan Sonic Ilpo Väisänen (die Angel with Dirk Dresselhaus).
Independent curator and editor Don Quaintance has described Triode as follows:
"A high-contrast but naturalistic park scene of a parent strolling with two children bookends Edward Quist's epic new video Triode. At one moment, the trailing child is seized by a sense of wonder at the natural surroundings, then ringed by a circular aura. All the imagery that follows seems to stream from an awestruck mind. The viewer is welcomed along to a phantasmagoria of both naturalistic and electronically generated sightseeing. The complex weave of mostly barren trees and branches alludes to the interior channels of the human neuromuscular and vascular system, the framework from which awareness arises. With this recurring device, Quist attempts to externalize and map consciousness itself. The pulsing imagery along with its electronic track of percussive and liquidy soundwaves reinforces the sense of a journey into the origins of an organism. Occasionally within this three-dimensional dreamscape, humanoid creatures emerge and recede, reinforcing the experience of diving into primordial wetlands. 
Overlaid on this exploration is a visual toolkit displaying television-screen shapes in a familiar ratio, basic oscillating wavelengths, apparent pixels, and the resultant moiré patterns. In this way, the artist references the visual standards of his electronic media and brings the viewer back to the two-dimensional picture plane of a transmissive or reflective projection screen. This inference, in concert with the complex visual and aural imagery, shifts us to an interstitial space between physicality and perception".
Triode comes twenty years after the seminal Kuvaputki: largely filmed in 1999 during the Finnish band's Around the World Tour, Kuvaputki is a hypnotic blak-and-white dance of grainy waveforms where Quist's cathode ray visions befittingly merges with Pan Sonic's uncompromising, radical electronic music.
Hello Edward, good to talk to you again. The last time we met you mentioned you were working on a project with Derek Gruen – Enter the Whore. Can you tell us more about it? How did it come to be?
The title comes from the Book of Revelation, and in this case the Whore is more of a place than the Babylonian Mother. The music and film is a descent in this place of abandon, "The Whore". The exhibition has several components, a vertical triptych which is featured in the film, an artifact from the future, called the "Simian Ziggurat", and a number of 3-D printed sculptures I collaborated on once again with architectural designer, Paul Stein. Paul gave the forms a particular aggressiveness. They are drones that spread a plague.
When did your collaboration with Derek aka Del Marquis begin?And how did you guys meet, if I may ask? What drew you together?
It began in 1995. We met at Kim's Underground Video on Bleecker Street, in New York. It's gone now, but then it was a place where you could hear and see the most interesting types of media. Derek and I had a band called Nend, but we both were side tracked by other projects before periodically reuniting creatively every few years. We have been recording for about three years on QVORG. I think QVORG is the best of what we have done so far.
Similarly to The Death Multiplier, which we discussed during our first interview, Enter the Whore retains a certain dystopian gloom, is that correct? 
Yes. Dystopian tends to be overused as a term, but we are living in a dystopia. All one has to do is look east, and see the collapsed and destabilized Middle East. It's truly horrible what is happing in Syria, Yemen, Iraq, and yet the machine grinds on. The stock market yo-yos wildly, and politics functions as almost purely theatre. England will soon be carved up like a turkey, and closer to home children are separated from their families inside cages. In New York, people are dying nearly 20 years after 9/11 of any number of mystery diseases attributed to toxins that the rescuers were engulfed in. I'll add that those toxins went all over the city. So, dystopia is in the air.
On June 19, Kuvaputki, the 1999 film born from your collaboration with Finnish electronic music duo Pan Sonic during their Around the World Tour will be screened at Empirical Nonsense along with your new Triode Kuvaputki. Twenty years on, how do you asses Kuvaputki?
It been 20 years since the bulk of Kuvaputk's recording. It might be a reference point for the A/V genre. In the end we had several versions of the film. There will likely be more unseen material surfacing. The world tour was a very exciting time. Mika and Ilpo were in top form, and although the flying and ground traveling were exhausting, it was a success. The only thing I regret was the plan to shoot on Easter Island. We never made it there with the equipment.
You told us about your relationship with Ilpo Väisänen and Mika Vainio, who died in 2017, already. May I ask what Pan Sonic music meant – and mean – to you as an artist?
Beyond the obvious, I wouldn't be the same person creatively without them. Mika allowed great freedom for expression and experimentation. In that sense it was like being a kid in a candy shop with access to so much equipment, and the custom instruments, not to mention all of the other artists I got to know. It is a great injustice that the world no longer has Mika in the mix, particularly his family and close friends, and especially Ilpo, though his influence is assured.
Tell us more about Triode Kuvaputki; I understand the film's soundtrack features an array of musicians, including former Pan Sonic Ilpo Väisänen.
About a year before Mika passed I started to look at Kuvaputki. We were approaching the 20 year mark. I began to realize the scope of material that was unreleased. Especially the documentary footage shot in Finland and a dozen or so soundboard recordings. That process had me thinking that maybe a expansion of Kuvaputki could be possible, and would be interesting as well. I never thought it would morph into a tribute. I know that Mika had a plan to bring Pan Sonic back. He always intended it to fade away, and then come back.
I asked some of his contemporaries if they would contribute audio in Mika's memory, and I would try to crate a video installation based around an amazing set of sounds. I've been really surprised by the material. It all fits seamlessly. It seems everyone was on the same wavelength. The film does things that I probably would have wanted to do with Mika and Ilpo as a sequel to Kuvaputki. For me the key track was die Angel's Ilpo Väisänen and Dirk Dresselhaus. When I heard that I instantly knew the film would be possible.
Is Triode Kuvaputki a sequel to your previous Kuvaputki or would you say it is something else?
It functions very closely to Kuvaputki, and is the closest thing I have done to Kuvaputki. Obviously without Pan Sonic, and it is not documentary based. It has environments, and some human and non human forms, and is chiefly about atmosphere and the presence of loss. I consider it moving paintings with sound. Instead of people's physicality being manipulated (Pan Sonic), it is now nature based imagery, primarily manipulated in sync with a soundtrack. The soundtrack is phenomenal. There are artists that I have always wanted to collaborate with, and this is a very special way of doing that. A great deal of energy and emotion motivates Triode and that is evidence of Mika's lasting impact.
Triode Kuvaputki – soundtrack featuring: die Angel (Ilpo Väisänen with Dirk Dresselhaus), Edward Quist, QVORG, Alyssa Auvinen (LDY OSC), Johannes Auvinen (TIN MAN), John Duncan, Carl Michael von Hausswolff, Paul Kendall, Runar Magnússon, Chris Latina (Article Collection), Brian Ratigan (NonFilms), Chandra Shukla (XAMBUCA), Simon John Fisher Turner, 51717, Mo H. Zareei.
Triode Kuvaputki will be screened at Empirical Nonsense, 87 Rivington Street, New York, June 19, 7-9pm
Words and interview by Jacopo Nuvolari