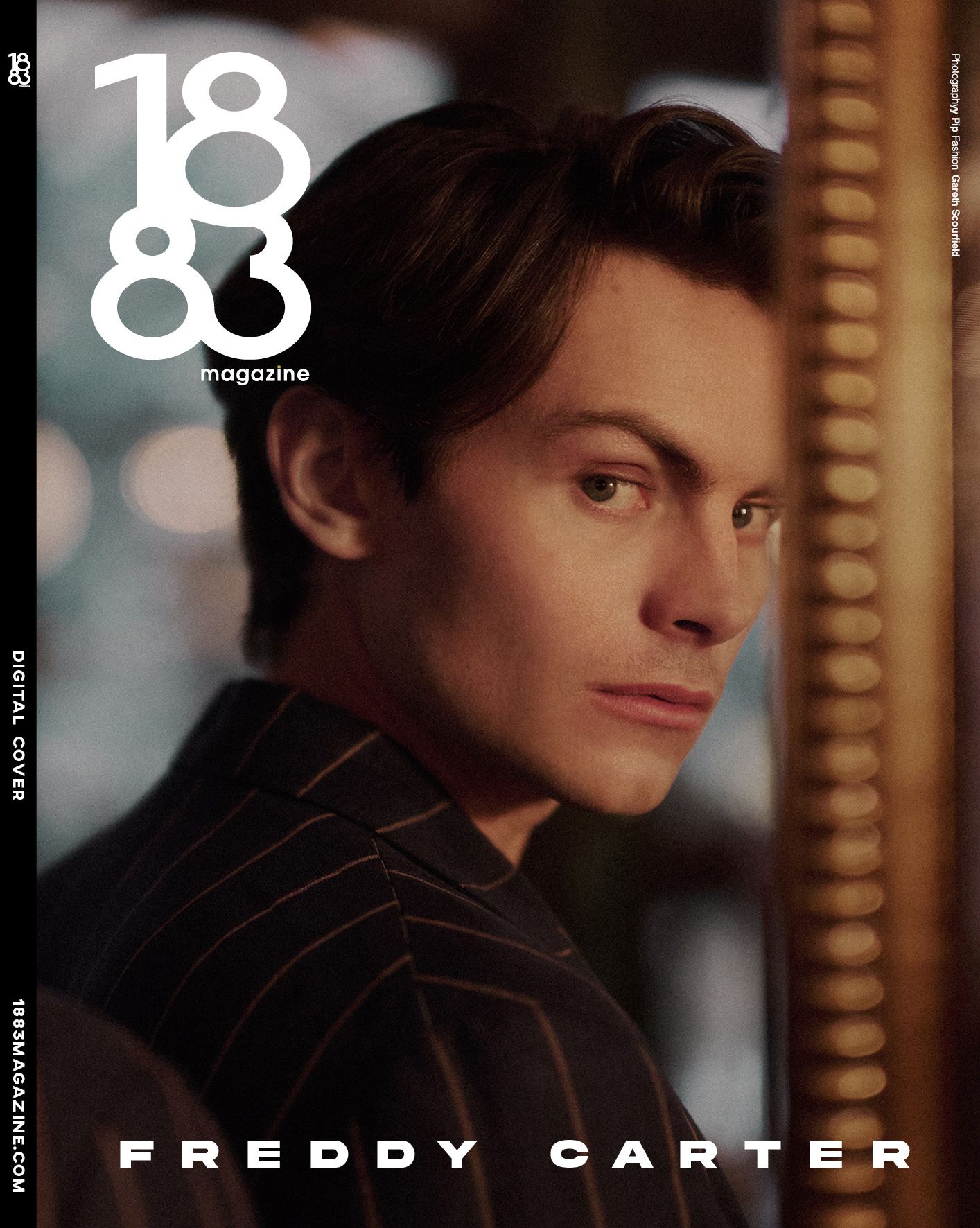 Freddy Carter
In Shadow & Bone season 2, Freddy Carter takes on the mantle of Kaz Brekker in a way that not only proves his talents as an actor but also showcases his heart as a person.
With multiple streaming services and network channels constantly vying for viewers' attention, adapting a novel or series that already has a devoted following is a quick way to guarantee buzz and high interest — but it cannot ensure success. When Netflix's Shadow & Bone premiered in 2021, the response was as good as one could hope. An estimated 1.75 million households turned in during its first week, earning it the title of second most watched original series across all platforms that April. For weeks, social media was full of fan edits, rave reviews and ever-growing demand for comic con appearances both virtual and in-person. In the two years that have followed, the story's legion of fans has only grown. For this particular show, the draw comes not only from author Leigh Bardugo's source material — a wonderfully crafted world of elemental magic — but also from the phenomenal actors carefully chosen to bring the characters to life. 
Transitioning Kaz Brekker from page to screen was not a responsibility British actor Freddy Carter took lightly. Before portraying Katterdam's beloved gang leader, he poured over the source material and had in-depth conversations with Bardugo about who the character was to her and the motivations that led her to create him. While the Grishaverse is full of diverse and inclusive characters, Kaz embodies one of the most under-represented minorities in media today: he is disabled. While the show has left the exact reasons up to the viewer, the criminal mastermind doesn't just need a cane, he proudly uses one. To Carter, this simply adds to Brekker's myth and legend. When speaking with Carter, it's lovely to see the pride he has in and love for this character; he has embraced the phenomenon that has come along with the role with open arms, ever eager to cater to fans' cameo wishes or hear their stories. He has a heart to him that not only makes him a gracious and endearing individual, but also lends itself to his chosen profession of storytelling.         
Ever since graduating from Oxford's School of Drama, Freddy Carter has been in the business of stories. Not just on-screen, where alongside the Netflix fantasy drama some of his credits include the streaming service's Free Reign, HBO Max's Pennyworth, Wonder Woman and American Carnage, but also behind it as well. Freddy made his directorial debut in 2019 with the short film No 89 and recently completed his sophomore project Broken Gargoyles, an anti-war tale from the perspective of a gaiety girl and one of her past recruits.
Ahead of Shadow & Bone's much anticipated second season, Freddy Carter chats with 1883 Magazine's Sydney Bolen about what it means to play such a beloved character, his love for fandoms, his passion for directing, and more.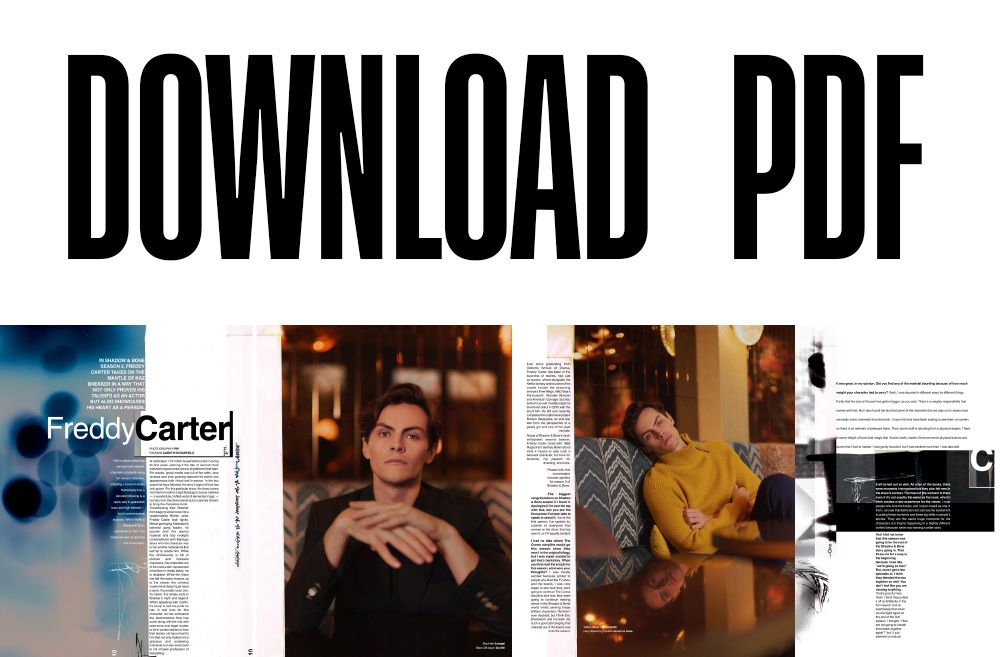 Please note: this conversation includes spoilers for season 2 of Shadow & Bone.
The biggest congratulations on Shadow & Bone season 2. I loved it. Apologies if I'm over the top with this, but you are the first person I've been able to speak to about it.
You're the first person I've spoken to, outside of everyone that worked on the show, that has seen it, so I'm equally excited.
I had no idea where The Crows storyline would go this season since they aren't in the original trilogy, but I was super excited to get Kaz's backstory. When you first read the scripts for this season, what were your thoughts?  
I was mostly excited because similar to people who liked the TV show and the books, I was very eager to see how they were going to continue The Crows storyline and how they were going to continue making sense in the Shadow & Bone world whilst serving these brilliant characters. Not that I ever doubted, but I think Eric [Heisserer] and his team did such a good job bringing that material out of the books and onto the screen.
It was great, in my opinion. Did you find any of the material daunting because of how much weight your character had to carry?
Yeah, I was daunted in different ways by different things. Partly that the size of the part has gotten bigger, as you said. There's a weighty responsibility that comes with that. But I also found the fact that some of the moments that we play out in season two are really iconic moments from the book. I know the fans have been waiting to see them on-screen, so there is an element of pressure there. Then, some stuff is daunting from a physical aspect. There is some sleight of hand and magic that I had to really master, there are some physical actions and stunts that I had to master. I was gently daunted, but I was excited more than I was daunted.
It all turned out so well. As a fan of the books, there were moments I recognized but they also felt new in the show's context. The heart of the moment is there even if it's not exactly the same as the book, which I think creates a new experience for the viewer.
I hope people who love the books, and I count myself as one of them, can see that distinction and can see the excitement in putting these moments and these big shifts in people's stories. They are the same huge moments for the characters but they're happening in a slightly different context because we're now serving a wider story.
Yes! I did not know that this season was going to be the rest of the Shadow & Bone story going in. That threw me for a loop in the beginning because I was like, "we're going so fast!" But, once I got a few episodes in, I think they blended the two together so well. You don't feel like you are missing anything.
That's good to hear. Yeah, I think they pulled it off so brilliantly in the first season and so seamlessly that when we diverged again at the end of the first season, I thought, "How are we going to smash them back together again?" but, it just seemed so natural.
Again, they did so well. Since this is the second season of the show, you have now seen the audience's reaction to your portrayal of the character. Did you have any expectation or warning as to how the character would be perceived because of how beloved he is in the novels? 
When we met Leigh Bardugo during the shooting of season one, she was trying to impress upon us how important these characters are to people because she had a lot more interaction with fans of the books and people who were very excited to see it on-screen. While we sort of understood, it wasn't until I was lucky enough to meet people who are really excited about the show and enjoyed what we did with the characters and the storyline that it really hit home. It's been really special to get to see that.
Was there anything about that that surprised you at all?
I don't think so because I have things in my life that I love dearly with all my heart and have very strong opinions on. Anyone else who is involved in them or knows a little bit about them, I want to cling and ask them all the questions. I really love and respect fandoms. They're a beautiful thing. It's an interesting experience going away to Budapest for six months and making this thing with a very small group of people that know the intricacies and the details of it, and then waking up one morning and having the show out there. Suddenly everyone knows all of the intricacies and all the details. They've read everything and they know all the little easter eggs that have been put in. It goes from being very small to a supersized group of people that know and want to be part of it. That is quite a strange experience. 
I can understand that. What are some of the things that you yourself are a fan of?
All kinds of things! During the lockdown, I watched all of the Marvel films in the order in which they are supposed to be watched.
[gasps] I'm a big Marvel fan. I would like to say that that is the way I watch them as well as the correct way to watch them.
It was amazing. I'd seen Iron Man when it first came out, but other than that I hadn't seen a single one. During the lockdown, I watched all of them and it was such a treat. I got very excited about that. I'm also very fanatical about photographers and their work; I'm all over their work and want to know everything about them. I'm the same way with Rugby players — I'm obsessed. I know all their bios and who they played for. I'm a bit of a fanatic. When I like something, I like to go all in.
I love when people talk about things they're fans of. It's so lovely because everyone has something that they enjoy at that level. It's a very relatable thing. Speaking of things people are a fan of, I know that you have read the line for a Cameo because it went viral. Although the official version is not in this season, you do have some swoon-worthy lines in the Kaz/Inej scenes. Was it nice to break from the more traumatic material and film scenes that were on a different side of the emotional spectrum?
I've always thought that any dealings Kaz has with emotion are slightly traumatic even things that from the outside looking in feel very playful, romantic or wholesome, because they are still quite difficult for him to deal with. It was really fun to see what he's like when he's trying to have a nice time.
There are some very sweet moments. I was given screeners through episode six, so I just want to know how they're going to wrap up this season between the two of them. It's just been the most fun to see them actually try in their own ways a bit.
It's been fun to really get into that stuff. Last season it was teased a lot, but it's been fun to actually get into it.
One of my personal favourite things about Kaz is that he uses a walking aid. The show has not said exactly why he needs it and it's not often that characters — especially ones as commanding and respected as he is — are portrayed as anything other than able-bodied. I have a disability myself and I know that Leigh Bardugo uses a cane. Did the two of you have any conversations about how that would affect the character mentally and emotionally or about what Kaz might mean to the disabled community?
I really never get tired of hearing people like yourself with disabilities say they love seeing a character like that on-screen. The first conversation I had with Leigh she told me that as a person who uses a walking aid, she didn't see it in fiction, so she decided she would just make them and she made him the coolest, most badass character. Something else she said to me early on was that she saw plenty of people with disabilities and people who use walking aids on-screen, but they were always villains. It's a very boring and lazy trope to make someone with a disability, the bad guy or girl. She was so sick of it. When she pointed it out to me I was amazed by how many older films you watch and go, "Oh my gosh." It's so boring. She was very eager to write a character who really loves that about himself because it adds to his myth. It adds to this like, "Where's this guy come from? What's his story?" He fully embraced it and never lets it get in the way of anything he wants to do. He's never apologetic for it ever. He never thinks twice about it and owns it.
Yeah, it's so great to see that in a character. I watched season one before I read the books. My friend said, "just turn it on. it's right up your alley." She didn't tell me about Kaz at all. His entrance blew me away. I got so excited. I immediately grabbed the books from the library the second they were available because I needed to know as much as I could about that character. Then, I found out Leigh uses a walking aid and now I have the whole series in hardback over there on my shelf. [laugher] 
I really love hearing people say what you have. I've been lucky enough to meet lots of people to who the TV show meant a lot and it means a huge amount that we were able to create that character altogether.
Another great thing is that his cane is often used as a weapon, making it a strength and not a weakness. There are a few fight scenes this season. How was preparing and filming for those?
Amazing. In the first season, I had little bits and pieces of action, but it was like one swing of the cane. The action across the board this season is up a notch. It is so cool. I can't wait for people to see it. Again, one scene is quite an iconic moment from the books that we are recreating. I had very early conversations with our stunt team and wanted to make the most of it because I knew it would be important to people, so we really pushed the envelope. It was really fun.
It came out so well. I think everyone will love it. Are there any parts of Kaz's journey this season you personally connected with? 
The value that he puts on loyalty is something that has struck a chord with me. As I've gotten older, I've found there are friends who you really want to keep close and stay loyal to. Kaz has built this little family around him. Once he's got his people, he holds on to them no matter how much they annoy him or he annoys them. I also think, at some point, all of us have been unable to express how we feel to someone else. I've been that awkward teenager who wasn't able to speak his mind or really articulate how he was feeling. Kaz is that a hundred times over. It's for a myriad of reasons, but I think that is quite universal.
If you had the opportunity to give Kaz advice, what would you say? 
Go to therapy. [laughter] Yes, do that. But also, if you're not going to do that, speak to someone. Open up to your friends and your closest confidants. You trust these people to take a bullet for you, but you won't tell them that your life has actually been really difficult. 
I could talk to you about Shadow & Bone forever but I won't, I know you have other projects worth chatting about. One of which is Broken Gargoyles, which is the second short film you have directed. Tell me a little bit about the film. 
Broken Gargoyles is based on a short play by my friend Fred Fergus. He sent me the play and wanted to get my thoughts on it and see if I would be interested in putting it on. Once I read it, I thought it would actually work very well as a film because the main thrust of the story plays out in about 13 minutes in one room. It's being contained in that way lends itself to filming. It feels quite claustrophobic. I got very excited by the idea of adapting it, so we started working on it together. Then, I got Shadow & Bone and had to go away. Then there was a pandemic. It got pushed and pushed and pushed, but we continued to sort of tinker with it and work on it. We finally got to shoot it about 18 months ago. It was amazing. 
What's the premise?
The story is set just after the First World War and follows a gaiety girl who meets someone she recruited four years earlier. Gaiety girls were women who were employed to go to music halls around the country and sing propaganda songs about how brilliant it was to be a soldier and how war was a good thing to basically recruit people.
Oh, wow, that sounds really cool. I love those projects that come together because of your friends and the people you've surrounded yourself with.
It really was. Tom Forbes, who plays the main male character, is someone I've worked with as an actor before. Rosalind [Eleazar] is someone I knew of. She's in Slow Horses, she does amazing theatre on the West End. She's incredible. I wanted to work with her for ages. The production designers were the designers on Shadow & Bone. The producer and I were at drama school together. It was a coming together of friends. The more time I spend in this industry, the more I realize keeping good people around you is so important and I will strive to do that going forward.
That's amazing. What draws you to directing? 
It's not that I'm a control freak. but I do really enjoy being at the centre of a story and solving problems across all departments. I love acting when I get to do it. When you're on set for a day, there are 55-minutes of waiting around and then five minutes of "go go go, it's your turn." When I'm directing — in the lead-up, on the day, and then in post-production, in the edit and sound — there are problems to solve constantly. I really love finding the minor tweaks you can make across all departments to make big changes across the story. That's what drew me in.
Were you an actor first or have you always been interested in directing? Did one come before the other or did you find them at the same time?
I was definitely an actor first,  but I've always been very interested in the bigger picture and how the stories come together. I've been lucky enough to work on some large-scale projects. As an actor, you are a very small cog in a huge wheel. I've always been interested in how that bigger machine works to tell stories.
Also on the docket, you have Masters of the Air, which I know is all very hush-hush at the moment, and The Doll Factory, which is also a book adaptation. I know it hasn't been announced who you will play, so I will ask: As an actor, is your approach to characters different when there is a book to use as source material alongside a script?
Absolutely because you have this amazing resource. With an adaptation, you have to rely on the script and the script is your starting point. If a scene doesn't quite make sense to you or the character's motivation or how they feel about something isn't clear, you've got this amazing resource to dip into and go "oh, well in this scene, which is not in the TV show, he acts in this way or that way." I can utilize a bit of that and bring it with me. 
Would you say that resource is more freeing or does it sometimes feel like more of a constraint because you have guidelines that you're supposed to follow?
That's a good question. It doesn't always work out this way, but the way I try to see it is that: the more information and research, the more scribbles on the side of the script and pages from a book that you can read, and the more pictures from the period that you can see while you're preparing, the better. Then, when you can walk on set, you can drop all of it and trust that some of that will be there. That's sort of how I like to think it works. I think it's freeing because having more thoughts and angles and ways of looking and thinking about a character is better.
Finally, to bring everything back to Ravka and The Crows, if you were part of a heist, which role would you play? 
I'm quite clumsy. I absolutely wouldn't trust myself to be Tom Cruise in a Mission Impossible scenario, having to be very quiet through the red wires. Maybe I'd be the person coordinating from the warehouse. 
Me too! My friends and I talk about this all the time. That's my role. I'm the planner.
Yes. I'm very good at organizing and then letting everyone go to follow the plan.
This does mean we can't do a heist together because we have the same role.
We'd plan the best heist ever, but it would just never come to fruition. 
Season 2 of Shadow & Bone is streaming now on Netflix.
Interview Sydney Bolen
Photography Pip
Talent Freddy Carter
Styling Gareth Scourfield 
Grooming Charlie Cullen
Production Kelsey Barnes
Special thanks to The Other House South Kensington