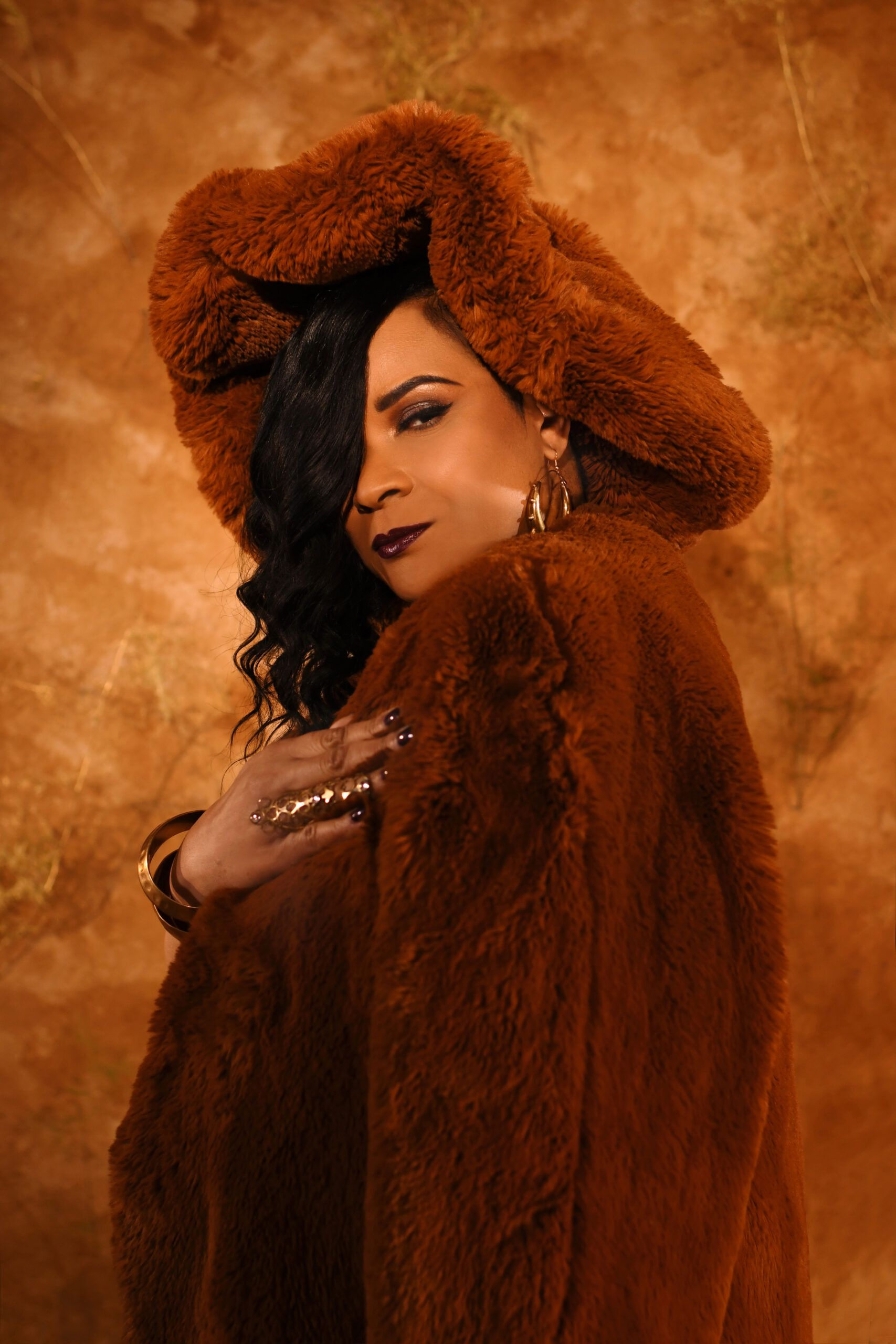 Gabrielle
After revealing herself as Harlequin on The Masked Singer earlier this year, the noughties star is making her return on a more permanent basis, with a new album and self-assurance, now that she's thriving at 50.
You may recognise Gabrielle from the 90's and noughties, when Dreams made her one of the nation's stars of the decade. She went on to develop a string of hits, from Rise to writing Out of Reach for the first Bridget Jones movie. Yet in 2009, the music stopped and the singer seemed to disappear, as she focused her efforts on motherhood.
The number 1 hits and prestigious accolades – including two BRITS and a MOBO – created a facade of confidence: a woman who surely had the self-assurance of her talented neighbours? Yet beneath the fame, it was self-belief that the artist lacked; a fragility that the public warmed to. It was in fact this sincerity, that made her one of Britain's most relatable superstars. Her eye condition, ptosis – that causes the eyelid to partially close – led her to feel that she needed to wear an eyepatch: her barrier to the alien celebrity world. "That would be like walking around with no underwear on," she explained. In doing so, she became an inspiration for young girls with visible differences to become the norm.
Maybe that's why she became one of the nation's favourite singers on BBC's The Masked Singer, despite nearly not going through with the live shows due to nerves. She wowed the judges and audience with her renditions of Fast Car and Watermelon Sugar, so much so that she's created a new studio album Do it Again, that she plans to tour with later this year. She's also added two new pop songs of her own, sidestepping away from the R&B she's been famously known for.
Now, she's 50 and is "being unashamedly me," she tells us. "That's all you can do, be yourself and be the best version of yourself." 1883 speaks with the singer to discuss her experience on The Masked Singer, overcoming bullies and why she's feeling fabulous at 50.
You were most recently on The Masked Singer. Why did you want to get involved in this show?
Initially, I thought, how hard can this be! I didn't think it was going to be as hard as it ended up being but you know what, I wouldn't change it for the world. Despite me being this woman who got hot under the costume and had panic attacks! It wasn't unique, I think everybody who had to put on a mask on felt the same way, but I didn't know that at the time because you weren't allowed to know who one another was. When I did it, I never knew how huge it would be with everyone being forced to be at home, watching TV. It's probably the most fun thing I've done.
It sounds like it would have helped you if you could have talked to the other contestants at the time.
It was weird because you just couldn't see anyone. You'd be on stage but you weren't allowed to talk to one another! now when I look back at the recording when we were all singing together, I just can't believe I was on stage with Ne-Yo and Sophie Ellis-Bextor, people like Mel B and Joss Stone. You don't know this at the time, you have no idea, so it's fantastic with everyone being unmasked on a weekly basis. It was just a joy because my guessing was rubbish, just as much as me trying to disguise my voice! Now I can reflect on it and think, wow, that was amazing. Although I talked about how hot I was and how I wanted to give up and leave on the first day. Aside from that, it was incredible.
You mentioned that you were nervous and had some panic attacks, did the show help your confidence? 
I'd like to think it did but I'm not so sure. I don't think it made me more confident because the fact that you couldn't see me, should have allowed me to be my freest. I was still really scared but I think that was because I had tried to conceal my voice and all with a mask on. Being a woman of a certain age, I got a lot hotter than I should have done, so all these things didn't help. I found out later that everyone in the front row could see my mouth and knew it was me, which is hilarious. But again, it was an amazing thing to do and it will be an experience that will live with me until the day I die.
It's amazing that your voice is so distinctive that people did recognise you!
When I watched it back for the first time, I thought I did a great job and that no one would see it was me. Social media started to pop off and I thought, how do they know it's me?! I was trying but being taught to try and sing like someone that you're not… I didn't quite carry it off but I'm glad that I was part of it.
One of the hints on the show was that Adele used to pretend to be you. How is it to hear such flattering comments like this, are you in contact with her?
I've never met her but I've seen her from afar and I just love Adele. To know, I was years before her and she asked her Mum to make her an eyepatch and things like that, it's just an honour. When people say such complimentary things to me, secretly I'm chuffed – she's the one and only Adele! I just love her, what can I say. I'm honoured.
One of your most iconic songs is Out of Reach, the lead song in the iconic Bridget Jones movie. Can you tell me how you got involved in writing this song for the album?
I was due to go on holiday and the head of my label gave me the book to read. He asked me, what I thought once I was back, and I said I totally loved it and the characters. Then he said, how do you feel about writing a song for it? So, I said oh my God, yes, yes, yes immediately! Because I'd loved the book so much, it was a no-brainer.
When I wrote the song, Out of Reach was about (the characters of) Collin Firth and Hugh Grant, being out of reach. It's easy because I fell in love with the characters. I was her, I was Bridget! So that's how it was born. When I wrote it, I didn't know that they would accept it, so that's how it ended up in the movie. It's the one time that I deliberately wrote intentionally for a movie. It's the one and only time I've been asked, but I'm really chuffed with the outcome of it. It's a song that whenever I perform it, everyone goes crazy. So, I'll forever be grateful for that.
Did you have any idea that the film was going to be such a big hit at the time?
No idea! I did it at the time because I loved the book, so that's why I got on board.
Turning 50 has been a turning point in your mind-set, what has it meant to you?
I just wanted to start living my best life. You're plagued with insecurities. I have two children and you get to a certain time in your life when you can step back and say, I haven't done too bad raising these two little monsters. They make me proud and I can look back on these insecurities that I never really loved my voice growing up and thinking that there are always people who are much better than me. From 50 onwards, I just thought this is the voice I have, this is the voice people know when they come and see me perform. They're not expecting vocal gymnastics and if I can learn to let it go and love what I have… My manager Lisa said to me: you know what, don't wish away what you're not prepared to lose and hell no, I'm not prepared to lose my voice! So, it's starting to become comfortable in your own skin and not allowing things to get to you. Not putting limitations on who you are and what you can achieve; being comfortable with who I am. There's so much pressure on women when we get to middle age as opposed to men too.
Would you say that you suffered from imposter syndrome?
Always, I still get it now! Across the board, I just love music and I never wanted to be pidgeon holed, but it's no longer important how I'm seen, it's how I see myself. That's where I'm at in my life. As long as I'm happy with me and that I know who I am, that's all that matters in my old age.
When you look back on the success you had: from number 1 singles to having a 4 x Platinum album, what do you make of this period in your life?
It was a whirlwind because it was not something that was associated with me at the time. I was just someone who liked singing, I wasn't conventional at the time with my looks. I had a lazy eyelid and I was wearing an eyepatch, so being famous wasn't something that I thought was possible. I just wanted to sing and there were so many singers out there, so why should I be the one to have success? But it happened and I look back at those times with so much fondness; I just can't believe that happened.
Like I said, my insecurities have shaped me in my life. Because I had a lazy eyelid, going to an all-girls school, the girls were awful. Not all are awful, but there are some awful ones out there. When women are being judgemental, how do you even get off the starting block? I learnt that at school, but I had to fight my way through and that thing of believing in yourself came much later in life. It's fine, because I'll always be an advocate of women, because I am one. You just need to recognise who the witches are. We can always coexist, you just need to give them a wide birth. Outside of that, having the success and looking back, sometimes I still pinch myself. I'm turning 52 this year and I can't believe I'm still here doing what I love doing. I recognise that there's a lot of people who don't ever have that opportunity, so I'm holding onto it with both hands and enjoying every minute. You never knew when it can disappear.
How do you feel when people call you one of the biggest music influences in the 90s and noughties?
That's when the imposter syndrome kicks in! I again will always be honoured. I was just doing what I was doing, what so many great singer songwriters were doing. All the BRIT people, like Adele and there was Amy (Winehouse), so to be me and watch that calibre of people, I'm so proud to have been part of it. The fact that people even speak my name when they mention Adele or people like that, I just think what, really! So, I will always be humbled by everything that people send my way.
You may be tired of this question, but how did you come to write one of your most famous tracks, Dreams?
I never get tired of talking about Dreams, I love it; I'm not one of those artists! I went to the studio to record another song and a producer said they had something for me and played me Tracy Chaplin's Fast Car, and said they wanted me to write over it. The backing track got changed, but it was inspired by it. That's how Dreams was born. I never looked back, the producers loved it. I'll always have a lot of love for that song, because that's how I got discovered.
Do you have a career highlight?
I feel like there are so many highlights. My first ever BRIT, that was fabulous. That was a major highlight because I used to watch that program on TV and I would never think that one day I would be up there. Also, getting an Ivor Novello award for Outstanding Song Collection. I had watched loads of people get that and it's a serious singer-songwriter award that I never thought I would get.
I think also to still be here and to have that recognition. To come out with a second album after the first one and not be deemed a one-hit wonder. I may be seeming greedy as I can't name just one! In fact, I know what the real one is, having Rise go straight to number 1! That, for me, cemented me as an artist.
You've spoken very openly about your eye condition which you keep covered up with your hair. How have you found this throughout your career? 
You know, when I wore that eye patch, it was liberating and I wore it with pride. Now, I still cover my eyelid, I just use my hair to do it. I'm liberated by the fact that people know. I'm not going to walk around with my eyelid on show – that would be like walking around with no underwear on – but there are people that walk around with it and look beautiful. I've been doing this for so long, concealing my eyelid. I find it liberating that I can cover it and go about my business. I think people think I just cover it for TV, but I do it 24/7. To the point that when my daughter was growing up, she'd see pictures of me with my covered eye. So that's have integrated it is; it's become a part of me. I did love the eyepatch and I felt liberated wearing it.
I know parents also got in touch to tell you that it was great to see someone proudly showing off what made them different, that isn't shown as much in society 
Exactly and I love that people are using me as a role model. On TV, there were no girls wearing eyepatches. Obviously, you had TLC but it was a joke thing wearing that eye patch. Though for me, knowing I'd grown up with this condition and been bullied for it and that I didn't look the norm, but it didn't hinder me. I always knew I wanted to sing. I still have my leaving book from school, that had a note written in it saying: I look forward to seeing you on Top of the Pops, ha ha ha.
I'm happy that I could push past that, so when mothers write me letters saying how positive it is for their child to see someone who resembles them or who has the same condition, that's an amazing thing. For women especially, I think it's always more acceptable for guys. There's that guy from Radiohead who has a slightly lazy eye and he looks lovely, but no one ever says anything about males, it's always females. The fact that I felt the need to cover up, that's how society has always been. Now, I'm all for it. If a woman wants to not hide it then good, she doesn't have to. For me it was different, I came at a different time and it's a part of who I am.
Your new album Do it Again features several tracks that you sang on The Masked Singer, in addition to two of your own songs. How was this process of creating the album; did you record and create it before the show?
Yeah, when I finished recording TMS, my manager and people who were part of the show were so complimentary. So, I chose five of my favourites from the show and then added a further five songs away from the show that I liked, then I added two new ones that I'd written myself; Can't Hurry Love and Stop Right Now. Before the show aired, I had pretty much recorded the album. Initially, I was writing material for a new album and it wasn't going to be of covers, but it got changed the moment I did the show. I just went with the flow because it was the most natural thing to do. That's going to be out on March 5th and I can't wait for people to hear it.
Finally, what would you say to readers who also suffer with anxiety or whose nerves are holding them back?
It's about believing in yourself and letting go and knowing that it's going to be ok. What's the worst that can happen? I get nervous all the time and I still get nervous, even though I've become a lot more confident person, I'm not going to drop dead from nerves. Sometimes, nerves are what you need to steady yourself. It's going to be ok, there are worse things that can happen. Having a little nerves never killed anyone. When you're feeling nervous, just hang on in there! Whether it's wedding nerves or going for a new job. You know what, a little bit of rejection just makes you stronger but generally, it's going to ok. If you can tell yourself that, you can get through anything.
Gabrielle's new album 'Do It Again' is out 5th March, to pre order visit www.gabrielle.co.uk