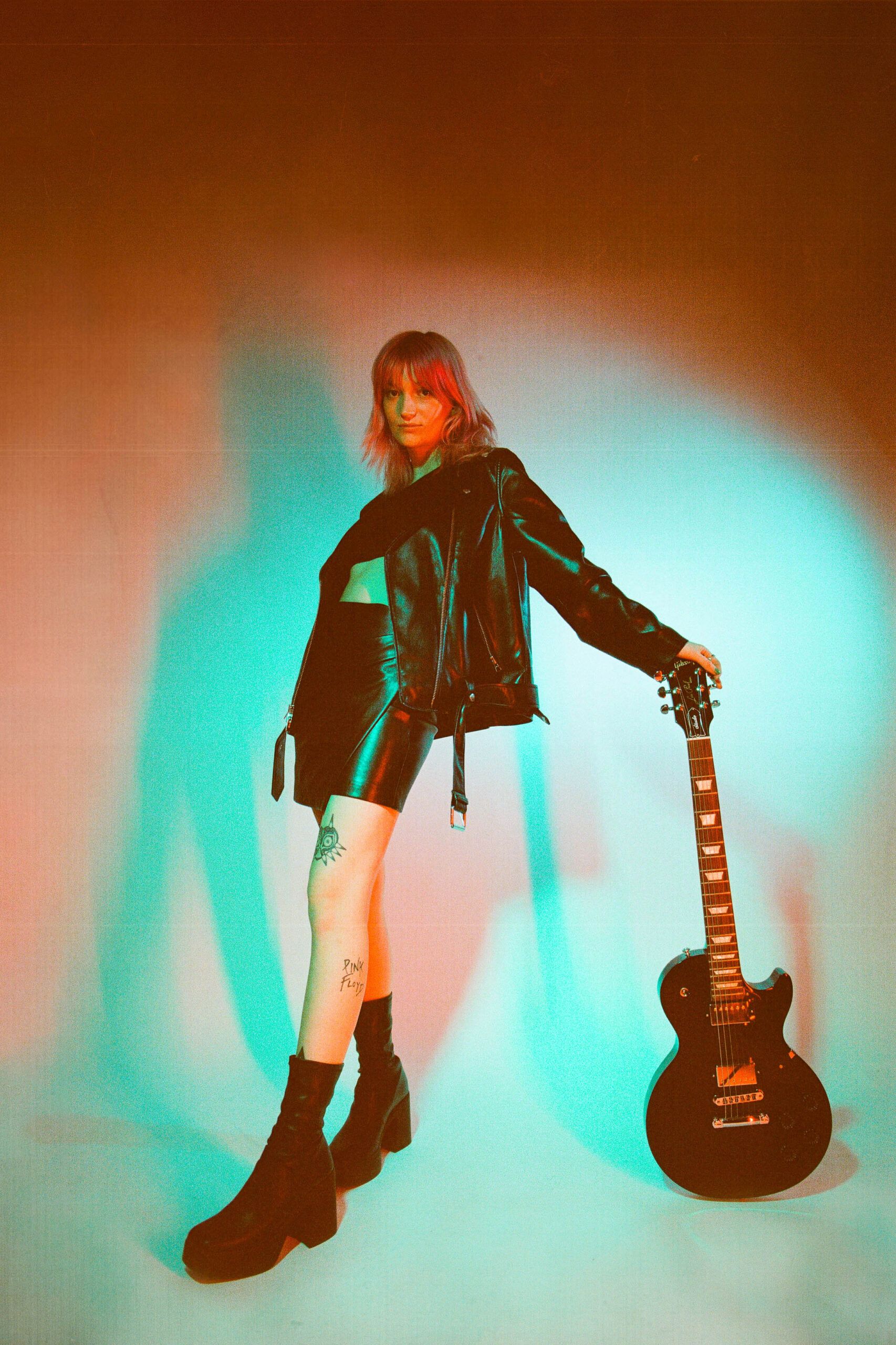 GRAE – Whiplash – Track by Track
Toronto-based singer-songwriter GRAE has just unveiled her glorious debut record, Whiplash.
If you weren't already familiar with her work, GRAE is an alt-pop artist and multi-instrumentalist that has garnered over 20 million streams and has been featured on TV shows such as Nancy Drew, and Netflix's Virgin River to name a few. Having first started writing music at the age of ten-years-old, her music delves through the musical inspirations of her upbringing and puts a new spin on them, she's inspired by the likes of 80s new wave bands such as The Cure and Joy Division, singer-Songwriter Rodriguez, and more. Now, the fast-rising artist has finally unveiled her debut record to the world. It's an 11-track LP which is filled with hazy pop, lush vocals, slick production and deeply personal lyricism. It's a fantastic body of work that traverses relationships to periods of personal darkness. GRAE has not held back on her debut effort.
To celebrate the release of the LP, GRAE penned a track-by-track article for 1883 where she delved into how each song on the record came about.
Boxes 
I first got the idea for 'Boxes' when I woke up one morning, looked around my room, saw all the posters I had on my walls and thought to myself; I want to take these all down. Since I can remember, I've had such a love and admiration for music/artists. You could almost call it a downright obsession. From having a hundred photos of Michael Jackson on my wall to Prince to The Cure, the walls of my room have never been bare. When I got this feeling of wanting to 'grow up and 'move on from that phase, throw out all the band shirts and stuff, I felt sad. It was almost this coming-of-age moment, and I started to drown in nostalgia. On a gloomy rainy day in the studio with Derek Hoffman and Connor Seidel, 'Boxes' came to be. I felt so sentimental the entire session, and I think the track captures that. 
Spinning 
'Spinning' is the most memorable track off 'Whiplash' for me. I wrote it for my Dad! It's about time we spent together after my Mom passed away. My siblings moved out, and It was just him, me and my dog Missy! We spent a lot of time together, playing vinyl on the record player in this old house we were temporarily living in. My Dad would put on new vinyl every morning, and we listened together. This is how I got introduced to much of the music I love today; although it started when I was much younger, being a teenager, I understood it better. I was beginning to take making music more seriously, and my Dad wanted to deep dive into the bands he loved, hoping maybe they'd inspire me. Well, did they ever! The song also touches on 'Failing math' and 'tattoos'; I did, in fact, fail math twice, but my Dad reminded me I was going to be a singer/writer and didn't need it, haha. I also had been trying to convince him to get a Pink Floyd tattoo with me, so that's why the chorus mentions that. I was hoping the song would make him budge and just do it, but there's still some persuading to be done! Haha. Shoutout to my Dad! He's been my biggest supporter since day 1, and 'Spinning' really encapsulates that. 
Soft 
I wrote 'Soft' for someone I was previously with; after the relationship ended, I realized they didn't deserve a song as beautiful as this one, but that's a story for another time. I wrote it at the start of what we had going on and used this song as a way to make them see I was serious about them. I remember their reaction wasn't the best, and that should've been the biggest red flag, but gosh, GRAE, stop…. that's a story for ANOTHER TIME! On a more serious note, I like 'Soft.' It captures those butterfly feelings you have after going on a couple of dates with someone new, thinking they could be yours forever. It's an innocent, cute track, and I think many people can relate to it! 
Grenade 
I wrote 'Grenade' when I was feeling a bit down. I had gone through a week of emotional ups & downs and felt like a burden to my partner at the time because I was 'always crying.' They were there for me, though, despite everything else. The song is about feeling safe with your person, and even if the world were falling apart, you'd be okay as long as you were with them. 
Forget You 
I wrote this song about a relationship I romanticized far too long after it was done. For some reason, I saw that person through rose-coloured glasses and gave them the benefit of the doubt each time despite the fact they weren't right for me and were toxic. I brought the idea into my next session with Connor Seidel and Willa Milner, and they loved the chorus I wrote, which we recorded. 'Forget You' is my goodbye to that person and time in my life. 
No Lovey Dovey 
Fun fact, the same person I wrote 'Soft' about and a few other love songs on the album, this is our breakup track. 'No Lovey Dovey' was created on a day I realized how much better off I am without that person. I realized we were 'better off friends' (yeah, we tried the whole ' friends' thing, didn't end up working, it never works. Now, I've just blocked them on everything, hahaha!!) I reminisced about our time together and realized they didn't like to be called any cute pet names; they were overall just cold in general. We ended on good terms, and they're lucky I wrote this track then before I (after the fact) found some stuff out, cause let me tell you, it wouldn't have been a cutesy breakup track if I wrote it after knowing some things I do now. The song talks about how I'm handling things how I've always wanted and such because, despite everything, I took that breakup pretty well. And like the lyrics say, 'LOST YOU FOREVER, WHATEVER, I TELL MYSELF THERE'S SOMEBODY BETTER.' 
Outta This World 
'Outta This World' is a fun, quirky track about infatuation. Seeing someone for the first time and thinking, 'I wanna know more about you,' lyrically, there's a 'space' theme to the song that I found cute and wanted to explore, and I think it ended up great. This song is fun to dance to in your bedroom when you're excited about a new crush, so I definitely recommend that.
Room In The Desert 
This track is the most unexpected on the album, I believe. I wrote when I wasn't feeling any inspiration and wanted to write something about nothing, pulling something random together instead of getting inspiration from my own life. Willa, Connor and I wrote down words and put together what sounded cool. The song didn't mean anything to me at that moment, but now having performed it a couple of times, it's like I'm finding meaning in it. Production-wise it was Inspired by bands like Tame Impala and the 80's band Cocteau Twins. 
Like You
This song reminds me of a sad time I was going through. I wasn't in the best place with myself and didn't love myself enough to pursue a relationship I was starting. Funny enough, that person had mentioned they didn't 'like themselves enough' and 'didn't know what to do' about what we had, and that gave me the idea for the song, which I don't think I've ever mentioned before… but I also felt the same, and decided to write about it. Self-love is a process, but I'm happy to say I don't feel how I did back then; I've grown to love myself a lot more. 
How Very Dare You 
Thinking of this song makes me laugh. I was on and off with someone for a few years; they disappeared and returned months later every single time. Don't ask why I put up with that; I just didn't respect myself enough at the time, haha. I wrote my song 'Bang Bang' about this person off my EP 'Permanent Maniac.' as a little fun fact, and yes, they still got a song on my album. Anyway, I had travelled this one summer to be with them, like literally to a different province, and they stood me up. I didn't hear from them at all. I was so embarrassed but not surprised and ended up spending the entire time with my friends instead (hey, I guess it still worked out for me.) They texted me midway through the summer saying they were still planning on coming up; they NEVER DID, and that was the last text I had gotten from them. Six months later, I'm starting a new dynamic with someone else, and this person TEXTS ME! was I surprised? No. It was bound to happen. They said something along the lines of "Hey, I hope you've been well; I have this letter I wanted to give you; it has a lot of what I've been feeling in it, but me being the idiot that I am, I lost your address, if you want to read it could you send it to me again?" I stared at my phone for so long and decided never to reply. I wrote this song poking fun at the situation instead, and it makes me giggle every time I hear it. 
Don't Know How To Girlfriend 
This song came about through the pure innocence of being a girlfriend for the first time and not knowing what that 'title' means. I had a high school relationship, but does that even count? This was a real adult relationship I was now experiencing! I remember going into the session discussing what was going on in my life, and then I said, ' I don't know how to girlfriend,' and Willa was like, 'That's a cool song idea!' so we decided to roll with it, and that's how 'Don't Know How To Girlfriend.' was created! It's an intimate way to end the album; I love the acoustic vibe; it's a really beautiful song filled with real emotion.
Whiplash is out now. Follow GRAE @yourgirlgrae