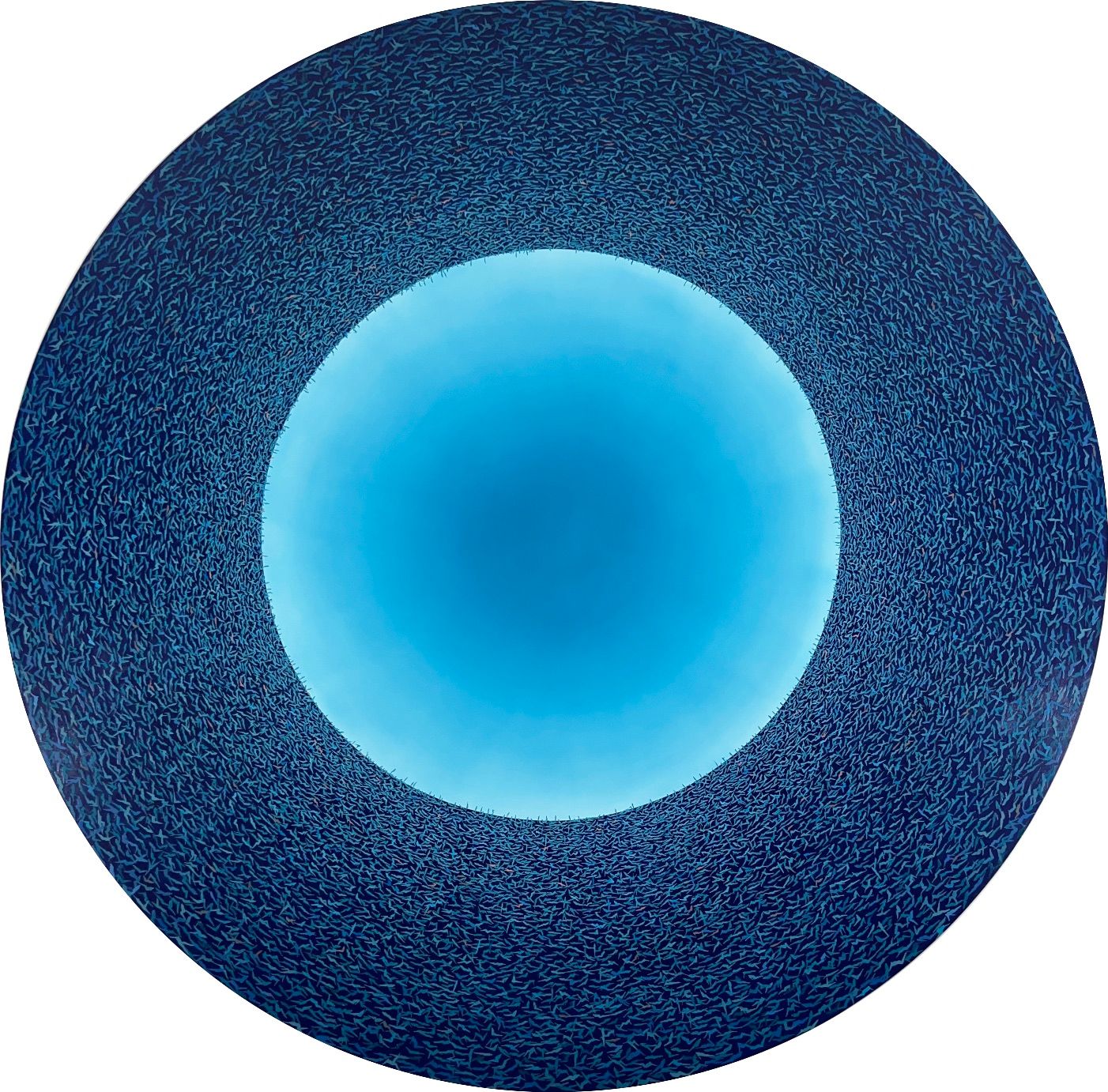 Harry Rüdham – An Invitation to Lubberland
Young British Harry Rüdham explores the balance of the soul flittering between heaven and hell, using vibrant colours and textured cut out figures to create fantasy-like paintings in his forthcoming "Lubberland" exhibition at Grove Square Galleries in London.
Sixteen colourful artworks will be displayed with inspiration drawn from "Cockaigne" or the Swedish name for a mythical land made famous by a 1685 ballad "Invitation to Lubberland". Inspired by the colour studies of Bauhaus artists' Anni and Josef Albers, Harry Rüdham developed his intrigue into colour intersection. Rüdham's current work showcasing his talent for intricate detail as he uses a meticulous process of creating thousands of reverse cut outs and hand-cut figurines which he layers to create an abstract artwork that is incredible detailed upon closer inspection.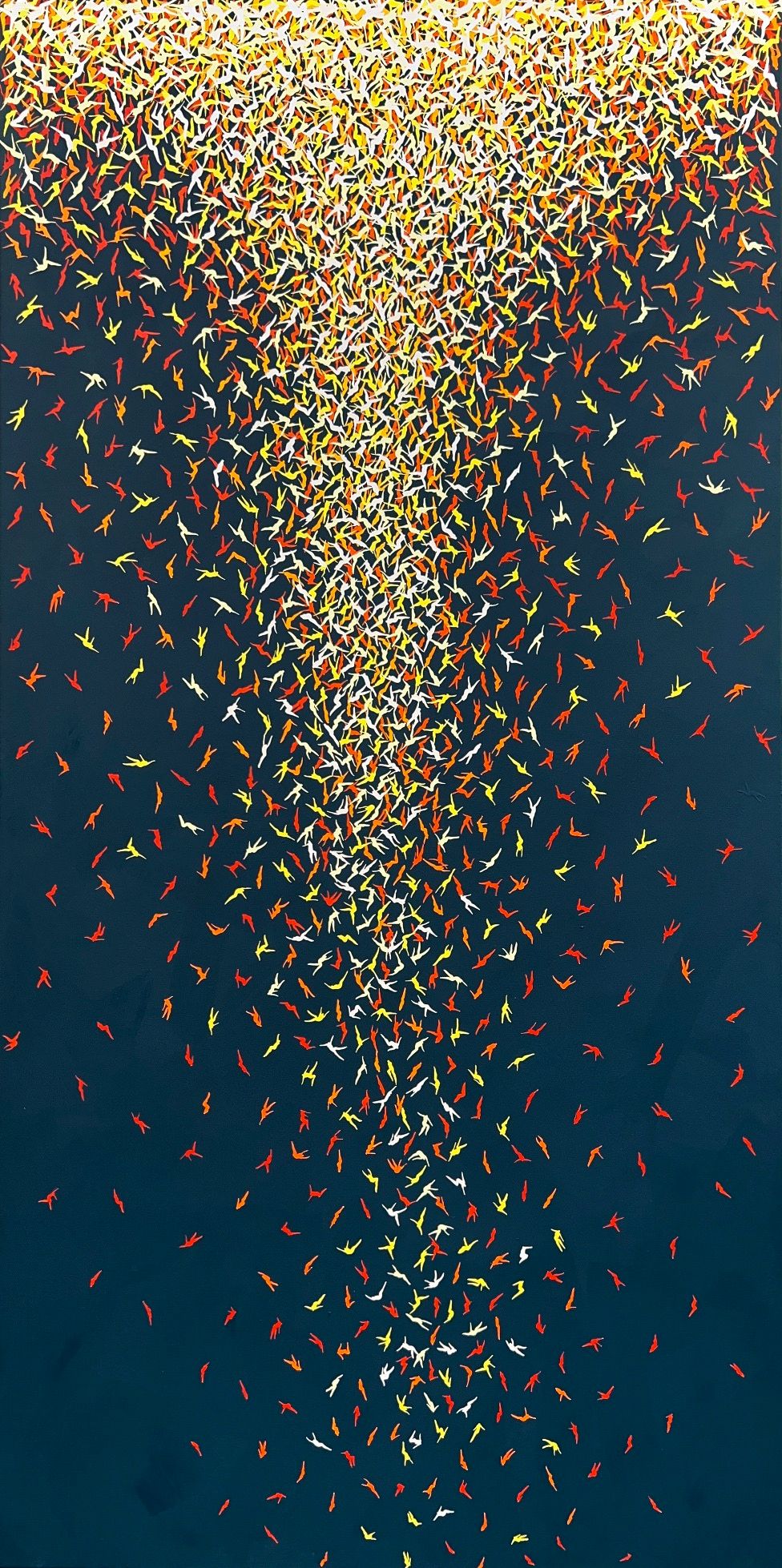 What does Lubberland mean?
Lubberland is the medieval land of plenty, mainly popularised by Bruegel's painting 'The Land of Cockaigne'. A real life 'Eldorado' or a non-religious afterlife to cater to those who didn't feel accepted in the traditional depiction of 'heaven'. With many reciting of sexual and gender freedoms away from the church's ideals. When coupled with pirates 'sea shanty's' on searching for Lubberland and the recent popularity of the sea shanty I became more and more fascinated in this abstract medieval, ideal world.
Many of your current artworks at Grove Square Galleries are in shape of an egg. Explain why you chose this shape and the thought process behind your current artwork in your solo exhibition Lubberland (Circular, Oval)
Using a circular surface really allowed me to create works that felt like 'portals' into other realms. Unlike with a rectangular surface, I was able to manipulate the perspective of the painting in line with the surfaces curved edge. With the work Hottub pushing the vanishing point into the centre of the work. Much like a traditional ceiling Fresco would.
How did the way you worked change during the pandemic? Has COVID effected your work?
Before the pandemic I had a lot of time on my hands as I had to quit my job framing and simultaneously lost my studio. These coupled together really made me focus on small, overworked experiments that lead to my first 'overlapping' of multiple bathers. Before I was more focused upon the isolation people can feel in the city while simultaneously being so close to others.
This instead came from a yearning of interaction and comically enough started to look like the overcrowded UK beaches that were reported on whenever the sun came out.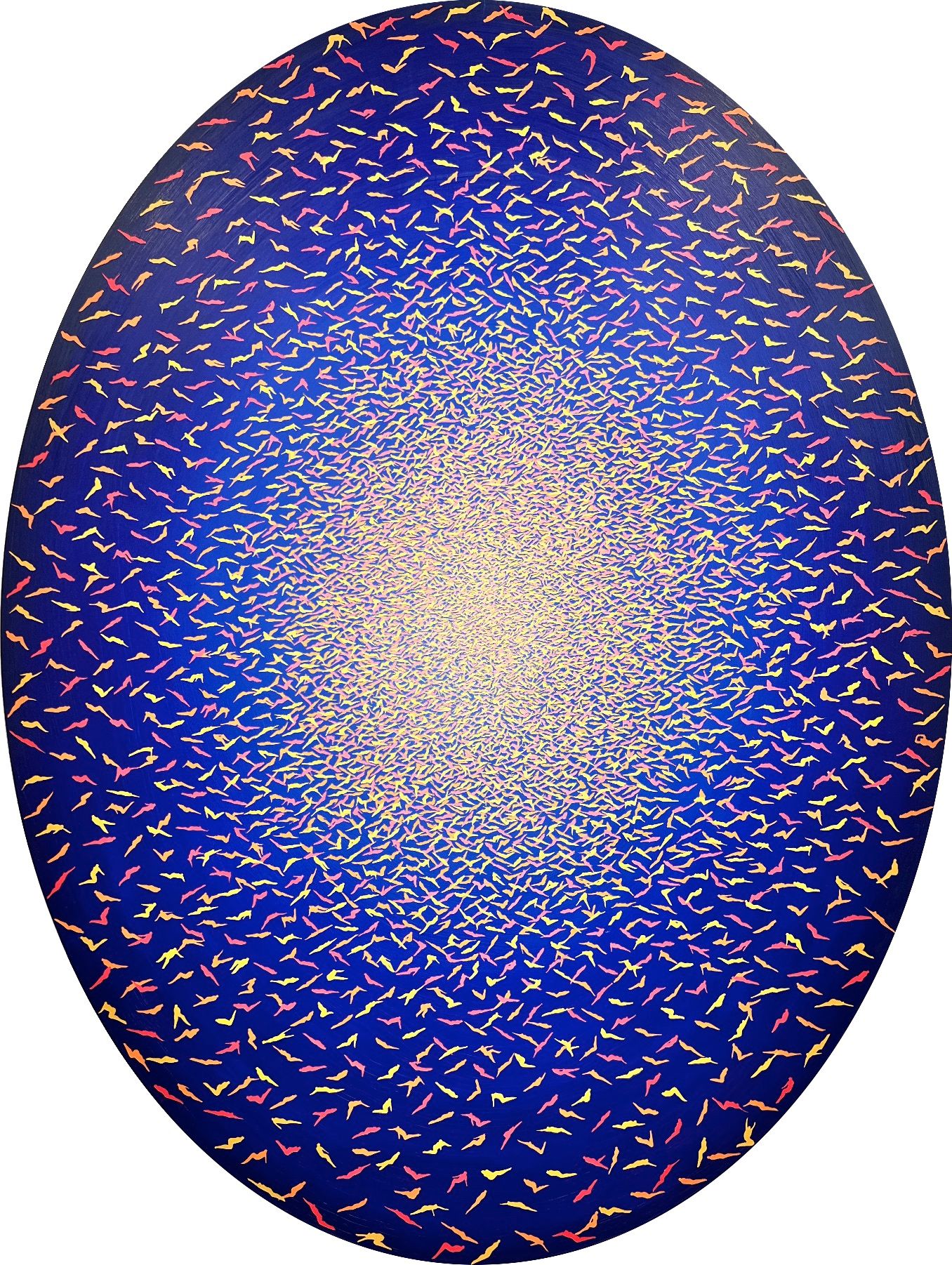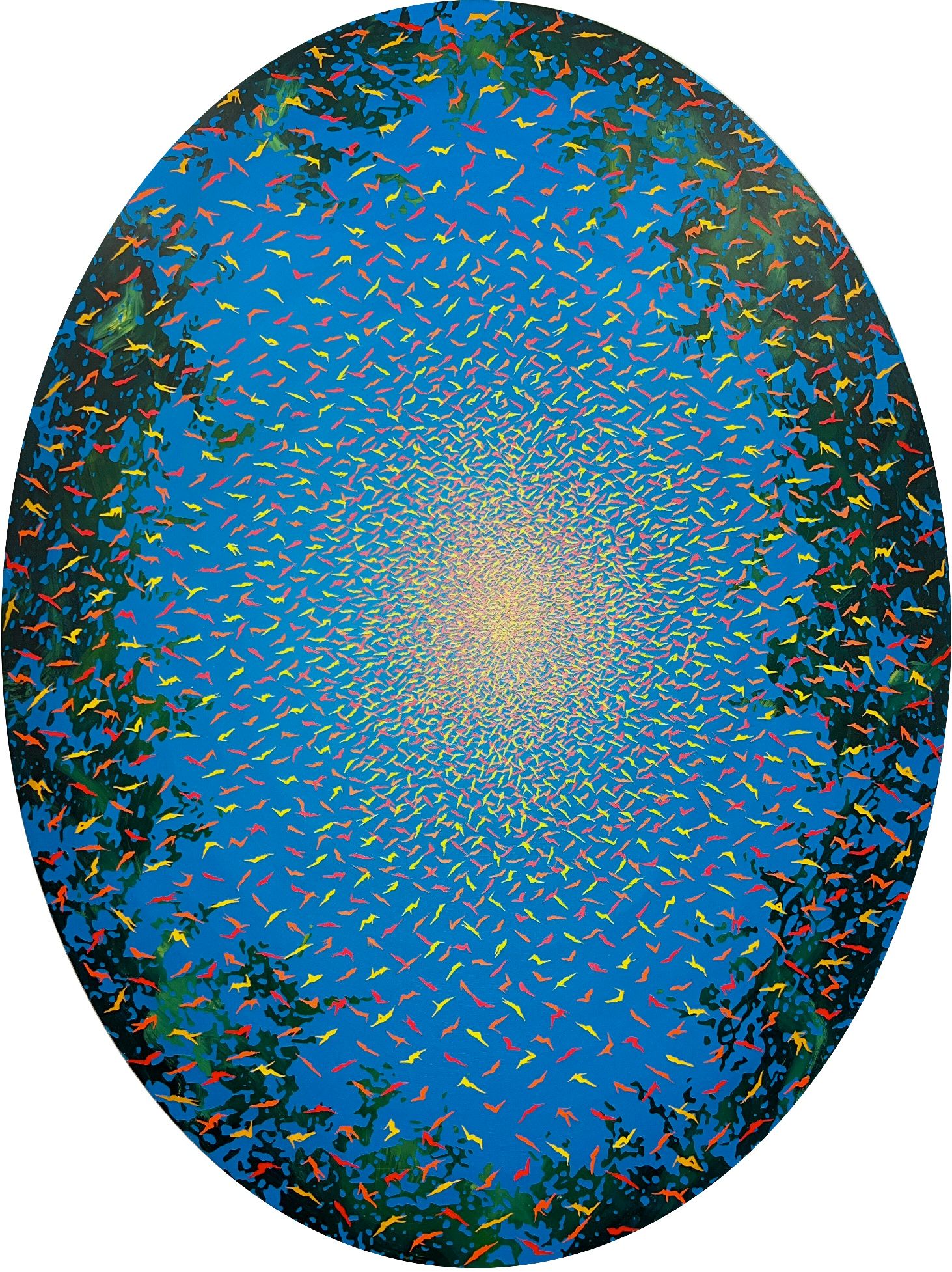 Explain in detail the process to create the Cotton Candy work from start to finish.
I start by shredding 'discarded sheets' pure cotton paper which I get from a traditional paper maker in India. Then along with water and pure pigment I proceed to blend the concoction into 'mulch' that becomes almost like a dyed clay.
Next, using a thin base sheet of cotton I draw out my design and apply the various colours of dyed cotton, leaving it dry out for a few weeks and naturally interlock. Resulting in a rock-hard sculptural surface.
How did the German nudists lakes inspire you and how is their comfort with body image and relaxed naked bathing contrast with your English upbringing?
It changed the way I viewed the 'Art Historical' depiction of the bather for me. Previously I'd only seen bathers in mythological paintings and related them to the traditional life drawing classes indoors. But being immersed at my first nudist lake, within the city, really transcended the idea of the bather into a contemporary subject that fascinated me.
What was the turning point in your career and when did you start selling your artwork?
Once I came back from my Erasmus in Berlin, I think I became more comfortable with my work and got to the point where I wasn't trying to emanate something from other artists I'd studied. There's a point when something clicked, and I felt I was painting for myself. That was when I started selling my work.
What's been your biggest win as an artist?
I've had a few that I'm really thankful for. But receiving the Cass Art award for painting is one I'm quite proud of.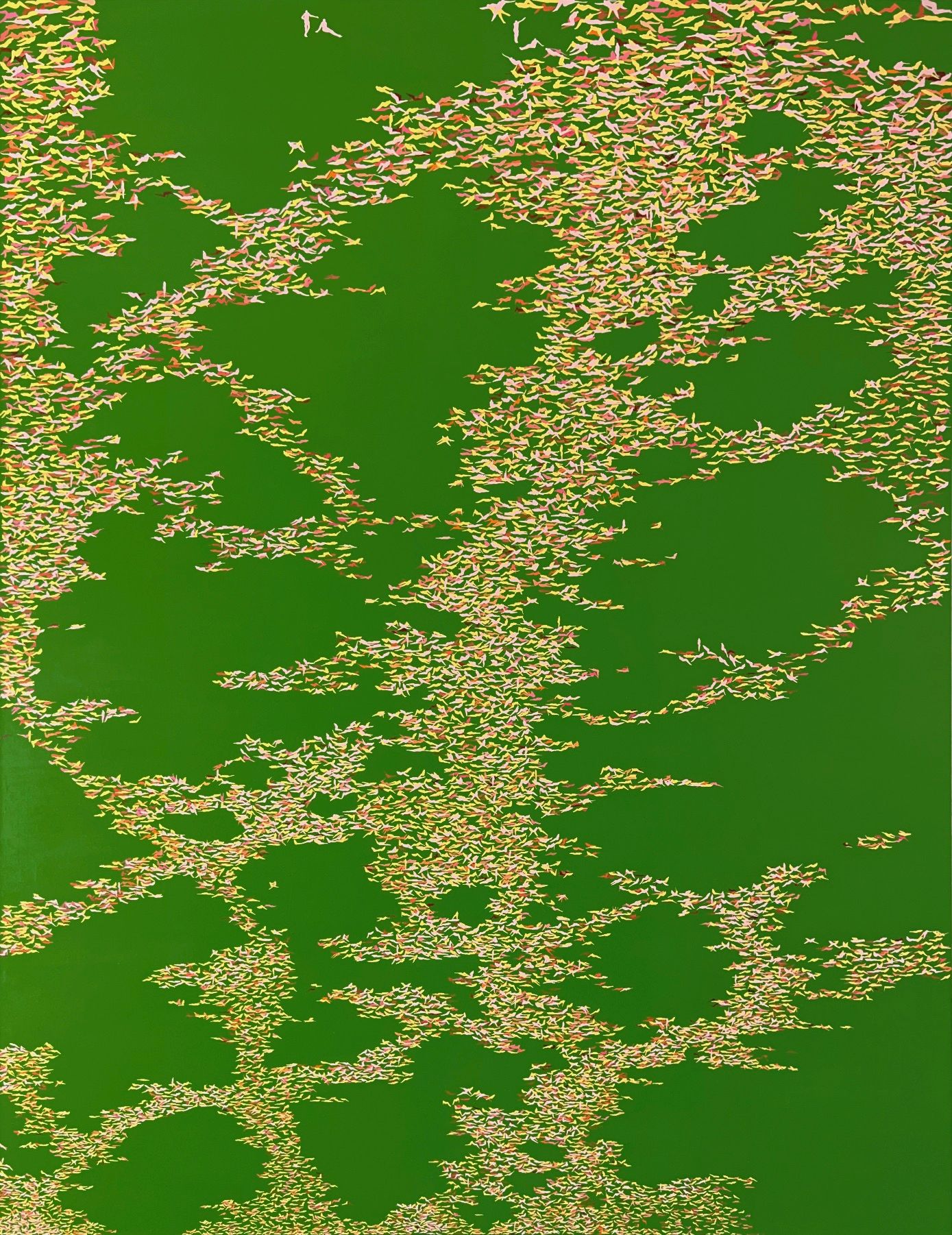 What's been your biggest failure?
Not being able to secure another studio in time before the first lockdown but if I had I think my work might be quite different from today.
What is your goal as an artist? Do you have a list of museums/auction houses you wish to have your artwork displayed in?
My biggest goal is to keep painting and experimenting. I'd love to display at the Museum der bildenden Künste in Leipzig as I really fell for its collection and the 'art city' as a whole.
How would you like your artwork to inspire people?
I'd like people to contemplate themselves within my work and where they are as a whole. I find that the simplest and most intuitive arrangements of colour and form can leave people looking inward of themselves while looking through a painting. If people can contemplate on their self in the world as a whole and see some abstracted beauty from it.
'Lubberland' by Harry Rüdham runs from 17 February to 2 April 2022 at Grove Square Galleries.
For more information visit www.grovesquaregalleries.com