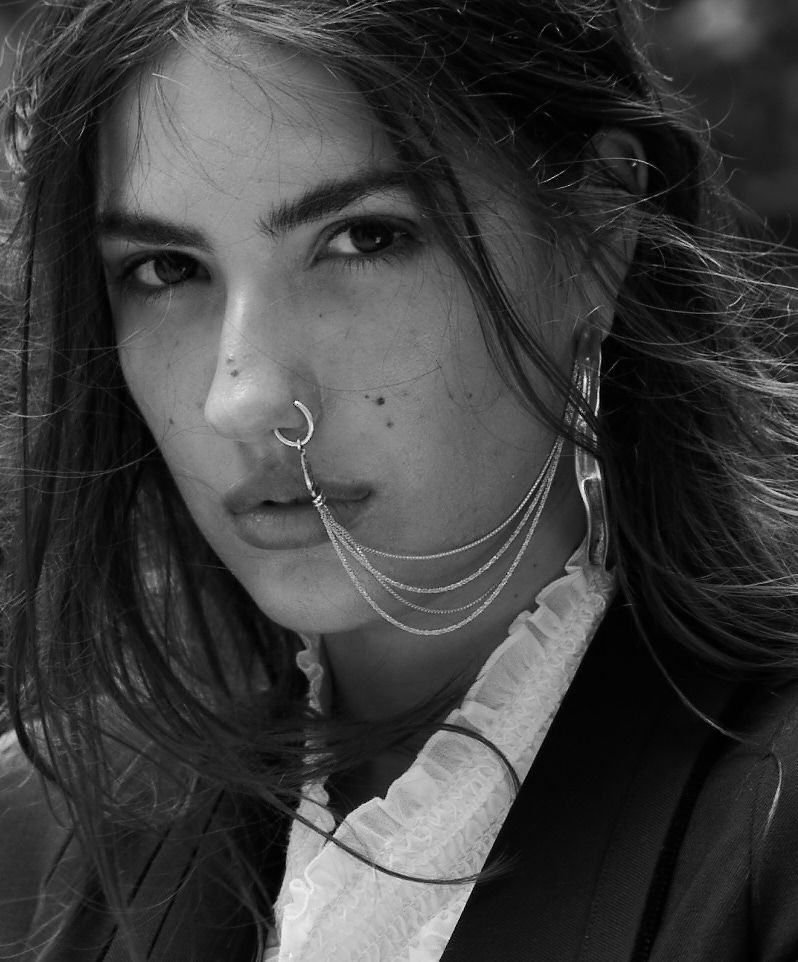 HĒIR
Two words: Daddy Issues. This was the biggest hint that model and musician HĒIR shared with us regarding her upcoming EP set to drop in 2020.
Patricia Manfield became a model on sheer chance in university and now, she's following in her parents' musical footsteps. The Russian-Italian beauty is living up to her stage-name HĒIR. We caught up with her to discuss all things music, fashion, and other strange, almost career choices!
Today, HĒIR is premiering her music video for her newest single, 'My Love'. Watch it here first!
Tell us a bit about yourself! What is the meaning behind your stage name HĒIR?
My stage name is an ode to my parents, who are classical musicians. I inherited my love for music from them. I told my producers about my parents during our first session and one of them said, 'Oh you're like a musical heir'. And that's how HĒIR was born.
How long have you been modeling for? What have been some highlights in your career?
I moved to Milan to go to university 5 years ago; modeling and working in fashion happened by pure chance. I've got way too many highlights, but my best memory is going to class in my second year of business school and my teacher asking me 'Were you just on the red carpet in Cannes yesterday?' Nobody at uni knew what I was doing until then.
Who have you been a brand ambassador for and what was it like working for these companies?
From DIOR to adidas, Ray-Ban…I've always enjoyed my experiences. I've been blessed because I got great exposure from them and I learned how to act on set, be professional and respect other people's crafts.
What was it like to make the leap from modeling to music?
It was very natural and organic. Everybody knew I loved writing music and my followers were listening to my covers on YouTube, so it was almost inevitable.
What were the main challenges of leaping from modeling to music?
I guess credibility is the main thing. And to be totally real, when I decided to do music, I had to say no to a lot of jobs; therefore, no money. My whole plan changed. But in the bigger scheme of things, I'm happier now because I am building my own 'branding' step-by-step. I love fashion, but I want to be associated with projects I like and believe in.
Did your experience in the modeling industry help you in any way when you launched your music career?
I think modeling helped me be more confident with my image and accept my flaws over time.
Tell us a bit about your other singles. What was your reaction to hearing your music and what have you learned since recording your EP?
'Threads' was my very first single as an independent artist. I think people expected something different, but I wanted to come out with a more cinematic song to start. Then 'Soundtrack' was my pop single. That one was fun and something I could dance to. My newest single 'My Love' is mainly vocals and guitar. I'd been itching to release something more minimal like that. It's straightforward; you either like it or hate it. Recording the EP, I realized I need to give myself deadlines because I overthink everything. I also recognized that I love experimenting and I plan on doing that more in the future.
What can you tell us about your EP release in 2020?
Two words: Daddy Issues.
You wrote your own songs on this EP, how has your songwriting changed since your first track 'Soundtrack'?
I think it's simpler, I'm overthinking less. And I've had a tough year, so I've had a lot to write about. Relationships especially.
Your parents are musicians and actually tried to keep you from the music scene. What were their fears and how have you dealt with that in pursuing your music career?
They tried to keep me away from music at first because they wanted me to have a more stable career. It makes sense to me, it's a form of protection. I never seriously thought of doing music until Harper's Bazaar wrote an article about my covers. I thought I was just good at making mashups and writing essays. My mom caught me writing one summer in Napoli and she was like, 'Oh wow this actually sounds good!' She encouraged me from that point on because she got really excited.
What are your other hobbies outside of music and fashion? Tell us something not many people would know about you.
Not many people know this, but I've got a business degree and I've been offered consultancy jobs. In another life, that would probably be my job [laughs].
A hobby I've recently developed is acting and I realized how much I liked it while filming music videos. I guess we'll just wait and see where life takes me. For now, music is the priority.
Team Credits
interview by Amanda McFadden
photography Kevin Sinclair
Check out the video for 'My Love' now!