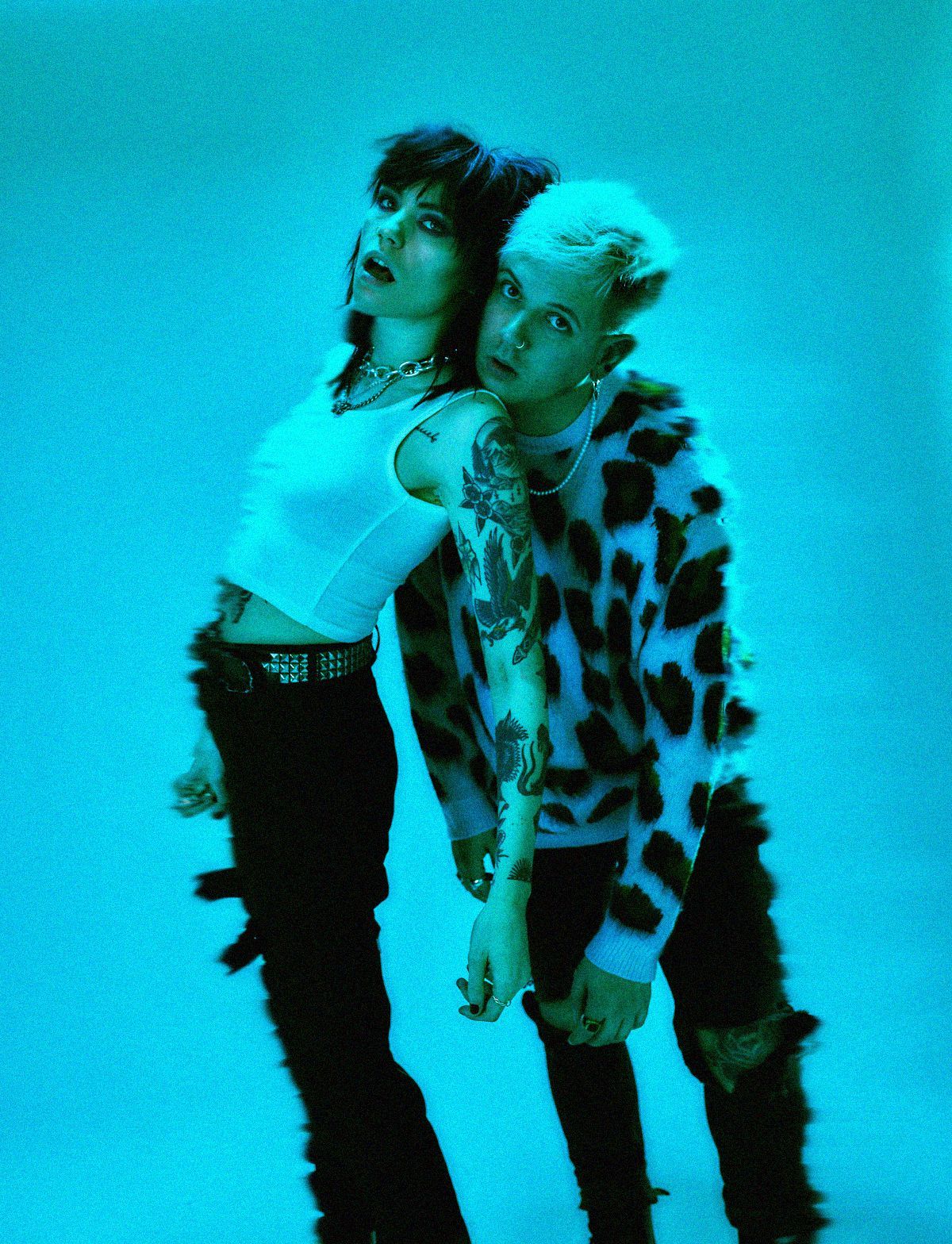 Hot Milk
Manchester's fast-rising alt-rockers Hot Milk have stepped up their game with new single Bad Influence.
Comprised of the front duo Hannah Mee (Han) and James Shaw (Jim), alongside Tom Paton on bass and Harry Deller on drums, Hot Milk have made quite the impact since forming in 2018 and It's easy to see why. Their emo-pop/punk-rock sound,  honest and relatable approach to songwriting and rowdy live performances make for one hell of a good time. Their debut 2019 debut EP Are You Feeling Alive? and 2021 EP I JUST WANNA KNOW WHAT HAPPENS WHEN I'M DEAD have both gained millions of streams, they've sold out headline shows and supported the likes of Foo Fighters, The Band Camino and most recently Pale Waves. Mee and Shaw originally met via Tinder before becoming firm friends and songwriting partners via one accidental drunken night in Manchester.  Both of them have been in the Manchester music scene for numerous years, as well as in numerous bands, but once the charismatic pair combined their writing talents, Hot Milk was born.
Now the four-piece are poised to continue their winning streak with their forthcoming third EP The King And Queen Of Gasoline which lands on August 5th. It's a narrative-driven collection of songs and if the lead single Bad Influence is anything to go by, it's going to be a ferocious and infectious body of work. Undoubtedly within a short few years, Hot Milk have already cemented themselves as an extremely exciting group. So with everything going their way, 1883's Cameron Poole spoke with Mee and Shaw all about the new EP, their previous roles within the music industry and lessons learnt from touring with Pale Waves and Foo Fighters.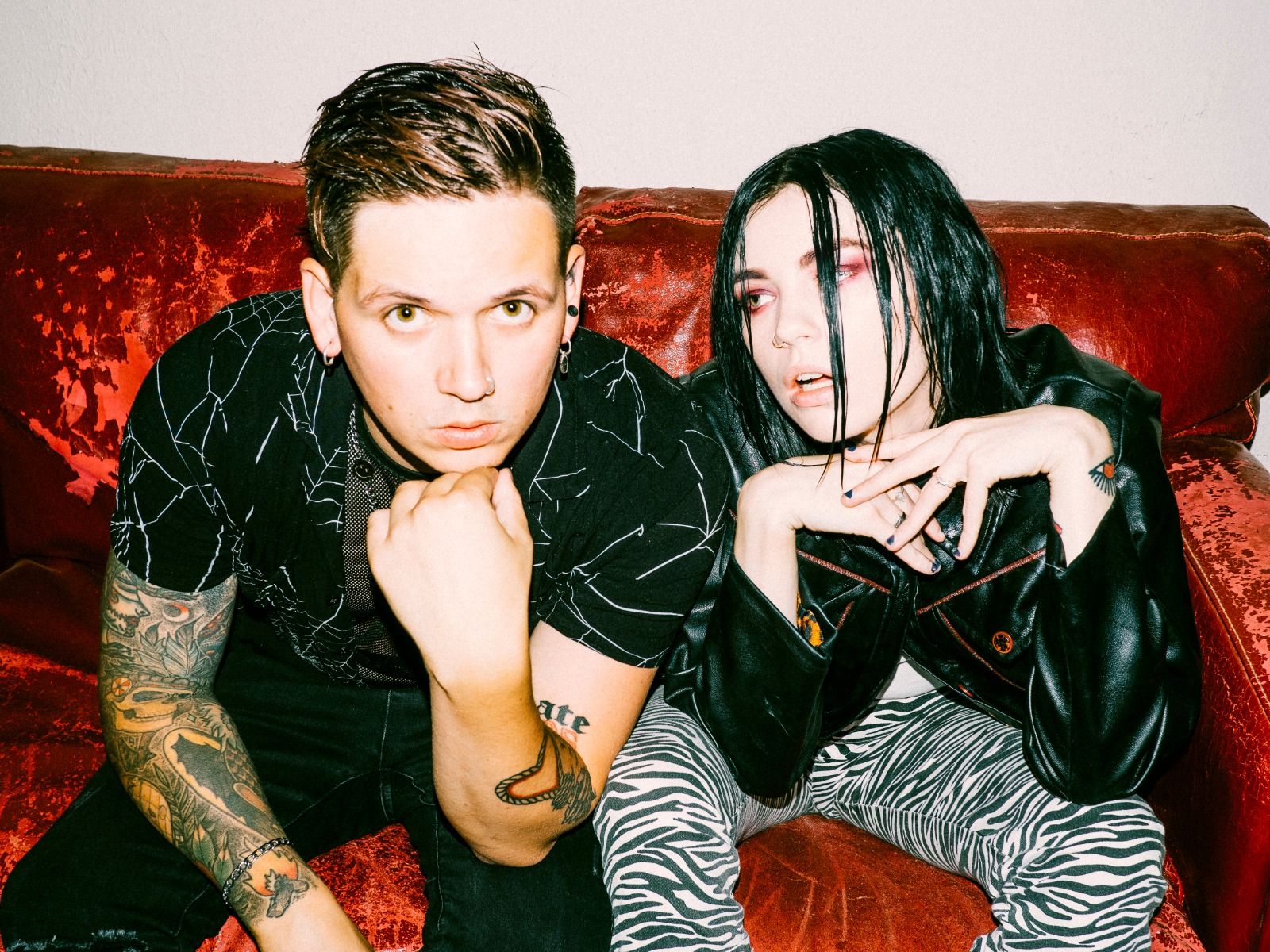 Hey Han and Jim! Your new single Bad Influence is out now, can you tell us about the meaning behind the track please?
Han: I think in terms of the actual ethos of the song, I think this track came from myself more than James, I don't know. I'm speaking about the initial idea and its energy. But then there are some songs that James puts more of himself in. I think the meaning behind the track for me is about the fact that we've constantly been told throughout our whole lives that we have been a bit of a bad influence to others and maybe not on the right path. We both had parents that weren't exactly okay with the path that we were taking as they're very traditional. So because we've taken this alternative path in life, you kind of get branded as being no good or a bit of a failure really. But with this song it's about being 'fuck it, maybe I am a bad influence' and leaning into that and being like 'yes, this is who we are, fuck you'.
Jim: I think that explains it pretty well. It is a big fuck you to anyone that says to another person that they can't achieve what they think they can achieve or that they will never going to reach those levels. It's one of those things that someone's got to do it. Someone has to chase their dreams and achieve them. It's a fuck you to the naysayers, basically.
As the single talks about being a bad influence, can you please both give one example each where you've been a bad influence to someone?
Han: For me, it goes back to even when I was at school because I was a bit naughty. Some parents used to not let their kids hang out with me because I was obviously someone that kicked off a bit but that's only because I was bored. I was always very bored at school, I always got my grades and was in the top sets but it was down to boredom.
Jim: In my head, there's not like a specific example but I think it's just kind of like we've both got a rebellious streak, and we both don't like being told what to do. So if we're told that we can't do something, whether or not we want to do the opposite thing, we'll do it.
You guys have worked so hard and as you both know, when you start a band or a project, it takes years to become an overnight success or to even get to a certain stage. Obviously it is great to have the support from labels, publishers or whoever you've got in your team but you guys are the artists. You're the ones with the vision and it shouldn't be compromised.
Han: Exactly. We were in this band for years and years before anyone came on board and so that energy to propel yourself comes from an internal place, and we've had to rely on ourselves to continue to progress in the industry. And this does relate to Bad Influence actually, just the thought that we know we're good people, we know what we want to do and if you think you can come get in our way then fucking try it, I dare you. I know that I'm not trying to do anything bad with my life, I just want to live it how I want to live it and I don't think there's anything wrong with that.
But for some reason in the world, some people either see that as a negative thing, if you're kind of shining bright or doing something in a way that's maybe alternative to the norm, then they see that automatically as a bad thing. You see this sort of thing happen on a broader scale in terms of world politics as well. You've got the right VS the left for a reason. You've got conservatives and people that want to push things forward, and they're always going to come out locking horns and I see myself as a social-liberal person that lives life freely.
It's taken from your hotly anticipated third EP, The King and Queen Of Gasoline which is out August 5th. Did the writing process differ at all compared to when you wrote previous EPs: I JUST WANNA KNOW WHAT HAPPENS WHEN I'M DEAD & Are You Feeling Alive?
Jim: I feel like the last two EPs had a lot less pressure attached to them. This one kind of came around pretty quickly. We were told that we had to submit it pretty imminently. Whereas the other two EPs, we were kind of allowed to kind of explore a little bit more and take our time. I don't know if one method is better than another, it's kind of hard to tell because no one's heard the new EP yet. The only people that have heard it are our inner circle and ourselves. So we don't know if people give will be like 'this is a pile of shit' or 'this is not as good as the older music' but I don't know, what do you think Han?
Han: I think for the first two EPs we were unsigned, so because of that we could do anything we wanted for as long as we wanted, so it was a bit more of an enjoyable process. This new EP has six songs on it, so it's the longest EP we've done so far.
Jim: It's almost like six and a half because of the last song.
Han: Yeah. The EP title track was co-written by us and musician John Feldmann. So that was written in LA but then the rest of it was all just written in a bedroom in Salford.
Jim: It's a weird one because we were told that we just had to submit these tracks and we weren't quite ready. Han had the idea of the title line, The King & Queen Of Gasoline. That was all we had for that song…
Han: I knew what vibe I wanted it to be, I knew that it needed this anthemic element to it and I had this melody in my head but we ended up writing it initially in a hotel in LA with just me and Jim.
Jim: The other two EPs kind of just had songs on, they explored similar themes to themselves in their body, but they weren't like a collection and looking back, Me and Han have said things like 'oh we may have changed the track listing of the last EP' but with this one, we had the title line and a short amount of time to put it together, so we kind of just went 'fuck it' let's do like a concept around these two people, the king and queen of gasoline,  and write an EP based around this fictitious narrative.
Han: They're kind of like our alter egos, basically the idea of the King and Queen Of Gasoline is that these are two people that constantly kind of live through self-sabotage and almost douse their lives with gasoline, making their lives flammable so that it could actually blow up at any time.  I think over the last year, me and James have both definitely played with fire a lot on things we shouldn't have done and we have nearly fucked up our lives a few times. So it was kind of a metaphor for us, it's not our whole identity but it's this dark part of us. We feel like we are the fucking king and queen of fucking up.
Jim: Bad Influence kind of rolls into that kind of narrative, although it is a literal meaning, in that kind of story world it was the pushing against this regime that we've created. Each song on the EP has got a reflection of both the real world and this world that we've created.
Han: We ended up just creating a narrative and a world because I feel like it's easier sometimes to personify feelings with a face and by telling a story. So the EP has got real feelings in it and it's about real things but it's easiest for that to come across if we build a world around it which is what we've done.
First of all, I just want to say thank you Tinder because otherwise potentially Hot Milk might not be a thing. But my main question here is: you guys also worked in the music industry behind the scenes, what were your roles?
Han: We were both in the local scene, It wasn't necessarily like working at Sony or a label. It was more the fact that we had really made our foothold in Manchester and we had bands staying at our houses constantly. We were putting on shows, we were really part of the ground here, in terms of rock music and beyond that.
Jim: Hannah used to put on shows and I worked as an LD and tech wise in pretty much all the venues around Manchester.
Han: So we knew people in the scene and we knew people in the wider music industry and I think for us, that's the kind of path that was immediately the natural one because we hadn't met each other yet. We've both been in bands our whole lives, but then I think when you get to 20-years-old, we both thought 'that's not gonna work out what's the second-best thing we can do?' And the answer was still being in the scene and still putting on shows and still being close to that world. I went and did Vans Warped Tour when I was eighteen on my own and did stuff like that just to kind of stay in that world but I think when me and James met, it all kind of just happened.
Han: We actually wrote a song together by accident, that was how it all started because we were drunk and had gone through a horrible thing together, so we decided to try and write a song together to take our minds off it and after a few couple bottles of red wine, next thing you know Hot Milk was born.
Thanks for sharing, It's great you guys support the music scene in Manchester. There are just so many good acts from around that area…
Han: We make sure we are still visible here, like constantly. I'm out twice a week in the city. I still go in and talk to people and people come up to me and say like 'here's my new song' or 'can you let me know what you think about this?'  I try to be as involved with the local scene as much as I can because I love this. I'm literally sat in the city centre right now, I live here. So it's in my veins.
Jim: I think with us working in the industry as well, that was always option B. It was because we couldn't quite make it as rockstars or whatever. But there's so many people I know that have moved from being musicians into working in the music industry but there was not really anyone that moves from the industry into actually playing music.
Han: I think it's really important to note that when people say 'music industry', in the TikTok world, a person could get hold of that and really spin it to make it seem like something different from what it was. But really what it was is having bands stay in my house all the time. Making sure there was a rider for shows, carrying things upstairs, it was very DIY and grassroots based. So I just want to make sure that when people say 'oh they worked in the industry first' but it wasn't like that part of it. It was fucking grafting. I did it under the guise of a major promoter but it still means that you have to work your ass off.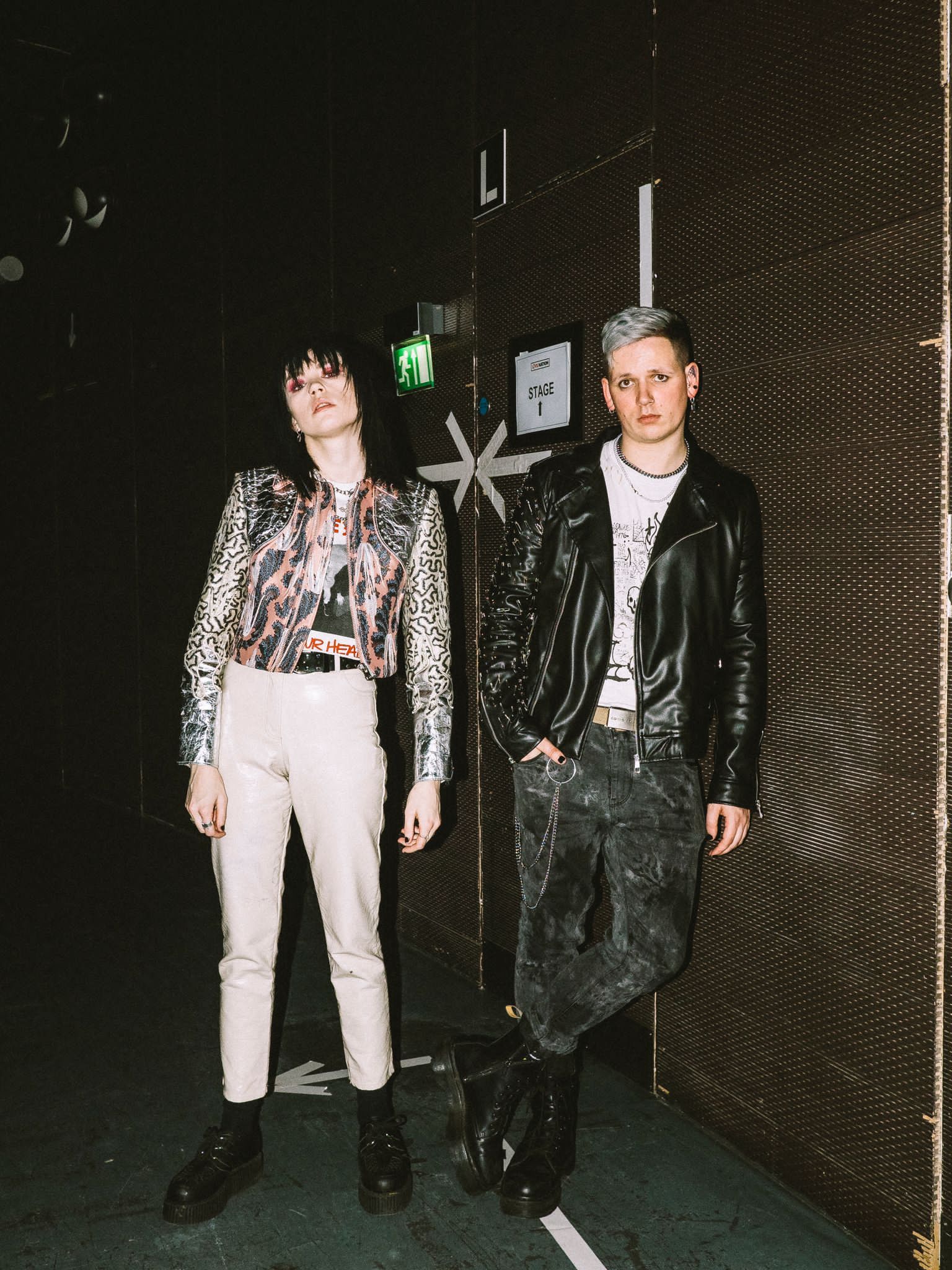 We obviously need to talk about your recent touring slots with Pale Waves, we caught you at the Roundhouse, it was so fun. What did you learn from touring with Heather and co? 
Jim: I think we've learned a lot from every support slot we've done. We've been quite lucky in the sense that we've done quite a variety of different support tours. I feel that we quickly learn from being hyper analytical about every variable, every circumstance, and everything we've ever done live, so we learn quite quickly how to adapt. So we do adapt but we also stay true to ourselves. We've done shows with Foo Fighters, Deaf Havana, You Me At Six and more, in different places across the world. So thanks to this variety, I think we've kind of understood what we need to do and how we want to be perceived as a band when we do these shows. I think we always come in as true as possible.
Han: We've been doing this for so long now, we've been in venues for ten years but really been a touring band for two years due to the pandemic messing things up. I think we're so used to walking into that environment and just knowing what to do. I think when we toured with Pale Waves, we kind of met as equals, you know. I mean, me and Heather are from the same place as well. We're from Preston, we kind of have that in common and we kind of know quite a lot of the same people, so it kind of felt like we were meeting on the same page which was quite nice.
Jim: Yeah. We've had some people say like 'oh, I wouldn't have put you guys together genre wise', not necessarily in a bad way but people have been like 'Oh, cool, this is a collaboration we didn't think we needed but it's sick'. It's quite nice that genres can work symbiotically.
Han: It depends doesn't isn't it? I've got such a varied music taste. I think so does a lot of people. But I will say that there was a small number of people that were a bit shocked that we were supporting.
Jim: We're not one to pull punches are we…
Han: We just have fun during our shows, it's like a party but I think a few Pale Waves fans felt unsafe, which was super sad because I feel like I'm always hyper aware on stage.  I'm always eyes on the audience and as much as I don't trust show security, I have to put some faith in them you know what I mean.
Jim: yeah, we always promote a safe and comfortable atmosphere as every good gig should. But we are just very in your face when we perform.
Han: We just get stuck in. The best gigs I have ever been to are when the front band members make you feel like it's just you and them. I think I will always want to emulate that feeling of everyone being here for a party. If you ever come to a headline show mate, you'll see that is how it is.
Speaking of shows some more, did you learn anything from touring with The Foo Fighters?
Jim: Out of all the tours probably touring with Foos taught us the most about being a support band. It was us, Frank Carter & The Rattlesnakes, and then Foos. Frank is a great frontman, the way he controls the crowd and just really creates this show, it's amazing. But then Dave Grohl puts on a show in his own special way. I just find it mesmerising and really kind of eye opening, as you can still make it feel like an intimate gig and feel like you're involving every single person there… and there's 1000s of people there. I think that's something that we really touched upon when supporting Foo Fighters. We are trying to be more than just a band that plays our songs live, we now really try to get across our personalities and have this connection with the crowd.
Han: That's the biggest thing I think that we can take away from any tour on that level, if you've got the crowd in the palm of your hand, then you've won and I think that's what we've always tried to do with our shows. I think it works to a degree, I think at the end of the day, if you shout at someone enough, they'll do it. And so we've kind of got that ethos but I think the Foo Fighters tour for us was a real lesson in human decency and touring etiquette. They are the friendliest people and they could just not look us in the eye as they are at a huge level but they came and have conversations with us and when I'd done too many drugs and I needed a carrot to chew on, Pat Smear was there with a carrot. You know what I mean? They go above and beyond and I think that sets the bar for us. And every time we go on a tour and we feel like maybe the people aren't that nice, we think that is kind of silly because Dave Grohl is fucking nice, you know what I mean?
Han: So it really puts into perspective like how easy it is to be a good person. So that's what we took from touring with them. When we headline shows, we go into the support dressing rooms and see if they need anything, we don't want that weird vibe. We want it to be family. We want it to be open.
What message do you hope people take from this new EP?
Jim: I never want to impose a message on our fans or anyone, our music is quite broad and although they do have meanings, I'd never want to be like 'this is what I want you to feel when you listen to the music'. Music is so personal,  so whatever you can take from that then all power to you.  But if I did have to say something, with this EP, I want people to feel like they don't have to do what other people expect them to do. Like you can go against the norm, push back against people that say you can't do shit, and just be unapologetically yourself. But that's something we've preached as a band since day one.
Han: I think we've always encouraged a resistance to control but we don't want people to make the same mistakes that we have. We have self-sabotaged to a terrifying degree at times and I think this EP is a story of what not to do but also kind of like a coming of age story. As the whole thing ends up in a place that is open for the next stage of Hot Milk. Whether we carry that onto the debut album is to be seen but I think really this EP is a snapshot of the darker side to us. One of the themes that crops up a lot is this resistance to expectations which we've had put on us by parents or ex-boyfriends or whoever. It's one of those things where no one's ever gonna stop us being who we are. You can try and change us, I'd love them to try.
Finally, there are a lot of shows happening and there's the EP release but what else can you tell us about future plans?
Han: I think the US tour is going to be one of the most exciting things for us. Our drummer Harry hasn't been on a plane since he was 4-years-old. When we have moments of feeling doubt about the band or questioning why are we doing it, I always think about how Harry hasn't seen much of the world and so the fact that we get to take him and show him things outside of Mansfield, for me is a massive propellant. If anything, when it's all said and done, and the band is an echo and when I'm 60-years-old, at least I helped a young dude see the world. But I'm also just incredibly excited to take our music to different places in the world where we've never been before. The US tour will be very exciting as the US is where our music naturally sits as well.
Jim: That's pretty much it really, looking at our calendar, we don't have much space to put much else in due to our ridiculous touring schedule but we love playing shows. It's one of the reasons why we do it, there's no greater feeling than coming off stage once you've played a great show. So to be able to play in front of thousands of people is just wild.
Han: I'm excited for it all. I just feel a little stressed out at the moment, I'm looking forward to feeling like we've done something successful.
Just one more thing before we wrap up, with what Han just said about wanting to feel like Hot Milk has done something successful,  I hope you guys feel proud as you have done so much! You guys really need to look back and see how much progress you've made so far and celebrate, it's all going in the right direction.
Jim: Yeah! I think we had a realisation after we sold out some headline shows, we were like 'oh fuck, people actually care!' So when we did Manchester and London that was a really proud moment for us. It was cool.
The King And Queen Of Gasoline is out August 5th. Follow Hot Milk @hotmilkhotmilk
Interview by Cameron Poole