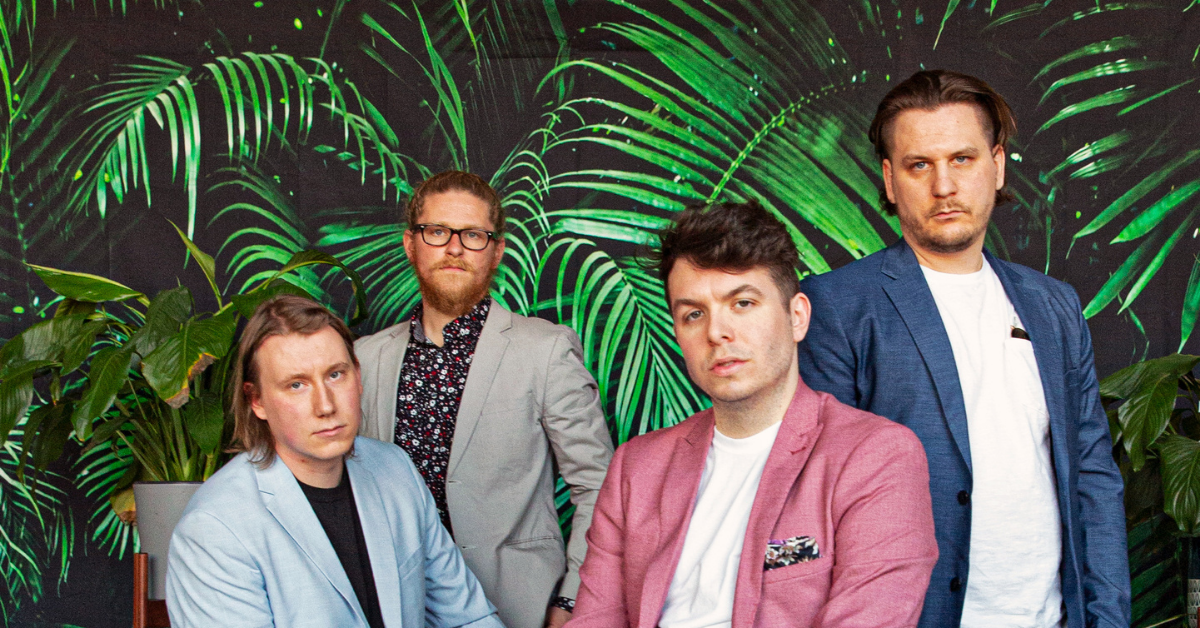 Humble Braggers
The Resiliency of the Humble Braggers
It's a breezy October evening. The crisp fall air gently kisses me on the cheek as I exit my vehicle and call the men of the hour to announce my arrival. Arriving at the home studio located in Buffalo's historic West Side around 6:56 p.m, I am greeted by a confident figure at the door, gracefully shuffling his crown of hair that's messily arranged upon his head. As the door opens, sounds of musical equipment being moved about pours out from the confines of the well-kept home. Then, flashing me a smile and deciding that I'm exactly who he was supposed to meet at 7 p.m., he throws me an inviting gesture, signalling me to follow him inside.
The charming figure makes positive acknowledgment of my Sonic & Knuckles t-shirt before telling me, "you can leave that door open dude," the levels in his voice imply he's about to make a joke, then "our bass/keyboard player will be here shortly, he's always late." It doesn't come off as condescending snark; it's more laced in a type of sincere honesty—which also happens to be the secret ingredient to the band's many revealing songs, how they have grown close as a band, and their admirable resilience.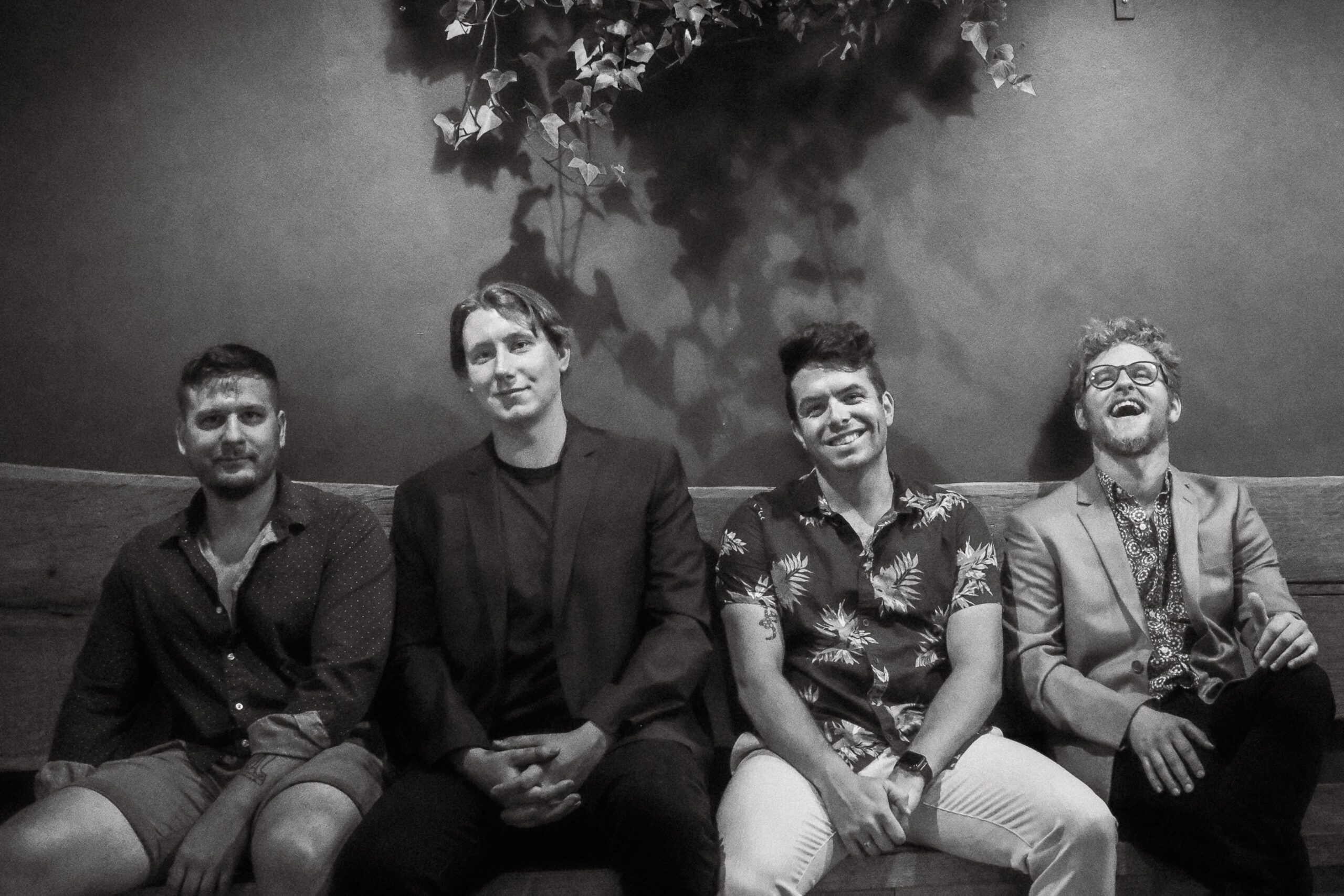 This figure's name is Tom Burtless, and he's the lead singer and founder of Buffalo's Humble Braggers, one of the city's best-kept secrets. The band began as one of Burtless' side projects in 2013 with the first EPs, Safe Haven and Disposable Friends, written entirely by the aforementioned musician. Around mid-2014, the band began fiddling with live performances, with guitarist Bryan Zells joining the band towards the end of that year. Around 2015, the Humble Braggers began working on their first full-length LP as a trio, with Tom, Bryan, and drummer Matt Chavanne. Two years later, Bassist/Keyboardist Tom Stoklosa, also affectionately known as T2, would be added to the band's roster, thus bringing the image of the band to what you see them as today: a quartet of talented Buffalo natives bonding over college-like "sex jokes"—that may or may not feature a reference to your dad/mom—all while remaining resilient in the face of impending doom or other anxiety-inducing activities, however, that existential dread may appear.
And this resilience will be the main attraction tonight as I get myself sorted and prepared to sit in on a fascinating session of rehearsal as they gear up for an incredible show on October 30th with Ithaca and LA-based band Jimkata. Burtless guides me through the home owned by Matt, and I find myself as the receiver of an impromptu peek behind the curtain of not only who the Humble Braggers are but the why behind the madness. The plan for tonight is simple: observe and absorb the philosophical inner workings of a band doing everything they can to beat (or simply understand) life's curious anxieties.
The Humble Braggers latest single, "So Alive," is an example of how strongly the band feels in their fight against these anxieties. Written by Burtless, So Alive is a synth-pop jam about the terror and anxiety one feels when facing your fear and the overwhelming joy that washes over you as you overcome it. "So, a lot of the anxiety-based songs that I wrote before 'So Alive' were much broader in scope, but ['So Alive'] was written in a specific tongue-in-cheek way," says Burtless rubbing his Jurassic Park tattoo as he chooses his next words precisely. "This is going to sound dumb, but I hate flying, flying causes me the most fear out of anything that I have ever dealt with. I know that existential dread is a very heavy thing to deal with, and I'm not going to solve it in a day but doing something like flying—that gives me this overwhelming amount of anxiety—and just getting through it, I get this sense of pride in accomplishing that." The song captivates, leading with the mindset that, while things can be utter shit, if you face this fear head-on, you have a chance to come out on the other side at least feeling like you have greater control over your mind against anxiety. Naturally, this explanation was followed by a performance of "So Alive"; the guys played remarkably, each member holding their own, showcasing the natural chemistry and trust that they have instilled in one another.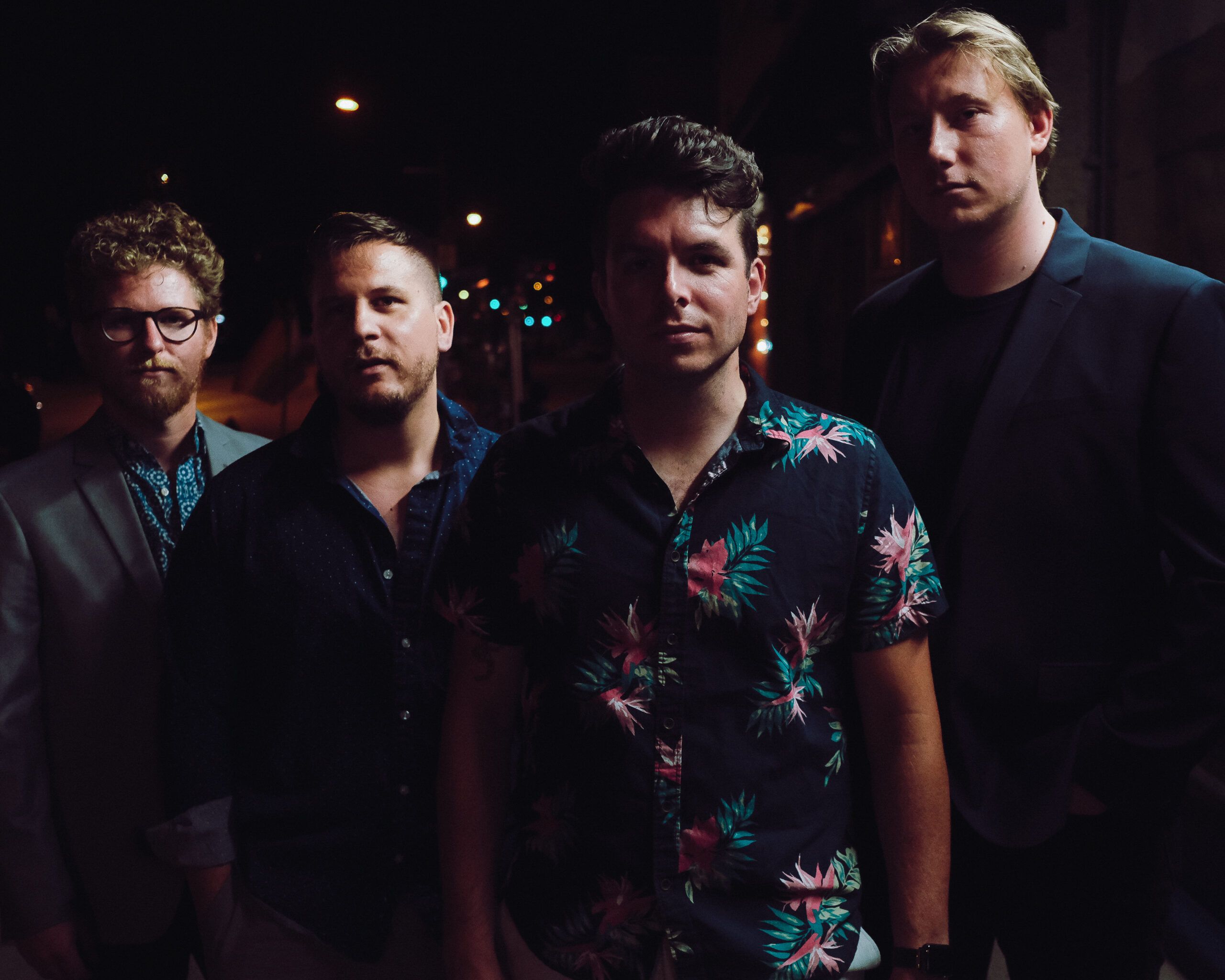 Feeling inspired by the song's lyrics or maybe by the revelation that "So Alive" and its origins came in the form of Burtless' fear of flying, Tom Stoklosa then offered up his own lived experience with anxiety. A mechanical engineer by day, keyboard aficionado by night, Stoklosa confided in his bandmates that he, too, suffered from an intense amount of anxiety when flying on planes and riding roller coasters. "It's a little better now, but recently I have been getting a little nervous flying too," said Stoklosa as a smirk began to roam his face. "But to be honest, I think that anxiety may be due to the fact that I'm an engineer and I'm seeing how the sausage is made." The guys let out a laugh almost in unison, but as they laughed, it became apparent the guys were laughing—not just because Stoklosa is clearly the George Carlin of the bunch—but more so at the collective release of their inner struggles as human beings; it was a laugh seeped in a harmonious epiphany, a realization of "I'm not alone in this battle against anxiety," which is the perfect strategy for the guys as they continue to face the challenge of being a band pigeonholed into a box by people viewing them as only a niche local band, bastardizing the essence of what it means to be "local" in the process.
After the Humble Braggers wrapped up rehearsal, they spoke amongst themselves to figure out what the next moves were going to be for the night. Burtless threw around the idea of possibly hitting a local dive bar to grab a few drinks adding a bit of spice to an already interesting evening. But, seeing as though his bandmates were leaning more on the chill side, they opted to wind down with a bottle of Tequila in Matt's beautifully constructed kitchen. "Someone has to take a risk," said Bryan, pausing to swoosh around his glass of Tequila in a churn-like motion before taking a sip of the platinum liquid. We're now discussing the unfortunate realities of having to leave your hometown as a creative person to blow up in the proper way that would allow you to achieve national recognition. The conversation is fluidly twofold; boozy vocals were slipping in and out of discussion about the pros and cons of being seen as a local band and the gatekeeping machinations of our great musical overlord: the Spotify playlist. "I feel like risks aren't being taken, not from the side of the artists, but more so the people who get to say 'yes' and 'no' to the artists. Your music shouldn't be judged on where you're from or how many followers you have. You like the music, but you're not going to give us coverage because of our follower count and because we're from Buffalo? That's kind of bullshit."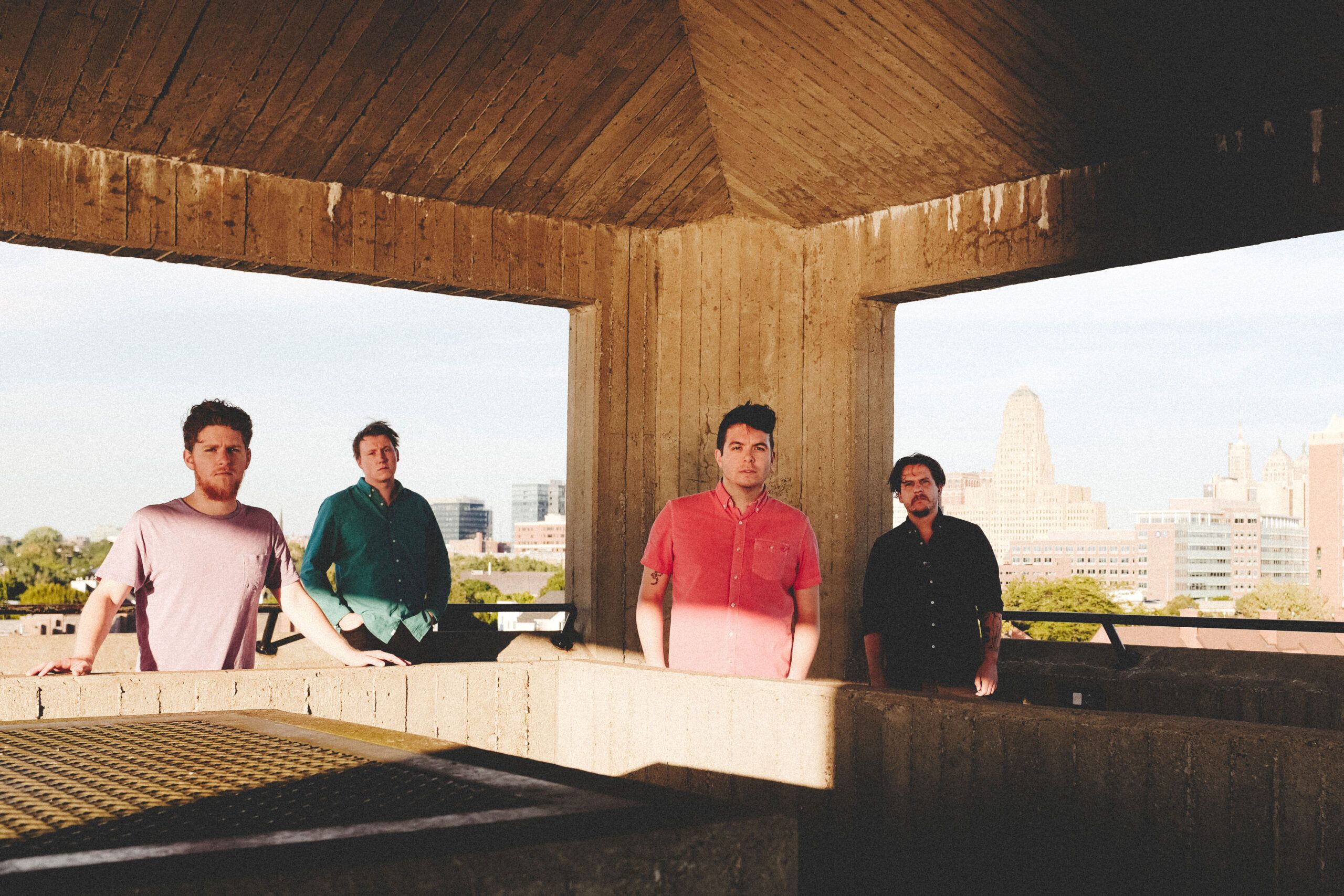 While being shunned in the music industry based on your location and follower count isn't necessarily new, these problems are rather persistent. Buffalo's music scene has grown over the years with talent seemingly oozing out of the city's snowbanks; musical acts like Westside Gunn, Conway the Machine, and Benny the Butcher have been some of the most prominent to come out of the overlooked city as they signed to Shady Records in 2017. This was huge for the city and allowed Buffalo a chance to begin shedding the perception of being seen as NYC's unwanted stepsister from outside eyes. Now, in 2021, the Humble Braggers are trying to remain steadfast in their approach to music but have grown increasingly realistic about the status of their situation.
"We opened up for Metric to a sold-out show, we have done a show in Toronto opening up with Joywave to a sold-out crowd, shows in NYC, and we have such a fantastic catalogue of music. We sound nothing like anything out of Buffalo right now," said Burtless, nursing his empty glass, fiddling with the remaining lime garnishes. "And it's not just us either; there are tons of bands and artists coming out of Buffalo that are doing incredible shit. We're all doing great things, but we're always a second thought." Tom isn't just living up to his band's name here either; the Humble Braggers has managed to get placements on nationally syndicated television such as CW's The Flash, with an old song Burtless wrote and released for the band in 2016 called "What's Fair," one of their most popular song "How It Starts" appearing in iZombie and MTV's Teen Mom—who opted to use around seven of their songs in their show. Around this time, the guys thought their big break was around the corner but then, nothing. It was further punctuated with a conversation Burtless had with the band's manager about potentially getting their songs added to one of Spotify's biggest indie playlists. Their manager went out of her way to do everything she could to secure placement on the said playlist but was ultimately rejected due to the Humble Braggers' "lack of a sufficient follower count."
"It's such a strange position to be in; the talent is there, the support from fans is there, but due to the fact we're not averaging an absurd amount of followers, people won't at least listen to the music and give us a chance," said Burtless. "But I will; we will keep moving forward. We know we make good music, we know we have super dedicated fans that love all that we do, and we're grateful to all of them. But something's gotta give eventually."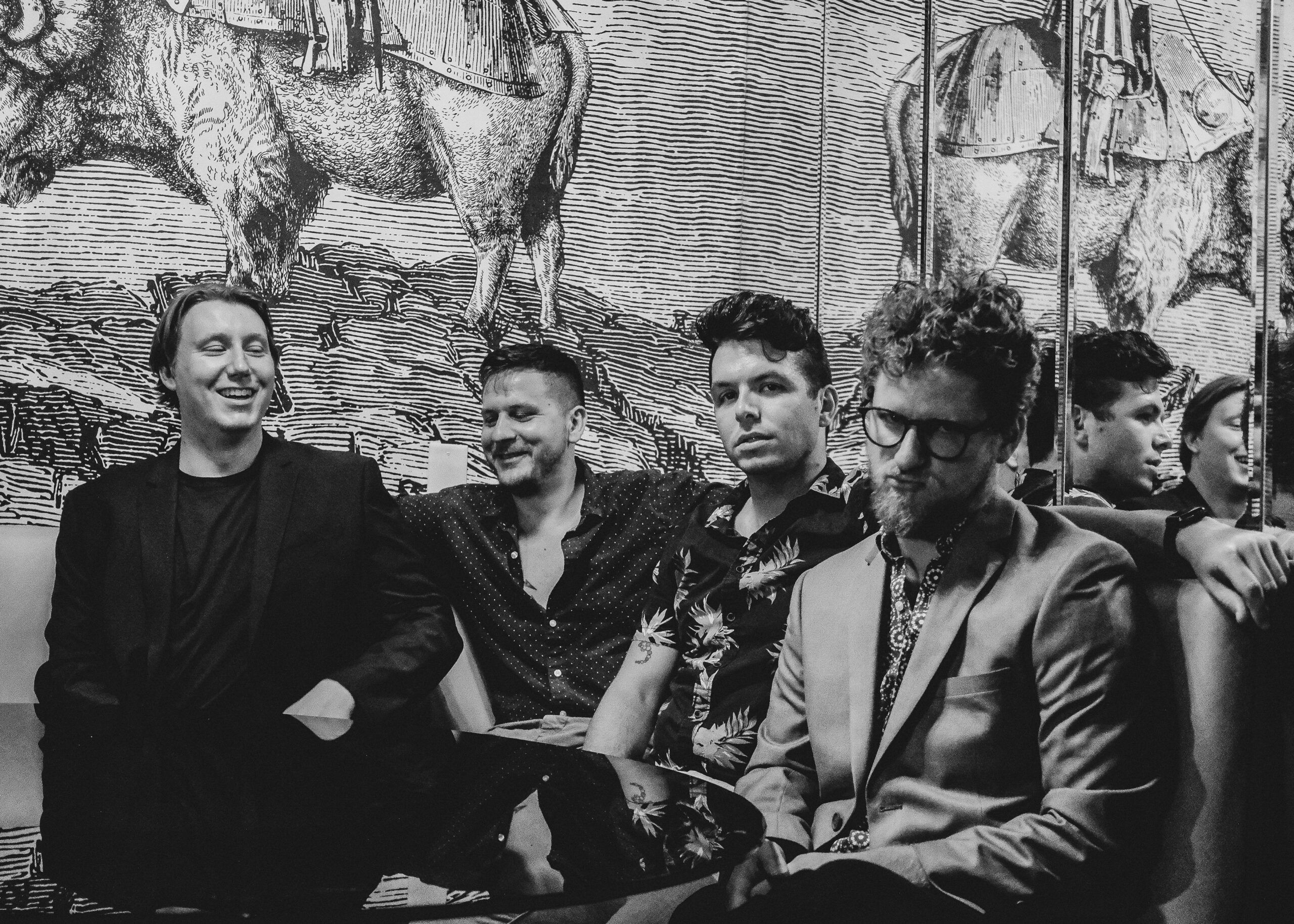 And "eventually" may be coming soon. The band's latest offering—a full-length LP aptly titled Love & Fear—will be released November 11th, and while the band doesn't necessarily show it on their faces, there's a lot riding on this project. No, it's not the "make or break" album for the quartet, and no, it's not even a put up or shut situation either; this album represents all the anxieties they had managed to stockpile from when they began, personally and collectively, and released the best way the guys know how: disgustingly groovy baselines, cosmic-flavoured synth keys, bombastically performed drum hits, slick guitar licks, and the vocals of a soul who knows what his purpose is. "This album, I would say, is the culmination of everything that we've gone through since the very beginning," said Matt. "I think to Tom's (Burtless) point, we are very talented, and this album is a perfect showcase of that. These songs are where we've been, where we've gone, and where we're all going sonically. I really like it."
Love & Fear will offer listeners more of the heavy synth composition that makes up the synth-heavy fan-favourite "So Alive." Themes of anxiety, resilience, pain, forgiveness, and love and, of course, fear make up the album's foundation, taking listeners on a journey through the minds of the Buffalo quartet as they unravel their souls one song at a time. And, while I can't say much about the album due to the risk of spoiling the anticipated body of work, I can say that this may be the "eventually" the guys were looking for.
"I think when people hear this album, new listeners and old fans, they'll understand and hear what it is that we've been going for," says Burtless as we discuss what people can expect from Love & Fear. "All the anxiousness from my fears, our fears, all the worries, all the progress that we've made along the way, it's in this album." It's twelve midnight, and the interview has gone on for about five hours at this point; only three of us remain, and we're all noticeably tired from. Bryan and Stoklosa have retired to their homes for the evening, leaving me, Burtless, and Matt to sulk in the remaining droplets of our anxieties, Tequila and the last of the scattered, quartered limes. Faintly in the background, their upcoming album plays prophetically, possibly foreseeing a future where the band gets lucky yet again, and these revealing pieces of art are used for CW's current slate of shows or maybe in a movie. Who knows. What we do know, though, is, at this moment, right now, the Humble Braggers are grateful for the strides they made with facing their anxieties—both musically and collectively. They won at the local level, and with their resilience, it seems they'll soon be celebrating on a national level.
Interview by Marc Griffin
So Alive by the Humble Braggers is out now.