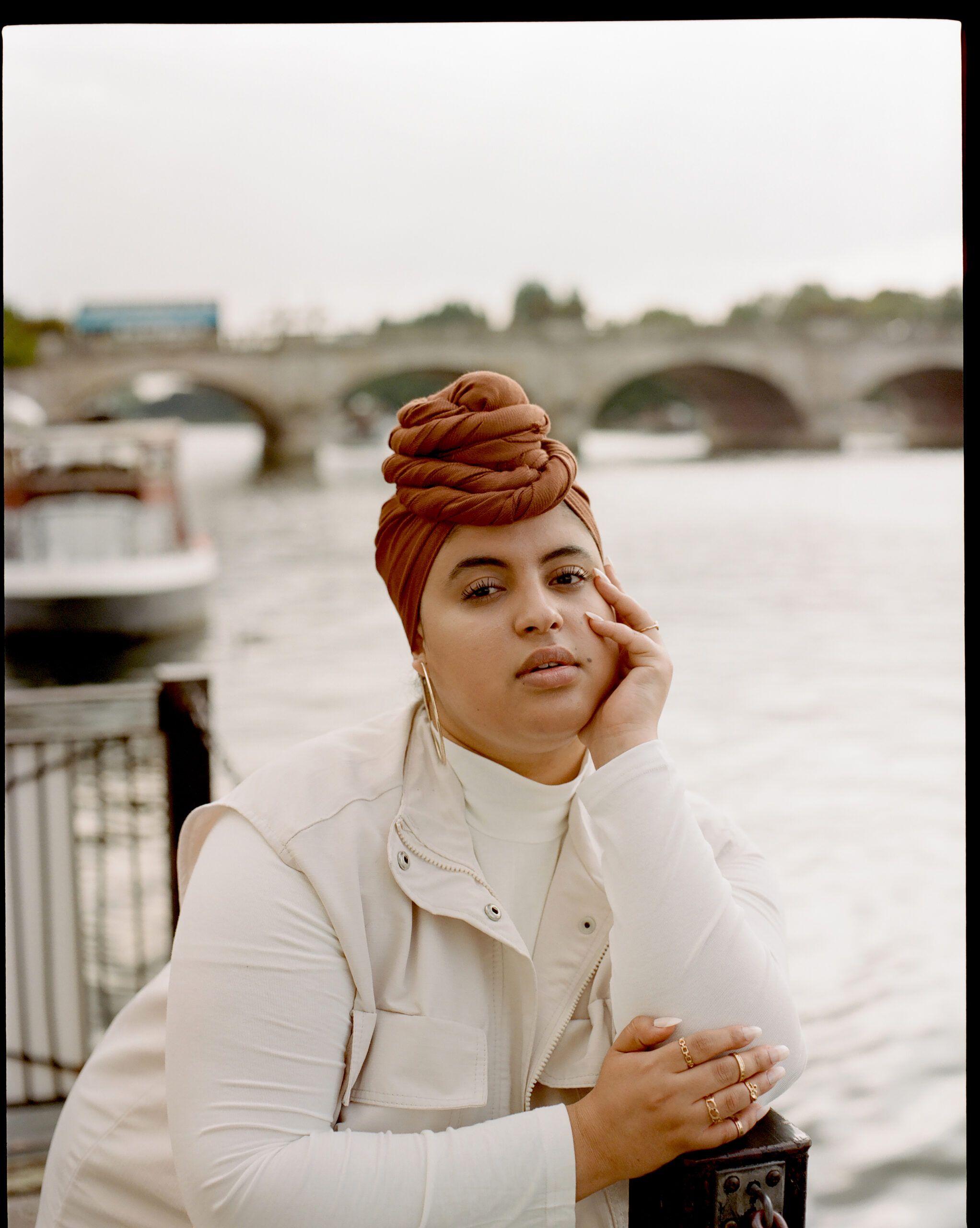 Imen Siar
Imen Siar is the new kid on the block when it comes to pop music but she's already proving to be one to watch.
Ever since growing up in Milan, Italy, Imen Siar dreamed of pursuing music. She took the time to explore this passion throughout her childhood even when she faced adversity and was bullied at school, she didn't let anything deter her from her aspirations. Once her family moved to London, at the age of twenty-years-old Siar applied for ITV's Britains Got Talent and ended up making it to the semi-finals. It was a huge confidence boost which further proved that the hardworking artist can make a music career for herself. A music career that is respectful of her upbringing as a Muslim and Moroccan heritage. What makes Siar stand out is the fact that she is a larger-than-life character, one that is instantly likeable, humble and genuine. Her latest single Glitter And Gold is an empowering and positive pop banger that you'll have on repeat countless times. To celebrate the recent release of Glitter And Gold, 1883 Magazine spoke with Imen Siar via Zoom Call to discuss how she's navigated pursuing her music career whilst working in Nandos, social media, and what's next for the rising artist.
Hi Imen, thanks for chatting with 1883. Let's talk all about your new single Glitter and Gold. It marks your first attempt at songwriting, what was the experience like and what did you learn from your time making it?
I was in New York for the first time ever when I wrote it which was already a new experience. What I found out is every single session starts in a different way and I didn't know that before. I always thought you would magically come up with some lyrics and then write them down and that was it. So It was an eye-opening experience for me and it builds my confidence. With it being my first ever time, when I came up with something I really liked, it built my confidence for the next writing session and so on. Being the first time, I wanted it to be something that really spoke to me and something I had experienced a lot, something I was really familiar with so the words would come easier as well. That's why the first word, the first sentence is "Underestimated from day one" because that's how I felt when I was in Italy. The chorus is about who I am now, I took those experiences that were negative and transformed them into something positive, in this case, metaphorically in Glittering Gold. I absolutely loved it. I was with amazing people in New York for the first time and I was feeling it. I think it really helped me because, knowing myself, if the first session went badly then I wouldn't have tried again for a while. Because it went so well, the other songs came out even better including the next song I'm hopefully going to release. 
For anyone who doesn't know you yet, how would you describe your sound? 
Describing my sound is one of the most difficult questions I get in my opinion. I feel like I'm a lot of things at the same time but as long as it's something uplifting, empowering, and brings people together then I guess that's my thing. I feel like I find myself a bit like Jessie J with some vocals, they have a little twang and accent to them which people didn't see in Lonely People because it's just a slow ballad. In the next singles especially you'll see a bit of my urban style and a bit of Arab heritage as well because I put some Arabic words into it. I realised I have a different background to the majority of singers I grew up listening to so I want to incorporate that because back then I didn't see people who looked like me, sounded like me or put Arabic words into songs to that's why I want to represent it.
It's easy for people to not see the sheer effort and hard work that goes into chasing your dreams. I hope you're really proud of all your achievements so far, you have manifested this all. Could you tell us about how you navigated working a full-time job, your family's initial views on your aspirations (particularly your dad) and general life? It's really tough chasing your dreams but so worth it…. 
It's one of the key points I have always had. I still work in a restaurant, I have a shift tomorrow for example. I like that aspect because it keeps me humble for the time being because when people start their careers, sometimes it can get into their heads because there is a lot going on. The moment I step into the shift, I go back to thinking "This is where I come from, this is how I started". In my case, I like to think of my story a bit like a movie as it literally sounds a bit of a Cinderella/Hannah Montana story. I came to London and these opportunities started arising like with the Britain's Got Talent opportunity which was the first thing that was big on TV. The reason I didn't tell my dad was, first of all, I wanted it to be a surprise, and second, if he ever had a doubt about how I was going to present myself he could see it right there and then on TV. I like to be like smiling, humble and modest so I'm glad he managed to see that. Now I have grown up, I'm really happy this happened now and not back when I was 16 because I got to know my parents, they got to know me better and my values so they're a bit more confident of me not doing something that would go against my religion or culture for example. My dad and I exchange messages. For example, "I'm gonna have to do it with this person, do you agree on the song?" so he listens to the song and be like "Okay, beautiful meaning no bad words, I'm fine with that". We are at the point of communicating which is beautiful because I have always been family-oriented, I never wanted my passion to clash with it and then have to keep one or the other so I'm really happy with where I am today, sometimes it takes a lot of patience. I know teenagers sometimes just want to really go for it and that's that but sometimes you have to understand, that our parents did not grow up the same way we did. They need a little bit of understanding, especially when you're the first born, they are parents and it's the first time they have approached things like that.
Following on from that, when would you say was the first moment that you thought to yourself 'okay, this is starting to pay off?' Would you say Britains Got Talent was a pivotal moment or was there something before then? 
The first moment I felt like this is what I want to do with my life was when I won a competition back in Italy. It was a school competition and was my first time properly singing on a stage with a microphone and a track. It was the first feeling of having an audience and people congratulating you at the end of it. The second thing was Britain's Got Talent because it was one of the first things I really wanted to do, especially meeting Simon Cowell. Then the one where I was like "Okay, this is getting serious and this is finally happening" was hearing myself on the radio for the first time. It wasn't one of those times where your management messages you saying "you're gonna be on the radio on this channel at this time". No, I was in the car and randomly, all of a sudden I heard myself. I was like "Oh my God, that's me" which was beautiful.
With Glitter and Gold's extremely positive and empowering message, what is one positive mantra you tell yourself most days?  
I feel like many people might have mantras but in my case I'm still very close to my religion. I feel like the prayers or just the faith is what helps me through. I believe my story was written 500,000 years ago and I feel like it gives me peace to know what's written and what's meant for me is just going to be so as to not stress too much. I used to think about how other singers can sing higher notes, do better runs, write better lyrics, have a better image and so on. I used to let myself down a lot with that. Then I realised it's not only the music, but it's also not only the voice, for example, Selena Gomez. People love her because of her personality as well, even though she doesn't always do crazy vocals she really is very down-to-earth and kind. In my case, I feel like there's a lot of my story that people could relate to because I come from a very humble background. You know, from an immigrant family, born in Italy, raised in Italy who then came to London and travelled around the world but still working at Nando's. What I feel I can give is maybe catchy songs that people really want to listen to. I don't compare myself anymore.
I know that Brixton Academy is one example of a dream venue that you would love to play at some point. As a music fan yourself, have you caught many gigs there? 
It's kind of crazy but I've never been to Brixton Academy, I have only seen pictures and videos of people performing there. I've only been to three concerts in my whole life. The first one was Jessie J, then I got invited to a Little Mix one and then I went to a Skillibeng event because he has the same management team as me. I've seen some of my favourite artists perform at Brixton Academy just on a screen and knowing that it's in Brixton when I pass it on the bus, every time it's like a colour, I envision it and I'm like, imagine seeing my name at the front. Every time a pass by on a bus I see it there. So that's why it's my main goal at the moment.
I'm going to quote your Instagram from 2019 now: "Having a nice feed is so hard kmt" – do you feel you've finally mastered the art of social media? It's crazy how important it is to be so active on social media in terms of helping your music career….
That used to be my favourite part in the beginning before I had all this other stuff to do but now it has become my least favourite. Although I love posting stories collecting on a daily basis, I don't like having to post something on a day you're not feeling so great and you don't really want to get up and get dressed. I'm not someone who could just get up in the morning and take a video, I have to wear a scarf, I have to have long sleeves. So in my case, it's even harder but I feel like always having the actual content on the side just in case is not helping me right now. It is very hard to keep up. Sometimes you find a really cool article about yourself but you don't know how to post it because it's gonna look odd with the rest of the feed. I feel like a good balance with all of that is TikTok because I can literally post whatever I want. On TikTok, one video can reach some audience and the other one doesn't. But on Instagram, it's the people who follow you and probably have for years and years. Social media is a tough one right now, there are so many studio sessions, so much stuff. There's rehearsal and honestly so much I never even thought was a thing. You only see the artists going on stage singing and that's it.
One of your first releases was a feature on renowned DJ David Guetta's track, Family. Who else would you like to work with? I know that Adele would definitely be on your list but who else…
I would love to collaborate with Alessia Cara and Lewis Capaldi. I like the same songs they make and when it comes to Alessia Cara, I just always say I feel like we would be great friends, in terms of her personality, she's just so drama free. That's what I want to be around. I feel like there are a lot of up-and-coming artists I would like to collaborate with, one of them is Sofia, she's Canadian and Moroccan, same as me. I feel like I literally grew up watching her journey from when she used to post covers up until now. There's Zoe Wees in Germany as well, Griff in London. There are quite a few!
You've lived in Milan and London, what are your favourite and least favourite things about those two places? 
I grew up in a little town outside of Milan, but now I go back to it, the thing I like the most is the fact whenever I'm around I actually see people I know and probably went to school with and everything. It's always sunny, so it's good for pictures even though I hate hot weather. I also love the food, just Italian food. I'm going back there because it was my city, but now I'm going back there because every time I have an opportunity and something to do relating to music, I feel like musically over there when I still lived in Italy, everything was just covers, I wasn't really an artist yet. When it comes to London, the thing I love the most about London is the diversity. Everyone is so diverse here. I felt like I embraced my culture, my hair, my skin colour, my body, everything when I came to London because everyone was just so different and they don't care. In Italy I especially hate that everyone just stares, I don't know why but Italians love to stare whether it's for good reasons or for bad reasons. Here in London, everyone basically minds their business. I can literally walk out in a nightgown and no one would say anything. I love that about London. I love that anytime I feel like I want Indian or I want Korean food I can find everything here. I can also find halal food which is not as common. 
And how would you say the cities have impacted your musical tastes?
The funny thing is I feel like when I moved to London, I started appreciating Italian music more. It's funny because when I was in Italy I was so obsessed with English, learning English, and English singers that I was so obsessed and would only listen to those. Then when I came here the career started and I started exploring a bit I thought I should start singing in Italian so that is when I appreciated it a bit more. I basically expanded my songwriting sessions into something a bit more multilingual. In London, I got to understand that I can make upbeat songs without making them immodest. There's so much I can talk about now, my vocabulary has expanded and I've learnt so much from London, no one really judges you. I'm a lot closer to my family so London made me the person I am today and therefore the music I make today.
Finally, what's next for Imen Siar? 
The album is almost ready. I think there are only a couple of things missing. The majority of it was written by me which I never thought would ever happen so I'm really proud of that. There are going to be very different types of songs. You can hear very soulful ballads as well as very catchy TikTok-type songs, as well as songs with Arabic words in them. There are going to be some collaborations as well. Whether they are singers or whether they are just musicians. I feel like something else I would like to do is to start thinking about my brand, not only about T-shirts I was thinking about making headscarves and turbans as well so I would like to start thinking about that.
Glitter And Gold is out now. Follow Imen Siar @imensiar
Interview by Cameron Poole