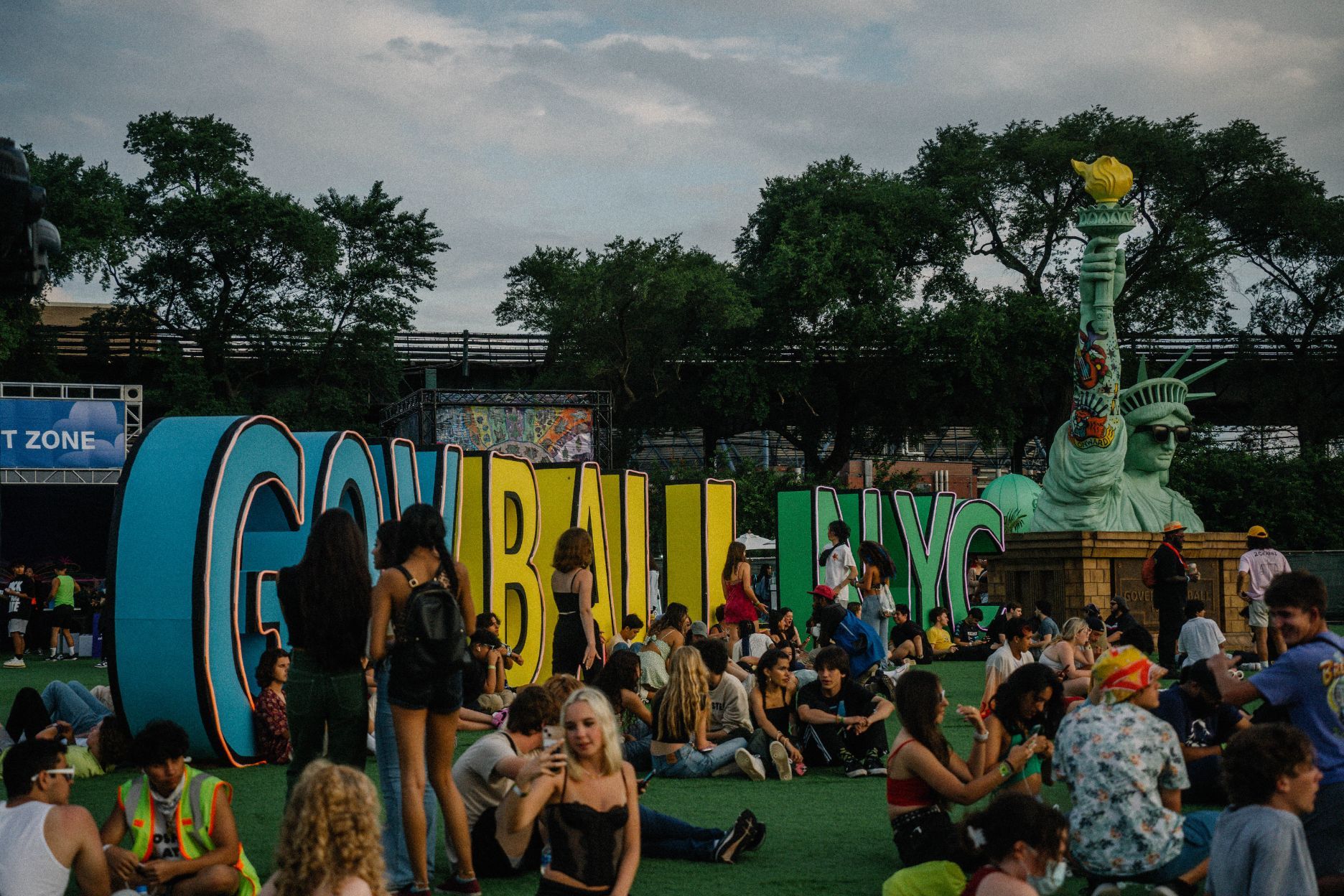 1883 Magazine x Gov Ball
1883 Magazine heads to New York to catch everyone from Tom Odell to COIN at Gov Ball.
With the return of summer brings festival season and there is no other festival that celebrates the mix of cultures and genres like Governors Ball Music Festival. Joining over a hundred thousand fellow music lovers, 1883 Magazine gathered at Citi Field in Queens, New York for the 11th edition of the festival, catching sets from acts like Halsey, Jack Harlow, and more.
While there, 1883 got up close and personal with a few of the artists who performed. Read our interviews below with Julia Wolf, Chelsea Cutler, Tom Odell, and COIN!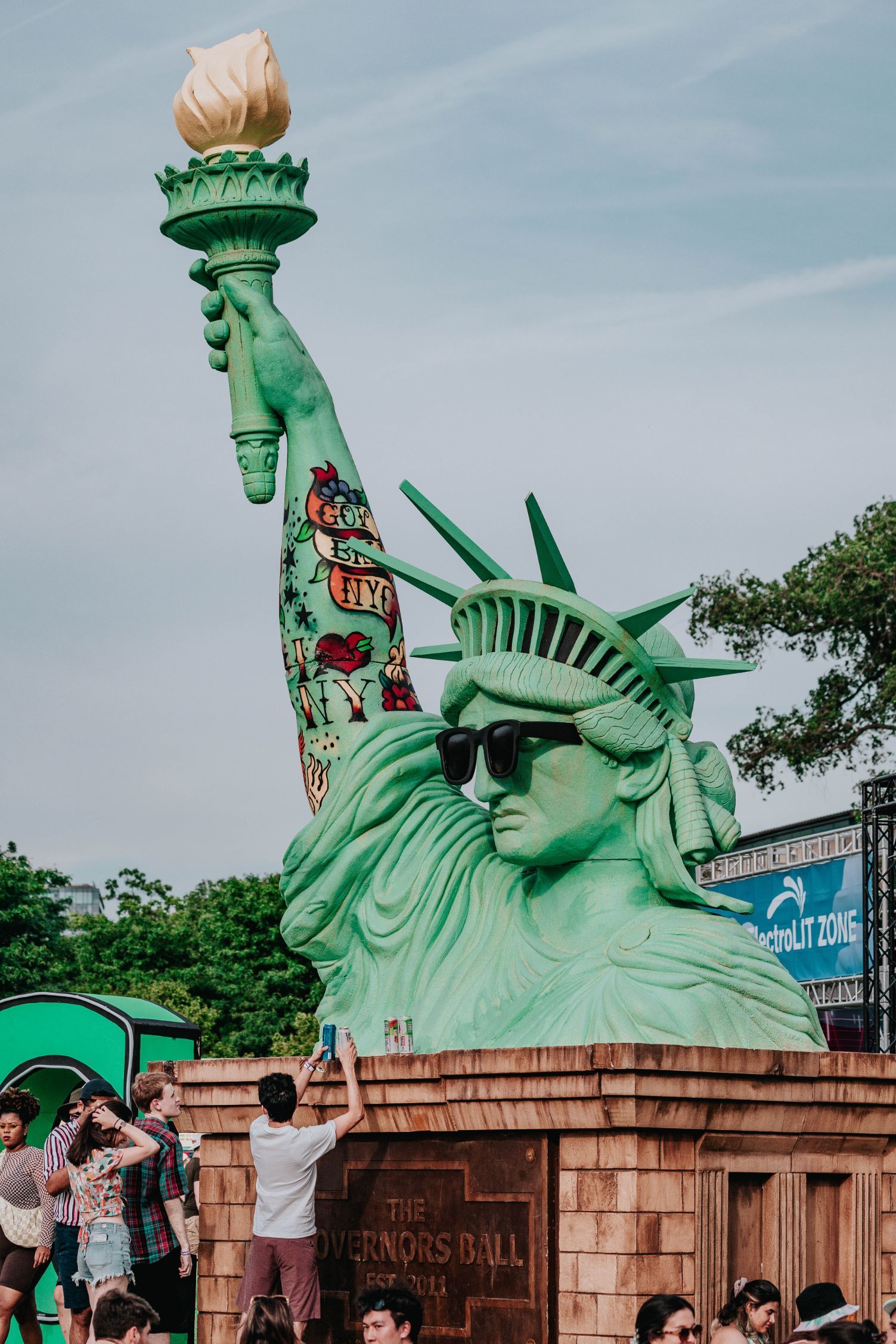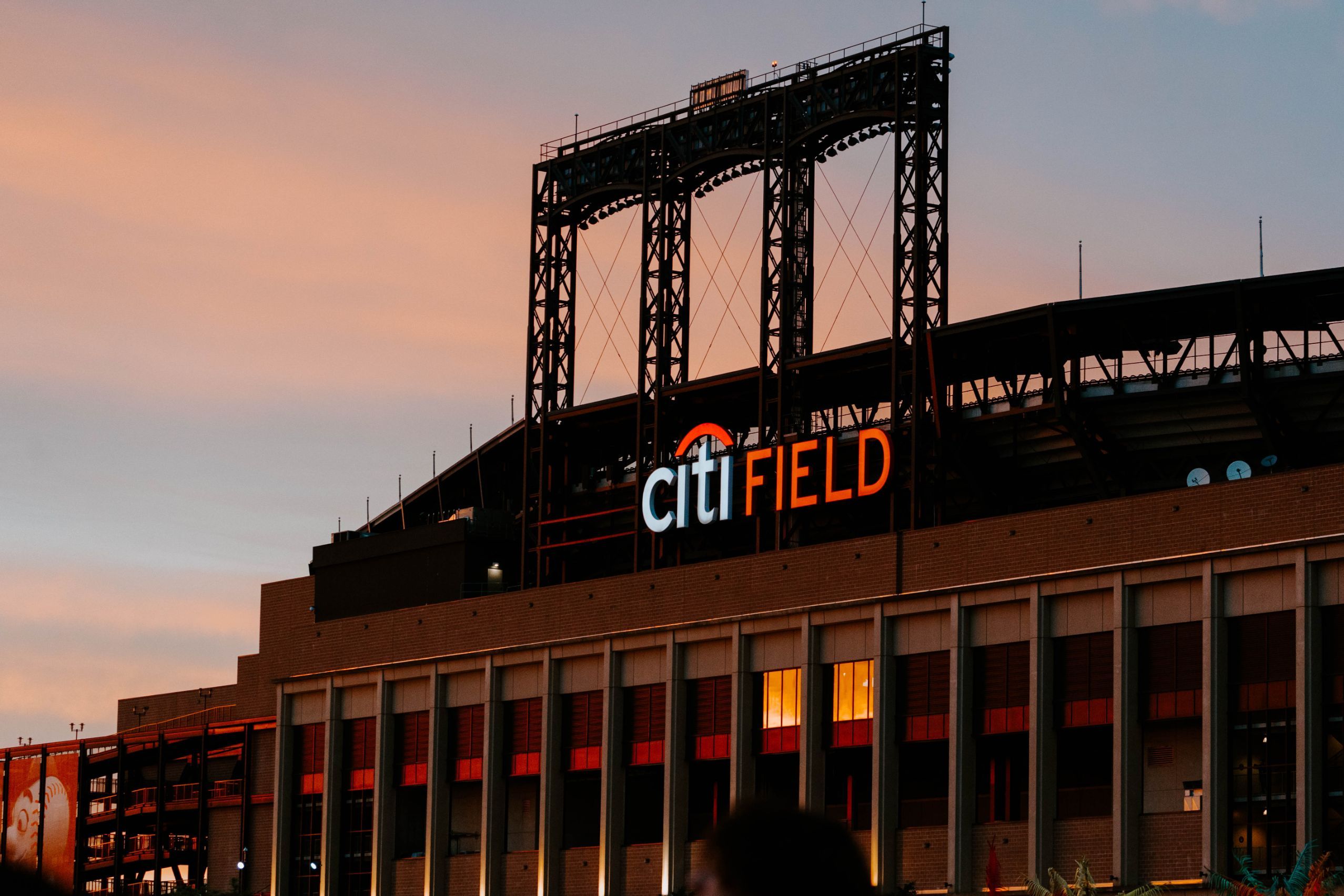 Julia Wolf
Indie-pop singer Julia Wolf's first-ever festival appearance took place in her own backyard. The Queens, New York native took to Gov Ball's main stage just a little over two years after debuting her first song, a rapid rise that has also seen her release her first EP and open for Fletcher on tour, among other accomplishments. In addition to releasing her next single, "Hot Killer," later this month, Wolf also will be embarking on her own headlining tour next year.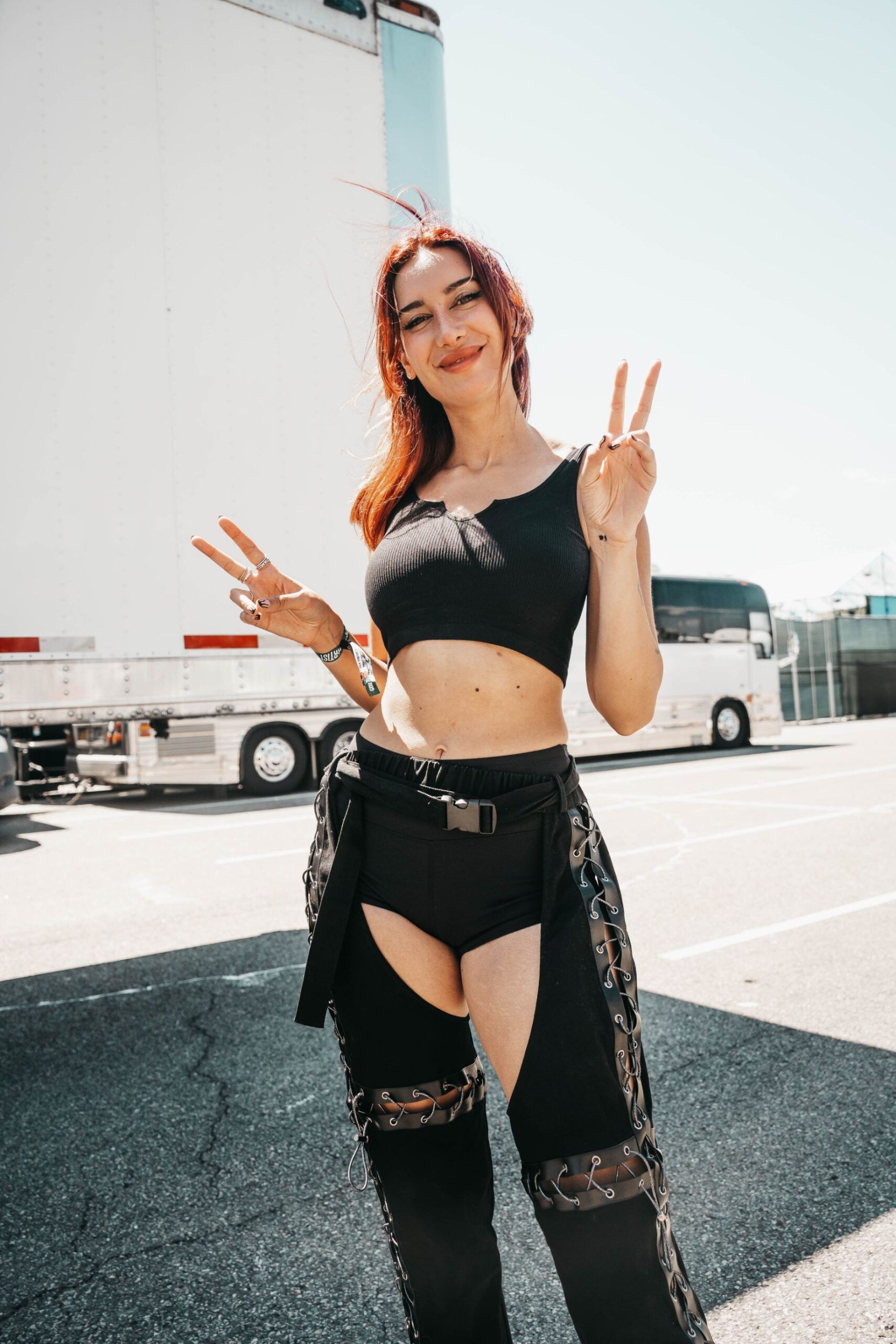 Congrats on your first festival appearance! Have you attended Gov Ball as a fan before coming here? 
This is my first festival in general, of all festivals. So it was a really insane experience for me.
How did it feel to get that invitation?
I probably screamed for twenty-four hours straight. You never think that these types of people know you exist. I was just over the moon, I was so happy.
What does it mean to be playing at a festival so close to home?
I know! We're literally in my backyard. All my life, I've been to concerts here in this area. So to finally be the one on stage just hits a little closer to home.
What was it like touring with Fletcher this spring? 
So Fletcher really scared me because, before Fletcher, I only did four shows, so it wasn't much to go off of. But it just taught me that the people in the crowd are there to see you and there to have a good time, and you just feed off their energy. It's all about meeting them at the end of the day. It's about them. 
Do you have a favourite song to perform live?
My favourite is still unreleased, but it's called "Get Off My Dick". I think it just always gets the biggest reaction because it's a bit of a surprise.
In addition to Gov Ball, what have been some of the highlights of the last couple of years for you? 
I only started putting music out, like, two years ago. Since then, we got a Times Square billboard with Spotify. They let us into their indie artists program, so that was incredible. Being on tour with Fletcher and getting to meet a lot of new faces. If you had met me two years ago, I was just not speaking, like, I was totally afraid to open my mouth. I would never have believed how far we've come.
What can fans look forward to on your first headlining tour?
It's in the works, which is really fun. I just want it to be a world where they can step in, party, and have fun. And I'd like to fill it with relatable experiences. I just want to connect with fans, and I want them to know that we can hang out face to face, and I don't want to be unattainable.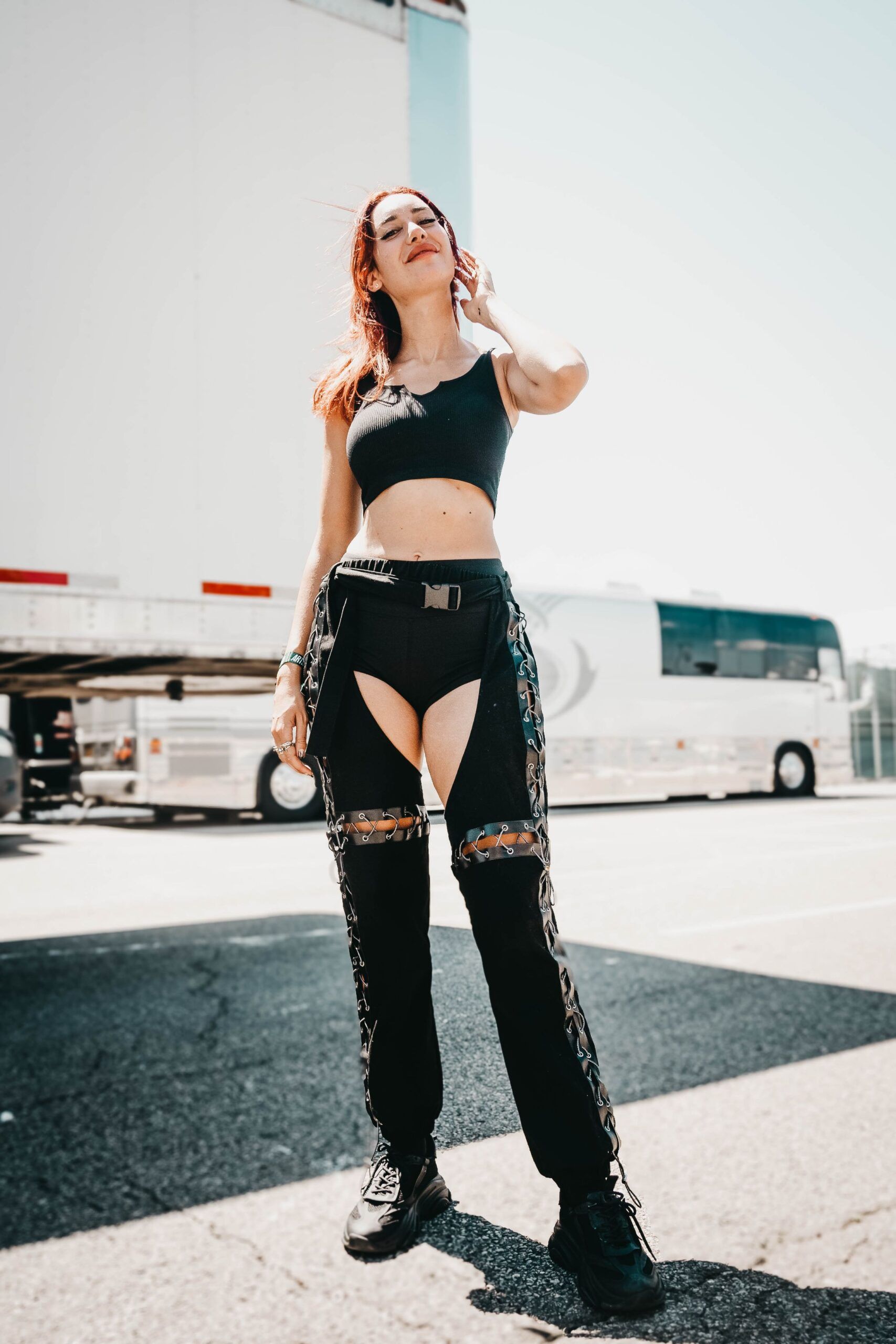 Who are some of your musical influences?
One of them is here tonight – Jack Harlow. I listen to a lot of rap, so I was a fan of his for years now. Seeing his grind is really inspiring. I also am really excited for Ashnikko, and then Soccer Mommy.
What were some of your inspirations behind your new single, "R.I.P to the Club"?
It all stems from how I used to be in high school and in college. During class, I couldn't make eye contact with anyone, I never raised my hand. But then I started getting invited to clubs, and I was really afraid, but I went and it just became a place where no one knew you. I could literally just create this alternate identity for myself. We would just have so much fun going out at night, and then I'm going to class the next day, and I couldn't open up my mouth.
You also have such a strong visual aesthetic. What inspires you there?
I grew up really loving eerie, horror, dark things. I try to tie that into my aesthetic now, just keep it edgier. When I can't use my words, I feel like aesthetic kind of represents who I am better, sometimes, than I'm able to speak it. I like this kind of powerful female empowerment, this edgier look. I think it does a lot to explain who I am.
We saw on your Instagram that you're a Twilight fan: which is your favourite of the movies?
Oh my God, what a question. We've got to go with the first one, I think. Just like, watching them fall in love.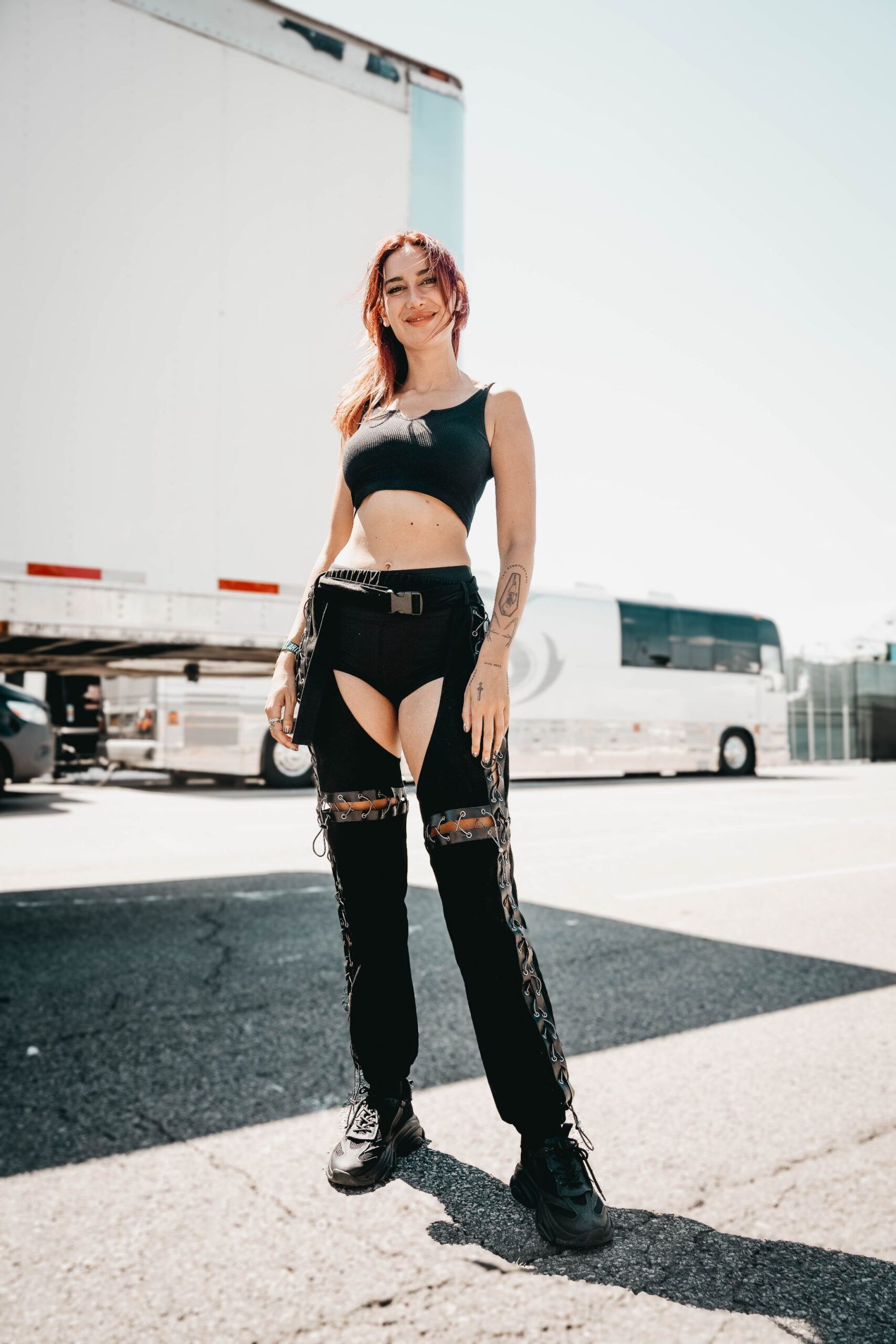 Tom Odell
On a pair of recent singles, "Best Day of My Life" and "Sad Anymore," Tom Odell captures moments of loneliness and introspection through lyrics that feel uniquely relatable and vulnerable. Onstage at Gov Ball's Bacardi Stage, Odell also performed a cover of Lana Del Rey's "Video Games" and his own hit "Another Love," which has found virality on TikTok years after its initial release in 2013.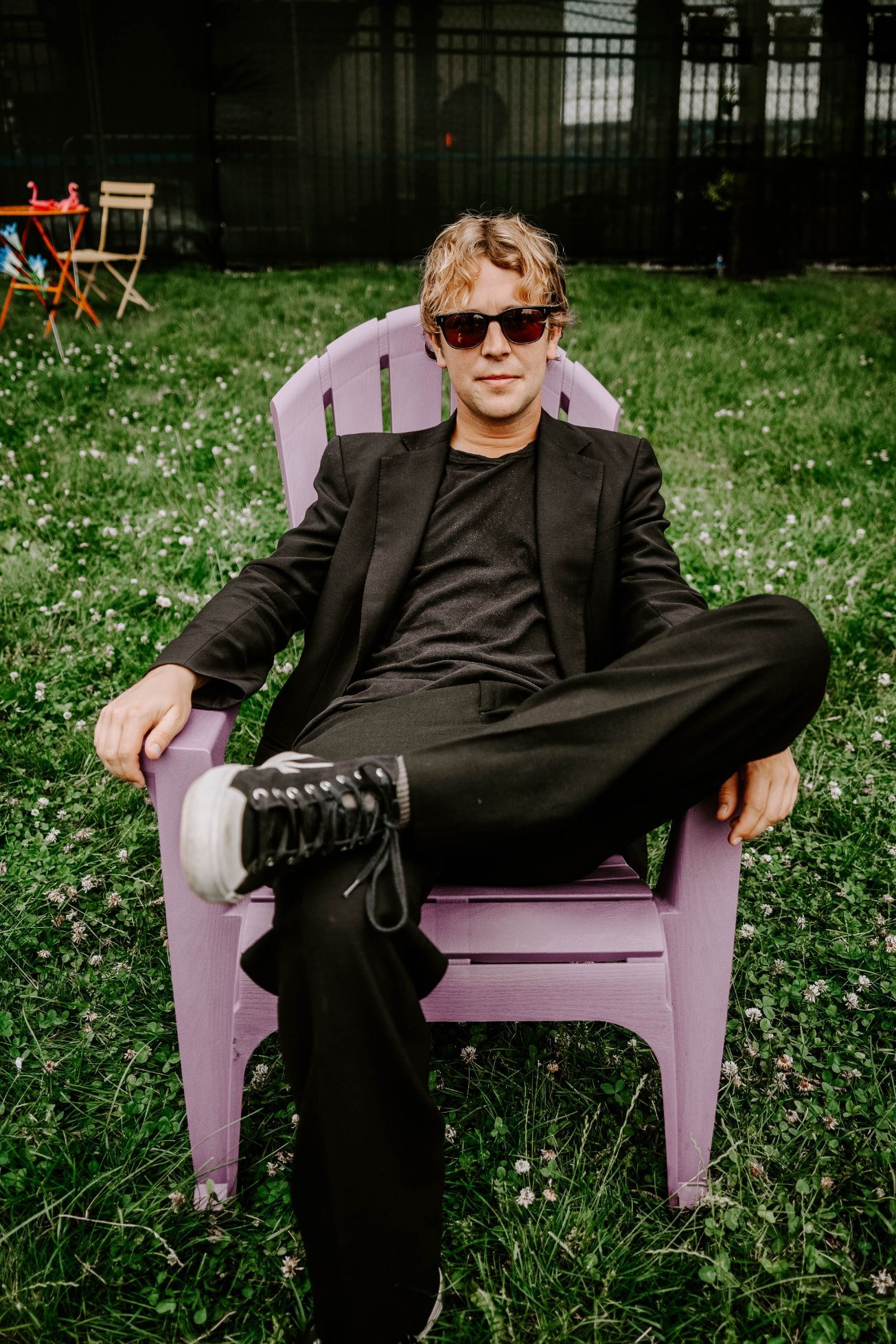 How has your time at Gov Ball been? What was it like on stage earlier today?
It was good, yeah. It's nice to be here. We're literally in New York for 24 hours, but it's really nice to come back. We really like New York, so it was nice to play on the piano and sing.
This is a bit of a pitstop between the legs of your world tour. Being on the road this year, what were some of the highlights?
It's been wonderful to travel again after COVID. Certainly, I was getting pretty used to being at home and having my toothbrush in the same place, so that was a bit of a shock. But no, I really enjoyed meeting lots of strangers, and people that come and see my shows, and having that connection again with people, which is so wonderful about my job. I get to go and meet so many people, like today I already have met fifty or sixty people. It's so nice because it's so stimulating and energizing, and spurs you on.
I wanted to ask about your "Video Games" cover. What are some of the deciding factors for you in picking a song to cover? 
I just really like that song. Occasionally I sing it, and I don't know what it is, it just popped into my mind. My girlfriend's a big Lana Del Rey fan, so we've always got Lana Del Rey playing at home. I just love that song so much. It's got a depth to it, like it transcends the time it was written. It will always be a great song.
You were playing your new song, "Best Day of My Life," live on tour before it was officially released. What was it like getting the first reactions to it from a live audience?
Really nice. It was the first time I'd ever done it like that. It felt very salient to the time because it was the first moment people were kind of coming out to live shows, that was in February. So there was a sort of melancholic joy to the trouble we'd all been through, to the fact we were back in venues amongst people. So it felt very fitting for that, and the reaction to the song has been really nice, and I'm super fucking proud of the music I've made recently. I'm really excited for people to hear it because I think sometimes with making music, after you've made it, a bit of time passes and you look back at it and you think… at the time, I'm always like, this is the right thing. It always feels like it almost explodes out of you. But then maybe four or five months later, you move on from that emotion or that time of your life. But with this music, I feel that a bit of time has passed since I finished it, and it really resonates with me.
With "Best Day of My Life" and "Sad Anymore," did you find the process of writing such introspective music to be therapeutic, or more a personal challenge?
The thing about the most recent music I've made is that I've challenged myself to not use any other instruments but the piano. That's really actually the first time I've done that, after years of being a piano and vocal predominantly artist. I really went in on my relationship with the piano and how I play it, and that was a deep process and challenging and very rewarding. Many times at the lyrical perspectives, I really challenged myself in that as well. Particularly "Sad Anymore," that's very inspired by John Cage and Steve Reich, and there's minimalism to that which I very much enjoyed exploring. So much of this music I've made is about removing, and seeing what's left.
You have a really passionate online following, and some of your songs have gone viral. What was it like to be releasing songs that capture feelings of loneliness to such a broad group of people? Was it challenging to be so vulnerable?
If you just write the truth—it sounds like such a simple thing to do. It's probably the hardest thing to do, I feel, as a writer, is to write the truth. What is the truth? Your mind is so full of shit, and it wants to fabricate and avoid the truth. The ego wants to survive so much, it doesn't want to be the thing that you actually are. It wants to worry about the past or think about the future. So to find the truth can be so difficult. But each day I try to write the truth, even if it's just one line. If I do that, I feel like I'm doing myself justice, and I don't think too much about the audience. But I feel like the pact I have with them is that if I continue to be honest, which I always have tried to be, they appreciate that, and that's a sort of weird pact I think I have with them.
It's resulted in a community of people online who I feel have a similar outlook or feeling towards the world, maybe a similar struggle with life, and an openness to accepting that as well. And like all good art, I think the sole purpose of it is to alleviate loneliness between the creator and the person consuming it, whether that's literature or film or anything. The artist is saying, "I feel this," and then the listener goes "oh, I feel that as well." It's a beautiful moment that transcends the loneliness of modern life. Everything in our lives seeks to just alienate us. It seems like so much of modern culture, in its pursuit to bring us together, drives us apart. I think, now more than ever, art is so important to be adverse to that and to say no, we're all the fucking same. We're all the same because we're all cut from the same cloth.
It's incredible that you as an artist can help others feel seen to this degree, and also create these more intimate spaces for them while on tour.
Yeah, definitely. I'm touched often when I'm on these tours. I do this thing where I meet people, like 20 or 30 people before the shows. That really inspires me to keep going, to meet people that—not so much that they're interested in me or interested in my music—just to meet people that are like-minded. It's just a wonderful thing.
It's the start of the summer here at Gov Ball. What do you do on an ideal summer day, either on the road or in general? 
I don't know. [laughs] Survive!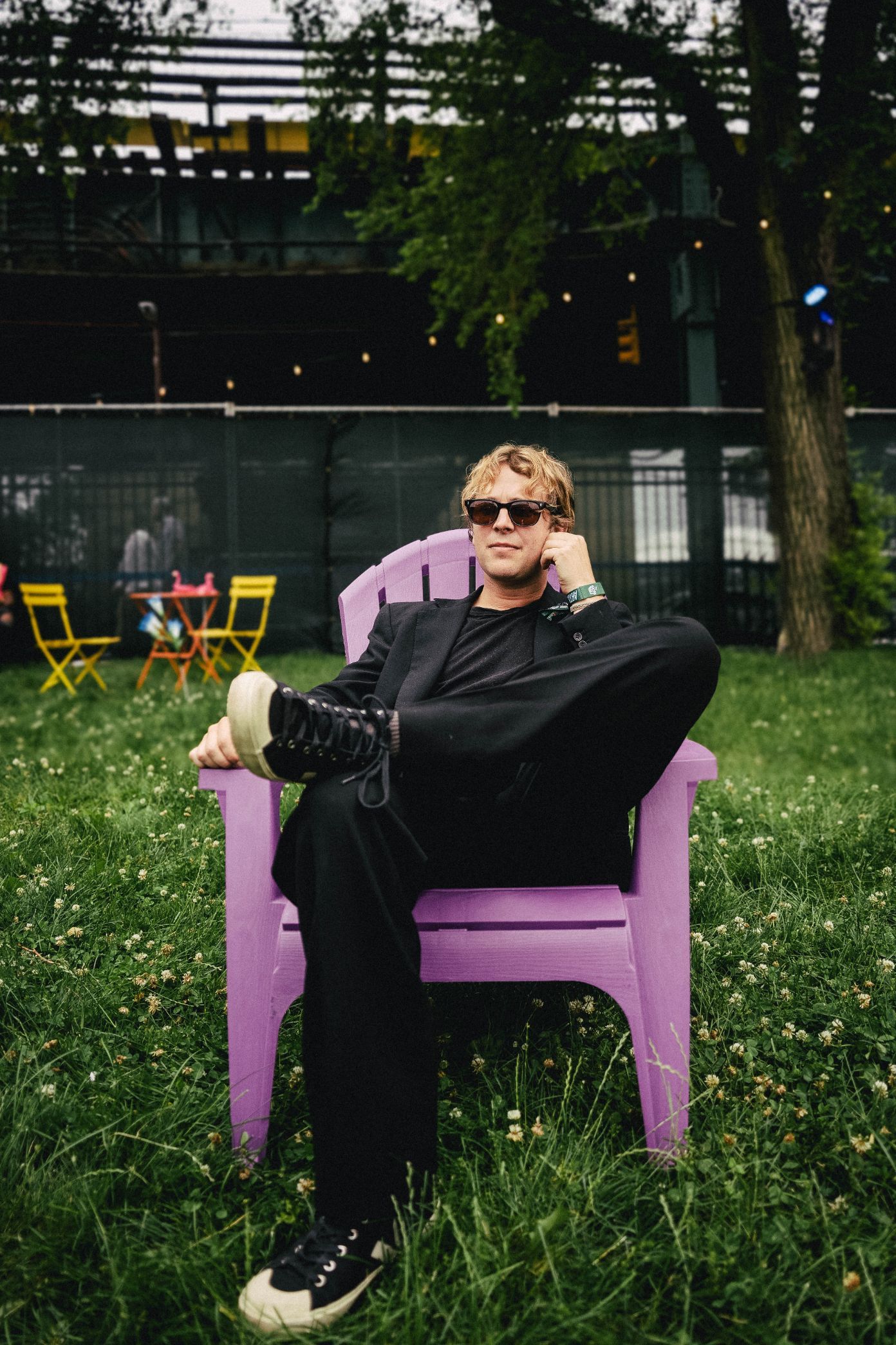 Chelsea Cutler
Pop singer-songwriter, Chelsea Cutler, brought her electrifying energy to the Gov Ball stage, playing fan favorites from her independent music days to newer tracks from her last album When I Close My Eyes. Last year, she and her Republic Records label mate, Jeremy Zucker, released their EP, brent ii, a follow-up to their first EP, brent. She's getting ready to hit the road this Fall for tour.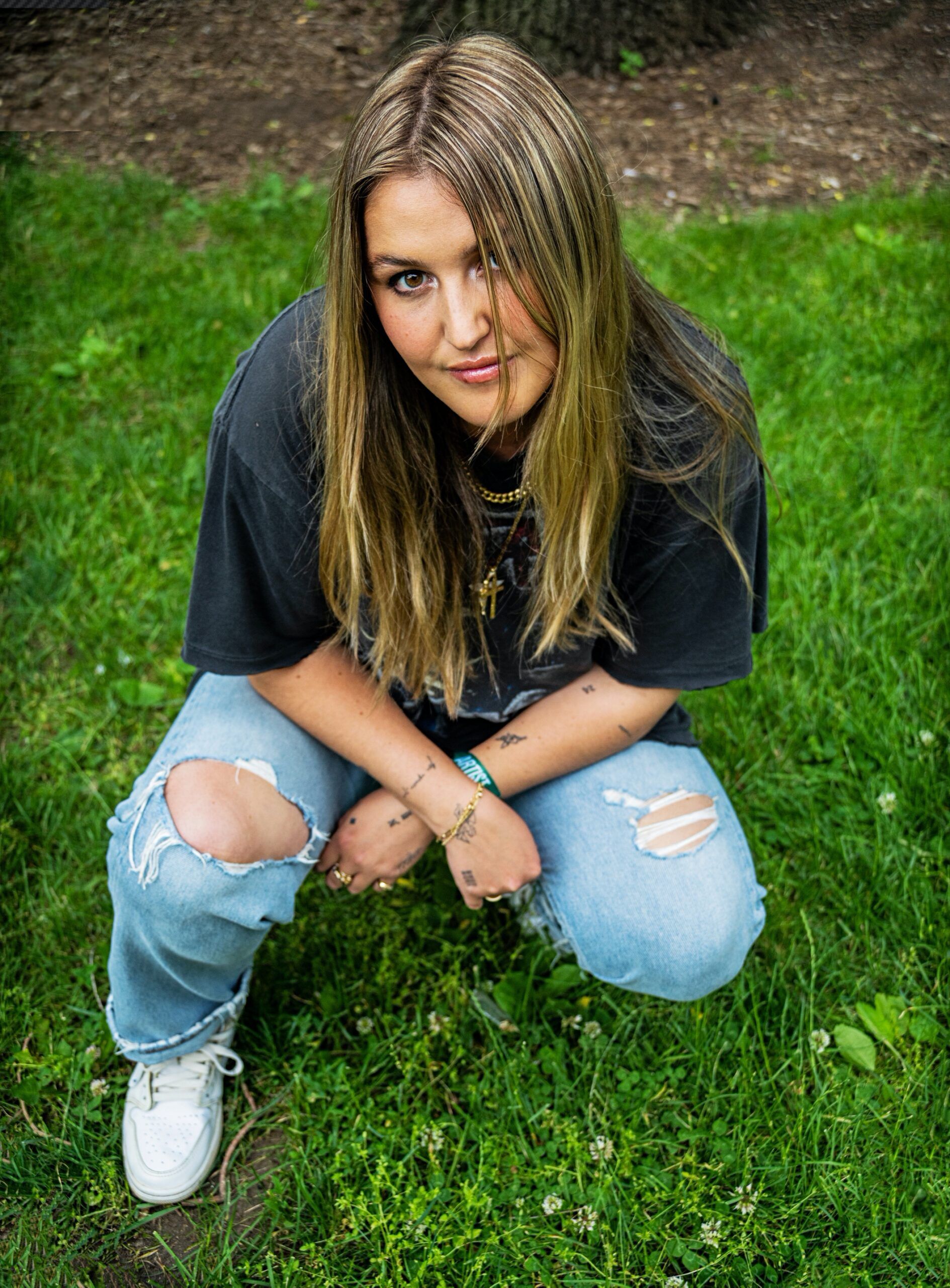 I know this isn't your first time performing at Gov Ball, but how are you feeling? Are you a big fan of performing at festivals? 
I love festivals! They're such a great opportunity to perform in front of people who have never seen you before. And as an artist, getting to see other artists play is nice. It's just like a family affair. We always get to see our crew and managers, so I love it. 
Comparing the tour you've just been on to these festivals, is there one you prefer more? I know the vibes must definitely feel different. 
They're so different. When you're playing a headline show you know everyone is there for you. I always feel like I have a bit more liberty at my headline shows with how I engage with the crowd. I probably have to be slightly less weird at festivals and a little bit more universally likable.
Your first album is one that you worked on by yourself and you said for your second album, you craved collaboration. Can you elaborate on that a bit and tell me what you're thinking for your next body of work?
I am definitely already knee-deep in writing the third album. I'm having a blast doing it. I think it's funny. I'm like falling somewhere in the middle of those two kinds of styles of work. I've done a lot by myself and I've done a lot in sessions with people so far. Right now I'm just gonna try to write as much as possible, whether it's in sessions with others or by myself at home, and just try to get to like 40 or 50 songs and then narrow down.
Speaking of collaboration, I love the work you do with Jeremy Zucker. Can you tell me a bit more about your working relationship with Jeremy and the ways in which you two bounce off each other?
Jeremy is very diligent. He's a little bit more slow and meticulous in the way he works. And I'm very rapid and reckless. I like to just write 100 songs and see if any of them are good, and he'll write five songs, but spend a lot of time on each of them. And I think it's good because I think I push him outside of his comfort zone, and I think he makes me slow down a little bit, have more patience, and really think about what is going to make this song special. We really balanced each other out well.
Any plans on making a brent iii?
I think there's always a world where we make a brent iii. I don't know when that would be. I think we need to kind of figure out why, like, the intention behind a brent iii. We sent Brent home twice now and we made really cool records. I don't know what it would be yet. 
In terms of songwriting, I'd love to ask about your process for that. You've mentioned that your song "the lifeboat's empty!" is inspired by Titanic. 
That idea came to me in the middle of us writing the songs. And we kind of had already established that we wanted to write this heartbreak anthem. I was sitting on the couch, twiddling my thumbs, trying to think of a good bridge. It was one of those things where I sang it and I was like, alright, so what do I mean by that? Like, it's crazy. It's like a crazy thought. It's so sporadic. I'm not actively being like, oh, this movie's cool, or this event is cool and I want to write about it. I never plan what I'm going to write about. I sit down, I start playing and I'm like, alright, this is how I feel today. Creativity is so weird. Sometimes you sit down and write the best song ever and sometimes you sit down and you're like, I stink at this, you know?
What are you up to this summer? What exciting things creatively are you looking forward to?
I'm writing so much. I'm trying to write as much as I can before I leave for touring in the Fall. I love writing. I'm feeling really charged up now that the energy of the world is starting to normalize slightly. 
What can fans expect from this upcoming tour? Any clues on what will be on the setlist?
We're taking the tour to 25 cities…completely new cities so not too much will be different just because I want people in these cities to get to have a similar experience. It's a long show. We play like a solid 90 minutes show, so come ready to go!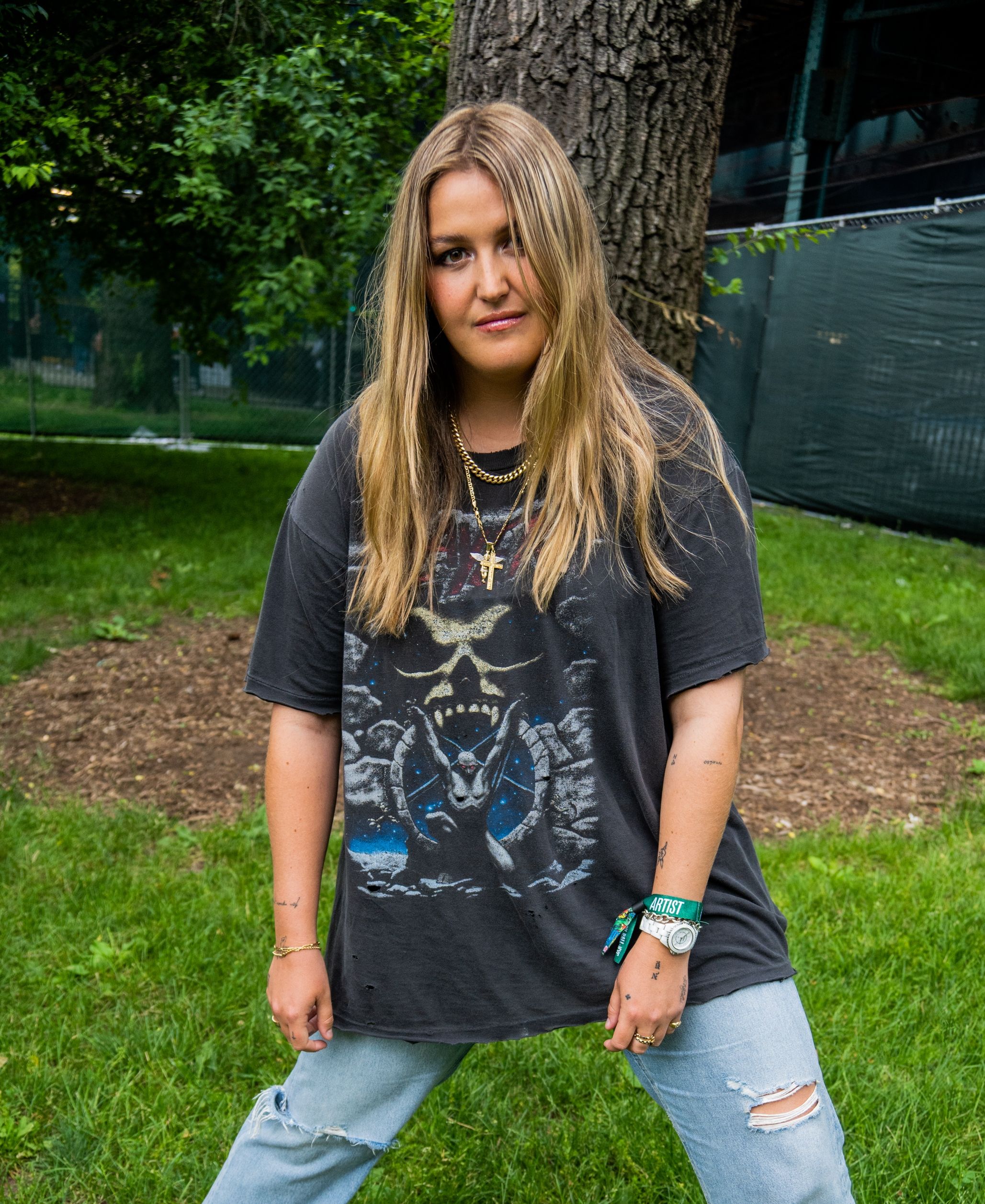 COIN
COIN's Uncanny Valley, which explores themes of artificial intelligence and the human experience, has been praised as one of 2022's best indie-pop albums for its experimental sound on tracks such as the lead single "Chapstick." The trio performed tracks off the album during their set on Gov Ball's GoPuff Stage. Following additional festival performances this summer, COIN will be embarking on their Uncanny Valley North American tour in July.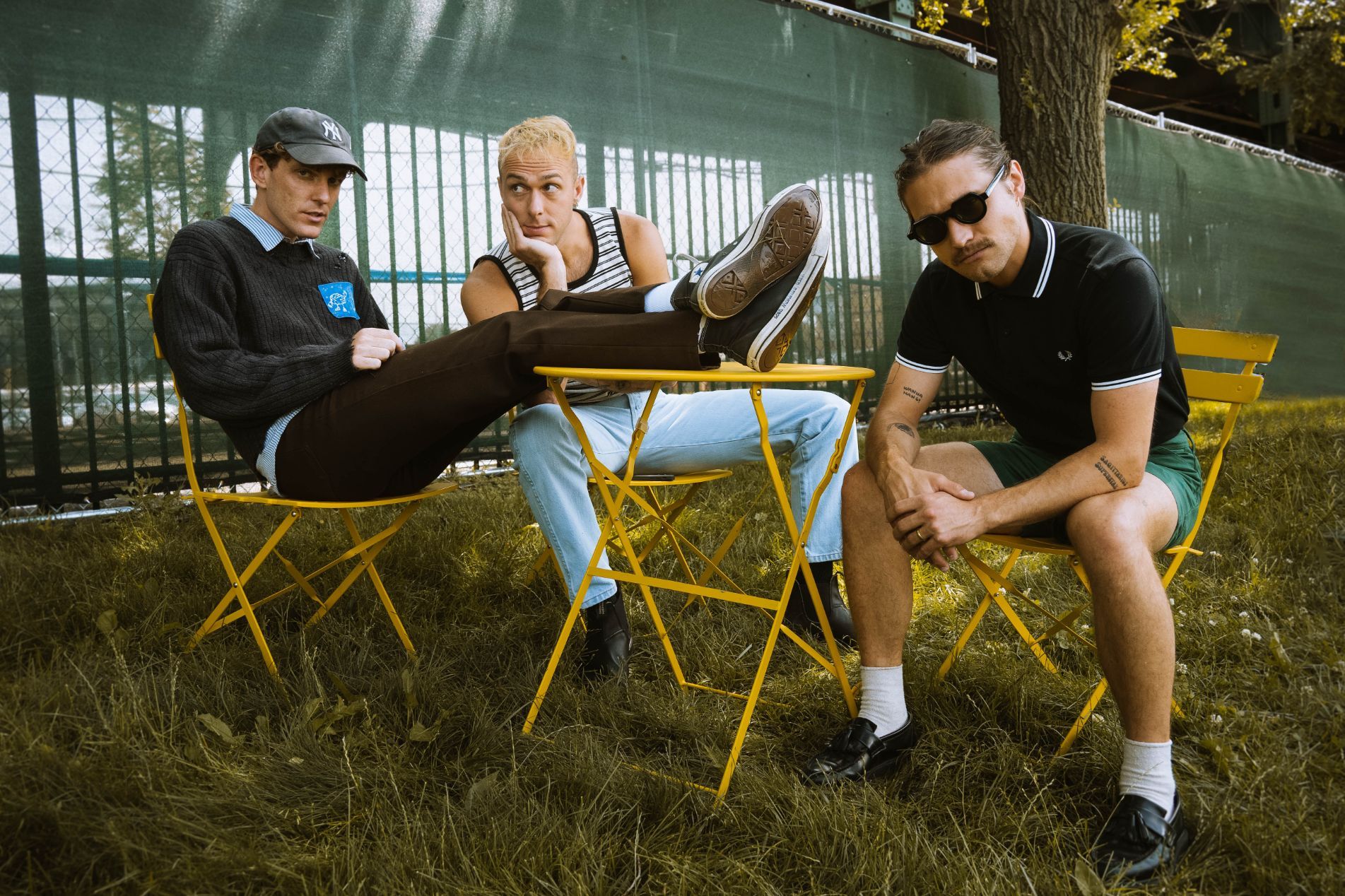 You're no stranger to these summer festivals, and you've been on tour recently as well. What has it been like performing the songs from Uncanny Valley?
CHASE LAWRENCE: Honestly it's been really interesting so far because I don't think we ever considered what it was going to be like playing these songs live specifically. I don't know how we thought we were going to pull them off, but it's actually been very effortless learning them. The first time through is like, oh, that sounds like a song. Whereas it used to take hours of practicing songs to kind of get it together and figure out the right parts, this has been the most effortless, and so I'm excited to see how a full tour and a full set of Uncanny Valley is going to translate. We are really, really excited about it.
The reception of Uncanny Valley has been incredible so far in terms of the way people responded to this narrative you created and the more experimental production. Was there a certain part in the recording and producing the album where you felt, "We're onto something here"?
CHASE: The day one of each process, I felt like this was the greatest album of all time. And then of course, over time it gets diluted, and then you think you're insane. But the first day we started the album, we made "Chapstick" and the opening track, "Learning". And that first day, it blew my mind. As the creator, I couldn't believe what we had tapped into. Then the first day we went to the studio, the same thing, we were opening new sounds and exploring new doors, and it was very exciting. Then over time, you know, you kind of lose that excitement, and it kind of wears off. The day we started mixing, the same thing. Finally, the day it was finished, I listened and I didn't recognize it, and I was very concerned. But I took a break, and three days later I listened to it, and I was really excited about what we had created collectively. It's been cool to watch people connect with it also.
Is there any song off the album that had a reception you didn't initially expect, like a surprise fan favorite, or interpreted in a way you didn't see coming?
RYAN WINNEN: I feel like "Take The Stairs" is one that people have taken to really well, which, I don't know if it's unexpected or not. But Joseph wrote it and sings it. It feels like a song we always wanted to make.
CHASE: It almost didn't make the album. It wasn't on the original tracklist at all.
JOSEPH MEMMEL: Didn't we all play different instruments on it too?
RYAN: Yeah, Chase played drums on it.
CHASE: So yeah, that's been special. I think that it's been interesting to see "Chapstick" reach people beyond our fanbase, or beyond people that were current listeners of our music, and reach people that are a little bit older than us or even a little bit younger than us. I didn't expect that. I didn't know who I thought it was for, but the people that have been really magnetic to that song are just not who I thought was gonna be listening to it. It's really exciting to see that.
As for Uncanny Valley, the album tackles the human experience and artificial intelligence, the latter of which can inspire both fear and optimism in people. As you were creating the album, what were your feelings throughout the process?
CHASE: What's interesting is that we didn't set out to decide what role technology plays in our life. We just set out to simply ask some questions and turn over some stones, and more than technologies, just really figure out who we were. In the process, I think that at the beginning of the album, we use technology and AI specifically as a device to retell stories from our own life, like a first kiss, our first heartbreak, or our first time kindling that romance or loss of love, whatever it may be. So we use this to talk about our life experiences in a more objective way.
But over time, we realized that it was just a device, and we're really just talking from our own perspective. But all the details about the technology and artificial intelligence and the modern age, kind of just became like fun colours, and fun ways to tell our stories that have happened to us, that we've collected over time.
So much of the human experience is about performance and identity, in both digital spaces and our face-to-face interactions. In building this album, did it feel like a time to reflect on your identities as artists and as a band?
CHASE: I think for me, and I think each of us can answer this, too, it was less about identity and more about just making something. I had the expectation of reaching more people and pleasing myself at the same time, but beyond that, I really didn't have much of an expectation. Do you guys have anything to say about that?
RYAN: Yeah, I think with the technology comment, the recognition of it helped me at least investigate when Chase presented the concept. Like how to investigate the parts of my humanness that I thought are worthy and valuable in the world as the digital space continues to grow. So I'm kind of like placing myself up against that and saying, oh, I really like these human traits, and I don't know that they can be replicated. They certainly can in terms of cadence with AI and robots as they present more human features. But I was like, oh, this is like a very nuanced thing. So that identity question that you asked, I think it just plays a role in you learning to love yourself, which is really interesting.
CHASE: And love what we've built.
RYAN: And love what we built, yeah, and honor it. Because it's messy, like, humanness is messy.
JOSEPH: As far as identity is concerned, sonically for the record, just setting up certain targets, like what if you took The Rolling Stones and Gorillaz and shoved it through a computer? Like, what would it come out with? But really what we were doing is taking those inspirations and shoving them through ourselves, like we are the computer.
CHASE: Oh, "We Are The Computer"! That's what we should've called the album.
JOSEPH: Whoa. Interesting. Oh, well, we'll keep that one. But yeah, it was kind of fun, setting up these little targets to hit, and then almost disguising it as shoving it through AI. but really, it's like through our lens.
CHASE: It's the most human album we could have ever made, and we have ever made. But it's funny because it seems like the most digital, you know, so it's a funny dichotomy. I think we'll continue to unpack what we made for the next decade, probably.
So how do you not spiral into an existential crisis creating this? Or do you just let it happen? 
CHASE: We let it happen.
RYAN: [laughs] It was more fun than it may sound.
Is there one song that you're the proudest of, production-wise or lyrically? 
CHASE: We probably each have different answers, but I think "I Met You In A Dream." It feels like a song that I didn't make, and I don't mean that in a negative way. It just means it feels like it's beyond my tastes and ability right now, and I'm really proud of myself or proud of whatever inspired me that day to create that palette and that song. It feels timeless and special, and I'm just so proud of it.
RYAN: I feel like, for the three of us, I remember when we were making "Brad Pitt," it kind of speaks to that identity crisis. A lot of what we were doing on our previous project, Rainbow Mixtape, kind of spilled over into that genre exploration. What Chase said earlier was that something wasn't recognizable when he listened to the album, that's one of those songs, and I think it's cool that it's a COIN song.
JOSEPH: "Brad Pitt." We've never written a song with the guitar strokes on the upbeats, like a reggae song. It was very uncomfortable to finish it, but once it was finished, it was like, oh, damn, this is really cool. Like, really cool.
CHASE: It's fun to challenge yourself.
What is your ultimate song of the summer? 
CHASE: Mine is "Days" by The Drums. [Joseph agrees] Alright, that's the song.
RYAN: Sheryl Crow, anybody?
CHASE: Oh—Sheryl Crow, "All I Wanna Do." Of course.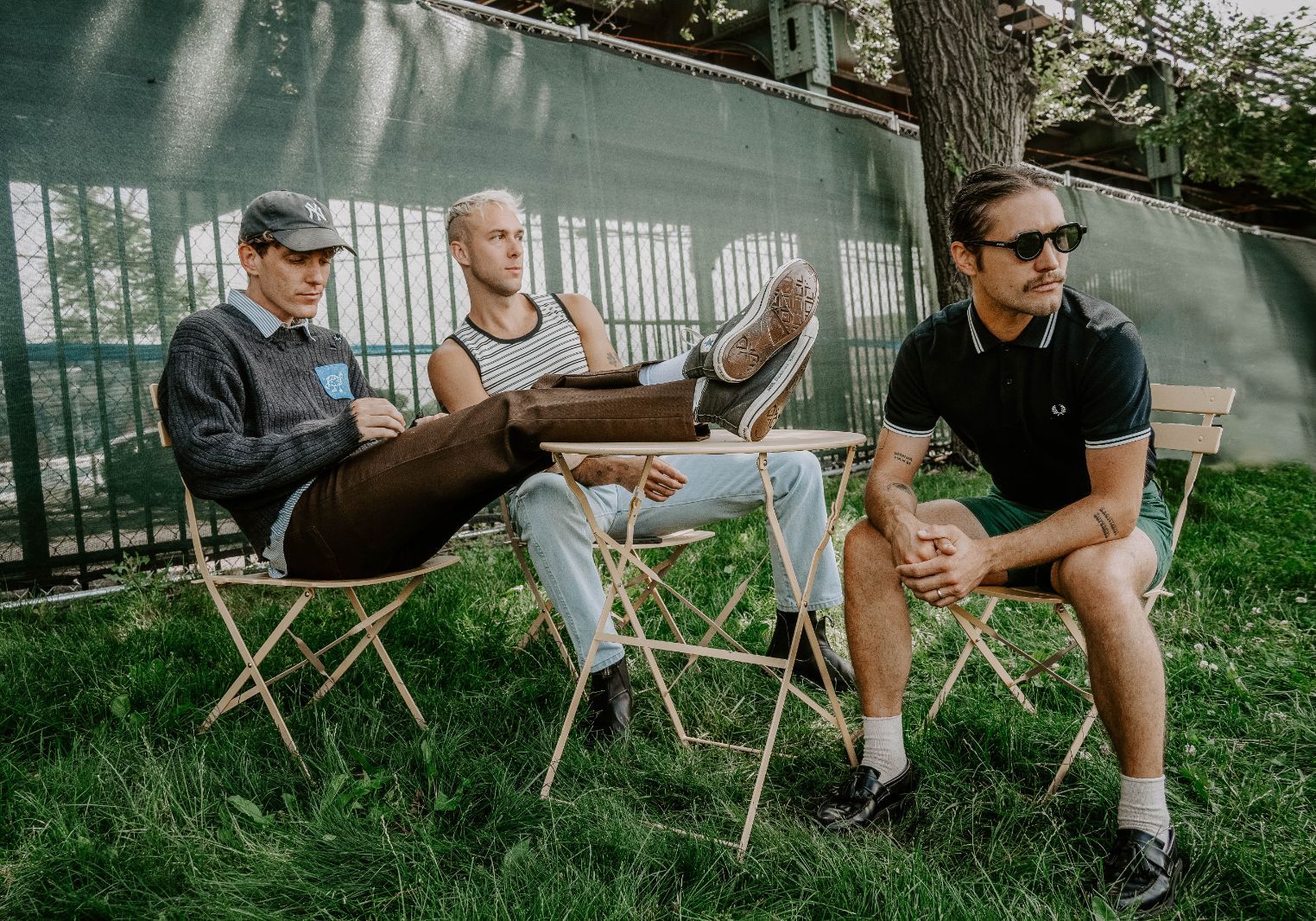 To catch the next edition of Gov Ball in 2023, keep up to date by following their IG @govballnyc.
Words by Naureen Nashid and Juliana Ogarrio
Photography by Nikki Marie
Chelsea Cutler photos by Sophie Gurwitz