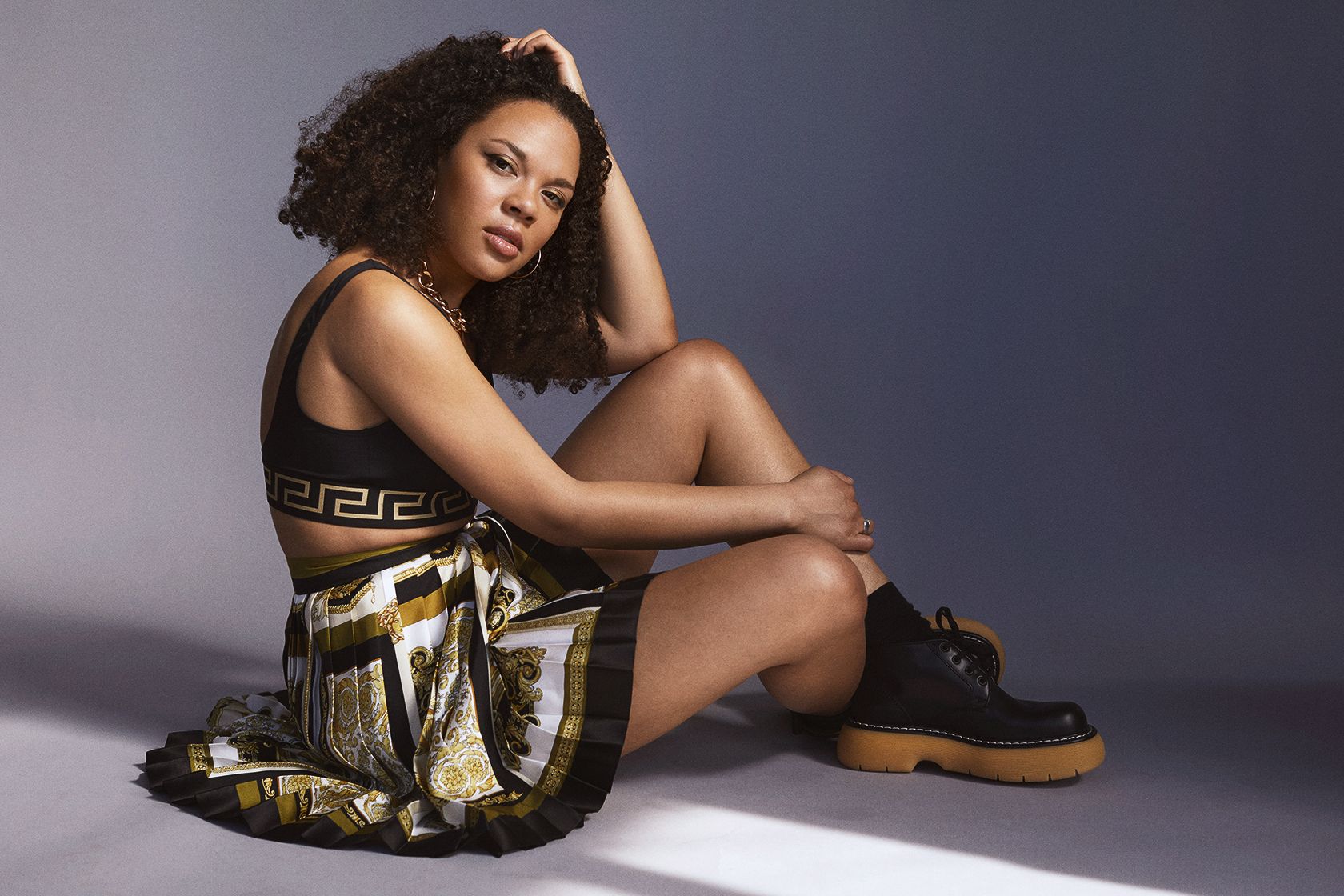 Jaguar
Jaguar Bingham should be the poster child for the proactive, D.I.Y. spirit of the Gen Z collective.
Equipped with a formidable work-ethic, her ambition is balanced with an unbridled passion for uplifting her peers and mentoring burgeoning musical talent with the same creative nurturance that was extended to her— Bingham sites Annie Mac and Clara Amfo as both mentors and muses for the beginnings of her career. Relentless in her commitment to diversifying the current whitewashed, straight male landscape of the dance music industry, she's mobilized her platform on BBC Introducing Dance on Radio 1 and podcast Utopia Talks to reimagine a virtual paradisal society void of racial bias, gender inequality and sexual discrimination. Such perfected ideals take tangible shape through the initiative Future 1000, a UK-wide program spearheaded by Bingham and the Future DJs organization with the purpose of introducing 1000 female, trans and non-binary students into electronic music by 2022. With a scintillating scope of artist-led sessions and modules curated by London College of Music Education, Future1000 intrepidly tackles the gender imbalance throughout the industry at a foundational level. 
Confident and composed, Jaguar is a fearless conduit ushering us into a more colorful, spirited experience within the dance music scene. She's harnessed the first season of Utopia Talks to conduct progressive conversations surrounding LGBTQ+ rights in Poland, the deejays pioneering techno in Palestine, the forgotten Black roots of electronic music, and much more. Busy as she is recreating a more equitable and harmonious social norm, Jaguar sat down with 1883 to discuss revelations of newfound loves in unanticipated places, pumping up the volume on dance music's collectively unheard voices, and welding the powers of manifestation and personal drive to shape her present reality.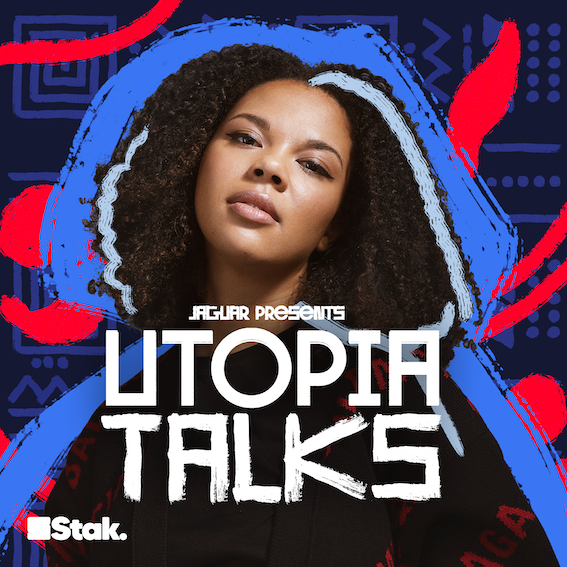 Tell me, Jaguar, now that London's out of lockdown, what did you do over the weekend? 
I went to a festival on the weekend, and today is the first day that I feel more alive. 
Well music has long been a lifeline for you, so it's understandable that you feel alive, or energized…And speaking of music, in your own words could you describe what it is that you're doing with Future 1000 and the podcast Utopia talks?
Future 1000 is an initiative that I set up earlier this year, and it's basically about giving back to younger people—specifically girls, trans and non-binary people ages 12-18…to inspire them to get into electronic music. You can learn to DJ, make music, present radio and just learn how the music industry works. And I really hope it inspires a new generation of music people—whether become DJ's or do radio, or work behind the scenes. And I feel that we've created jobs, as you don't really get told about these opportunities when you're younger, especially when you're in school, and trying to make decisions about your life…In terms of the gender imbalance in electronic music, it's still really male-dominated in a lot of areas, and I hope that this reverses it. 
You've dispensed some impactful information to listeners in Utopia Talks. From listening, I learned about the staggeringly low numbers in female involvement in music production— something like 3%— to Poland's under-discussed, yet overwhelmingly toxic bouts with homophobia. What information that's been most jarring for you to discover in doing your show?
The whole point of Utopia Talks is to get to a utopia, in terms of a place where everyone has equal opportunities and there's a whole diverse range of people involved. It's kind of just the world I want to see based on my outlook of the world. With the podcast I want to push that and have meaty conversations with individuals in dance music and beyond…Talking to Avtomat (the Polish DJ/producer) and asking him if he fears for his life because of the laws and the government and the way that LGBTQ+ people are perceived, and he said "Yeah, I fear for my life everyday walking down the street". To hear that first hand, and how he's never going to stop doing what he does…it's helping people, and it's bringing people together, and is a movement within itself because it's actually shaping culture…One of my favorite episodes was the final episode, which talks about electronic music's Black roots. I spoke with Fabio (from Fabio and Grooverider) and Niks , who runs the Black Artist Database. That conversation with Fabio— who's one of the pioneers of jungle— from drum and bass from the 80's and 90's— and Niks, who's doing something completely new, now…As a mixed race woman, talking to these two was such a defining conversation…Some of the stuff that we talked about, from the whitewashing of dance music to…even how black people don't necessarily know that Black roots of electronic music. 
I'm one of those Black people who's unaware of Black roots in electronic music, so I'm excited to hear that episode. 
Well, I didn't either…As a result of how the world is, you have one view on things, and have to unlearn the way the world is and actually see different points of view, and see history for what it is. 
I guess that's been the pivot of 2020-2021— everything has been shaken and shattered, to be reshaped. And that was the last episode? That's fascinating, I'll give that a listen— I listened to several of the podcast episodes, but I didn't get to that one yet.  
Definitely listen, and let me know what you think of it…'cause I love that one. 
I will…So Future 1,000 is a mentorship program specifically geared toward breakthrough/burgeoning musicians. How essential has mentorship been for you in your own trajectory?
So important. I was incredibly lucky to have amazing women in our industry to help me out and make me feel empowered and confident hat I was doing the right thing…Annie Mac has been someone whose shown me a lot of support early on. I remember being at Glastonbury Festival a few years ago— before my Radio 1 show, I was working with BBC Introducing and I wanted to be a producer full time— and she just gave me some really good advice, and she was like "We need to get in the studio", and we had a studio session a few months later at Radio1, and her and Clara Amfo were there just giving me advice, which I really appreciate.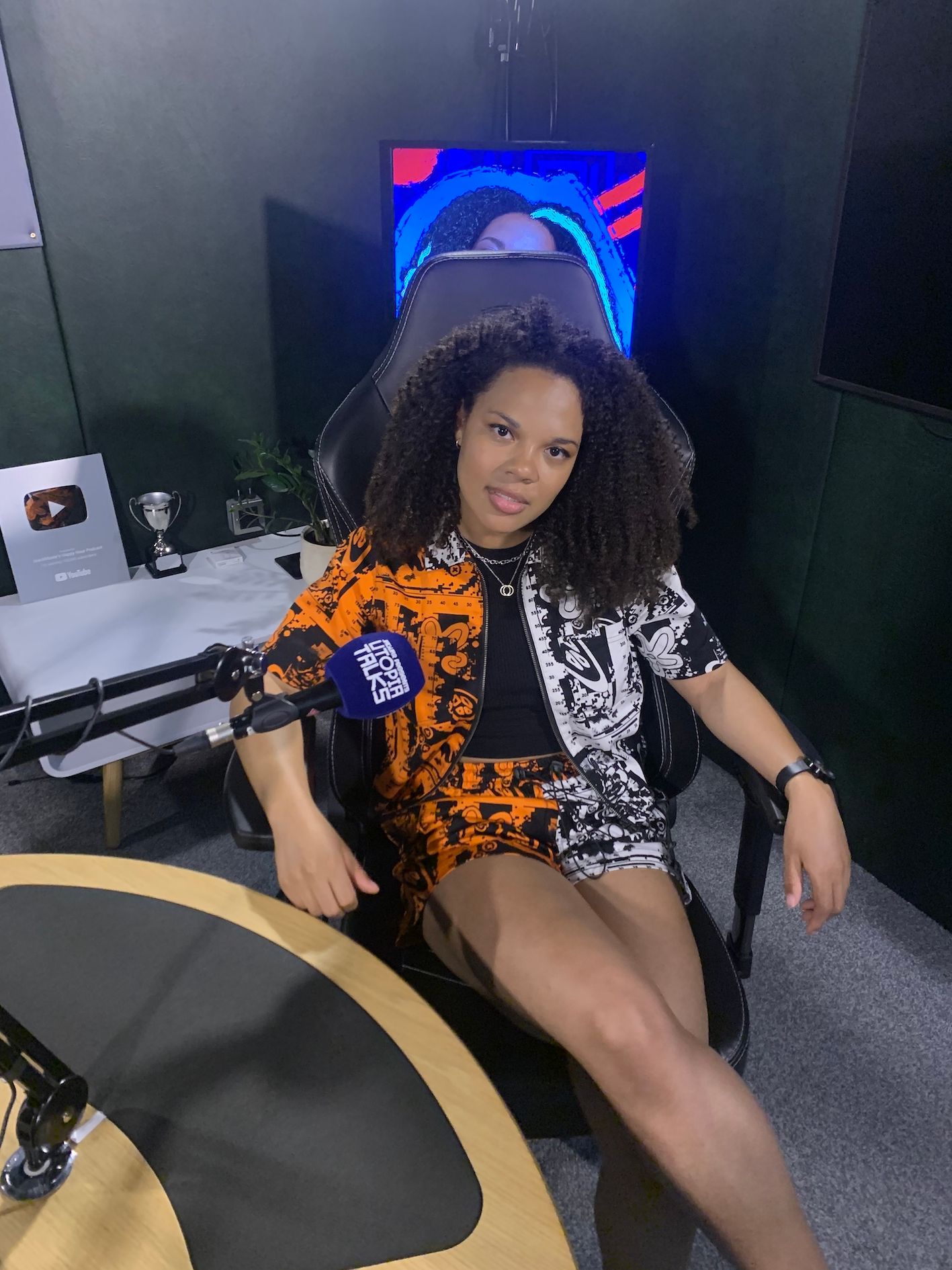 Isn't it amazing having a mentor?! I just got a mentor a few weeks ago— for the first time in years— and it's mind-blowing how one conversation with them can place you 1-2 years ahead in your trajectory. That's why I think it's so cool and impactful, what you're doing with your platform in helping people who may not have this level of mentorship available to them. 
Yeah…
I also notice you're quite outspoken on issues that matter to you. Have you always been so vocal, or is this something that you had to grow into?
It's funny because I'm actually quite a shy person. I'm never the person who's like, "I think this!", and trying to convince people to believe what I feel. It's interesting because…within the last year and half, stripping everything away, I was able to find the pure reason why I do what I do, which is to represent people and bring people up. So I channel what I think is right, and my thoughts on the world, and try to change it through my work, through the initiative, through supporting women, and through supporting Black people and POC. Even through my radio show and making sure that it is diverse across the board—gender-wise, ethnicity-wise, as possible…so I kind of channel my outspokenness through my work, and not really through my personality, if that makes sense? 
You'd rather amplify your voice through the work that you do, rather than stepping into the room yelling, "Look at me, look at me!".
Right. 
What's your family's response to the work that you do, and the impact that you have?
My mum's really supportive— like she always wants to know what's going on. You know how mum's are, they always want to give advice…My parents aren't really online, so I don't know how much they see. But I send them radio shows and articles. I went home a few week's ago to the Channel Islands— where I grew up, a small island of about 2,000 people.
I read that— it's like known for being "safe", right?
Yeah, you don't have to lock your doors or lock your cars. Such a small place. Going back there fo a few weeks in the summer was interesting because everyone knows everything. So people were like, "You're dad told me you're doing this". It's nice, because obviously my dad's telling his friends. 
Are your parents pushy, at all? I was told that behind every successful man/woman is a pushy mom.
I'd say my mum is a very strong, Ghanian woman. I would say she's a classic mom— she wanted me to be a lawyer or a doctor.
Classic African parent— they want you to be an engineer, a doctor, a lawyer…not a bohemian. Maybe an architect, if you want to do something creative. (Laughter).
Yes. [Laughter]. She wanted me to go to Oxford. But she was always supportive of me doing something creative, so I suppose she was kind of pushy in a way. My dad is just really supportive and encouraging me from a young age…I think the combination of the two…I'm very driven as a person— I can work hard, and I can work hard for a long time, too. But also, I'm very encouraging of other people— even if it's a friend whose just set up a business, or released a tune. It's so important to encourage people really early on, because that's the most important time to have self belief, because that's when you need it. 
Are you an Aries or a Virgo?
I'm an Aries. 
Yeah— Aries and Virgo women come ready with that pro-active energy! 
I like to this so. (Laughter). 
Your trajectory— I keep using that word with you— has a very seamless semblance to it. You started out as an intern, then became a Team Assistant, and now you're hosting your own podcast through Stak. And all within the last 5 years. 
Five years-ish. 
Okay— emphasis on the -ish. But was it as seamless a path as it looks?
Of course not. [Laughter]. Wow— it looks seamless? 'Cause…
It looks like it's been straight there— like a straight path. 
What's been straight there is…I think it's been the last 7 years— 2014 is when I started as an intern…After the internship, I spent two months living in London and working at Radio 1 in production, and I got to shadow Annie Mac and I got to be there soaking u live radio and editing interviews. And that's when I realized I want to work here, and I want to be a radio presenter. And the constant theme I kept saying to myself— and anyone else who would listen—was, "I'm going to be a Radio 1 presenter and I'm going to have a dance music show on Radio 1 "…I really believed it, and I really wanted that. And when I got my show it was in April of 2020— the start of the pandemic…I've been on for nearly a year and a half, and that's a marvelous thing. And that manifestation was so important because I really believed I was going to do it, and then other people believed that I was going to do it. But also, it was so much hard work figuring out who I was as a person, and what kind of broadcaster I wanted to be, and just accepting that I still need to grow as an individual…There were times where I lacked confidence— I was doing some pilots show for Radio 1 in 2017. I won a student award…and they were like, "Come do a demo in our studios", and so I did that for a few months, and I didn't really know what the end goal was. I was 21, and really ambitious…but obviously it didn't happen for me like that. Nothing really happened, and I was really disappointed…At that point it felt really out of reach…So there have been some real parts where I doubted myself…But I wanted it so much, and found other ways to do it. There's always a path, and it's great to go off on different avenues as well…You're going to develop and grow, and you might find a newfound love or do something differently. 
You mentioned growth and self development. In what ways has the pandemic— and even hosting the podcast— contributed to your growth, or evolution?
I think the nature of the pandemic has changed all of us. I feel changed in that by slowing down and actually just sitting there, it's like I can't really go out deejaying. All I have is a radio show and a social media presence, so what can I do? And what do I really want to do?…And external factors like the Black Lives Matter movement…to experience that at home, and online, and to have so many interesting conversations with people…and there was a dance music Me Too movement happening in autumn last year…I was having heated, impassioned conversations with my friends on Whats App…and the reason I started Utopia Talks this year was because of the events last year surrounding the sexual assault allegations of DJ Eric Morello. He died—but there were all of these accounts from women who were victim to him. And seeing loads of male deejays [when he died] posting of his legacy, but not mentioning the fact that he did these terrible things— it was a real mind fuck…so I did a podcast called "Utopia Talks" with some women from the industry…I felt compelled to say something as a young woman…So that's where Utopia Talks came from last year. 
So Utopia Talks, the podcast series was actually inspired by those events surrounding Eric Morillo's death?
Yes. So that episode is online, on my Soundcloud. It's a panel talk with myself, Lauren Flax, DJ Paulette and Sophia Kearney, who runs a club called He/She/They…My producer now, Katie, heard it when it came out, and messaged me in November, and was like "I produce podcasts– do you want to turn this into a podcast series?". And I was like "Yeah!". It took a while, because I was busy with Future 1000 and the things. So we didn't release series one of Utopia Talks till June of this year, and we did 8 episodes. But it came from that episode in autumn last year, as a result of how intense things were in the pandemic and how I became more aware of what was happening and really wanting to use my voice. That was a really defining moment in my life, and since then my mission is clear to use my voice in a positive way to talk about these things. 
How do you feel Utopia Talks, in tandem with Future 1000, is reshaping the collective voice of the unheard within the industry—women, trans, nonbinary, Black and POC? 
Wow— the "collective voice of the unheard". I like that! 
Thank you, I just coined that, too. [Laughter]. 
That's good shit! [Laughter]. You know, I only speak from my experience, I never want to speak on behalf of other people. And also…I'm so open to hearing from other people. But what I hope I can do from my experience is hear from these collectively unheard voices and give people a platform who feel that they haven't had the chance to tell their story because of how society is: very white, very male, very straight…It's not acceptable now to live in a world that's just for one type of person because that doesn't reflect the reality of the world, especially in the creative industry…The way to get to a better world is by making it super diverse…In 10 years, I think the world and the music industry is going to look very different, in a good way.
What's your favorite nightclub in London— pre-pandemic, and even now?
Oh, I've got two! There's one called Phonox in Brixton— it's fairly new, only a few years old. It has a really great sound, lasers, and it's not super big— just really dark, and you immerse yourself in the music. The second is a club called Dalston Superstore, which is a gay club in East London, and I've just had some of the best nights in the basement there. It's really sweaty, and the sound systems a bit crusty, but it's just really fun. 
As far as you can see—or even hope— what does the future hold , creatively, for Jaguar Bingham?
For the immediate future, I'm getting back into deejaying and my show on Radio 1 is moving in 2 weeks to Thursdays at 10pm. So I have a bigger better slot— which is exciting…We're going to do another series of Utopia Talks next year… I really enjoy doing podcasts…and talking about things that aren't being spoken about enough…so TBC on that. I want to grow this idea of Utopia, because it's also a club night as well…I'd love for Utopia to become a festival, and have talks in the day and deejay sets at night. I want to write a book! Who knows?! I just want to keep doing what I love, finding new ways to do it, and giving new artists opportunities…And making people feel that they are visible, and they can achieve whatever they want to, because you 100% can. 
Jaguar's podcast UTOPIA Talks is available now on Apple, Spotify, Acast and all podcast providers. Head here for more info: http://smarturl.it/utopiatalks
Interview Constance Victory