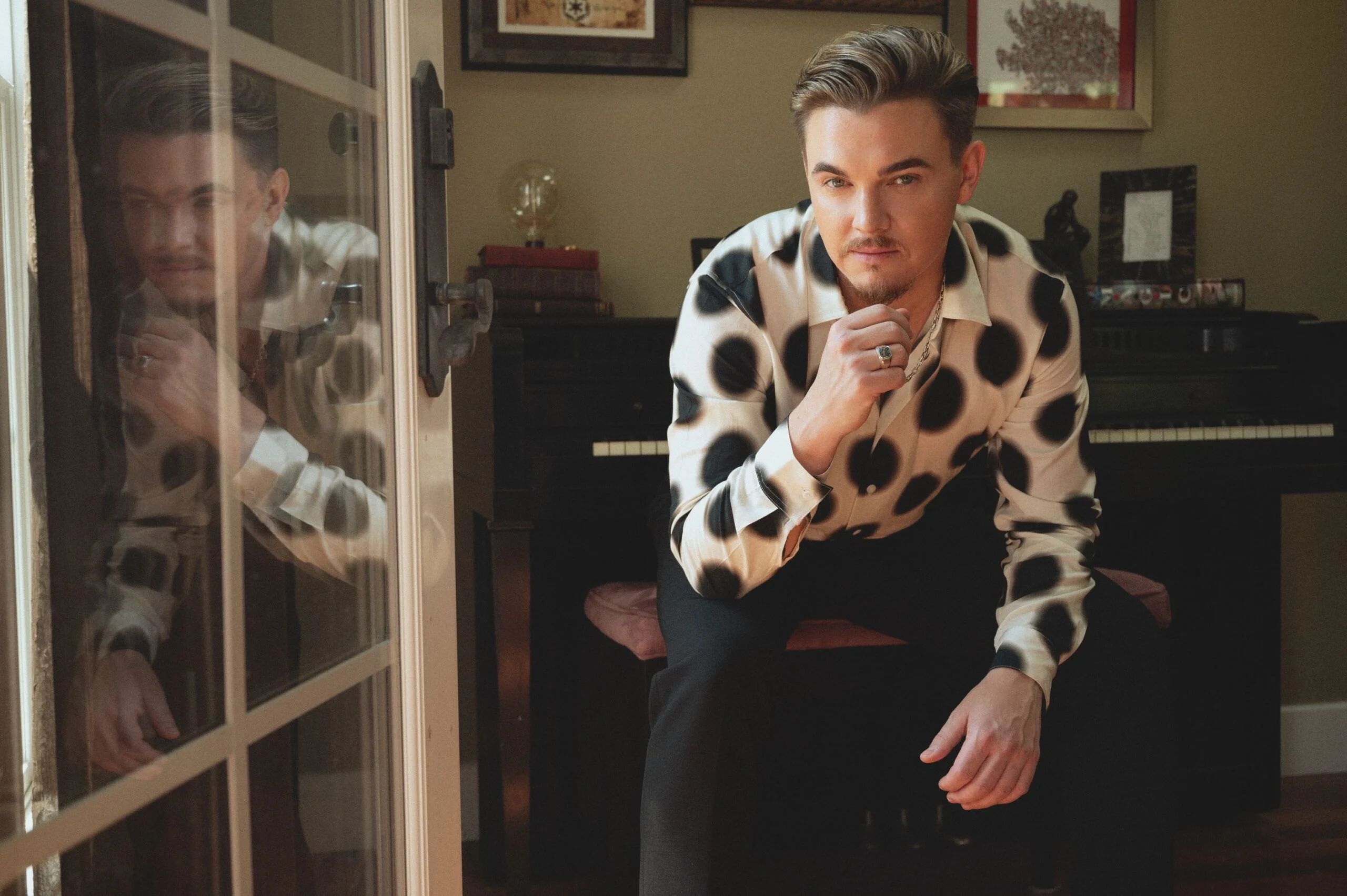 Jesse McCartney
After years of giving himself to the entire world, Jesse McCartney is embracing the 

New Stage 

of his life — one that brings a hopeful mindset, a new album, and, most importantly, a new role as a (soon-to-be) married man.
Not many of us have to constantly compete — whether that competition exists within the pressure to succeed in our careers, the desire to be everything to everybody, or with the past versions of ourselves — like singer/songwriter Jesse McCartney. When you're immortalized in the hearts & minds of people across the globe as being one thing, it's almost impossible to shake that image out of their head. For McCartney, who was on the bedroom walls of tweens & teens thanks to starring in shows like Summerland and his hit debut record, coming to grips with what it means to spend your adolescence growing up in the public eye while attempting to satisfy an industry that never seems to be fully satiated has been a 17-year-long process. With his new record New Stage, out today, he finds appreciation and comfort that he hasn't stayed the same, but has kept the core of who he is after almost two decades in music.
It is poetic to think that a week before the release of New Stage, McCartney's fifth studio album and first record in 6 years, that just 17 years ago he would be a wide-eyed teenager anticipating the release of his debut record Beautiful Soul. His eventual rise to fame which would include more studio albums, a million shows, performances for two U.S. presidents, a myriad of film and television appearances, is something that he's handled with equal parts grace and gratitude, a mindset that would eventually inspire the themes flickering throughout New Stage. It's a record that isn't a reintroduction of McCartney by any means but one that marks a new chapter in his life that's buoyed by the feeling of contentment in every aspect of his personal and public life.
1883 Magazine's Kelsey Barnes chats with Jesse McCartney to discuss his new album New Stage, the dichotomy between your public and private self when you're long past your teen heartthrob days, what he's learned about himself over the past decade and a half, and more.
Congrats on the new album New Stage! It is a slice of pop perfection. It's your fifth album, released 17 years after your debut and 6 years since your last record In Technicolor. How does it feel to be releasing your first body of work after such a long time?
It's funny because it doesn't feel that way. I piggybacked two national tours behind two singles so although it has been seven years since I released a full-length album and there were four years of not making any music at all. In 2018, I decided it was time to get back in; I had just finished Young and Hungry [the show] and everything was quiet, so it felt like a good time to start again. Better with You is what triggered me into making a full-length project again; that song did so well among the fanbase and outside of the fanbase too. It helped motivate me in a lot of ways because it was just a nice piece of songwriting and had this organic feel to it. I think it connected with a lot of people who were fans of my earlier stuff and even new fans who hadn't listened to me before. 
I felt like I was in a good place to discuss things and I had a lot of material to talk about, between my relationship with Katie and then also my personal life and what I was going through at the time. It all just felt right. Better with You is the blueprint of what I built my new album New Stage.
When you think back at the Jesse that made Beautiful Soul back in 2004 and even the one that made In Technicolor, how would you describe your growth and development as an artist between then and now?
I've grown so much as a person, as a man, and as an artist. For somebody who likes to talk and write about his personal life, that evolution and maturity transfers over nicely. I know more things than I did at 16 and 17; I've travelled the world, I've made relationships, I've started businesses. In general, I just have more experience where I can pull inspiration from. It gives more wisdom which helps make deeper songwriting. It's nice because I feel like a lot of the fans that I've grown up with have been growing up with me and dealing with the same things so it makes it very accessible for them.
It's interesting that you touch on that because there's a lyric on the title track that reads "I'm in a whole new place/standing on a whole new stage." It's something that anyone can relate to. What was it about that song — or that feeling — that made you want to name the album after it?   
It sums up where my life is on all fronts. It explains where I'm at in my personal relationships, my romantic relationship, and also just my family dynamic. Growing up in the industry and being surrounded by so much chaos and all of the things you think of Hollywood — the glitz and the glam and the red carpets and the red ropes — I feel like I'm in another place in my life where I'm settled and content. and, you know, and I just feel like now I'm in a whole other place in my life where I'm settled. I feel like I understand myself better than I ever have. I know who I am. I have a lot to be grateful for and I think that's heard throughout this album. I'm just very grateful for all of the things that I've been given and for the longevity that I've had in this crazy business. That name summarized all of that.
Speaking of being grateful, the song Selfless is just a beautiful tribute to your fiancé. Can you tell me a bit about that track?
It's a cool song I wrote right after Better with You with the same producers and writers. We didn't know if we were going to put it on the album or not because musically it sounds like my earlier stuff. After listening to the album we needed another sort of up-tempo track and when I played that song live, it was such a huge success. People who had never heard the studio version loved it so people were constantly asking me when I would release it [Laughs]. It's a great example of fans pulling their weight and saying we want that song. I love that about them!
And you're listening to them which is great!  
After all these years, I know what they like and what they might be pushing. Sometimes they surprise me with what they love but I like it to be a balance of giving them what I want while also obviously still doing this for myself.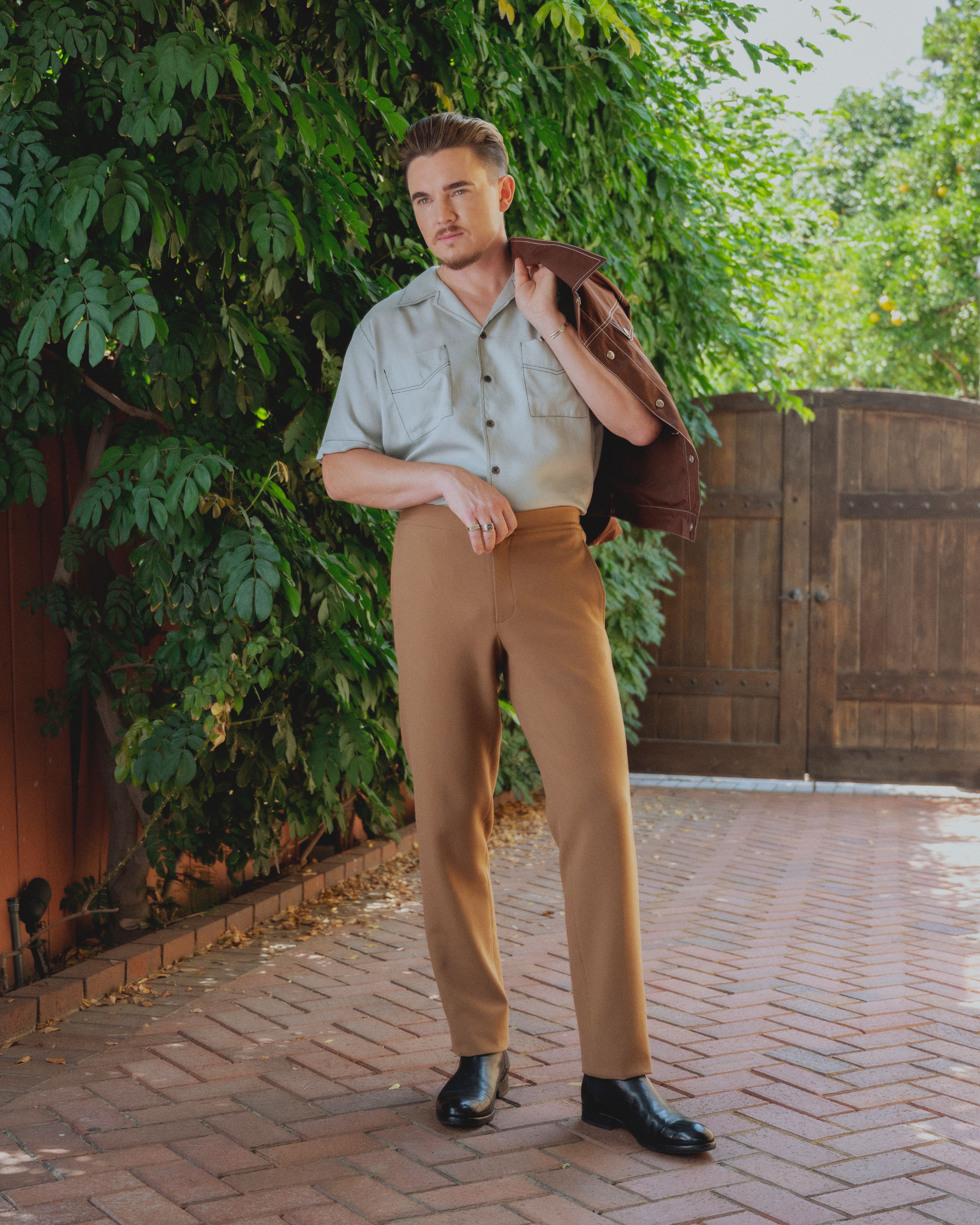 I was reading your interview with VMAN and you discuss how it feels to be immortalized as a teen heartthrob well into your career and how this record is a reflection of you thinking about your late teens and twenties. Based on the record, it sounds like you're in a place where you're focusing on yourself and your growth rather than everyone else's perceptions of you. What was it like working through that pressure and those feelings?
For me, it came to a point where I realized I'm not going to try to compete with anybody or anyone. That's something I did a lot in my 20s; I felt like I was in competition with other artists and it got to the point where I was not having as much fun. It became a glass half empty, negative perspective on music and my career rather than all of the positive things that came out of it. Flipping that narrative in my head was a huge breakthrough for me. I started focusing on what I had instead of what I didn't and only looking at myself and what I'm doing instead of paying attention to what others are doing. 
When I started to view it through that lens, my writing became better. It was more optimistic. The quality of music I was making was going up and that's when I decided I'm not going to care about any of the accolades, I'm just going to care only about putting together a body of work that's going to be respected and appreciated and hopefully make people look twice and think, wow that is definitely a growth spurt for Jesse McCartney. I think this album does that in a big way and I'm going to try to continue growing with this mindset as I get older and have more experiences to write about. At this point, I'm at a place where I just want to make quality, honest material and art and see what comes with that approach rather than just trying to throw a million things at the wall hoping for something shiny and gold.
I was listening to Yours which is on the record and there's a lot of loaded imagery and lyrics in that song that touches on the concept of being a teenage heartthrob and how the music industry is so fickle. You sing about being on the posters in bedrooms all around the world to being an album flop away from being done. I feel like artists that have had such a prolific career such as yourself never acknowledge how fickle this industry is. 
Yeah, you're correct. It's a great example and really insightful that you pull those two out in terms of this conversation. In my early years and being a part of that teen heartthrob culture that America obsesses over and latches onto for some time, you don't really think about it when you're in it. I was in Tiger Beat and Popstar [magazine] where tweens get their posters and wallpaper their bedroom walls with them, along with really cheesy photos of me. For that lyric, it was just a way of describing yet another character that I've played to so many people and really the song acting as a guide to all of the different roles I've played to so many people over the years, many of whom I've never met. People know me as something in their life, whether it's an actor or a singer or the guy from Suite Life of Zack and Cody. They'll have one thing they know about me locked in their brain and they won't ever forget that. 
With the other lyric —  I've been an album flop away from being done — I'm just describing all of the things I've done and stacking that up against my new role, and arguably the most important role that I have now, which is to be this partner in the most important relationship in my life. Everybody's had an album they've been disappointed in — I know I have. I've had moments where I would stress about something not working commercially and feeling like everything is going to crash and burn if it doesn't. What I've learned is that none of that — the fears, the stress, the anxiety of the industry — matters when those things are put against my new role as an almost married man.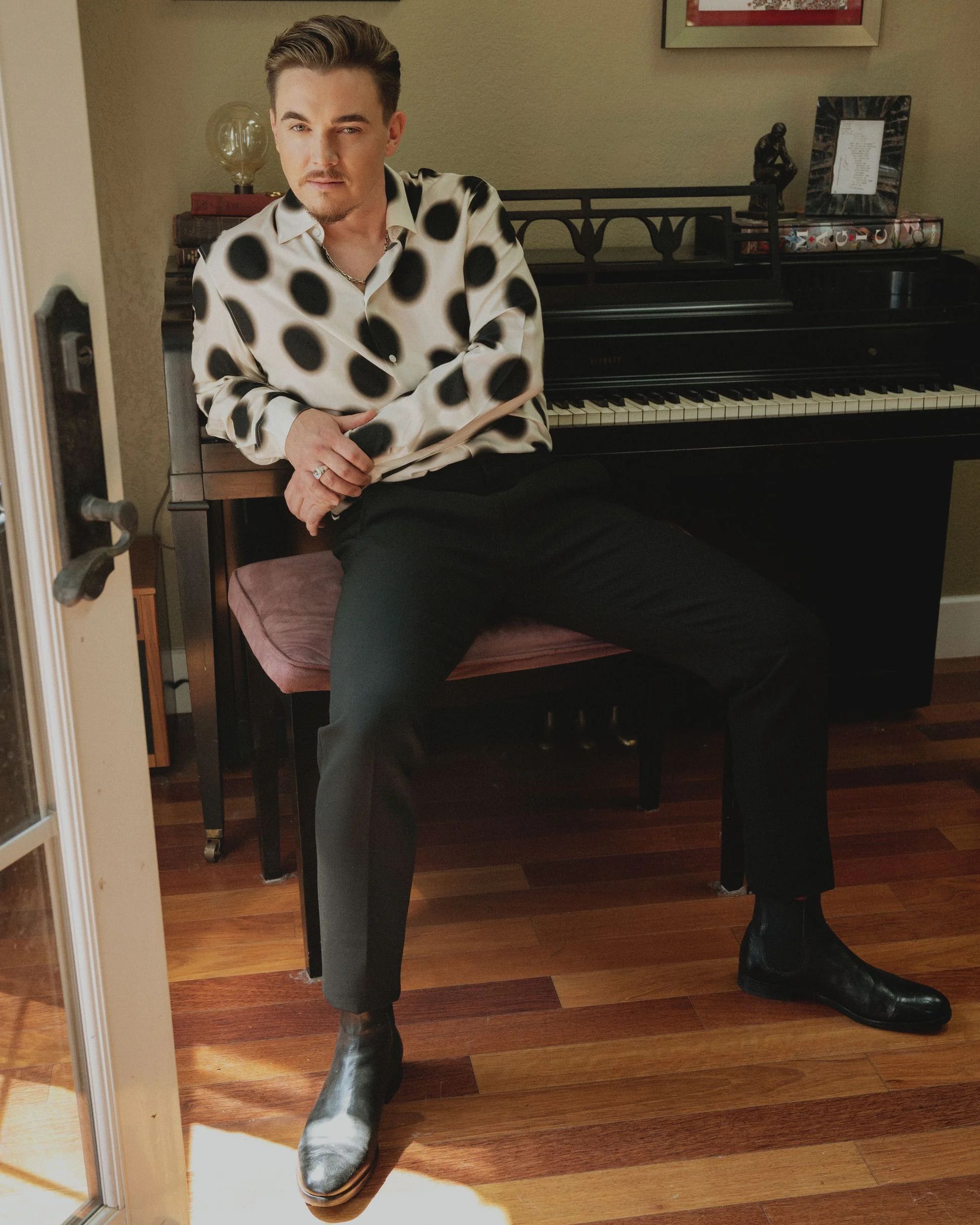 You've experienced so many changes in the music industry as well, like going from CDs to streaming and now TikTok is meant to be where everyone discovers music now. I feel like your career has been able to sustain these huge shifts for almost two decades which is an incredible feat.
I do have a really supportive base; the diehard fans have always been with me and I think will continue to remain with me. We've built a really strong connection and relationship. Adapting is something you need to do in this industry, particularly in the last five years. TikTok has changed the game even way more than Instagram or Twitter or any of the early platforms because there are just so many talented people out there now. It forces you to do more because you're facing this audience of people that just cannot be satisfied fast enough. It forces you to share more which is something I definitely had to adjust to.
When I first signed into the industry, we never revealed what was behind the curtain. No one needed, or should, know what you were doing besides what they knew from the songs on the radio. Now people care about what you do, what omelette you had for breakfast, and how you're spending your days. Learning to adapt to that has been huge for me. I never want to turn my back on the youth and what is happening in their world because it's important to me to stay up to date on what is happening and try to be current with the social aspects of our community. At the end of the day, I'm just trying to make people laugh and smile, that's all I really care about. 
You touched on learning how to be vulnerable and open and you do just that on this record. I love that there are these conflicting themes on the album — both trying to navigate your personal life while maintaining your public life and growth as an artist. Was it hard for you to be as open as you were or was that natural?
As I get older, I'm becoming more of a sap [both laugh] Kelsey, it's pretty bad. In everyday conversations, I guess I use comedy as a way to fight my own insecurities and I'm working on that. I'm not as vulnerable as I am in my own mind or in real life, but I am with my music. So many years can go by between projects where I'm constantly learning about myself and what's going on in this head of mine. Music gives me the space to go to a place where I feel comfortable being a bit more open and, let's be real, a bit more of a romantic sap than I'd normally be!
What I think is really powerful is that you've given so much of yourself to the fans and to the media, this album is a love letter you're giving to your fiancé. Discovering You and Selfless, in particular, are such beautiful tributes. You've been able to include her in the music video and such too! How has it been showing her these really moving songs?
We have such a fun time together, especially when we're creating something. I feel like we get along best when we're doing a creative project together. She's really, really smart and she's a fantastic writer and comedian. We did a series of episodes called Quarantined Couple and that was all her; she filmed it and wrote it and those are all of her ideas. Basically, it was just us quarantined together for months at a time which made us realize we have a great on-camera dynamic. When the album started coming together, I realized I should consult her on the music videos and their stories. She ended up being my leading lady and, of course, it just works because of that natural chemistry. Sometimes with music videos, you don't know how it's going to be because you're hiring models or actors and the chemistry might not work. The director said to Katie and I that we had "great natural chemistry" to which I replied, "Good, because we're getting married!" It's a joy to work with her on this because, as you said, it's a nod to our relationship in many ways. It would be unfair to talk about this album without talking about her and our relationship.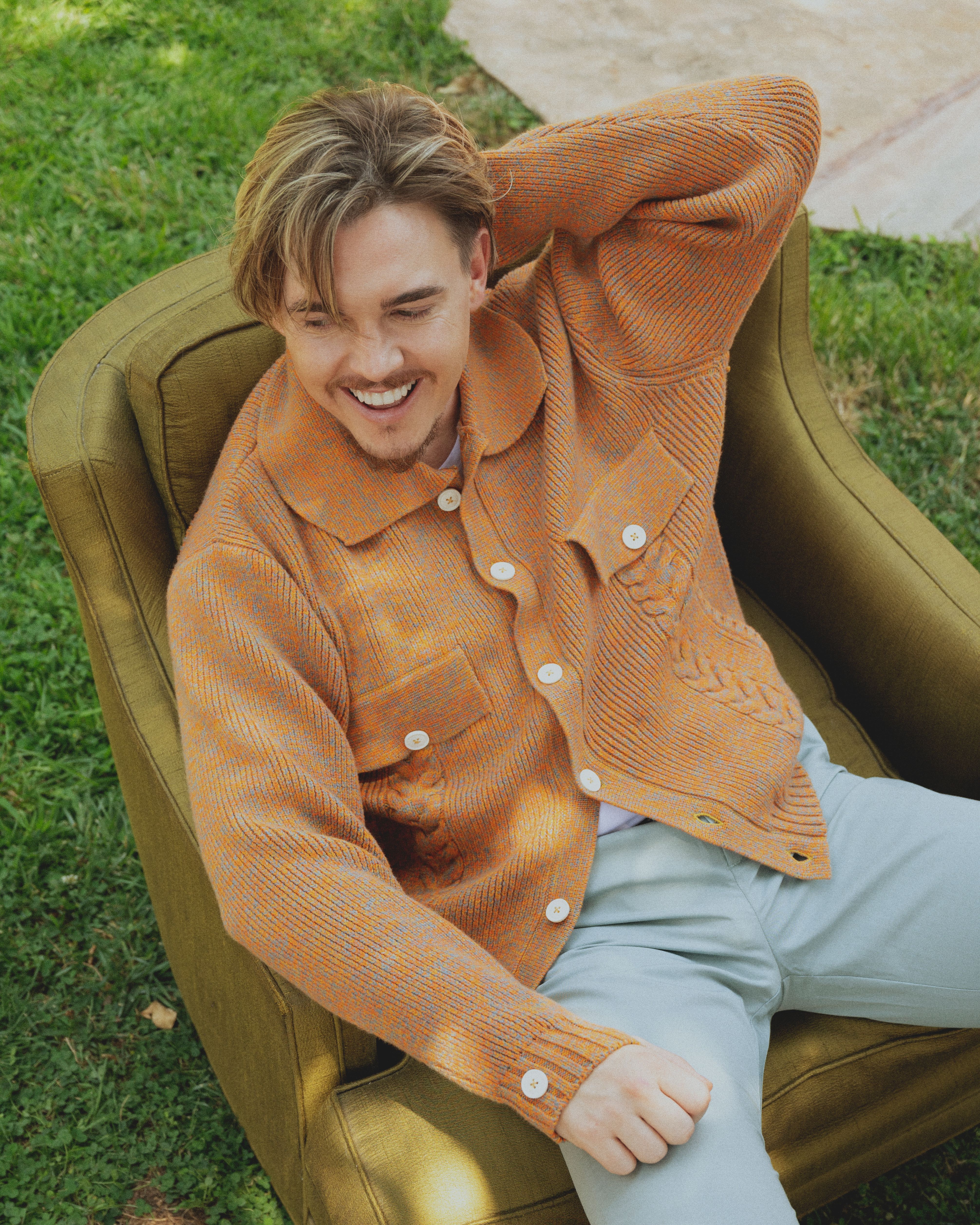 Is there a song that you're most excited for people to hear? 
It's tough, I've been living with this album for like a year and a half so I go through phases. Lemonade is a big favourite of mine because it has this almost country vibe to it. It ends the album and it feels like such a great way to summarize the record — that life is sweet like a glass of lemonade.
I love that you brought up Lemonade because I heard the country aspect to it too! Was bringing a bit of country twang into the album something that came naturally?
Since The Masked Singer, I've become pretty good friends with Hunter Hayes who lives down the street from me. I played him the album and he was flipping out over Lemonade and saying it's his song. I said obviously because you're a country dude! I never intended for anything to sound contrary. I think, naturally, my writing approach and the melodies I come up with for whatever reason have country sensibilities. I went to a songwriting camp in Nashville a few years back and I fit right in because they kept asking me if I wrote country music or not because my melodies are very conducive to a country song format. It comes across in Lemonade. I just wanted it to be bluesy more than I did country but then we started messing around in the studio and added some banjos and such which didn't make the final cut but if we just threw on one twin guitar and Hunter Hayes, we will have a country hit! [Laughs]
Lastly, normally I like to ask artists what they hope listeners will take away from this record but I feel like there's something to be said that this album was shaped around your love for your fiancé and your career so far, so I'd love to hear what you feel you've learned in the process of making this record as a whole?
I think I've learned how much I've been given. I'm much more at peace with the idea that different things happen for people at different times in their life. You can be hitting your stride at any point in your life, but I'm really proud to say that I feel like I've hit my stride in the last 4 to 5 years in regards to my songwriting. That's the thing I really learned from this album. In addition to that, there's a lot of gratitude for where I am in my life and looking at everything with a glass half full approach. I feel secure in so many ways and this album is a representation of that. I also learned that quarantining really helps me! [Laughs] I don't want another pandemic by any means, but I will say that time and these last couple of years have been a period of reflection for everything I've been given. I'm just in a very thankful place.
New Stage is out now.
Interview by Kelsey Barnes
Photography by Raen Badua