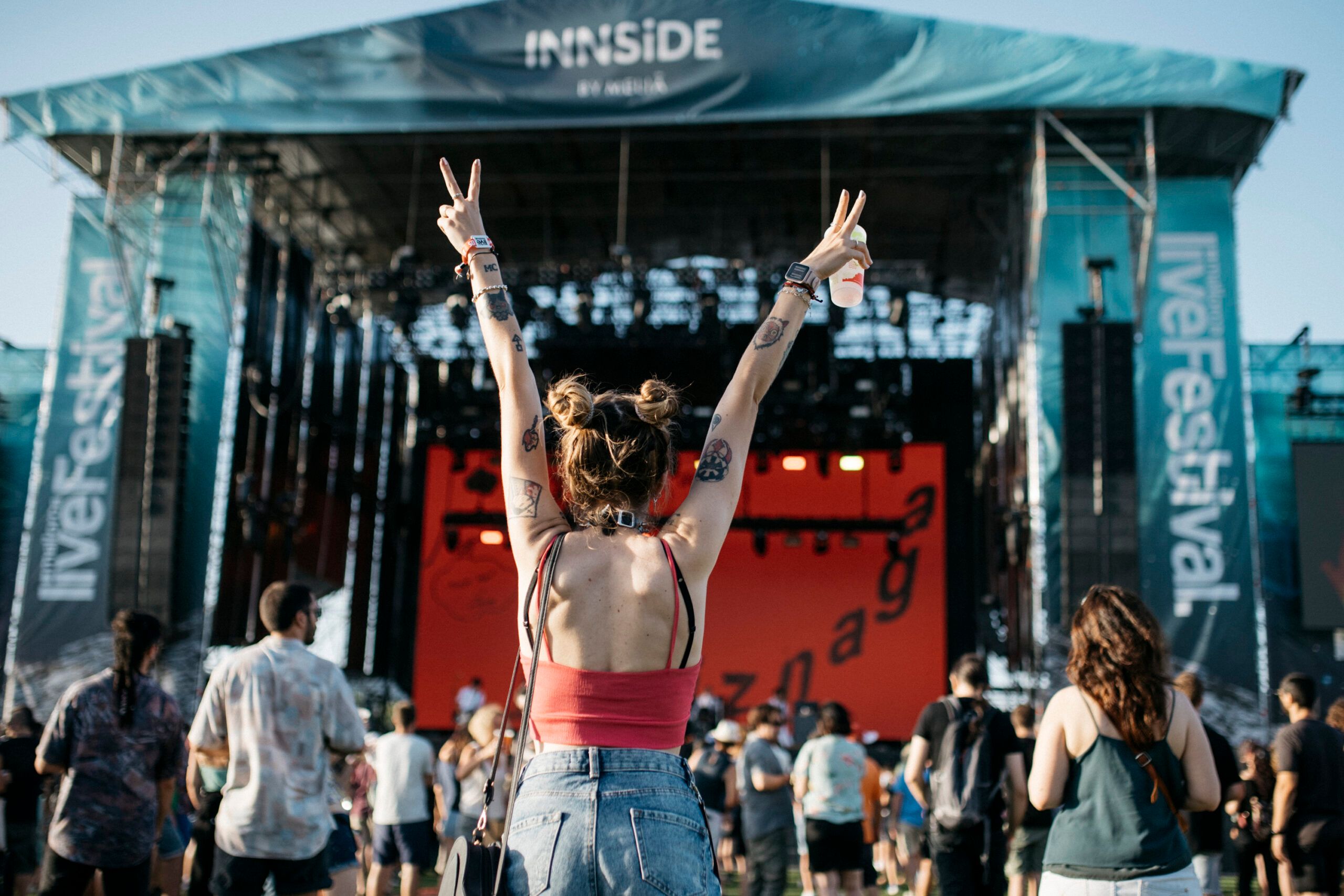 Mallorca Live Festival
As one of Spain's major music festivals, Mallorca Live's location in Calvià's Old Aquapark is ideal.
Close to all the amenities, its central location is also within walking distance of the beach. Creating a vibrant, complementary blend of Spanish and British music, the festival caters for a broad audience, a diverse music event where genre seems less important than quality and popularity.
Proudly counting its fifth year, the Spanish festival returned for another gigantic celebration of popular music, people, and good vibes, while boasting a remarkable record total of 72,000 attendees. More than fifty percent of visitors came from the Balearic Islands, approximately thirty percent from mainland Spain, while circa ten percent travelled from abroad. The festival's ongoing focus on growing cultural and quality-led tourism in Mallorca remains a key component in its ambition. 
With no need to 'build' a festival atmosphere, it came naturally. Seemingly mimicking the weather, it was an atmosphere that intensified as the festival reached its peak. The Parrots treated the crowd to a sweaty festival set. It was obvious that the Madrid-based rock 'n' roll duo weren't going to deny their crowd some of their raw punk goods. Feeding off the mosh pit vibes there was plenty of energy, and the band reaped the benefit of an audience comprised of Spanish and British fans. There was plenty of attitude, and they knew what buttons to press in order to get the crowd going. An engaging and important set. 
Antón Álvarez Alfaro, AKA C. Tangana, is a Spanish sensation, and his Friday night show offered showbiz aplenty. Elaborate and structured, but also throwing in a few surprises, he is known for his grandiose live shows, and the rapper and singer went the extra mile in his effort to give a special concert experience The onstage arrangements were fascinating, if not unusual, with carefully placed café tables and chairs decorating the stage. The rapper was accompanied by numerous collaborators, a number that appeared to peak well above forty at one point. Performing an elegant, immersive repertoire of latino, rap, and pop, the set was unforgettable.
While the celebratory atmosphere continued to gain a foothold, Saturday offered a number of British guitar bands. Britpop alt-rockers Supergrass impressed with a passionate and entertaining best of set. The English quartet enjoy popularity in Spain, and their performance was about as uplifting and fun as anyone could have asked for. Gaz Coombes has always been a positive force, and the band's set was zesty, with evergreen crowd belters such as Moving, Richard III, Alright, Pumping On Your Stereo, Sun Hits the Sky, and Caught By the Fuzz, tunes shining brightly in the night. 
Indie rockers Temples played a lush set on the main stage. A breath of fresh air, their dreamy, psychedelic soundscapes mesmerised the audience, and even though they reminded the crowd they haven't played live since before the pandemic, there was no trace of it when it came to the delivery. With a setlist that included favourites like Holy Horses, Certainty, Hot Motion, recent single release Paraphernalia, and early track favourite Shelter Song, it was a charming performance that called for more Temples sooner rather than later, in the hope of more live action from the four-piece in the immediate future. 
When cult rock and psychedelia act Rufus T. Firefly walked onstage, they were met by a massive cheer, and it literally took no time to acknowledge and understand the scale of what they do. Their songs brim with sophistication, nuance, and the many layers in their music provide fascinating dream-like imagery. Truly transporting the listener, the live experience represented one of the most joyous surprises over the weekend. 
The big moment of the night, however, unfolded when superstar, pop queen Christina Aguilera appeared onstage. The American singer was buzzing about her return to Spain, and the visit signified a cause for celebration. Playing on her Spanish heritage only made sense, and her crowd responded with enthusiasm. Evidently, as she keenly demonstrated, Aguilera remains a communicator of sincerity and authenticity, and she discussed relatable topics such as her children and her role as a mum. Exemplary, and technically expansive, it was a vocal masterclass, the singer showed her gift for vocal gymnastics as she performed global hits like Dirrty, Beautiful, Lady Marmalade, and Let There Be Love. 
But it does not end here. Far from it. Glasgow's favourite indie post-punk act Franz Ferdinand were still to give a forceful performance that oozed stamina and character. With a career-spanning, greatest hit set that broke down every popular song from the Scottish band, little could prevent this performance from being less than a triumph. Charismatic singer-songwriter and frontman Alex Kapranos – band leader extraordinaire – reminded the crowd of his capability to retain the attention of the crowd throughout. With a setlist that incorporated everything from Take Me Out, Jacqueline, The Dark of the Matinée, to Do You Want To and Darts of Pleasure, it simply became the gift that kept on giving. 
As sad it was to see a compelling event reach the end, it was extremely positive to know how remarkable it had been. Known and admired for his distinct blend of flamenco, indie, and folk, singer-songwriter Guitarricadelafuente's performance was extremely absorbing. The Zaragoza-based artist played the main stage, and his set represented the most soothing way to enjoy the last day at the festival. Garage rockers Mujeres, however, were quite a force to be reckoned with. Responsible for producing some of the most raucous rock 'n' roll vibes on site that day, the Barcelona band worked their socks off from the word go. Naturally, their set of garage bangers did lend itself well to moshing, jumping, and singing along. A truly upbeat and fun performance. 
Meanwhile, electronic music outfit Metronomy showed their true colours, and the British band delivered a spellbinding performance designed to unveil their infectious melodic gift and ability to innovate with beauty and imagination. It was a joy to watch, and one that seemed to inject pride and confidence into the veins of anyone who were present.  
Nevertheless, the main event on Sunday night was undeniable, as the British hard-rocking trio Muse took ownership of the stage. Playing their first Spanish festival set this year, the decision to kick things off with Will of the People, Psycho, and Hysteria was spot on, making the set destined to outline the ambition of this anthemic stadium rock performance, while the magnitude of their songs worked as blocks, on which they built the foundation of their magnetic explosion of a show. 
Moving swiftly with a strong sense of purpose was frontman Matt Bellamy, the singer, guitarist, and pianist utilised the stage runway at great frequency. At times this would happen while he played guitar solos, at other times he would simply walk or sprint down in bids to engage with the massive crowds, who were more than happy to immerse themselves in the rock-metal extravaganza. 
With a set that continually fed off tracks from albums and EPs like Black Holes and Revelations, Will of the People, Absolution, Simulation Theory, and The 2nd Law, there was plenty of material to get excited about on both sides of the stage. Fiercely intense crowd-pleasing tracks like Pressure, Time Is Running Out, Plug In Baby, and Starlight got the audience dancing and screaming their lungs out. This might well account for one of Muse's smaller shows, but in the event that they thought of it on those terms, they did not show it.
Mallorca Live Festival 2022 was an immense pleasure to experience from start to finish. Its stunning setting, and the hot weather played their part in this, contributing to the overall experience, but the festival was well-organised, it clearly offered an alternative to other European festivals. Technically flawless, its consistency in delivering great sound across all stages made it an attractive player in broader industry terms, in a market that can seem fairly saturated and unoriginal, too often based on copying other festivals, instead of producing a truly unique festival experience for everyone. 
Review by Susan Hansen
Featured image by Paco Poyato