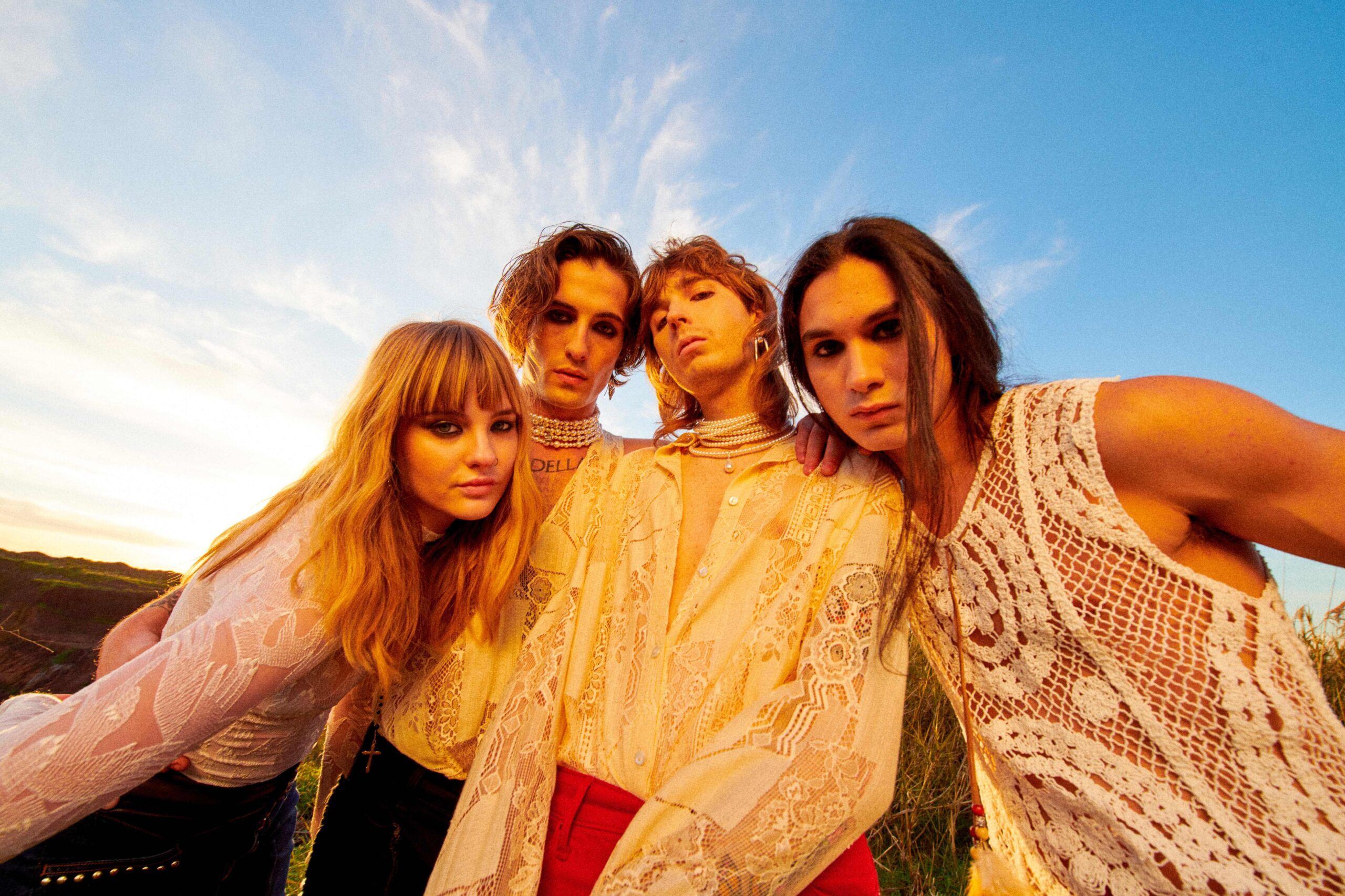 Måneskin
Unapologetic, unashamed, unabashed and unforgettable. Meet Måneskin, the glittering, middle-finger-raising Gucci-rock band that turned this year's Eurovision Song Contest on its head. 
Not their first foray onto a prime-time manufactured pop show (the group came second on Simon Cowell's The X Factor Italy in 2017), or even their first win as hopefuls in a major music competition since formation (Italy's coveted San Remo prize – tick), Måneskin make for perhaps surprisingly convincing rockstars. Equipped now with gargantuan singles like 'Zitti e buoni' and the inescapable internet favourite 'I Wanna Be Your Slave' from their recent 'Teatro d'ira Vol. I' release, Måneskin's current image, aesthetic, and credentials would quite certainly see them waved through by even the most cynical of the genre's gate-keepers. It certainly cements them as worthy newcomers to the likes of their mega-artists peers: Olivia Rodrigo, Dua Lipa, and Harry Styles – just some of the names the band have spent the last month in company with atop pretty much every chart in Europe.
Måneskin's more humble beginnings, though, stem back to 2015 – back then just wide-eyed, self-confessed "insecure" mid-teenage indie-kids playing to Rome's Saturday afternoon highstreet-crowd. Even watching these clips with the benefit of hindsight, it's clear to see that the band would go on to be much more than this: seated atop wooden boxes, reservedly stood, not quite letting themselves go in front of some forgettable building. What's less easy to fathom is how that band from 2015 is quite so fearless in their current set-up. The live show, perhaps the first introduction many of us had to the band, is a raging, somewhat scandalous (during a recent performance in Poland, where homophobia towards the LGBTQIA+ community is commonplace, devilish frontman Damiano planted a passionate kiss on guitarist Thomas Raggi's lips), pant-ripping, stage-dominating, crowd-rowdying, and completely refreshing affair.
Last week, the band blessed fans with the video for the sex-positive, super-TikTok soundtrack 'I Wanna Be Your Slave'. Ahead of its release, 1883 sat down with the band via Zoom from the stately-home-come-studio where they've recently been staying. Bassist Victoria de Angelis is tucked almost protectively between her male counterparts, her hair in a modest thrown-up bun on top of her head. Lead singer Damiano David looks relaxed, engaged. Drummer Ethan Torchio and guitarist Thomas Raggi sit cozily side by side, looking content either way.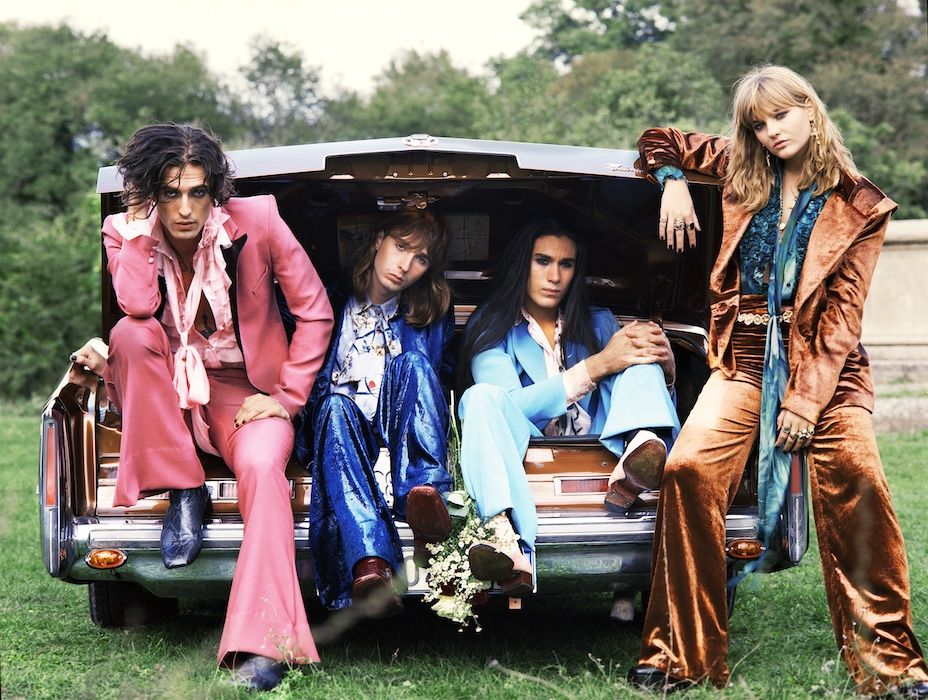 Ciao, Måneskin. So.. have you slept since you won Eurovision?
V: No! Not yet. It's been great. We're doing so many things because we have so many opportunities. Now we're here in the studio, and we'll be here for a couple of weeks writing. We're really happy. We're so overwhelmed by everything that's been happening to us.. we still can't really realize what's happening, but we're so happy.
By some critics, Eurovision isn't seen as 'legitimate'. Can you talk me through your decision to appear for Italy at Eurovision? Were you ever worried you wouldn't be taken seriously, especially as a rock band, afterwards?
D: We didn't want to listen to what people say about Eurovision, like 'that's cheesy' or 'that's trash'. We just saw it as a huge opportunity to get known all around Europe. So we went there without expectation, we just wanted to bring our personality, our identity, and of course our music. And we think that we – in a certain way – have shown that it's not cheesy.
E: Yeah, or 'trash'.
V: Yeah, it's a huge event and it gives you the chance to be seen by millions and millions of people. So if you go there, and you're yourself, it doesn't matter what kind of music they usually play. That's our thought. We don't want to be influenced by [others]. I think we gave proof that we've just been ourselves and the music we make doesn't change if we play, I don't know, a rock stage or Eurovision. We've just been ourselves and people are appreciating this, so we're really happy about it.
T: Yeah. The important thing is our music reached so many people, and that was the main thing we wanted.
One of the great things about Eurovision is hearing music sung in different languages, and non-English speaking tracks are making an impact now more than ever with artists like BTS or Spanish-speaking artists like Rosalía. Can you talk me through how it felt to win such a major competition with a track sung in your first language and the significance of seeing your music climbing high in the charts in markets like the UK?
V: Well it's so cool…
D: It's amazing. We feel like the music went over the language barrier. It's always really tough to make an impact with an Italian-speaking song because of course, almost nobody understands it. So it's pretty tough, but in this case, we feel like people are enjoying the music beyond the language. And that's something special. 
V: Yeah, it means that the music speaks like…
E: The music speaks a universal language.
For sure, did you see that language-learning apps like Duolingo reported an increase in people learning Italian?! That's awesome in a world where everyone has been so disconnected, that your music can bring everyone together again.
[Band laughs]
V: Yeah, it's so amazing, and especially in a tough year like this. We hope that Eurovision and what we're trying to express with our music makes some people feel glad, and distracted, to think about something else – to give a message of hope for the future.
During the songwriting process, is it a conscious decision to sit down and write a song in English or Italian? Can you talk me through how you usually come to make that choice?
V: It's really natural.
D: It's always different, sometimes we start from the music, sometimes we start from the voice, and each one of us gives their own thing into it. But we've always written in English and Italian. Now, maybe we have a chance to speak with a foreign audience, we might write more in English. We started out writing in English, actually, it was only because we had to conform to the Italian market – in Italy it's not really a thing, writing in English. But now it feels like we have the chance to express ourselves in English and we feel really happy about it and really comfortable with the language.
E: We've achieved our goal because people are loving us not only for the Italian songs but also the English songs. 
V: What we think is the fact that the music matters the most. The language can change, we can write whatever we feel more comfortable with, but for sure now we have the chance to write in English and now people can understand our lyrics, we'll experiment with that a lot. 
It must have been really hard for you guys, as a band, during the pandemic. Italy was of course one of the hardest-hit countries and the lockdown was pretty severe. How did you guys keep in touch with each other and your creativity as a band during this time? 
D: We communicated through phones. Each one of us were at our own place, we tried not to complain too much about the situation, but to use the situation. We had a lot of free time so each one of us really focussed on their instrument, we studied a lot, we had our chats full of audio messages and guitar riffs and stuff. When we had the chance to meet up again we shared everything we did in those months and started again.
V: It was really tough at first. Of course, being in a band we need to be together to write. We had to find solutions. We managed well but of course, it wasn't the same as being together.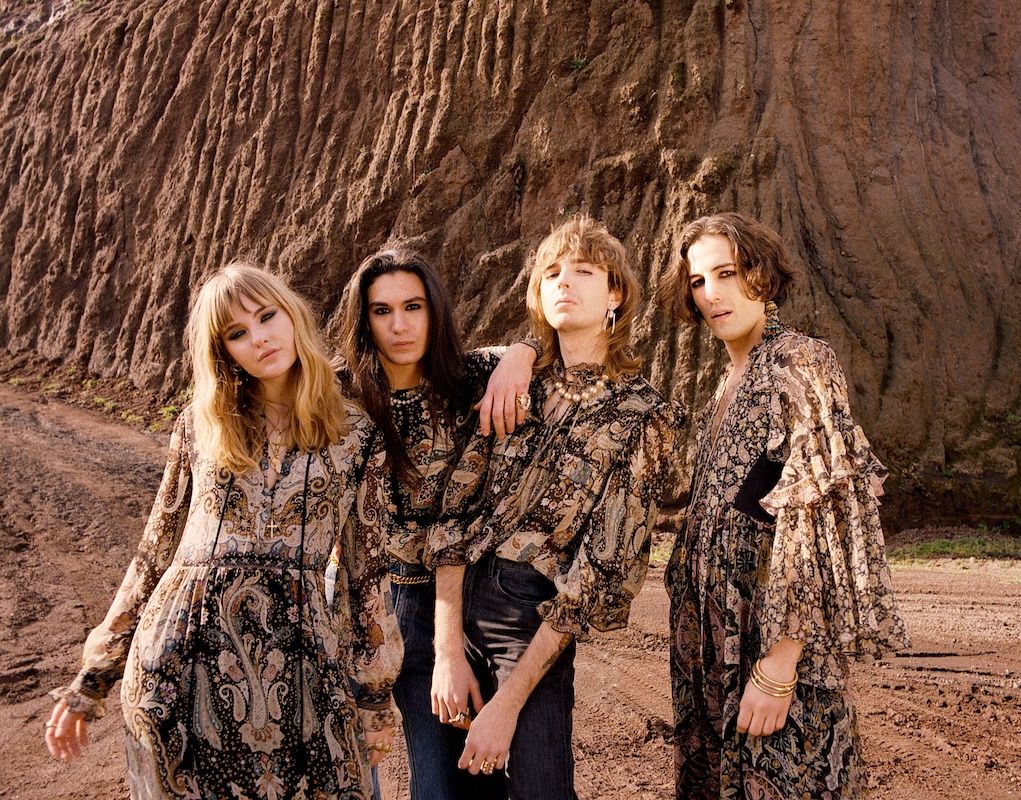 You guys have said yourself that music like yours is not common in Italy. I wondered how it was for you in the early years when you were busking on the streets of Rome and trying to prove yourselves as artists, did you suffer any pushbacks or people telling you you wouldn't make it because of what you sounded or looked like? 
D: Yeah, sure.
V: Yeah back then and even more recently. So many types of people were telling us we couldn't make this kind of music because it wouldn't go on the radio, no-one's listening to rock music nowadays, blah blah blah. So this is a thing we always fought for because we always believed in it. And what we think for an artist the main thing is to be completely free and express themselves. We don't think anyone should be able to limit you and what you want to express. We're really happy that it's going so well now because we feel like we did the right thing to fight for it.
There's a certain etherealness or romanticism to your music. How much do you think your home city of Rome, with all of its romance, beauty, even religion, influences the music you make? 
D: I don't know how much it's related to the music we play, but of course we feel very lucky to be born in Rome… in the most beautiful city in the world. 
It just comes naturally for you guys.
D: Haha, oh yeah.
V: Ha! Every little thing in our lives influences what we write, so for sure even the city we are in influences us. But we don't know how [at the time].
Through your style, aesthetic, and performances, and Zitti e buoni, it seems important to you guys to blur gender lines, show support to minorities, and be proud of your sexuality and who you are. I wanted to ask you if you feel this is important for entertainers to do these days, and if there is a message you had to fans who might be struggling with their identity or finding artists to identify with who help them feel confident? Coraline feels like it was written with those struggling fans in mind.
V: Yeah, we think it's so important. We hope that in our way, we can show a bit of support to all those people who feel insecure about themselves, that feel judged by society. Of course, we know this is a tough thing to go through and maybe we can't understand what everyone is feeling at the moment, but what we want to do with our music, aesthetics, or whatever is to say it's ok to be who you are. You don't need to feel judged by other people. The main message is that it's ok to be different. Be yourself and surround yourself with people who accept you, and don't listen to stupid people judging you or trying to label you or limit you. Just experiment and be who you are.
D: We also think that celebrities or people with huge visibility should show support to these kinds of things that are objective. Because we're talking about human rights, so it's not a thing of "opinions", it's objective.
You guys fit together perfectly and from looking at a photo of you it seems like you could be a band from the 60s or 70s. How did you grow your style to what it's become today? Is the creativity and aesthetic of the band led by any particular member, or is it more of a collective vision?
V: it's basically all of us then, of course, every one of us has our own ideas and we influence each other. But basically, it's just very natural for us. We just started experimenting and we felt free doing it, wearing makeup or dressing up – those are just ways we feel like we express ourselves. I don't know if there's a particular way in which it's developed. For sure now we feel freer, compared to when we first started playing together when we were 15 years old, and we were more insecure. We were afraid of people judging us and yelling at us in the street, now we feel more sure of who we are. 
Damiano, the internet has wasted no time in branding you like the new Harry Styles – I know you guys are big fans. That must feel pretty surreal. What is it about him and his music that you connect with, and what do you think makes him such an important artist?
D: Haha! I don't know, I think what people see is similarities in the look and the way we perform on stage.. but I think we're very different in our vocals and the music that we play, but I appreciate him a lot and also the comparison. But I don't want to be the new Harry Styles, I want to be the only one Damiano David!
V: What I really appreciate about Harry is the fact that he's making genuine music. You can feel he likes what he's doing and he's not conforming. He's trying to express something. Also, the band that plays with him is really great – that's why we played the cover of 'Kiwi' because we really like the instrumentals too.
He's good at stage outfits – for your upcoming tour, will you be bringing more iconic stage looks with you across Europe? The Eurovision perf had such an impressive stage. How much thought goes into the overall aesthetic of your live show?
V: Haha! Nope, no no we can't! It'll be a surprise! But… It will be amazing.
Interview by Lauren Webb
I WANNA BE YOUR SLAVE is out now.