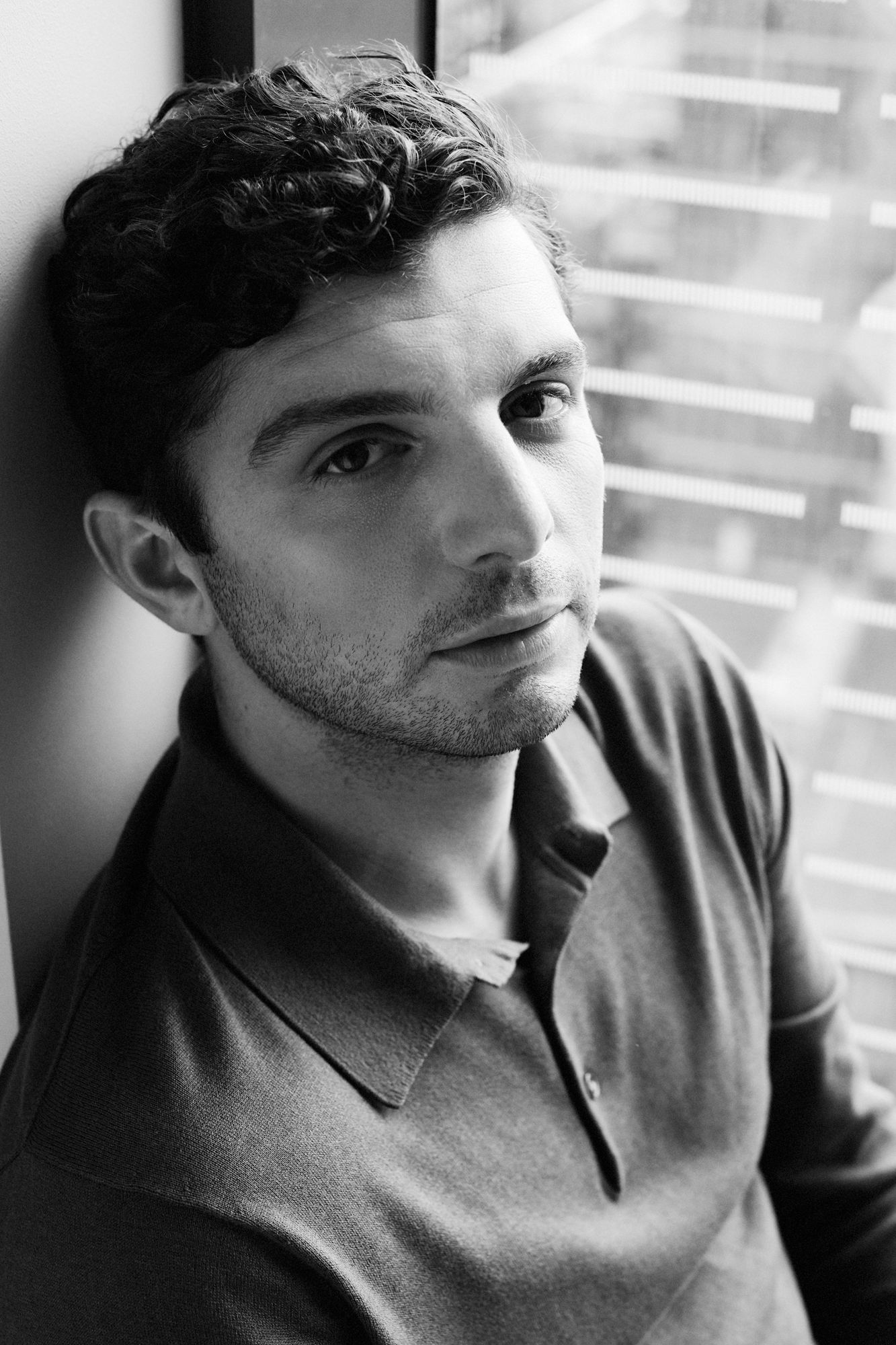 Michael Fox
'What a blessing of a character to be given five years ago. What a gift. It has changed so much in my life in a really amazing way,' humbly says actor Michael Fox with a spring in his step, accompanied by a Border Jack puppy Ned, when we meet up for a cup of coffee in North London.
Michael is reprising his role as a footman Andrew Parker in the highly anticipated cinematic release of 'Downton Abbey'. A period drama which united different generations throughout its run (and bestowed us with one-liners as 'Never complain, never explain') will be following the life of the aristocratic Crawley family in 1927. After receiving a letter informing about a royal visit, the Crawley's will need all the help they can get from their loyal staff and… Well, spoilers no more. Michael, who graduated from the Royal Central School of Speech and Drama, joined the cast of the Emmy-winning television series, penned by Julian Fellowes, in the fifth season. Now, exploring the darker side of his character, he's making a comeback. This time on a silver screen.
I think that everyone who lives in London has their own city story to tell. What is your London story?
I moved to London nearly 10 years ago for drama school. That was the very start of it and now, with acting, I can't be not in London. I lived in North West, North East and then South of the city. I'd like to live in the countryside as I grew up there, also Ned can have somewhere to run around. (smiles) But I love London. I do sometimes think about moving somewhere like Bristol as London can be quite a relentless place to live.
Sometimes it feels like the city sucks you out and you need to go somewhere else to recharge, come back and then you're ready to live here again.
Yes. And you get used to kind of walking around with just a vague sense of anxiety. You never really get to stop and smell the flowers. I much prefer kind of a slower pace, I think. But at the same time, you've got theatre, music on your doorstep and as an actor you're trying to keep busy, doing a whole range of different things. London's the best place for that, because you feel like you're in the loop. One moment you can be watching a play at the National, the other – listening to a talk at the Tate.
Speaking about theatre, what was the last play you saw?
Actually, the last play I saw was on Broadway – Jeff Daniels 'To Kill A Mockingbird'. And it was brilliant. We were really lucky because someone sorted us out some tickets. They cost around 400 dollars, which is just madness. It makes London prices seem really cheap. But the atmosphere in Broadway shows is different. It's also weird because when an actor comes on stage, the audience gives him a round of applause. This wouldn't happen in London. But I'd love to do a show on Broadway, it'd be pretty amazing. (smiles)
You never know what's on the cards, therefore, never say never.
One day. (laughs)
You have released your debut EP 'Before The Cold Heart' last year. When did you start creating music?
I've always wanted to play the guitar, and I didn't do it until I was about 18. My friend half-sold, half gifted me his guitar as an 18th birthday present. I gradually picked up, learning on the internet. And I've done it ever since with as many instruments as I can. Now, I'm trying to learn the piano properly, to a stage which is more than just playing a few chords. (laughs) It's the thing I do in between the acting and it feels like I'm keeping that creative muscle going. I enjoy performing, but writing and recording is something that I really love. I'd like to get into writing songs for other people.
Have you ever tried pitching your songs, perhaps, even to a friend of yours, saying 'Mate, I've got a song for you'?
I have written for other people and other people's films, but I haven't gone to anyone particularly well-known saying here's a song for you. One day.
Are you working on new music now?
I'm working on the second EP together with 'Candy Says', a band from Oxford. We recorded it at the Abbey Road Studios and, hopefully, it'll be coming out at the end of the year. There will be five songs which will be a bit different. In comparison to the first album, this record will be more mellow and acoustic.
Would you consider moving from acting to writing music full-time?
I did think about it for a bit, but I just love acting too much. I feel the most comfortable doing that. Music's a great passion of mine and a good outlet, but I could never not do acting. Without any doubts.
One day – Broadway.
Broadway with a guitar would be quite good. (laughs)
You should keep that in mind, a one-man show in Broadway. But before moving across the pond, the anticipation is building for the release of 'Downton Abbey'. Were you watching the series before you've been cast as Andy?
I've watched the first two series. I love period drama. I loved 'Gosford Park'. But I wasn't sort of coming on the set and knowing every single detail. I didn't watch 'Downton Abbey' as I've watched 'Mad Men', but I was a huge fan, I knew how brilliant it was. Jim Carter and all the amazing actors I've followed were on the show, so coming in was really daunting and exciting at the same time. I had a chance to do a small scene in it a couple of years before, when I was still at the drama school. I think it was a line or two lines, but my agent didn't want me to do it. She said to me – 'What if a bigger part comes along?', and I thought, at the time, that this is mental, it won't come along. Luckily, it did. Two years later I got an audition for Andy, and I'm so glad I didn't do that one line because I wouldn't be able to come back. It was and is exciting coming into the show. The film has made it even more exciting.
How the storyline of your character will develop in the movie? In the last episode of the series, it was hinted that Andy may have finally enchanted Daisy.
When we left Andy at the end of the last season, he was pretty much starting to be in a relationship with Daisy, though it wasn't fully signed off. The thing about Julian Fellowes is that he never lets the characters be fully happy, settled and content. There's always an extra thing to worry about for them both. Andy and Daisy make a good partnership, but it hasn't been running smoothly for them. It's also been great as Julian has written a few more edges to my character. He's not quite a sort of smiley face and respectful all the time. When I read the script, without giving too much away, I got really excited about showing the other side of Andy's.
The main storyline in the movie is that King George and Queen Mary are coming for a visit to Downton, and they're also bringing their own 'downstairs' staff. Clearly, there'll be tension rising amongst the two different camps. Will you be going into a battle with the royal staff?
Battle Royale, yes. Essentially, the King and Queen coming to stay is the best thing that could happen to a servant because that's the story they'll dine out on for the rest of their lives. It's like the FA Cup Finals. (smiles) When that is about to be taken away, they want to claw it back, which was really exciting to film and it's funnier than people will expect. I think the show has always been funny, especially with Maggie Smith, but I feel there's a bit more farcical elements to it. And also, other brilliant actors, like David Haig, who comes in and plays the royal butler, are joining the cast. He's such a brilliant actor.
He is, I still remember some episodes of 'The Thin Blue Line' with him and Rowan Atkinson. It's a golden classic.
Yes, it is. I think what's also been great about the producers and our casting directors Jill Trevellick's choices, they were going for people with a strong background in theatre as the series itself is quite theatrical. Actors like Jim, Imelda, Maggie – they have such a huge experience in theatre which is great. It also adds all kinds of different elements as screen acting is a very different thing.
Is it true that the whole cast was given a crash course on how to act in front of royals?
Yes, Alastair Bruce was our oracle. On a day-to-day basis, he'd come in and he'd tell you what sort of curtsy to use or how long the bow is for. These very simple, practical pieces of protocol have been a great help for an actor because they give you something to play. For me, with the serving etiquette, it was very different to serving a normal scene which was quite interesting. Alastair is so knowledgeable and without him, I think the show would be completely different.
If you could have taken any prop from the set with you, what would your choice be?
If the piano had actual strings in it, I would've taken it. Unfortunately, it didn't have. If it did, everyone would've been playing it during filming. Well, I would've been playing. (laughs)
When we part with Michael, the eagerly anticipated world premiere is a few days away. 'I'm really looking forward to it as it'll be great to see everyone and the fans will be out there. It's a big adrenaline rush.' He pauses. 'An actor isn't really seeking the limelight. An actor is finding interesting and comforting in playing another character, telling a story,' voices Michael. And I feel in my bones that this storybook has filled only the first page of many exciting stories to be told.
Downton Abbey is out now
By Migle Kriauciunaite @miglekrau
Photographer Darren Skene @darrenskene
Styling Krishan Parmar @krishanparmar_
Grooming Dan Delgado @dandelgado_
Location Lemon Lock www.lockeliving.com/leman-locke