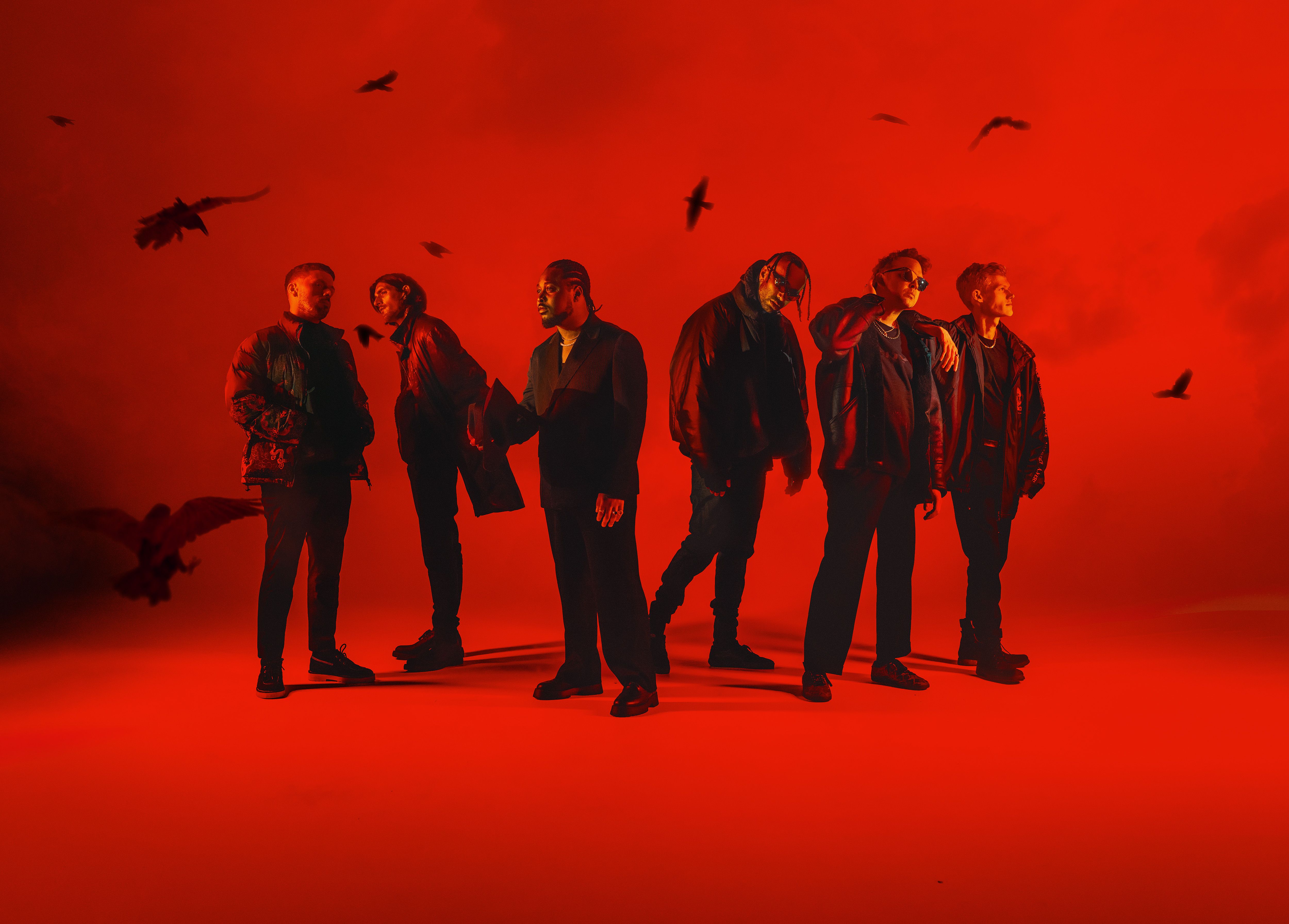 Monster Florence
The alt hip-hop collective Monster Florence are hitting their stride on sophomore record, Master System.
When you start a musical project with other artists, there's always a slight chance that it might not work due to possible creative differences. On paper, the six-piece alt-hip-hop collective, Monster Florence, may not have worked as each member is a talented artist in their own right with a distinctive style and vision. Yet they do work and very well at that. The group consists of vocalists/MCs, Alex Osiris, Dream Mclean (Dre), and Wallace Rice. Tom Donovan produces, plays the guitar, keys, and also does the programming, Jonny Poole plays the sax, keys, and guitar. Cameron Morrell completes the ensemble as the drummer.  Although creative differences could cause some groups to falter, their artistic differences have undoubtedly proven to be one of Monster Florence's greatest strengths. Each member has brought a unique flair to the band and since forming in 2015 the group have cemented their status as a genre-defying act thanks to their commitment to never staying in one lane. Over the last few projects they've put out in previous years, they've traversed elements of rap, alt-pop, punk, indie, and psychedelic rock with ease. Leading the Essex-based group to gain a steadily growing fanbase and earn an admirable amount of streams. Their musical adroitness isn't Monster Florence's only unique selling point, the live experience they put on is also a thrill. All you have to do is watch their live session at Abbey Roads Studio or attend one of their headline shows to see an exciting group stepping into their prime.
Now, Monster Florence are back with their most refined and cohesive body of work yet, their second studio record, Master System. It's an expansive, concept-driven LP that sees the band thematically delve into the perils of the digital world. 1883 Magazine sat down with Tom & Dre from Monster Florence to discuss the new album, performing live, and what they hope to manifest for themselves this year.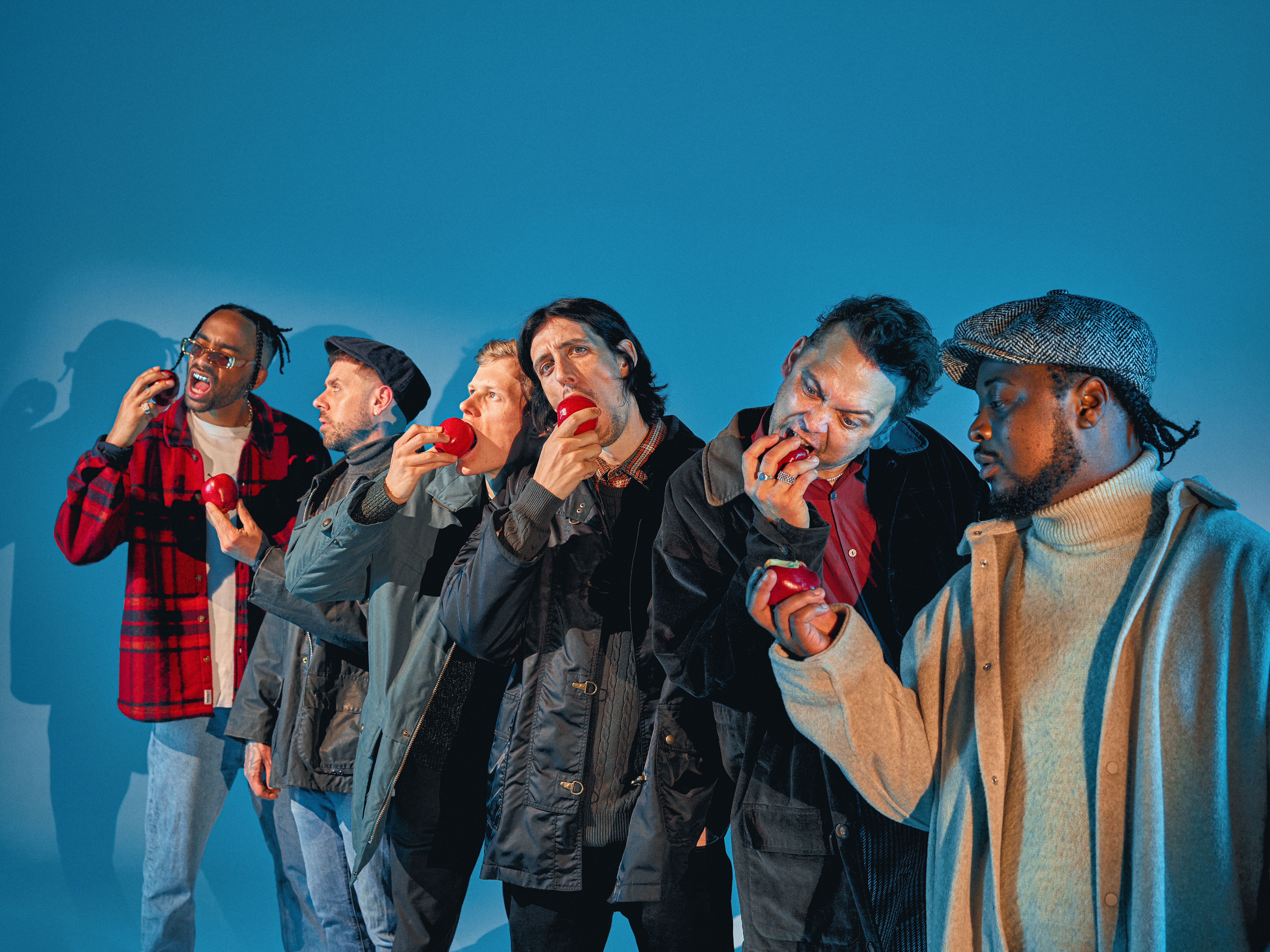 Tom & Dre, thanks for speaking to 1883 Magazine. Monster Florence's second studio album, Master System is out now. This record feels more refined and a big step up to previous projects, 48, Foul, and EP Cowboys & Idiots. What are you both proudest of when it comes to the record? What challenges did you overcome when making it?
Dre: I think the biggest step up for this record and what sets it apart from the previous records is the group's chemistry. With every year and every project that passes, we get better at making music as one collective rather than six individuals which is something we've put a lot of focus into over the years. It's something we've been conscious of. This time around, as a project, the singles are starting to show that we're serving the music and the song rather than serving as individuals. A lot of our earlier music could have been a little bit competitive in terms of every musician wanting to have a part everywhere and every rapper wanting to have a big verse. This would lead to really long songs. Now, with this record, it sounds like Monster Florence's sound is honed in a little bit more.  
Tom: If you take Foul, for example, it wasn't intended to be an album to start off with, we kind of just started off with the song Foul and it went from there. Listening back to it, as much as I am proud of it, I think–as Dre was saying–some of the songs on there were written individually. There are beats that have been thrown in and a few that have been written as a band but everything was done slightly differently. With this one, I think everyone has had their hand in the songwriting process with every song so it definitely feels way more complete and way more of a group effort.
I know the catalyst which sparked Monster Florence was Tom and Alex's original studio sessions and it then gave way to a completely new project, Monster Florence itself. But what fascinates me the most is that on paper this group may not have potentially worked, you're all musicians, rappers and solo artists inspired by different genres and styles, so getting six people in a room doesn't mean there is going to be that spark/chemistry (Dre, I know you were already friends with Wallace and Alex). But you've done it, the group pull from so many different genres and influences, and it just works so well. I'm keen to know about the early days of when you all got together and the moment that it all began to stick for the six of you…the moment that you felt Monster Florence was coming into its stride?
Tom: When we started out doing it, you don't really think that you haven't come into a stride, you think you're doing it right and everything is working. When we listen back to our first record it's absolutely just batshit crazy, it doesn't make a huge amount of sense to where we are now. This is our eighth year of being together and it's been such a long process so there's not really been one point where you've gone "Oh, it's all really happening now". It's all just continued. We've written music for ourselves and not anyone else. 
Dre: It's been a constant rather than one moment from then until now. Me, Alex, and Wallace have been emceeing together since the early days, since we just left school so it was a transition from the grime cyphers and shit like that to now, being able to properly make music as one.  
Tom: Also, what's been quite interesting is, I remember the very first sections where you don't know the boundaries of people yet. We get in a room and start making this crazy, off-the-wall, freestyle jazz, and it's like "Go on, just go in there and rap on it, do what you do" but it's just confusing. There was a habit from early on where it was me joining Cam and just veering towards a much darker sound and then the other guy is saying "Right, more happy music". It's that push and pull. Slowly but surely you then find a middle ground that everyone feels comfortable in and it does change from week to week, but it's much easier to find now.
Compared to the previous projects, this new album feels like the most concept-driven album so far. I don't know if you guys would potentially agree with that….
Tom: With this one, we had the ideas–the basics of it–for the whole concept of Master System, really early on. We started off with songs like Bad Graphics, Lag, Midnight Club, and all of which were driven towards the digital era. Towards the end of it, right at the point where we kind of had it finished, we were mixing it and we took it to Scribbler–he's the guy doing the artwork and I suppose, the whole visual concept towards it–and we were like "Okay, we're ready to start putting all the visual sides together". He really brought it to life, he took all of our ideas and wrote them out way better than we would have written them out so we could pitch them to the creative people to work with us. He really has taken the whole concept of the album to the next level, way further than we could have. We couldn't have done it on our own, he is essentially the seventh member of the band, really.
Compromise is so important when in a collective, especially when there are numerous ideas floating around during the creative process, so with that in mind how have you both gotten better at compromising? And with Master System did anything have to be cut or is Monster Florence now at the point where everyone is on the same wavelength and the vision/direction is agreed on?
Tom: There are still a few sticking points on the record but we did compromise. With Master System, we brought it down towards the end but it was massive, there were like 20-odd songs. We had written so many songs for it or at least wrote them with the record in mind.
Dre: We were just serving the album and the songs on Master System, there's always going to be compromises made for everyone in the group. The whole band have gotten better at seeing the bigger picture rather than just the individual. No one goes from being a musician or an individual artist and is just able to transition to being in a band straight away, it's a different thing altogether. It's something we're all learning, some of us just have more experience than others.
Tom: The album was the big push. With the EP, Cowboys And Idiots, we had all of these ideas of "We're gonna do this, this, and this" and the label was like, "What material have you got?". So we sent over a playlist containing 60 or 70 songs on it. The label looked at the playlist and picked from it and were like "Oh, you should put this one out" and obviously, being the rebellious, anti-establishment people we are, we were like "Nah, fuck this" and just fucking got rid of all of it and started again. I think we only kept two songs from it. There are six of us so obviously, we've all got a clear vision of how things should be and I think with this album particularly, aesthetically and conceptually it's all very tight. There was a point during writing it where we had a mood board up, throwing all these little bits and pieces at it and really refined it from there. But we've got around fourteen hours of material that's probably never going to see the light of day. Who knows?
Thematically Master System focuses on the rise of the digital age and everything surrounding it. It also asks the question: how does one maintain a connection to reality, humanity, the real world and the earth all while living in an illusion? With that in mind, how do you both stay connected/grounded in everyday real life rather than being connected online all the time? I find it so hard trying not to be online and switch off from it all…
Dre: Mushrooms. But other than that, I'm not going to lie to you, I am in the system. I'm a victim of the system, I'm in it deep in everyday life. I think we're all fucking in it. I'm not someone who wakes up in the morning and goes for a walk in the woods but when I do mushrooms–which isn't all the time–if I look at my phone it fucks me up. I can't look at it, I have to put that shit down. So then I'm briefly out of the fucking master system.
Tom: Mushrooms are helpful, definitely. It's hard to be disconnected though, isn't it? Even while we're sitting here talking we're looking at the phone. The other funny thing about the record is that we have the metaverse stuff and all of the new VR stuff linked into it but it was around two or three years ago when we wanted to focus on these concepts as it wasn't really much of a thing at the time. But now everyone has jumped on the bandwagon, stolen our idea, and made it a real thing.
Dre: We're trying to warn people about the dangers. We're like Greta Thunburg but it's too late. We are warning you about what can happen with global warming but we really and truly all know it's too late man, the Master System and global warming have already fucking taken over. We're all fucked.
We are all obviously addicted to it and it is hard to not look at your phone… 
Tom: If you look at the Master System's artwork as well, if you're gonna go deeper on it, you've got Adam and Eve as two robots with the apple and everything has kind of been handed over to the robots. There's this symbiotic relationship between humans and fucking technology. We're screwed, we're going to evolve and end up as cyborgs.
Dre: I think we're activists.
Tom: Yeah, we're activists.
Dre: Just not very good ones. 
Tom: Well, that's the thing as well is, I'm sitting here warning people but at the same time, my screen time is like seven hours a day. So do as I say, not as I do.
I briefly mentioned how each member of the collective is a musician/artist in their own right outside of Monster Florence. Tom, you've been producing and running your recording studio for a fair few years now and have worked with a whole host of new and established acts. (Miles Kane, John Cooper Clarke, Izzy Bizu, Anarok Patch, Foreign Beggars etc). Dre, ever since you put out your debut single Network (produced by Chase & Status) in 2012, over the years you've cemented yourself as a respected MC and lyricist. What do you both get from Monster Florence that you don't get from your other ventures?
Dre: With the Monster Florence music, it's the first time I'm actually able to give a copy of the album to my nan. Before Monster Florence there was no way I would have liked my nan anywhere near any of my music. I'm finally now making something that's somewhere near family-friendly.  Aside from that, you would think that on your own you get more personal but I definitely get a lot more introspective and personal with Monster Florence music than I do in general on my solo shit. 
Tom: I get a social life [laughs]. What Dre was saying is funny because this is the only thing I've ever done where my mum is like, "Why is there so much swearing? What did he just say? Oh, that's disgusting!". I get that a lot from her which is kind of ironic, really.  That's the thing with Monster Florence though, if you're in a band like this, what's good about it is that we can be quite diverse with what we do. We don't have to do a specific genre of music. Obviously, we put out a body of work that we have kind of tailored to be a specific sound but in terms of how we write music or how we present it, it's all completely different. At the moment we're setting up the Union Chapel gig and we've kind of stripped everything back. It's really laid back. If you listen to our records, I hear them as being loud at times but when people come to see us live, it's a completely different thing. It's good, it keeps us interested. Everything we do is us trying to think up new ways of writing music, we don't just stand in a band or stand around and play our instruments, so every process is different. The new processes can come from a voice note that someone will send, or it can come from anything, you know?
It does feel like there is a real sense of freedom with Monster Florence because you're always trying so many different things, and you don't feel pigeonholed or constricted compared to some other acts out there. Monster Florence is boundary-less and you can all explore whatever you want.
Tom: Yeah, if you take something like Famous People Die The Most from Foul, it's potentially a bit like The White Stripes and we're rapping on it. But then at the same time with the new album we've got elements like orchestration on it. It's all just different. It's great having a label as well because they pay for it all so we just go "We'd like an orchestra, how much is that going to cost? We need an orchestra now." It's good, it's made the process even more lovely and how can I say it, wanky? That's a good term, right? [laughs]. We can explore more territories musically and the label doesn't really get involved in the sound, they kind of just let us do our own thing.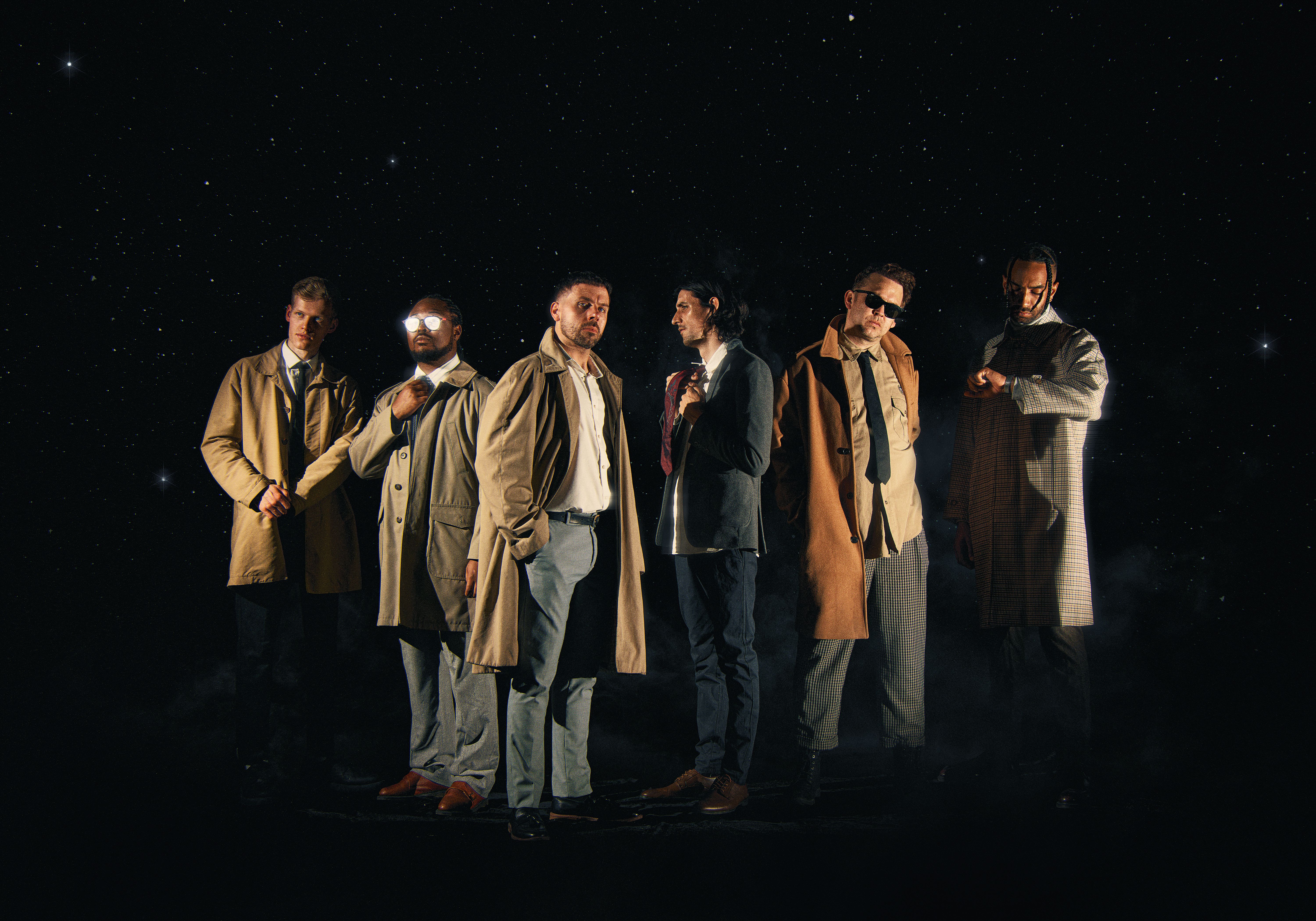 That's good to hear because some labels can tend to micromanage or try to mould artists a bit too much sometimes. You're the masters of your universe. No one should tell you what sounds you should make or what you should do. It's the group's artistic vision at the end of the day.
Tom: Well when they first approached us that was one of their selling points. They were like "We love what you do, just keep doing it". A lot of other people we had spoken to would have two or three songs they loved and then we'd give them the new material and they would be like "Oh, why are you talking about feelings? Why are you not talking about the thing you were talking about in the last song?" Or "Why are there guitars/not guitars?". We're kind of left to our own devices which is mostly a good thing, I don't know if it's a good thing from the financial point of view for our label but for us, it's good.
On Master System's Relax, you feature a one-liner from renowned punk poet John Cooper Clarke, on the track. It's been mentioned that this came about from having a conversation with him. Out of curiosity, what was the conversation about?
Tom: John was talking about syphilis in the 1800s and how he was reading Charles Baudelaire's work. He then said, "What's the worst that can happen about reading Beaudelaire?" And he soon then mentioned the line we used in the song: "Relax, Nothings under control". So that's where it came from. 
Thanks for clearing that up!
I've been working with 1883 Magazine for a couple of years now and have interviewed a lot of different talent from all over the place but this is my first interview with a group of locals from Colchester. Speaking about the local scene here, are there any particular acts or artists that you're both excited about? 
Tom: Bridget is very good and so is Gasoline Green. Dre?
Dre: I don't know, it's basically just us you need to worry about… [laughs]
Your London show seemed to go down really well back in December, what live plans do you have to celebrate the new record? And how long has it taken to perfect the live element of Monster Florence?
Tom: The live bit has always been quite easy for us to perfect I think. Our live element in general is one of the main reasons why we kept doing it since our first show.
Dre: With some of the new songs on this album, I'm doing a couple more singing hooks and shit which is all good until you have to do it live. You do two rehearsals before the show and it's like "Rah, Tom can you fucking help me out here". It's a struggle but we'll get there man, we just need a little bit more practice. 
Tom: The thing with some of the new material is figuring out how to play it live, as well. We've got the main singles already in the live set and that has been working out quite well. If we're going to go out and perform some of the tracks that require different elements… we can't just rock up with an orchestra or all of these different bits and pieces. We've got an opera singer on the record as well. For plans moving forward, we might have a tour. We may have a UK tour hitting the main places, possibly, maybe not. Just if we feel like it. The live thing is obviously our unique selling point and it's something that we like doing as well.
This is a simple and wholesome one: let's hype up Alex, Wallace, Jonny and Cameron. What do you both admire about your bandmates?
Tom: With all the bands I've been in–which is a lot–the thing about this one is we've never argued, not really. Things get heated but never anything close to actual arguments. Sometimes in the group chat things will get written in capital letters with exclamation marks but generally speaking, no one really argues. Everyone sees it from someone else's point of view. 
Dre: They're all nice guys to be honest, if it wasn't for the band, I would probably be friends with most of them [laughs].
Tom: "Most of them" [laughs].
Finally, what do you both hope to manifest for yourselves this year?
Tom: Money. Loads of money. 
Dre: A top ten album and Glastonbury.
Tom: And a Mercury.
Dre: Yeah, a Mercury, that's the one.
Tom: I think it would just be good to get to that next level. Things are going in the right direction at the moment, streams are going up. With lockdown, we were writing the album but in terms of releasing stuff, we did pretty much fuck-all yet the streams were bonkers which has been handy. Hopefully with that in mind, with the release of this new album, hopefully, we'll get an increase in followers and we'll gain a bit more. But basically: money, Mercury, Glastonbury. Those three things. Oh, and a top ten as well. Sorry, that's four things. 
Dre: Success and accolades. 
Master System is out now. Follow Monster Florence @monsterflorence
Interview by Cameron Poole