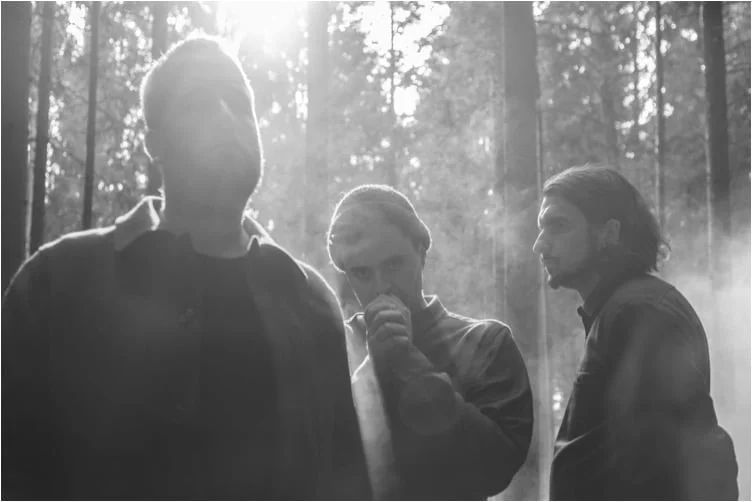 Monumental Men
Monumental Men produce epic, mystic and melancholic electronic music with cinematic precision.
A captivating mélange where determination and caution, force and tenderness and analogue and digital meet. Recently released the single titled "Small Flame", the song is described as 'an old man's version of a love song – morose, longing but not at all unhappy!'
Sometimes it's just not easy to remain calm, especially when the past comes back to haunt you. It might just be the hint of a scent, just a split second of that song, a tiny glimpse down that road – what should have been a small flame, now such a fire. Monumental Men's latest grapples with the emotional, a bittersweet immersion into the very core of what is both killing you and gives you a reason to live. Cue the choir, the laid-back bass, the vibrant strings and you've got yourself a hopeful little tune, despite it all
The music of the Swiss trio immediately triggers a hallucinating range of images evoking atmospheres and worlds normally reserved for the big screen of a movie theatre. Whether at vocals, bass, choir or guitar strings every cue is perfectly timed, hence, a driving journey among weighty, rock-like beats and sounds, contrasted by delicate and distorted vocals, merging into experimental pop music. Their work sets out to capture the exciting dynamics of club music and to translate it into contemporary pop. To play with arrangement and effect without ever fully exhausting the possibilities, the listeners are regularly captivated by extraordinary twists, gloomily glimpsing into an abyss or following the elusive and shifting vocals, in search of love, security and home.
At 1883, we had the opportunity to sit down and chat with Monumental Men about their latest single "Small Flame", creative process behind producing music, exciting upcoming plans for 2019 and much more. Read the interview below to know more!
Your latest single "Small Flame" is against all odds, 'an old man's version of a love song', as described, that has a very captivating vibe, feeling of longing and a little hope left at the end. Talk us through the songwriting process. Is there a personal inspiration behind this one?
It's always personal and at the same time it's never personal. We tend to approach our songs very ad-hoc so whatever dominates our personal lives will find its way into our jams and studio time. But we take pride in reworking our songs – and then some more. So the final product will always be a blend of multiple personal touches with a very real life of its own.
The song has breathtakingly beautiful soundscape with its intimate and atmospheric sound that blends perfectly with the warm subdued vocals. What is your creative process behind the production? Were you satisfied with the outcome?
It's probably common-place to hate your own songs after production, but we tend to fall in love again with them once we give them some time. So yes, we're satisfied, but it's always complicated. As far as the creative process behind the production was concerned: We don't really have a go-to-strategy, a lot of it relies on the aforementioned day to day vibes. With Small Flame, we really wanted to strive for an organic sound and we've mostly gone about it by playing every instrument available at the studio and see where that takes us.
Can you all recall that moment which inspired you to become musicians and do what you're doing today?
Unfortunately not. Music simply is the one thing that never let go, for better off for worse.
Hailing from Switzerland, in what ways has the music taste that you grew up on has inspired your current music style and creativity?
Each and every new day is the pinnacle of our combined experiences and we're never able to shut them out completely – not that we wanted to in the first place. When concerned with pop-music, there is hardly any notable Swiss tradition so we found our styles all over the place.
It's a known fact that music easily transports a person to another time or place. Where do you think is the best place to listen to Monumental Men's music?
We're in comfortable position to adhere to Barthes' principle of the death of the author. Just play the tracks when you need them in your life. And play them loud.
If you had to choose one movie where you think your music fits perfectly for the soundtrack, what would be your first pick?
The cinematic element of our music has been an inspiration throughout the different writing processes with Monumental Men. We'd love to write music specifically for a movie, so let's keep this one open.
What's next in the music bucket list of Monumental Men in 2019? Anything exciting that you'd like to share with your fans?
We're incredibly excited to play Reeperbahn Festival in Hamburg in September and we're slowly trying to wrap our heads around to write a whole album. It's a very different approach that we can't wait to truly indulge in.
Finally, if you had to spend the rest of your life in a flotation tank and could only listen to the entire works of five different artists to keep you company, who would you choose?
Between the three of us, I doubt we'd find any common ground.(laughs)Have a listen to our Monumental Moments Playlist on Spotify to see what we're hyping right now, as it has some of the best artists of the industry.
For the latest on Monumental Men visit www.facebook.com/monumentalmen
By Khushboo Malhotra @malhotra_khushboo