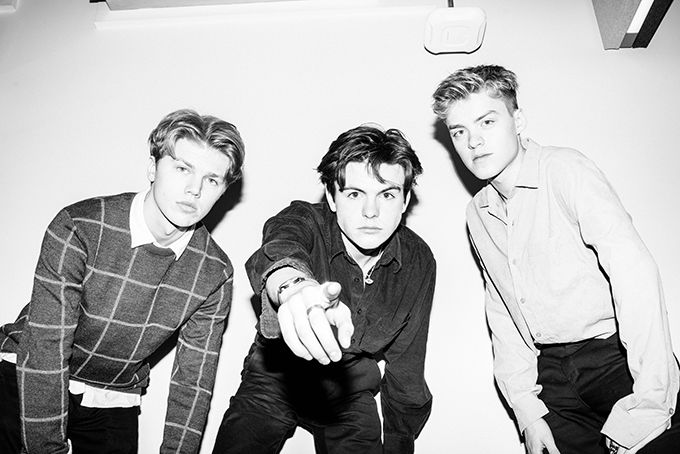 New Hope Club
New Hope Club, consisting of Reece Bibby, Blake Richardson and George Smith, is a trio are already on its way to take over the world by storm. After having had an incredibly successful 2018 in which they toured with The Vamps, performed in front of international crowds and sold out at the O2 Shepherd's Bush Empire twice, they are now geared up for an even more successful year in 2019.
New Hope Club's fanbase is undoubtedly growing bigger and stronger by the minute, not only in Europe but also in the USA, Asia and beyond – even though the trio was only founded in 2015 when George discovered Blake on YouTube and asked him to join his band. Swiftly after, the duo came across Reece who then turned out to become the third and final member of the trio, and the rest evidently speaks for itself.
After our previous encounter in South Korea, we catch up with them again and speak about all things including fan presents, playing the O2 Shepherd's Bush Empire and their brand new single 'Permission' – a song which will without a doubt become the new anthem due to its message.
You had a crazy busy 2018, what have been some of the highlights?
We played our headline show in Shepherd's Bush, we did two nights there which were sold-out. It was amazing, we had such a great time. That was probably the highlight of last year. Then we went on a tour with The Vamps, we did the US tour. It was really good to go back to the US after we've been there on tour with Sabrina Carpenter. We went to a lot of states this time. We also went over to Asia, to Korea. It was very very cool.
That sounds so productive, it was such a great year for you. What I was wondering, how are your Asian fans different to your other fans considering it is a completely different culture over there?
They are wicked, they are so cool. Obviously, we don't get to see them a lot of the time because we are based in Europe. But the moment we go out there, it's just crazy. When we landed at the airport we didn't tell anyone what time or when the flight is, we just tweeted the flag and basically when we showed up we thought 'no, no – nobody is going to be there, it's gonna be alright'. Well, turns out there were around 150 girls at the airport, waiting for us. They had cardboards and it was so surreal. It was amazing.
How do you react to that? It must be so overwhelming being greeted by over a hundred screaming teenage girls?
Yeah! We just expected to get off the plane, get to the car and go to the hotel. But the fans gave us all these presents so we had to get a whole other car. It was amazing, so cool. So, we took them to the hotel room and they took over almost half of the room.
Wow, that is incredible. Do you keep every present you receive from your fans?
We try to keep as much as we can, but we can only take so much. We do read the letters. But it's hard for us to carry it all around.
I mean, everybody loves presents. So, you're lucky! What's been the craziest present you ever received from a fan?
The craziest? Well, we've had it when fans got tattoos of us. It's just so cool, they just get a tattoo! That is just so surreal that people do that.
Do you ever have pinch-me moments? You rose to stardom quite quickly, so are there ever moments when you think 'how did we end up here'?
When we were doing the Shepherd's Bush show, as soon as we walked on the stage it was so crazy. You just think to yourself 'why are these people here to see us play'. Every day is living like a dream. We are just making music, we are taking everything as it comes and we are very excited about the future. We got a new song coming out as well!
Yes, let's speak about your brand new release 'Permission'. What exactly is the background behind it?
It's about that we don't need permission to do anything. The video is us having a party downstairs in the garage, and obviously we're not allowed to have a party so it gets shut down at the end. But it is just sort of us doing what we want, which we think is quite a teenage anthem.
So many teenagers, and even adults will relate to that song! Is the new song part of upcoming EP or album?
We haven't actually thought about a project, but it is definitely worth consideration. We will just be releasing lots of other stuff throughout the year. 'Permission' is just the beginning of announcing new music. We are so excited about what this year holds, we also just went on a writing camp. The first week in January we went to our friend's place in Italy, we took so many pictures on social media and we got a lot of writing done there as well.
When you're intensively writing or going to a writing camp, how many songs a week do you usually get done?
I think this week we got about 14 or 15 done. The week before we got about 5 or 6 done. We just keep them for an EP or an album or something. We want to make sure we are really happy with our music.
So when you're writing a new song, how do you approach it? Does the beat or melody come first or after?
It is completely different each time. One of us can wake up in the middle of the night after having a dream and say 'ahh I just had a great dream for a song' or sometimes we just sit together and speak about ideas for songs and then we start writing it and a couple hours later we got a song. But yeah, it can happen differently every time. It can be recorded within only a couple of hours!
That's interesting. Let's quickly go back to touring and doing live shows. Especially at your biggest show to date, in the O2 Shepherd's Bush Empire, did you suffer from any stage fright beforehand? What is your routine before shows?
Yeah, we have a pre-show routine. We get in a huddle, look each other in the eye and hold each other's backs. We say a few words and we G up ourselves, and we put our fingers in the middle and twiddle them up and down.
No way! What a funny routine.
We do that before every show. If we don't do it, it could possibly ruin a live show! But at Shepherd's Bush, it was just amazing and we came off wanting to do it all over again. That was definitely our most favourite show to date.
Clearly you also opened up for quite a few singers and bands before, including the Vamps and Sabrina Carpenter. Do you sometimes find it difficult to be the opening band, considering the crowd can be too impatient and bored while waiting for the main act?
We opened up for different artists so each of their crowds were different as well. We learned a lot when we went on tour with Sabrina Carpenter! We had to give it all and try our best, so we learned how to get the crowd going. From the experience it just helps you figure out the little things, how the fans enjoy it and so on. We loved going out playing, it's sort of a challenge. Every show was a learning curve.
I can imagine! So what about this year – have you got anything planned in particular, or any goals you want to achieve by the end of this year?
We'd love to do another tour, like a New Hope Club Tour. It will be like playing Shepherd's Bush each day. That would be amazing. Also just new music, covers on YouTube and yeah, just hoping to have a great year.
'Permission' is out today and you can listen now via this link
Words by Antonia Künzel
@antoniaandotherstories
Photography Joupin Ghamsari
www.joupinghamsari.com