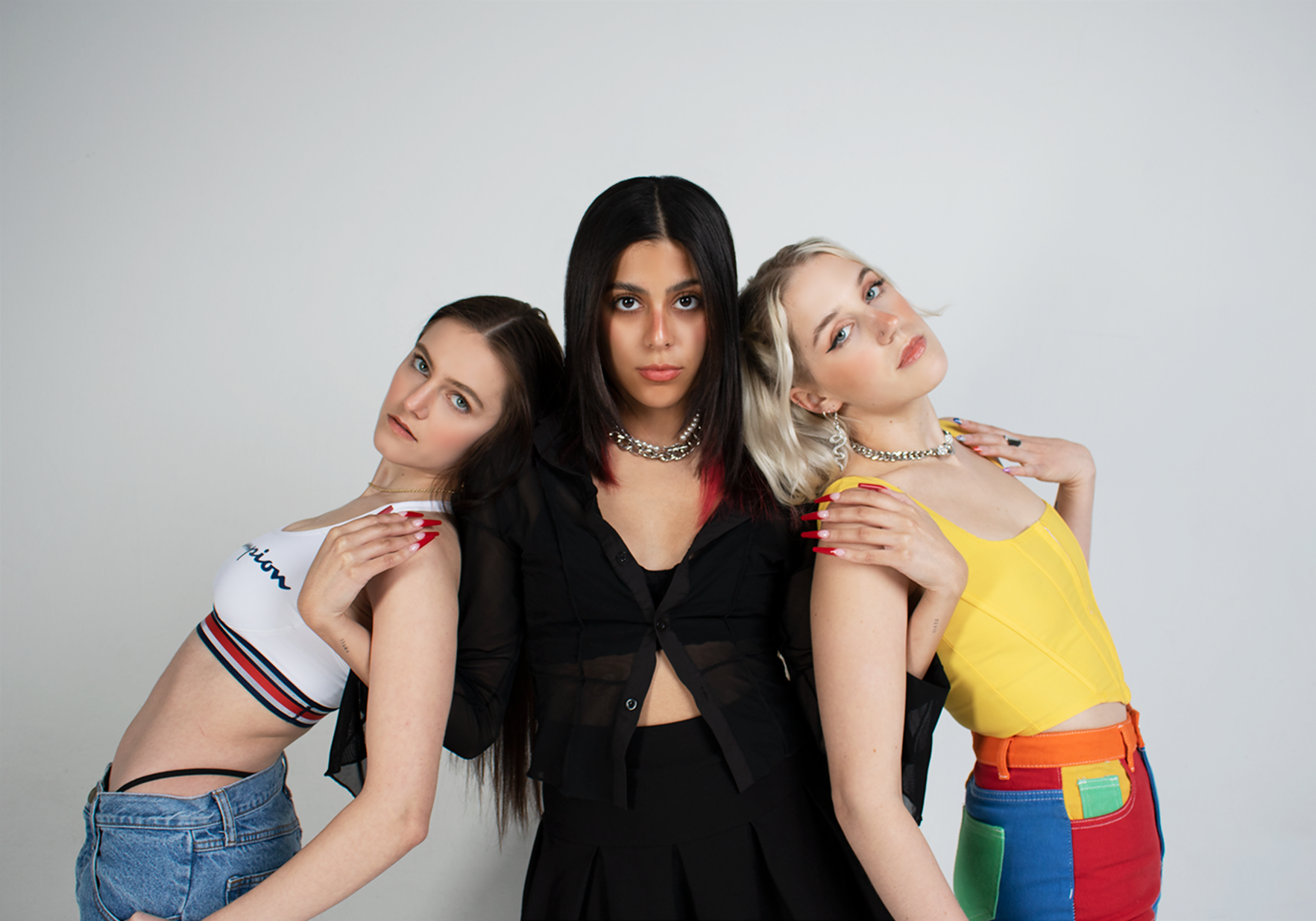 NOT THE MAIN CHARACTERS
LA-based hyperpop trio NOT THE MAIN CHARACTERS have just released their debut EP BAD THINGS COME IN 3s.
NOT THE MAIN CHARACTERS consist of college friends Gabi Gotts, Perrin Xthona, and Tammy Gonzalez. The trio met while studying at Berklee College of Music and began by penning tracks for other artists, later deciding to come together as a girl group. While the idea of being artists themselves is a somewhat new concept, the confidence they exude in their tracks clearly demonstrates they have an undeniable raw talent when in the spotlight. The first track they wrote together, Bev Hills, was the product of a quarantine zoom call in 2020, kick-starting their journey to becoming what they are today. As a group who started out on the internet, it seems fitting they have adopted a somewhat cyber-aesthetic, drawing influences from pop, R&B and electronic music. Their tracks are sure to pack dance floors showing clearly why they have garnered impressive public acclaim amassing over 7 million cumulative streams already.
After a string of successful singles, the group are now releasing their debut EP BAD THINGS COME IN 3s. Using distorted synths, heavy basslines, quirky lyrics, and electronic hooks, the record is the perfect mix of pure pop and dark, ferocious tracks. The six-track record touches upon the band "Acknowledging their desire for devilish men" with the song did it hurt, fake friends, inauthentic relationships on sneetches get steetches, of how the trio were created from "Chaos, vices, and an existential crisis" in lead track bad things, to name a few. NOT THE MAIN CHARACTERS chat to 1883 Magazine about how they relate to the Powerpuff girls, their musical influences and what's next for the LA three.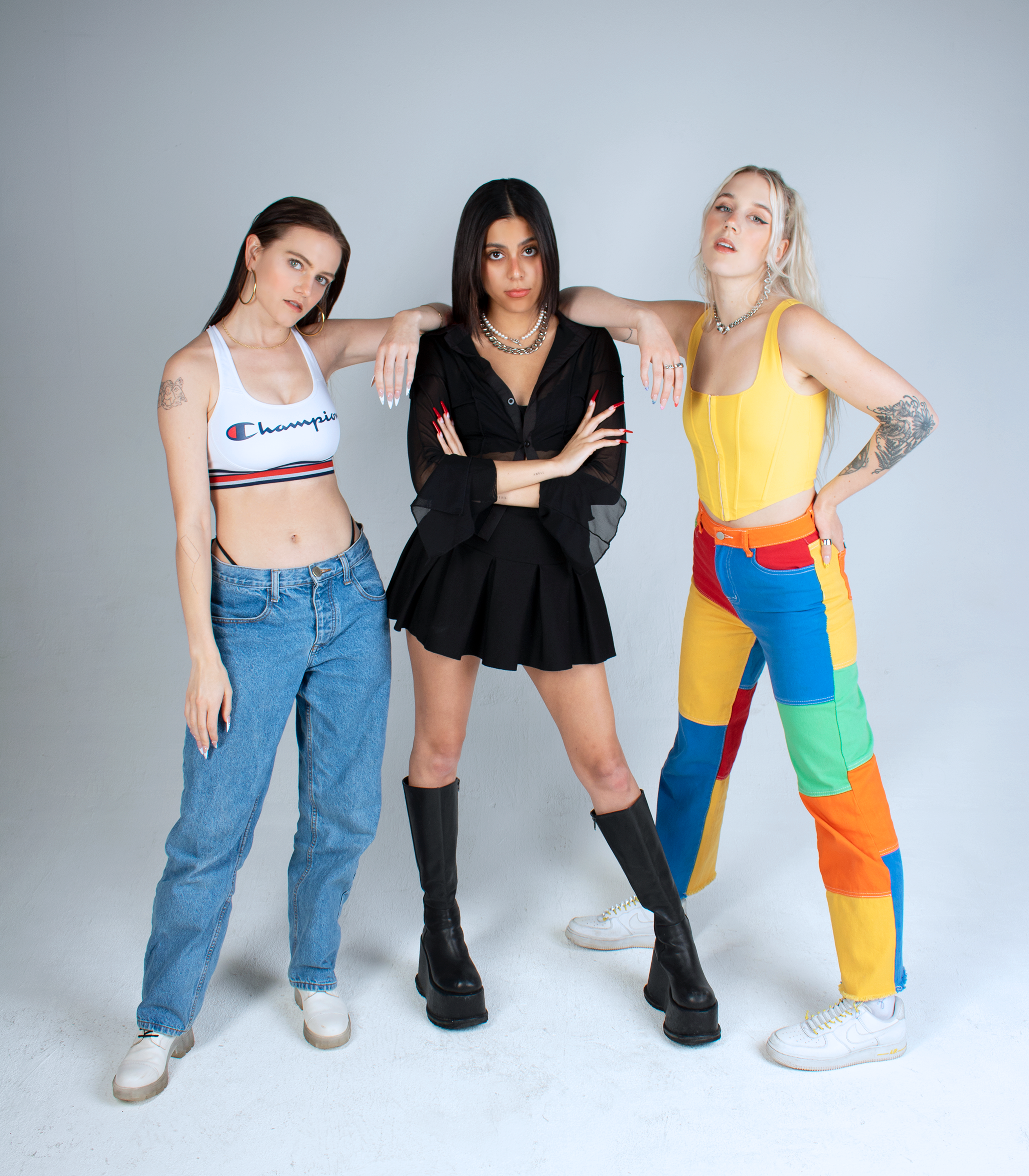 Hi Tammy, Gabi and Perrin. Your debut EP BAD THINGS COME IN 3s is out now, can you tell us a bit about the writing process behind it? 
Gabi: We spent around 6 months writing for this EP and it went through many variations. We started with a more low key, vulnerable vibe and a more cutesy sonic palette, so it has really evolved a lot since the early stages! I think once we settled on the direction of a 'pre-game mixtape' it became a lot easier to write for – we actually ended up pulling from our early catalogue of songs too (both lava and sneetches get steetches are songs that were written over a year ago that we edited to fit the EP).
Perrin: I think it was easier once we pivoted because a pre-game mixtape is all we're really listening to right now. We all finally live in the same place so we can party, celebrate, and grow together. We've been having a blast, to be honest.
The previous single Bad Things opens up with your take on the iconic Powerpuff Girls introduction and has other references to the iconic trio throughout the song. Who came up with the idea of making the connection between The Powerpuff Girls and NOT THE MAIN CHARACTERS? Are there any other characters you would compare yourselves to? 
Gabi: We've been joking that we are the Powerpuff girls since the beginning of the band, in the early stages we chose to have a signature colour and randomly chose pink, green, and blue, which are the same as the Powerpuff girls' colours. The idea to twist the intro for bad things came from one of our favourite producers to work with, Jason Hahs and it kind of snowballed into the 'moment' that it is now. 
Tammy: We also compare ourselves to the Spice Girls a lot because of their individuality. The three of us are really different from one another but I think that's why we compliment each other so well when we work together. 
Which track from your new EP are you each most excited for people to hear? I'm loving survival of the littest! 
Perrin: I love survival of the littest. I feel like the production is so sick and the lyrics really demonstrate how I feel in party situations. I absolutely love drinking games, and really everything about parties except for chatting. So I am either having the time of my life or feeling very on the spot. 
Gabi: I am beyond stoked for people to hear sneetches get steetches. I remember coming home from the session we wrote the beginning of that song in (it was originally named whoville) and being obsessed with it. I listened to that early demo while driving, cooking, or doing my makeup, so I was frickin ecstatic when we decided to work on it for the EP.
Tammy: I'm obsessed with did it hurt? I feel like there are so many hellish references in the song that we flipped and made way less serious. Comparing boys to the devil is kinda hilarious and anything spooky I'm very much here for.
The artwork for your previous releases are, in my opinion, great signifiers of your musical style and personalities. Can you tell us a bit more about the idea behind the artwork for BAD THINGS COME IN 3'S? 
Gabi: We love the creative side of things and are very opinionated when it comes to the visual aspect of things – we like to use visual metaphors as much as we do lyrical ones. The EP cover art represents the bad habits we all have as tiny devils on our shoulders, whispering suggestions into our ears. It signifies us as our everyday selves (the larger versions of us, depicted as blank slates aside from the bold makeup that conveys a hint of our personalities), with mischievous versions of ourselves persuading us to act on our wants over our needs. 
How would you describe your music to someone who may not be familiar with your work? 
Tammy: The most absurd concepts + hard-hitting production = NOT THE MAIN CHARACTERS.
The three of you studied at Berklee College of music, where you first met. Have you always known music was what you wanted to do with your lives?
Perrin: Music, yes. Being an artist? Very new concept. We all started out wanting to be songwriters for other projects, and while we still do that, our artistic spark started when we began working together. When I'm with Tammy and Gabi, I really believe in what we're doing, everything we write is so unique and authentic to us that I would be heartbroken to give up any of our songs. 
You are all songwriters penning tracks for various people, how does writing for yourselves differ from your other work? 
Gabi: I think you have to come at it from a very different perspective, it took a lot of time for us to learn that. When you're writing for someone else's project, the artist gets the right of veto on everything, the song needs to honour their personal experiences and truth over everything else. I find that when I'm writing for others, my priorities are making sure that the song makes sense, that we're doing justice to the concept, and that each section flows into the next fluidly. Whereas, when we're writing for NTMC, I've learnt to take up the space as the 'artist'. The focus has shifted more towards the questions of "what do we want to say?" and '"what do we want listeners to feel like?" more than the logical aspects of writing, we take the time afterwards to go back after and edit anything that needs more logic applied.
Gabi, there's a video on your Instagram highlights of you riding a longboard down a street. Do you skate often? And do any of you have any other hobbies?
Gabi: So I used to longboard a ton when I was at college. My dorm room was a 15-minute walk from classes and I have a tendency to assume things take less time than they really do so I figured getting around would be easier with a longboard. I loved it so much that it came everywhere with me. You could find me literally every Saturday at 4 am longboarding back home with a buzz, in heels. To this day I still don't know how I didn't eat shit. 
Aside from longboarding, we all have a lot of hobbies. I love skiing and I go hiking often. Anything outdoors is my jam. Perrin is a masochist and lives to run. I think maybe only 10 days have gone by that she hasn't run at least 2 miles since I've known her. Tammy could ace every pop culture trivia test on planet earth because she is way deep into the internet hole. She'll literally watch film essays for hours, it's wild.
Perrin: Yeah I run every day because I get anxious. If we are  pressed for time, I will literally get ready with makeup and everything and once I find 10 minutes to spare, I'll go for a run. Honestly, they should be thanking me because everyone benefits from my mood boost.
Tammy: Does reading count as a hobby or is that still considered media consumption?. Ever since I was a kid I was obsessed with reading fiction books and definitely used it as a form of escapism. I still love reading and living vicariously through book characters.
I noticed on your YouTube channel you have uploaded a few vlogs. Has watching other YouTubers film and post what they get up to been a big part of your life growing up? Do you plan to upload more? They would be very interesting to watch!
Perrin: Yes! We plan on posting heaps more. I literally grew up fangirling over O2L & Troye Sivan and it's so much fun getting to make that kind of content ourselves. 
Tammy: We love making vlogs together and I think it's gonna be really cute to look back on in a couple of years. It's literally just us filming ourselves in our natural habitats and then piecing together all the funny moments. Us making vlogs honestly has the same energy as when you're a kid and you would  make fake music videos/skits with your friends. I don't even know if this is a universal experience but that's what all my friends and I did growing up.
What are some of your main musical influences? And would I be correct in thinking you all take inspiration from the 2000s fashion-wise?
Gabi: Definitely, I think we're all very individual in our fashion taste, but a big part came from big 2000s movies and TV shows for sure. I think the same is true for our musical taste too. 
Perrin: Yeah I literally grew up stealing CDs and magazines from my older sister who was in high school in the 2000s. So I definitely 'borrowed' her accessories, got a lot of iconic hand-me-downs, and was constantly bumping Britney, NSYNC, Christina [Aguilera], and the Spice Girls. 
Are there any other artists you would love to collaborate with at some point? If so, who? 
Tammy: We're all such Charli XCX fans so that would be insane. Ashnikko and ELIO would also be an absolute dream collab for us.
Finally, what can we expect from NOT THE MAIN CHARACTERS in the near future? 
Gabi: Now that we have our first real EP out, the next step for us is shows! We're currently building a set and rehearsing literally every day so we can start doing live shows. So follow our Instagram for updates cause that will be the first place we post info!
NOT THE MAIN CHARACTERS's new EP BAD THINGS COME IN 3'S is out now. Follow NOT THE MAIN CHARACTERS @notthemaincharacters
Interview by  Gabi Oates 
Photography by Jared Ayotte