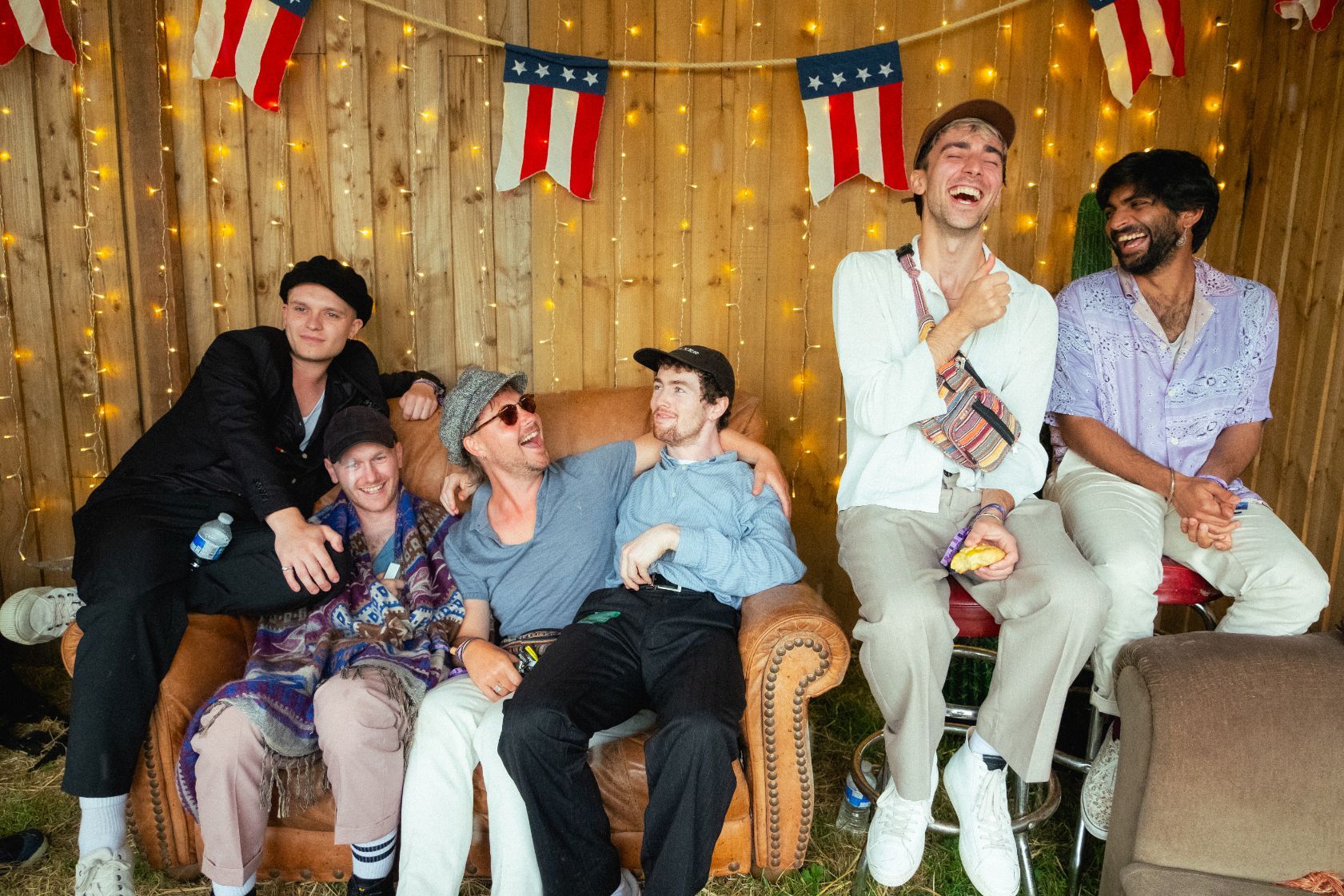 On Rotation: The Sleep Walking Animals Playlist Takeover
Hailing from the greatest city in the world, Manchester band Sleep Walking Animals emerged as a collective of artists driven by a shared passion for transcendent soundscapes. The band's sonic palette is a mosaic of influences, defying categorization. It's indie, it's folk, it's everything in between —yet, it's uniquely their own. Each track is a carefully crafted tapestry of emotions, an intricate blend of haunting vocals, hypnotic guitar riffs, and atmospheric beats that envelop the listener in an embrace of sound.
The thread of brotherhood ties Tom Glynn-Carney, Joe Etherington, Jack Brett, Alex Parker, Nuwan Hugh Perera and Bill Caple together, tying their shared history of growing up alongside one another. Now they release Pink. Yellow. Red., their follow-up to their debut EP that was released in 2021. The magic of Sleep Walking Animals lies not just in their musical prowess but in their ability to create an emotional connection. With every note, they weave a narrative that resonates deeply. Tracks like "Love You A Little Less" and "Rossignol (සිප ගන්නා විට)" transport the listener to a nocturnal realm, evoking a sense of ostalgia. The music is a canvas upon which individual experiences and emotions are painted, fostering an intimate connection between the listener and the music they love.
To celebrate the release of their new EP, Sleep Walking Animals takes over the 1883 On Rotation playlist to chat about some of their favourite tunes.
"Pink Moon" – Nick Drake.
Enough said.
"Rossignol (සිප ගන්නා විට)" – Sleep Walking Animals.
Some of my favourite vocals we've done as a band on this one.
"Seismic" – Mid-Air Thief
It's chaotic but calming and tonally creepy and I like it.
"Where Is My Mind" – Pixies
I love how filmmakers interpret songs – oftentimes totally different from what the artist was thinking but that alchemy can create iconic moments.

"Super Rich Kids" – Frank Ocean
Frank Ocean's melodies!
"The Past Tense" – infinite bisous
This one I find comforting.

"Sunshine Of Your Love" – Cream
Guitar Hero 3: Legends of Rock.

"Old Peel" – Aldous Harding
Heard this on one of Cillian Murphy's shows on Radio 6.
"new body rhumba" – LCD Soundsystem
Another soundtrack song – specifically written for a film like this one – I like the groove and the progression.
"Don't Talk (Put Your Head On My Shoulder)" – The Beach Boys
This album is a big inspiration for our upcoming EP.
"Wild Folk" – Sleep Walking Animals
The first song we'd released that I mixed – I think it's a good marker for where we started musically.
"Byegone" – Volcano Choir
Big Justin Vernon fan – the build, the vocal performance, the production
Photography Chris George Watson