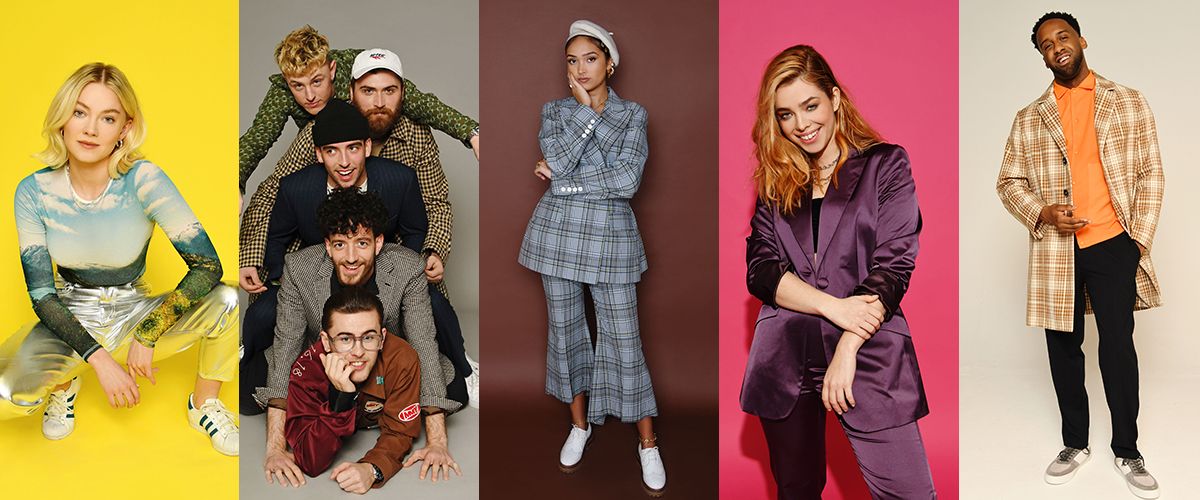 Ones to Watch: Music 2020
With countless singles, EPs, and albums in many different genres dropping every single day, it can be impossible to keep up with new singer/songwriters who are on the rise.
Over the past few years, music has seen a number of trends appear — whether it's dipping a toe into genre-bending, collaborating with other artists, or discovering new ways to record, release, and promote music. 2020 will be no different; artists will continue to test out different and unique ways to set their music apart from everyone else. Luckily for you, we've done the work and discovered the artists you should be paying attention to (and finding on Spotify right away).
What makes a rising artist someone that 1883 deems 'One to Watch'? It's any singer, songwriter, and producer who is changing the music game in their own way, whether that's how it's recorded, produced, written, or any other aspect of creating. When it comes to the next 5 artists, they aren't following the paths of those before them; they are creating an entirely new mold of what it means to be an artist in 2020.
1883 spoke with Norwegian pop star Astrid S about her two distinctly different EPs, British R&B singer and producer Shakka about toxic masculinity in music, Brit alt-group Easy Life about their songwriting inspiration and origin story, British soul singer/songwriter Joy Crookes about creating music during a politically-charged period of time, and British singer L Devine about the importance of LGBTQ artists in the music industry.
This is 1883's Ones to Watch in music.
Astrid S
At the end of last year, you released two EPs — Trust Issues and Down Low, within a month apart. Both are quite different and have a different vibe when listening to it. What made you want to separate these projects rather than releasing one album?
For me, I wanted them to be two separate EPs because I felt I worked on those two projects very differently, so it wouldn't be very natural for me to put them together as an album. With Down Low, the acoustic-stripped down EP, I worked with mostly with one producer named Eivind Helgerød, who is also in my band, and we spent a lot of time together in the studio making the songs, rewriting them, and producing them. It was just a different process for me than doing than how we made the other songs. The songs were actually pretty old as well; the songs in the Trust Issues EP I had written one or two years prior from actually being released, so it's nice to have two different projects to put out.
I love your latest single 'Favorite Part of Me'. What's the inspiration behind the track?
Thank you so much. I think the inspiration behind the track happened last summer; I thought about how I'm so affected by everyone in my life and everyone around me and I have so many different friends that bring out different types of me. I then realized how some people in my life bring out the dark side to me and make me someone I don't want to be, and I just wanted to find a way to express how I admire and love my friends and family so much that they bring out the best version of me and make me be the best person I can be.
Where do you typically get your songwriting inspiration from?
I get inspired from my personal life, what goes on in my life, what I'm thinking about and what makes me sad or happy, and people inspire me a lot. It's all about finding the right way to put into words — I may not know the situation I'm in or the emotions I'm feeling, or even sometimes I can have a conversation with a friend and she might be going through something I went through years ago and it brings up past emotions.
Your first EP was released in 2016 and now it's four years later and you've had a number of hits and awards. How would you say you've grown as an artist since your first release?
I feel I know what I want more now than I did when I was younger. I've grown a lot, too. My English vocabulary has become a lot better and I think I'm always trying to have these kinds of conversations I have with myself to figure out how I feel and work through it, which is a different process than when I was just 18.
Who are some singers and songwriters you'd like to work with?
I would love to write with Robyn! I think she's great. I've been obsessed with Kacey Musgraves lately, too.
She's incredible.
I love her, she's amazing. I didn't know a lot about her until maybe just a few months ago, so I've just been listening non-stop.
What's your favorite song of hers? I love 'Slow Burn'.
Yes! 'Slow Burn'! 'Happy & Sad' is great and 'Love Is a Wild Thing'.
She's an artist that really blends her genres seamlessly; she started in country but she's a bit country-pop now. Are you an artist who is interested in genre-switching?
Yeah, funny enough I'm doing like a really interesting collaboration from a genre that I haven't really collaborated with before and I listen to it a lot, so it's something I've been wanting to do for a long time. I can't talk a lot about the collaboration yet, but I do listen to lots of different genres and I like feeling like all possibilities are open. I would love to try to make music the same way I listen to music, which is just playing around with different genres.
Your World Tour is coming and it's from March to May, which is your biggest tour yet. How are you preparing for the tour?
Right now, I haven't really started preparing for the tour! [Laughs] I'm trying to finish the debut album and focus on songwriting and finishing songs.
Any songs, in particular, you're excited to perform?
It's fun because you can take out like in-between songs in the setlist cause sometimes you just have to put in some songs because you need to fill in the time. You make the best out of it and it isn't that it's not fun performing, but now that I'm releasing more music I can keep my favorite songs to perform and then I can just put in the new songs and I just feel like it becomes a better and better show.
Which cities are you most excited to play? 
I'm very excited to play in the States because I haven't really been since 2013 which is a long time. I really love my fans there and I'm excited to meet everyone.
When can we expect your debut album?
It really depends on how it goes in the studio in the next two weeks. I think, for me, music is the most important, so I want to make the songs the best they can be and not be worried about a deadline. I want the songs to be ready. 
I know you had a very, very brief scene in the international hit show Skam, which I loved. Is acting something you'd ever like to pursue?
I would love to do it! I don't think I'm really good at it [laughs] but if the right part or the right character came around and it worked, maybe!
You've mentioned that when you were young, the music took you to a different world. What do you hope people feel when they're listening to your music?
I would want them to know that everything is going to be okay. It might be cliché but for me, music is something that brightens up my day and something I turn to if I'm feeling down or I'm sad or I'm stuck in a situation and feel alone. I turn to music. I hope that my music can be that for others. I actually know one situation where two people met at one of my shows and now they're engaged and they're getting married! They kind of met through my music which was just amazing. I'd love to keep doing stuff like that with my music too — making people meet, fall in love, and live happily ever after.
Tickets are now on sale for Astrid S's 'World Tour Part_One', visit www.astridsofficial.com.
Easy Life
You guys were formed randomly when you were all at a pub two years ago. How would you say the band, and you all as individual musicians, have grown since deciding to become a quintet?
This question I can't answer, we, unfortunately, were not formed in a pub other than asking a member to join [Jordan] on a night out. We have grown like a family does. More love, more life.
It's impossible to put you guys into one genre — your sound blends pop, hip-hop, house music and more. How would you describe your music?
I guess we don't really know either. We listen to a wide variety of music between the 5 of us; we just have fun with it and don't have many boundaries. I guess it's good to be real to ourselves.
Your songs explore anything and everything, from mental health to insomnia to being broke. Where do you typically find your songwriting inspiration?
All inspiration is usually taken from real-life situations we have been put in, or articulating the life of someone else's. If we have experienced something, normally somebody else has too, so we feel people can relate.
With every new release — from track covers to music videos — it looks like you guys are leaning more and more into a very specific look and aesthetic that only Easy Life could pull off. Why are visuals so important to you as a band and do you have certain visuals in mind when you're writing and recording?
When writing the music, we normally have a song title before the song is written. Aesthetically we have a brief idea, but this is then taken on from the stupendous video directors we have been able to work with and art commissioners. We are very grateful for the way they see the music.
You have your first North American tour coming up in May. How does it feel to be breaking into America?
To be honest, it's something we never thought we would be able to do. We have played there a few times now. We cant wait to get out there and play our headline show, that's when we have the most fun. Super fun to see new places too!
You recently were named as runners-up in the BBC Sound of 2020, an incredible start to the new decade. What else is coming up for the band in 2020?
What an honour to be part of such an amazing poll this year. We have many shows, but most importantly we are currently writing our debut album (shhh). This will be coming later in the year, we can't wait to start the campaign. PEACE OUT!
Easy Life's mixtape Junk Food is out now, visit www.shop.easylifemusic.com.
Joy Crookes
When was the exact moment you made the big decision to be a singer/songwriter as a career?
I wish I could say but I've never really had that moment. I didn't think being a musician was a job; it was only weird, meant-to-be people that ever got in the industry.
You're always telling a narrative in your songs. What's your songwriting process? Where do you get your inspiration from?
My songwriting process can start with a lyric or a melody or a set of chords. My inspiration literally comes from everywhere I want it to. I'm currently reading a book Billie Holiday wrote about her life which is super inspiring. I had a really good chat about Coronavirus today too; who knows, that could be inspiration for something.
You're beginning the new decade on the BBC Sound of 2020 longlist! In 2010, Ellie Goulding was on that longlist, Stormzy was on the list in 2015, and now you're on it. How do you feel about joining a great group of musicians and being part of the legacy of artists who have made huge careers after being on the BBC Sound of longlist?
It's mental because I'm apparently the first Asian artist to make the top 5. It's amazing and a huge bonus but honestly I never expect this kind of thing when I'm working or making any music, so when I do get acknowledged it feels soooo good.
Your mum is from Bangladesh and your father is Irish — how did their music tastes influence your own? 
I guess when you're a kid, you're a sponge. My parents have really eclectic taste that isn't necessarily dependant on their ethnicities — they just like what they like. I love that about them. Sometimes it was my dad that liked Qawwali music and my mum loved Sinéad O'Connor. They taught me to break boundaries; I can like whatever floats my boat.
On your Instagram, you gave people a snippet of a song you wrote right after the election results with lyrics like 'No such thing as a Kingdom when tomorrow's done for the children'. Do you find strength during difficult times like these by creating music? How do topics like social justice issues and politics influence your work?
I honestly just need to vent in times like that. I think there's a lot of strength in writing about turbulent times — you almost swap your vulnerability for power. I'm constantly affected by what I read in the news as I feel like it impacts so many lives, including my own. Since I like writing from a more personal place, it's important for me to explore these issues. I never feel like I have any answers; I just like that music allows me to be curious.
Your upcoming album will be released soon! What has the recording process been like? Which themes and stories can we expect from the songs on your debut album?
My debut album will be very me. I feel like I've shown a lot of myself to people so far, so that with a bit more imagination and honesty.
What else is coming up for you in 2020?
Just going to continue looking after myself and exercising and maintaining lit mental health. 'How u gonna win if u ain't right within?'
Joy Crooke's single 'Early' feat. Jafaris is out now, click here.
L Devine
What was it about music and songwriting that made you decide to pursue it as a career?
It was just the best way to express myself at first. And I think I hid a lot of things about myself when I was a teenager, in regard to who I loved, etc. so putting those feelings into songs was the only way I could get those feelings out. Then it just became the only thing I knew how to do and loved to do, so I just had to make a career out of it!
'Boring People' really takes aim at some vapid industries, like Instagram influencers and some aspects of pop stardom. How has social media changed or shaped your career?
I think having an online presence is fundamental for artists nowadays. The majority of my fans have discovered my music through one of my social media platforms and it's so amazing that I get to have such a personal relationship with my fans because of social media. I'm so, so grateful for that but there is another side to it. I definitely feel the pressure to appear like I have it all together and I'm living my best life online. And I find myself becoming obsessed with social media stats and defining my self-worth by that. So, it's definitely a continuous wrestle to remind myself there are far more important things than likes and numbers on a screen.
How do you avoid letting the influence of others online impact or change you?
I do try my hardest to remind myself that what you see online isn't always reality and to take it with a pinch of salt. But I do fall into the compare and despair trap a lot. I used to feel guilty about unfollowing and muting people who made me feel bad about myself, but there's truly no shame in it. I try and use social media as purely a place for creative inspiration and to connect with my fans.
Your song, 'Daughter', is an incredibly vulnerable and personal track. Where do you get your inspiration from?
I wrote the song 'Daughter' about a personal experience — my first love. It was everything your first love should be in a way. It was so exciting and magical, but it was also really scary having a girlfriend for the first time and being so out in the open with it. For the most part, everyone was so accepting, but my girlfriend's mum wasn't okay with it and tried to keep us apart. I wrote the song to show her I could rise above her ignorance and take the high road. You can try to keep people apart, but you can't stop people being in love with each other.
Do you ever find it difficult to share personal and intimate stories like that in your songwriting?
I mean, there's definitely something totally nerve-wracking about putting your emotions so out there in the world for people to see. But I also see the importance of that. My favourite songs in the world come from songwriters' most vulnerable moments. I think the more raw and honest you are in your writing, the more people will find themselves in the song.
How has being open with personal experiences helped grow your relationship with your fans?
Most of my songs are very lyrically driven and I think that's what the fans connect to, so I definitely think being so open about my personal experiences in my music is what brings us so close together. We're united in a lot of the subject matters of the songs as we're going through a lot of the same stuff.
As an LGTBQ+ artist, do you feel the industry has changed to be more representative of today's society? In the past, did you ever feel like you had to hide certain sides to yourself to be more accepted in the music scene?
There's definitely way more LGBTQ+ artists in the industry now than when I was younger. I think we still have a long way to go but I find that LGBTQ+ artists are being recognised for their music and artistry before their sexuality much more now, whereas in the past we were often pigeonholed as 'gay artists' and not just 'artists'. It was definitely something I was fearful of, coming into the industry being openly gay. But I know how much I would have appreciated an artist being so open about their sexuality when I was a teenager, so I don't ever want to hide it.
Your upcoming headlining tour is the biggest you've ever done. What can we expect from it? How do you think your performing style has changed since you first started?
I'm adding quite a few new songs to the set which is so exciting. I love reinventing the songs in a live space so I can't wait to delve into that and to just see how the fans react to the new music. I definitely feel more confident and at ease when I perform now. When I first started, I was always thinking about the next song or the next step. Now I feel like I'm way more in the moment and connecting with the crowd.
Who are some other artists you'd like to work with?
Dream collabs right now are Swae Lee, Francis and the Lights, and Blood Orange.
What else can we anticipate from you in 2020?
Lots more music and visuals. Another season of my Growing Pains podcast. And I'll be playing a lot of festivals in the summertime too!
L Devine's single 'Boring People' is out now, click here. For info on upcoming tour, visit www.ldevinemusic.com.
Shakka
Tell us about your origin story — when was the moment you decided to pursue music as a career rather than a hobby?
After university, computer programming wasn't nearly as exciting as rockin' a crowd of thousands, so I worked part-time whilst writing mixtapes and shooting cover songs.
I quit working at a local bar as a waiter because I realised the money I was making there was a little less than the money I started to make as a musician. This was in 2013 when I was a featured artist on Wretch 32's single 'Blackout'. The day it hit top 10 was confirmation that I could do this as a career.
Your latest single is 'SOS', which typically represents Save Our Souls, but you spun it to mean Sunshine Over Stress. What does this mentality mean to you?
It's a song about the pressures of trying to live your best life online, whilst you may not feel that way inside. The love interest in the song was described as a symbol of sunshine when you go through the stress of lacking self-belief or sense of self.
I read that you want to tear down hypermasculinity and the stereotype that comes with being a black male musician in the UK. Early R&B, in particular, is a genre that places emphasis on feelings and experiences rather than focusing on things like money and hype. Why do you think there are such rigid expectations for what a black artist should or should not be doing when it comes to their music?
Ha! I don't think it's humanly possible to tear that down. I just think it's necessary for young black men to know that they don't have to adhere to a particular set of guidelines to be identified as men. You're discovering what it means to be a man when you're growing up, from many different people; family, friends, and then celebrities alike. We all follow cool and successful people online, celebrities who dress in expensive gear daily or travel to desirable places. The young men growing up can easily get a skewed perception of what it means to be and look successful.
I just think it's necessary for men, especially young black men, to have a more balanced variety of role models in media and in their Instagram and TikTok feeds; otherwise, they are bombarded with images of luxury items and luxury lifestyles all taken in the best lighting, with the best filter. After a while, it becomes normal for a young man to believe that he's not doing or being enough without having those things.
The more examples we have of people who change that status quo, the better.
How do you try to avoid getting caught up with things that are, somewhat, irrelevant to the music?
Whilst everyone everywhere is telling me I've gotta watch Love Island, I resist the urge to take a peek. This season, however, I've gotta see what the madness is all about. I'm done bein' left out in conversations with the lads.
But in general, I take regular social media detoxes. I take regular short breaks with 'day ones' and close family members. With them, I'm reminded about the importance of good life experience.
You've had many hit tracks and awards, but we're all still dying for your debut album which will come out later this year. What can we expect from the album? What is it about this album that feels or sounds different from your EPs and released tracks?
I'd like to hope that growing up comes with more self-confidence and ownership of oneself; the good and the flawed, the crust of the bread and the middle. So I'm definitely more vulnerable and talking about stuff. I sing more, which feels liberating. When I started, the scene wasn't so marinated in melody like it is now which is wonderful for someone like me because I love melody.
I think the one thread, aside from my voice, with previous projects and this is that I'm looking for new ways to bring out the bass-face reaction in humans. New sounds and textures whilst the danceability are important, so is making them feel like this is what their favourite British singer should sound like in 2020 haha.
You were involved in Artists for Grenfell and you were helping the victims a day after the tragic event. Why was this important for you to take part in?
It was important for me because Grenfell was a home for people in my neighbourhood. And at some point in my life, I've met some people who lived there. In my schools growing up, buying groceries, going to birthday parties of friends in the ends. Following the tragedy, some of these people didn't have places to live, not even temporary accommodation. I felt that things, like broadcasting temporary shelters and transporting goods and toiletries, was something that just had to happen.
What else can we expect from Shakka in 2020?
A tour. Once I'm done with the album, we'll start work on that. I also write a hell of a lot. So chances are you'll see me post a song that someone has released, that I've had a hand in the making of. Then a bunch of live dates. Acoustic performances, Tribe Tuesdays Season 3.
Shakka's single 'SOS' is out now, for more info visit www.officialshakka.com
interviews by Kelsey Barnes
Team Credits for:  Astrid S
photography Jack Alexander
styling Thomas George Wulbern
hair Paul Percival @ Frank Agency
makeup Lauren Griffin


Team Credits for:  Easy Life
photography Jack Alexander
styling Ella-Louise Gaskell @ Stella Creative Artists
grooming Anni Rademacher
styling assistant Bella Field
Team Credits for:  Joy Crookes
photography Jack Alexander
styling Ella-Louise Gaskell @ Stella Creative Artists
hair Daisy Holubowicz
makeup Justine Jenkins
styling assistant Bella Field

Team Credits for:  L Devine
photography Jack Alexander
styling Ella-Louise Gaskell @ Stella Creative Artists
hair + makeup Daisy Holubowicz
styling assistant Bella Field
Team Credits for:  Shakka
photography Jack Alexander
styling Kieron Watts
grooming Nadia Altinbas
Location Blundell Street Studios, London