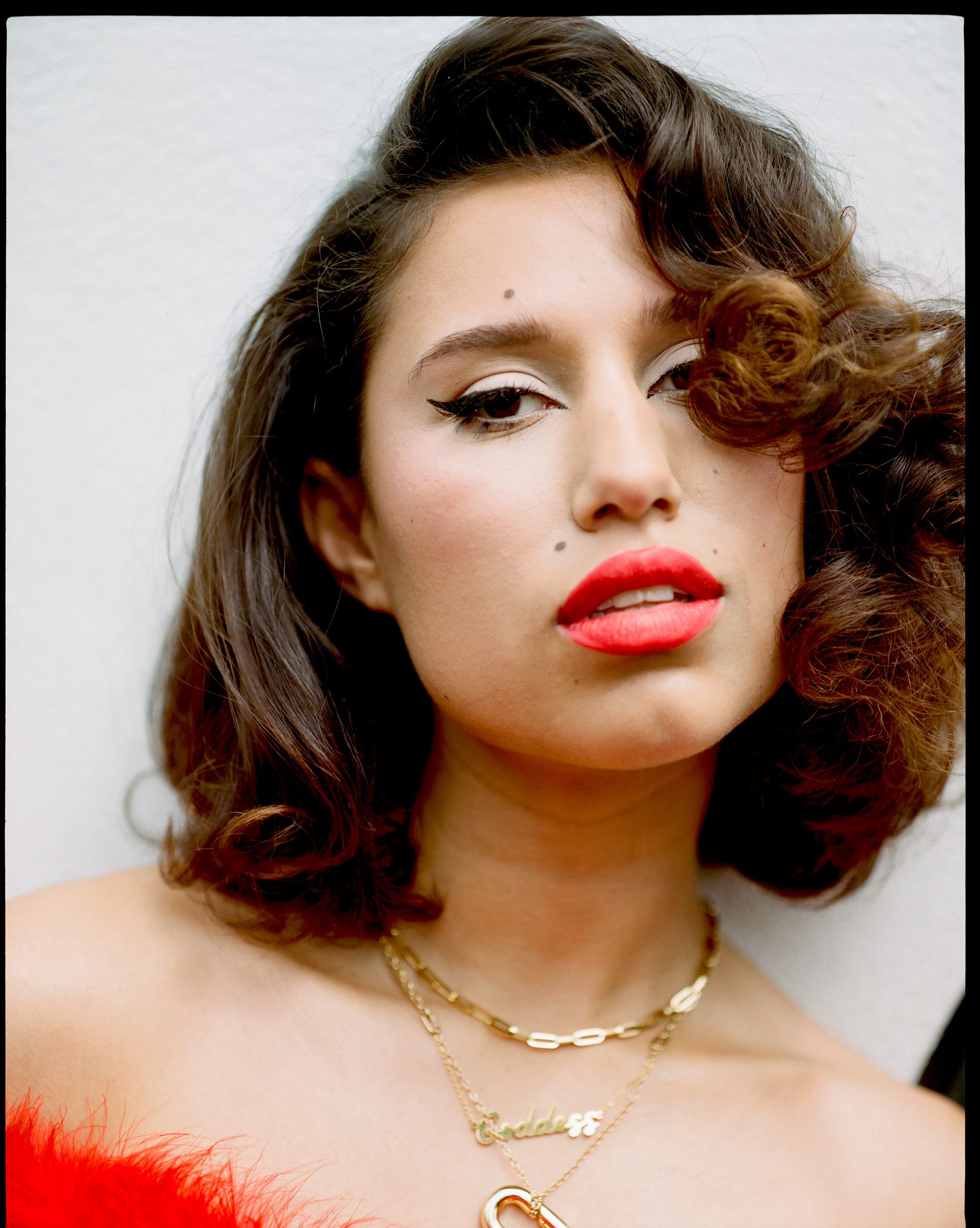 Raye
South-London native Raye has often offered an element of escapism to the fun-loving fans of her electro-pop anthems.
Effortlessly meandering between the R&B, dance and pop worlds respectively, the British singer remains an exciting beacon of versatility and adept lyricism as highlighted by the success of singles 'Decline' and 'Secrets'.
Beyond her solo victories — which include over 1 billion streams to date and a double Platinum, Gold and two Silver singles — she has also written for artists such as John Legend, Major Lazer, Charli XCX, Little Mix, Hailee Steinfeld, Quavo, Normani, Ellie Goulding, and more.
Raye's latest single 'Natalie Don't' ushers in a new, seemingly more self-reflective chapter for the 22-year-old — beginning with a plea to other women to please leave her man alone. The track is a modern-day iteration of Dolly Parton's classic hit 'Jolene', written by Raye herself with John Hill and John Blanda.
Raye recently sat down with 1883 to talk about her upcoming EP, life in lockdown and what makes a song really stick.
Naturally, most people have been quite bummed about lockdown, but how have you been handling it creatively speaking?
It's been interesting. I'm not a homebody at all, but it's important to do your part to keep everybody safe. I am currently enjoying some time in Portugal with my sister. I've been writing and doing sessions via Zoom, but I love people and the energy in a room when creating, so I'm probably the least creative I've ever been. My sister, on the other hand, who has just signed her publishing deal is really thriving. I need buzz and excitement.
Quite early on your musical journey, you attended The BRIT school and decided to leave, despite learning a lot from the experience. What sparked that decision?
Honestly, I wanted to get a head start in my career. I was always writing and started doing sessions on Friday after school and throughout the weekend. We were about to start a song-writing course, and I didn't like the idea of being taught in a classroom. I think songwriting is a very personal thing and a lot of it is based on personal experience.
With that being your mindset at the time, would it be fair to say you've always had a clear idea of the type of artist you wanted to be?
I think I was focused on becoming an artist, but maybe not the type of artist [I wanted to be]. So much goes into it. Being with a label, there are so many people that you have to make happy. My first mixtape was quite R&B and I remember people saying that type of music wasn't really embraced in the UK. After signing my publishing deal, I started writing dance music and gaining an understanding of genres I hadn't explored before which is where my sound started to evolve.
Having entered the industry at quite a young age, what's the one thing you know now that you wish you knew then?
How toxic the dialogue around other female artists can be. I love championing other women, but the narrative is often that there can only be one of you. Back then being told that made me quite insecure, bitter and confused. It can change how you interact with people and of course, I made some mistakes. I think meeting and working with Charlie XCX was a huge turning point in my understanding of the power of women supporting women. She directed one of my videos ['I, U, Us'] and really helped me take a step up. So yeah, the thing I'd say I learned is to embrace who I am and not worry about what anybody else is doing.
From a woman's perspective, is there anything else about the music industry that frustrates you?
The lack of female presence in certain situations. I am in and out of the studio a lot, and the lack of women producers and women on the tech side of things bothers me. A lot of the time, environments without women can be… unsafe. Men feel like they're the gatekeepers. Women are killing it behind the scenes, but there's still not enough of them. I want to be a part of changing that so I'm learning how to engineer and produce, doing more women-only sessions, and trying to be part of more projects with all women credits.
Okay, so let's get into your latest single 'Natalie Don't'. It's inspired by country crowd favourite 'Jolene', which is perhaps not an obvious source of inspiration for an artist that sits within the electro-pop/R&B space. What would you say are the more unconventional sounds you're inspired by?
I am so inspired by every single corner of music. I was raised heavily on Black music before I started learning about other genres. I remember first coming across 'Jolene', and how it moved me. After that I started studying the classics and [explored] why they were still here, immersing myself in these concepts and emotions and a combination of some of my favourite songs. I referenced 'Jolene' during the song because while I feel like I am coming into my own as a songwriter, I wanted to make it clear where the inspiration came from.
What other surprises would we find in your 'Recently Played' list on Spotify?
Ooo, I need to check… 'Sway' by Dean Martin; that is an absolute classic. I've also been listening to a Bollywood essentials playlist — their [vocal] scales are insane! There are quite a few dance anthems. I've been playing Kylie Minogue's 'Can't Get You out of My Head'; the Pop Smoke album has also been in rotation… He had such a promising career ahead of him.
The 'Natalie Don't' video showcases your guide to getting over heartbreak… The question is: do these tips actually work?
[Laughs] I'm a Scorpio. I am so dramatic and emotional — which is probably why I'm a songwriter! [Laughs] I mean… they do, and they don't. If you were to follow them, it would help… I can't say that I did.
Noted. So, 'Natalie Don't' is a single from your upcoming project which is centred around the 7 stages of grief… Would you say this an introspective body of work?
Yes, it's very personal, open and out there. It's about my stages, my feelings about how I dealt with the end of a relationship. Not to be dramatic, but I feel like we downplay what a breakup is. It's like a death. You go from sharing your life with someone to feeling isolated and heavy. You have to pick yourself up and make them a stranger. It's been a year and a half to two years of working through this.
My sister was the one who told me about the 7 stages of grief and pointed out that I was stuck in the same stage.
Would you say that you needed to write this project to get unstuck? And in doing so, which was the hardest stage to be honest about?
The first three stages were the hardest, [especially] accepting that it's done. It's hard to progress beyond the tears and ice cream [laughs]. Stage 7 is liberating though.
When you're not busy working on your own music, you're out writing for artists like Little Mix, John Legend and most recently Beyoncé. Tell me what that was like. What was the biggest learning you took from that experience?
For the project, we were given so much framework. I was in the studio every day and ended up writing about 30 songs before the one that was selected. People don't see everything behind the scenes and the hard work you have to put in to get your dues. Beyoncé came up to me on the red carpet saying she loved my voice and my song was going to be track one. 2019 had been a tough year in terms of music progression, so that gave me the affirmation I needed.
That must have been a moment. As someone who very actively does both, would you say it's more important to have these artists' respect as a songwriter or fellow artist?
For me, it's about respect period. That's part of what motivates me to work so hard. Earlier in my career, there was this song I did with Jonas Blue that was very Europop. It wasn't cheesy but it was very pop, and I thought, 'Everyone is going to lose respect for me if I do this.' I took like 80/90 takes to do the chorus. It was really hard to get right, and my heart wasn't in it. The song came out and did well, but I knew I'd have to work 2 or 3 times harder to earn the respect that I wanted. I started writing which helped me establish credibility, and it's been years of serious sacrifice.
Staying on the subject of your writing, we know you have quite a prolific writing catalogue, but If you could steal credit for any song, which one would you claim and why?
Ahhh, that's so hard… um … 'Crazy' by Gnarls Barkley.
Oo, good choice!
Yeah, that song is incredible. It's one of those timeless classics that I discovered at 10 years old and I haven't gotten sick of. I'd actually love to work with CeeLo Green. I need a week to create like an album's worth of songs. I'm putting it out there so hopefully, it happens in the next year or two.
From your perspective, what is it that makes a song a hit?
There are two types of hits: One that's a hit in the moment, and one that stands the test of time. It's about breaking the mould and not copying anything. Telling the story in a new way and leaving your thumbprint on an era.
Finally, if there's one song from the upcoming project we should look out for which would it be?
Ooo… there's a song coming out soon — it's not on the project — but it's a really special song called 'Love Of Your Life'.
[embedyt] https://www.youtube.com/watch?v=Sq–v8i76Cg[/embedyt]
Team Credits
interview by Ray Sang
photography Alexander Beer
styling Chantal des Vignes
hair Alex Price @ Frank Agency
makeup Olly Fisk
production Angeliki Sofronas
styling assistant Louisa Wilkie
Check out Raye's new music video for latest single 'Natalie Don't' below!
[embedyt] https://www.youtube.com/watch?v=nzxEIgLlrlI[/embedyt]