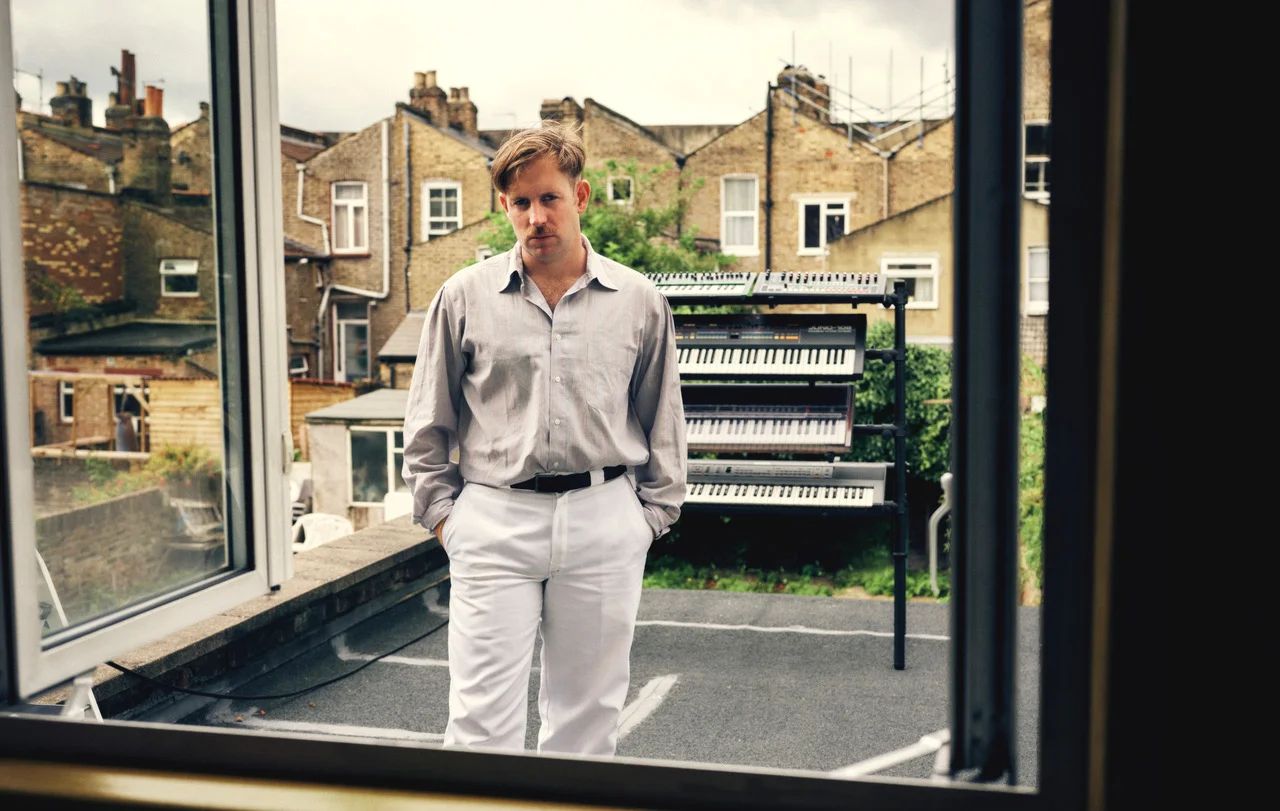 Rhumba Club
Tom Falle, also known as Rhumba Club, has already been named one of British GQ's "One to Watch" and has composed music for Fendi's Flow-up collection.
Over the past decade, the Jersey-born musician made his way through London indie bands before introducing himself as Rhumba Club. Fast forward to 2021, he is gearing up for the release of his debut album, Welcome to the Rhumba Club, which is scheduled to drop next month. But first, fans are being treated to the euphoric Primitive that is an ode to the late '70s and early '80s.
Growing up gay in conservative Jersey has impacted Rhumba Club's music and artistry. During his childhood, the sounds of 70s and 80s pop were his safe space and his private escapist world. According to his press release, his music resonates with "real misfits" and is for those who "crave a space where conventional coolness."
During a chat with 1883, Rhumba Club discussed his new single, his long-awaited debut album, and the creative process.
Primitive was love at first listen for me. Was it the same for you? Did it have to go through many revisions to get to this point?
It was one of those rare songs that just came. Once I had the syncopated bass/synth rhythm everything else just fell into place. Having said that, I actually wrote the opening brass riff at the end of the writing process. I knew it needed something a bit more intense to start with. All the various elements of the arrangement came very naturally, though. It was as if my apprenticeship in the late 70s/early 80s pop had come to an end and I was wrapping up my thesis with all the little pentatonic passages and Prophet patches I'd stored away over the last few years. In that sense, it's a quintessential Rhumba Club track. That's why I chose it to open the album.
How long ago was the song written and what was the inspiration behind the track?
It was written in March of this year. It was felt that a punchier single was needed for the album. So I took a week off and wrote/produced three new tracks. That pressure was unnerving but ultimately helpful. It's really inspired by big production numbers from the late-70s to mid-80s: Steve Winwood melodies/Elton chord sequences/combining analog synths with really organic percussion. I also wanted the song to have a really simple through-line, thematically speaking, as a few of my previous releases have been slightly…cryptic. All Primitive is really saying is, in order to date successfully, you need to be yourself. It's a cliche, though, so I tried to sex it up a bit, using the word primitive in the sense of "be your most natural self." It's a little bit "you and me baby ain't nothing but mammals," I guess.
The single is taken from your upcoming debut album, Welcome to the Rhumba Club. How are you feeling about it coming out now that it's so close as it's every artist's dream to have an album?
I'm keen to finally share the album with the world as it's essentially Rhumba Club's first audio manifesto. It'll give listeners the chance to really understand what I'm about, and work out whether they are Rhumba Clubbers or not. Because it's been in gestation for quite a long time, it feels like it's a very honest and considered summary of my values as an artist, both thematically and musically. It also works as a great touchstone for what's to come. Everything I release after this will be judged in relation to this record. That's a challenge I will embrace.
How many years has the album been in the making?
Technically two, because the oldest track on the album was written in 2019, but most of the album was written in 2020/2021. I was actually convinced by my management to do an album, I did ask myself, and them, what the point was in the era of streaming singles. I'm glad I did though because many of my fans are hungry for a larger body of work. And they deserve to be satiated.
Your music is heavily influenced by the synth-pop material from the 80s. What albums/artists were big inspirations for Welcome to the Rhumba Club?
I hate to be awkward, but I'd say it's more influenced by pop music featuring synthesizers, than synthpop as a genre per se. A couple of tracks are clearly drawing influence from synthpop acts — Depeche Mode and Erasure — but there's actually quite a lot of live rock'n'roll instrumentation on the album – pianos, bass guitars, double basses, hammond organs, and saxophones. I've been mainly inspired by artists that blend the two worlds — electronic and rock'n'roll. The Blow Monkeys are a huge influence, as are other sophisti-pop acts like ABC. I also just really like good old-fashioned songs. I love a good bridge. You can hear Islands in the Stream/God Only Knows/A Little Respect creeping through some of the tracks on the album if you listen closely enough. These are big songs and I can be fairly heart-on-sleeve in my references. There's also a bit of art-school weirdness in there too. When I'm arranging/producing I try to think like Roxy Music or Talking Heads. A little bit of off-kilter goes a long way.
Your previous single Conversion is definitely a personal song as you speak out against LGBTQ conversion therapy. Was writing that song a challenge and how have people responded to it? 
I did have sleepless nights about getting it right. I'd hate to be perceived as a virtue-signaller, and I didn't want victims of conversion therapy to think I've insensitively hijacked their very real issue for a pop song. In the end, I thought "this is still a huge issue, globally" so it's definitely worth writing about, but to pitch it properly I'd need to ridicule the perpetrators and celebrate queerness. I think I managed it.
What are you hoping listeners will take away from listening to the album?
I'm someone who feels perpetually at odds with popular culture/social media/the world around me etc. Ultimately I write my songs to remind myself that I'm ok, irrespective of the perceptions of the outside world. I really really hope that listeners can hear me embracing myself, with all my niche tastes and views, and hope that that sense of self-confidence will rub off on the listener. They deserve to feel the same high that I feel when I listen back to a song the week after I've finished recording it. It's a really humanizing moment. Like 5 minutes after your first-morning coffee.
What is a big career goal you would like to achieve in the near future?
I just want to spread the gospel of Rhumba Club to more people. I'm now starting to realise that they really are there, they just need to be accessed and teased out. I want them to come and be primitive with me.
Primitive is out now, follow Rhumba Club via  @rhumbaclub
Interview Fabio Magnocavallo
[embedyt] https://www.youtube.com/watch?v=JnFgU3DJCvU[/embedyt]