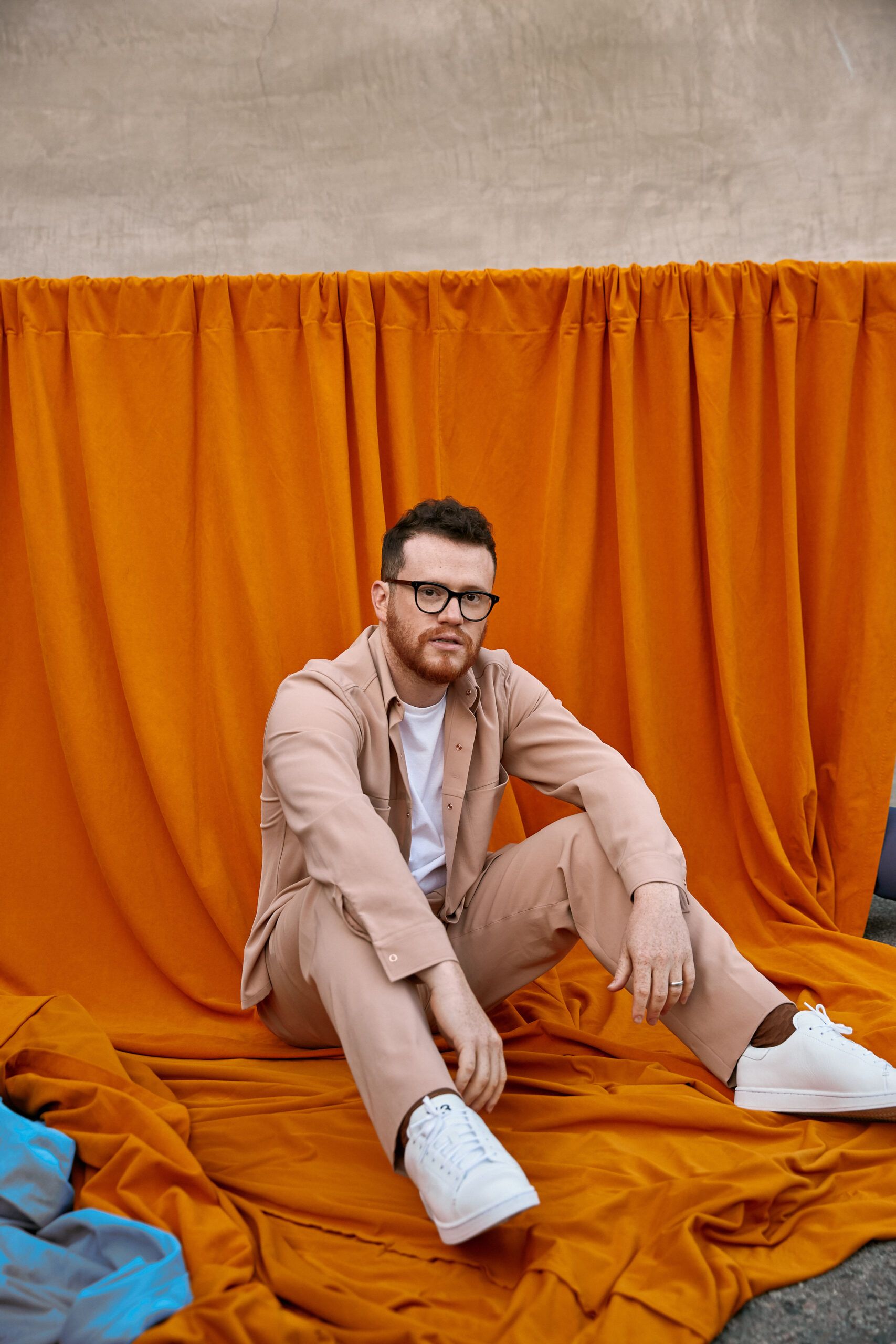 Sam Fischer
With the success of his Top 20 single 'This City', Sam Fischer may appear to many as an overnight success story; a viral TikTok sensation from which his track has grown into a chart-topping hit, now with over 134 million listens on Spotify.
Yet, as we all know — overnight success stories are merely a myth and come with a backlog of years of hard work and in some cases, bruised confidence.
Straight out of studying music in Boston, Sam flew headfirst into the US music market with a one-way ticket to LA and was confronted with the trivial downfalls that many struggling artists face when following their dreams. After six years, two fallen record deals and several side jobs later, Fischer released 'This City' in 2018. A turbulent 18 months of climbing to success later and he's established himself as one of the most exciting new artists to date, even chosen to support Lewis Capaldi on his US tour earlier this year. His thought-provoking writing has not gone unnoticed in the industry as he continues to work with some of the world's biggest stars, from Jessie J and Ciara to Keith Urban.
Now, Fischer is navigating stardom in lockdown, swapping the glitz of Jimmy Fallon's Rockefeller studio for a green screen in his living room. As the European leg of Capaldi's support tour was cut short by the pandemic, working from home took on an entirely different meaning for the artist.
Firstly, congrats on the success of your single! How are you finding the growth and success of it whilst in quarantine?
It's been something to get used to! I'm so grateful for the success, regardless of when it's happened. People are saying I'm an overnight success and I'm thinking 'What? it's taken 10 years for this to happen!' But I'll gladly wear that label. It's been an adjustment for sure; the first couple of months of the year was a non-stop promo tour around the US. By the time we got to the UK for our Europe tour, everything started shutting down.
This is everything I've ever dreamt of happening and even though it's not happening in the way I had imagined it to, it is happening and that is everything. I'm grateful for being busy right now and the success blows me away. I wrote the song in 2016; it came out in 2018 and to be here now and doing this, it's sick! The only thing I wish I could do is tour with it. My dream is to play to a crowd that knows the words to my song. I haven't done that yet but one day, one day.
You studied music at the Berklee College of Music. Did you first start writing and producing whilst studying there?
It was pre-studying. The first song I wrote was when I was twelve. It was out of sheer arrogance and I was just like, 'I'm going to do this!' Some artists have these songs that they put out and have written from when they were about fourteen and they're amazing pieces of work. For me, my first song was called 'Wake Up', and it was about waking up! I was a sheltered child, a little ginger kid in South Australia.
I didn't play an original song for anyone until I was about 20 — just because of my own insecurities and perfectionism. I wanted to be the best and for it to be the best that anyone had ever heard. It took me a while to untangle my brain from thinking about it like that.
After you studied in Boston, you moved out to LA with a one-way ticket. How challenging did you find starting your career off and establishing yourself in the US market?
Yeah, it sucked! It was rough. I moved to LA because there was an opportunity. I booked a one-way ticket and left my girlfriend in Boston who is now my wife. The day after moving there the people who asked me to come basically said, 'We know you've just moved here, but we're not going to do anything now.'
In hindsight, I wasn't ready for any of it. So, I worked odd jobs, slept on many a couch, I was a delivery boy for an Australian mate's pie shop in LA and babysat for rich parents with kids who wanted to learn to play tennis. It's wild to look back on the last six years and get to this point. I'd always dreamt of this and thought it would be cool if it happened, but I wasn't holding my breath for it.
Whilst out in LA you also began writing for other artists. How did this start?
After going through that opportunity that fell apart and then signing to a label that also didn't work out and fell through, I lost myself. Mentally, I was in a dark place. I was lying to my Mum and everyone at home saying that I was killing it in LA. I just really got back into writing for others because (A) I love writing for others; and (B) I didn't have a clear sense of self or especially a clear sense of who I was as an artist just yet.
Through writing for others, I think I found my own voice. All songs that I've written come from a personal place. It's just really cool seeing these incredible artists put their spin on my songs, and that I become a small part of their story. At the same time, being in studios with them and listening to what they're going through and taking parts of their story and turning it into a song is amazing. Writing for others and writing for myself go hand in hand for me.
Is there a song that you've written for someone that stands out and means the most to you?
There is! It's not out yet, so I probably shouldn't talk about it. It was a song I wrote for myself and I planned on keeping it until this artist heard it and cut it and made their edits. I realised this song was really for them. It's a big part of their story and what they've been through, so it makes sense for them to keep it! I can't say the artist though, so you'll just have to wait to find out!
I also wrote a song for Sabrina Claudio called 'Confidently Lost'. She's epic! That was my first real cut for another artist. Conceptually, it was everything I was feeling at the time. I wrote it with her so that was really cool.
During your time in the US, you wrote 'This City' which was originally rejected from your former record label… It's now surpassed 124 million plays on Spotify, so how has the journey been with this track? 
I wrote this song when I was in such a weird place in my head. I was writing songs for the wrong reasons to try and impress this label. I didn't know who I was anymore because of the mental, emotional, verbal abuse that I went through whilst I was signed there.
The day I went to write this song, I got to the session and the other writer was fighting with me. It was a situation where we wrote this song in about forty minutes. I knew the song was special because when I was singing it, I felt everything so intensely and I was tearing up. Again, I never expected anyone to care. It's not like my story is a super unique story. A lot of people come to LA with a dream, thinking that they're going to be someone straight away and it's not the case a lot of the time.
It wasn't until 18 months after I put it out [that] it started to go viral on TikTok and then Spotify and Apple came in hot. Then labels started speaking and Lewis Capaldi messaged me on Instagram and asked if I wanted to come on tour. He's been a massive champion for me. He was the first person to post about 'This City' when it came out.
Did you ever hear anything back from your former record label about the track once it catapulted to success?
Absolutely not; they have not been in touch at all and I would not expect them to.
[And] that's totally fine. I also, don't want to hear from them! When I wrote the song, the response at first was just an email saying, 'It's pretty…'  And that was it! That was four years ago, and the label doesn't exist now. But there's no ill will; it was a clean break from them and everyone around that label who wasn't directly involved with me have been very sweet. I've moved on now and I have an incredible team, so I'm grateful for being in the position that I'm in.
You recently released a version of the track featuring Anne-Marie which already has over 1.4 million plays on Spotify… As this collaboration happened in lockdown, have the two of you met yet in real life?
We haven't yet. We've chatted over Instagram and she's so sweet. I've been a fan of hers for years, back from when she was singing for Rudimental. I think her voice and style is so good and on top of that, I think she's a phenomenal writer. She sent back the verse that is out, and I just thought it was perfect; I was blown away. I'm just so grateful; she's an unbelievable talent.
That's going to be quite the live session when you two finally meet and can play together live!
Ah, I can't wait, it sounds sick! It's been cool and I'm just such a fan.
You've already worked with so many big names such as Ciara, Sabrina Claudio and Keith Urban to name a few… Is there anyone that stands out and that you've learned the most from?
That is such a good question. He's not an artist but the producer Darkchild [Rodney Jerkins], who's produced 'Say My Name' for Destiny's Child and 'Dose' for Ciara, has taught me a lot from his experience.
Working with Jessie J was amazing because she's just so free. She's such a sweet person and the best vocalist I've ever worked with. She can do anything; her voice is insane! She just jumps on the mic and everything flows out and then she pieces it together as she's going. The song isn't out yet that we did together, but she did perform at the Troubadour Festival in Canada and the media picked up on it. It's a love song about Channing Tatum which will hopefully come out later this year.
Speaking of live performances, the day after you got married, you flew out and started touring with Lewis Capaldi…
Finding out that the first night of the tour was my wedding night was not fun. I was like 'really, the two biggest events of my life falling on the same day at the same time!' That was insane. My wife sings backing vocals for me, so it was a huge deal for her as well so we were both involved! Lewis was great when I asked him if it was cool that I went and got married; he just laughed at me and was like 'Are you serious?! You've got to go get married.'
When the time came, it just so happened that his gear hadn't arrived from Europe, so the first date of the tour got cancelled. Our wedding date went ahead and the next morning we drove to the airport in DC and started our first US tour opening for Lewis Capaldi!
Even during quarantine, you've continued to promote and perform with an appearance on The Late Late Show with James Corden which is a huge deal… You touched on this earlier, but how have you found this experience all happening from home? 
To be able to jump on TV and perform my song is amazing. Do I wish it was in the studio in front of a live audience with the whole glitz and glam of the operation? Absolutely. But look, my first performance was me singing on Jimmy Kimmel in front of a green screen and I will always remember that. Hopefully, I get another opportunity to do it again in real life. It's an adjustment but like I said, I have everything I've ever wanted, even though it's not how I thought it would be — I'm still happy. It makes lockdown and isolation a little better.
Can you tell us about the new project you have coming up?
Yeah, it's awesome. I'm really excited about it. It's been a minute since I put anything out and I think a lot of people out there think I'm just this viral moment on TikTok and it's just 'This City', but it's not. I've been working on this project for the last four years and I've written hundreds of songs for it and I just got the mixes back two days ago. The next single is on the way and is coming this summer so very soon! I've very excited; it's just me exploring myself as a person and letting everyone else in on that journey.
Outside of music, you've shown support on your Instagram recently for the BLM movement that has developed huge momentum since the death of George Floyd… What's your opinion on how celebrities or people with a big platform should be using theirs to further this movement?
I think having a platform right now is something that no one should take for granted. I think the term Black Lives Matter should not be a controversial statement. Because the term, Black Lives Matter, matters. It's more than just saying you're an ally; it's donating and sharing organisations for people to find resources. It's using a platform to educate people on how they can be of service to the black community. How they can uplift black voices and that's what I'm really trying to do. I'm trying to listen and learn and support.
My wife and I have been at the protests and they're a peaceful environment. It's very loving, very respectful. It feels like a revolution and even if the media doesn't want to televise it anymore, it's happening. Police brutality against the black community has been going on for hundreds of years. Maybe this is the perfect storm of everyone being at home on lockdown and not at work, so we can take to the streets. Enough is enough, black lives matter period.
interview by Miranda Bunnis
Check out Sam Fischer's 'This City Remix' feat. Anne-Marie below!