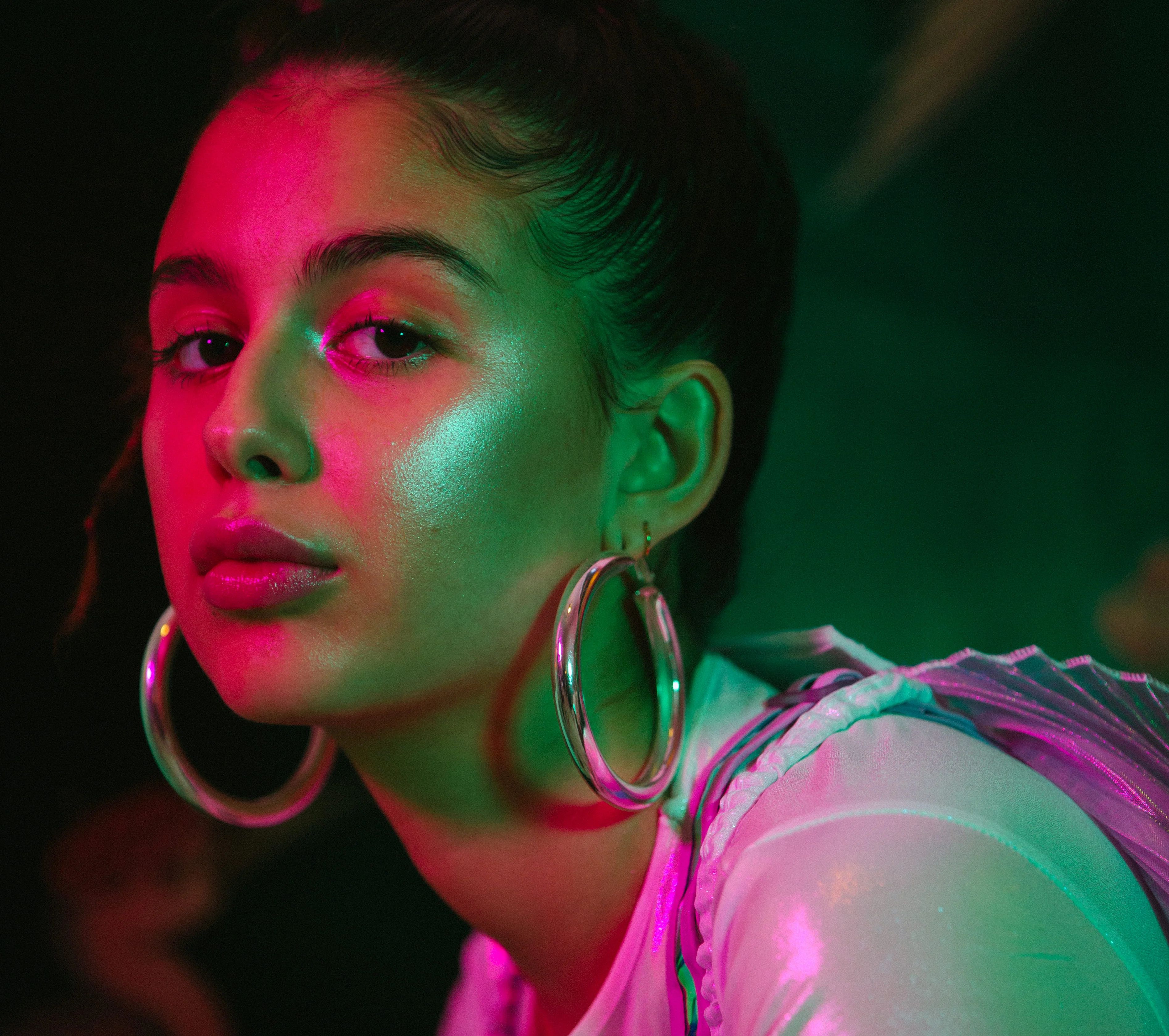 Sophia Messa
There is a reason why everyone is calling singer-songwriter Sophia Messa a force to be reckoned with.
Although she's a new act, she is one artist who has grown up with music all around her; she attended The Professional Performing Arts School for both middle and high school where she was classically trained in vocal performance and opera.
During her time at high school, she began writing her own music and recording demos at a studio across the street from where she lived.
She was only three weeks into her studies at The Berklee College of Music when she dropped out… after signing a record deal.
Messa's origin story is present throughout all of her lyrics; she analyses the tiny details of both her platonic and romantic relationships and the different experiences she's had in a way that feels universal. Her first single, moneydontfixlonely, focused on this generation's obsession with materialistic things and how some people use it to control others.
In her newest single offyourface, premiering today on 1883 magazine, Messa flips the script on a normal cat-and-mouse game. Messa is in charge and asks the one pursuing her to have some patience when it comes to their relationship. She doesn't want to hurt them, but it's clear she is feeling smothered. If you're going through a break-up, trying to take things slow, or just wanting to feel powerful in your own body, this is a song to add to your summer playlists.
We talked to Sophia about what she has planned for her upcoming music, her songwriting process, and how she feels about social media.
You were only three weeks into your program at The Berklee College of Music when you left school and signed your record deal. At that moment, your entire life changed! Was it a difficult decision to leave school to pursue music?
No! I actually always wanted to go straight into pursuing my music career and not go back to school. So when I was offered my deal, I left school without hesitation and I'm super lucky it happened the way it did.
Where do you get your songwriting inspiration? Are you someone who pulls inspiration from personal experiences or do lyrics come from a more general place? Talk us through your own songwriting process.
It's different for every song but I generally pull my inspiration from what's going on in my life. My friendships, relationships, family, maybe even a movie I've recently seen. I don't think I have an actual process. It's just about feel and emotion.
Although your music is pop, it seems to have darker themes and imagery. Your song moneydontfixlonely depicts the story of someone explaining to a lover that they can't buy other people with material possessions. With lyrics like, "I just wanted you to wanna hold me, you don't own me," it's quite a powerful statement to make in a lead single. Is making critical statements, whether personal or political, in your music important to you?
It's funny to hear you say that because most people think I'm talking to a lover but the song was actually written about my dynamic with a family member I had growing up that affected my mentality and the way I view materialistic things.
You are classically trained in opera, which we get a taste of in moneydontfixlonely. Is opera something you plan on including in other songs? What else did you learn while at school that you plan on incorporating in your music?
I always want the song to be as diverse and unique as possible. If that means incorporating opera elements into a pop song than of course I will. Will I do it in other songs? I'll guess you'll have to wait and see.
The music video for the song includes references from Ancient Greek statues, French paintings and 60s cinema and audiences see you travel from room to room in search of a real connection. In this age of social media and Instagram influencers, how do you handle staying 'real' and ensuring that you don't get caught up in materialistic things? What is your relationship with social media like?
Social media is a tool. Lucky for me, I have people in my life who never forget to remind me of that. It's an easy way to distract yourself and an even easier way to be influenced to place value on the wrong things. But for the musical career that I want and see for myself, it's an invaluable tool in reaching those pinnacles.
Your new single offyourface premieres today. Can you tell us a bit about the song and the inspiration behind it?
I want my music to be left for interpretation. What does it mean to you when you hear it? Where did it take you visually? What story did you hear? To me, the inspiration came from jumping into a relationship too quickly and because of that, ultimately leaving the other person hurt. But I want my fans to tie it into their own lives, which could mean everyone having a different interpretation of what the song means to them. That's the beauty in music and good songwriting, and that's something I want to continue throughout my career.
You're quite assured with your music and songwriting; moneydontfixlonely and offyourface both tackle more risque themes, which is not always expected from a new pop artist. You're changing the status quo! Are you going to continue to lean into more heavy themes, like isolation, heartache, and pain?
I'll lean into whatever themes ring true to my life and my experience. I'm 19, so I have a lot of life ahead of me. A lot of stories. A lot of experiences.
Are you working on your debut album right now? What can we expect from it?
Hopefully at the end of this year but I can't rush my process. I also need to always remind myself that I'm a new artist. The ball is in my court. My debut has to be as close to perfect as it can be. I don't want to jeopardize that by rushing. In the meantime, however, I'll be releasing a bunch of singles, so be ready.
Who are some of your favourite songwriters/musicians?
Amy Winehouse, Sia, Lady Gaga, and Frank Ocean.
You hail from New York. What are your favorite things to do while in the city?
I hang with my friends. We go to museums, go out, and make music. New York isn't a hard place to have a good time.
What is something you want your fans to know about you?
I'm a very curious person and always looking for the next thing to learn about.