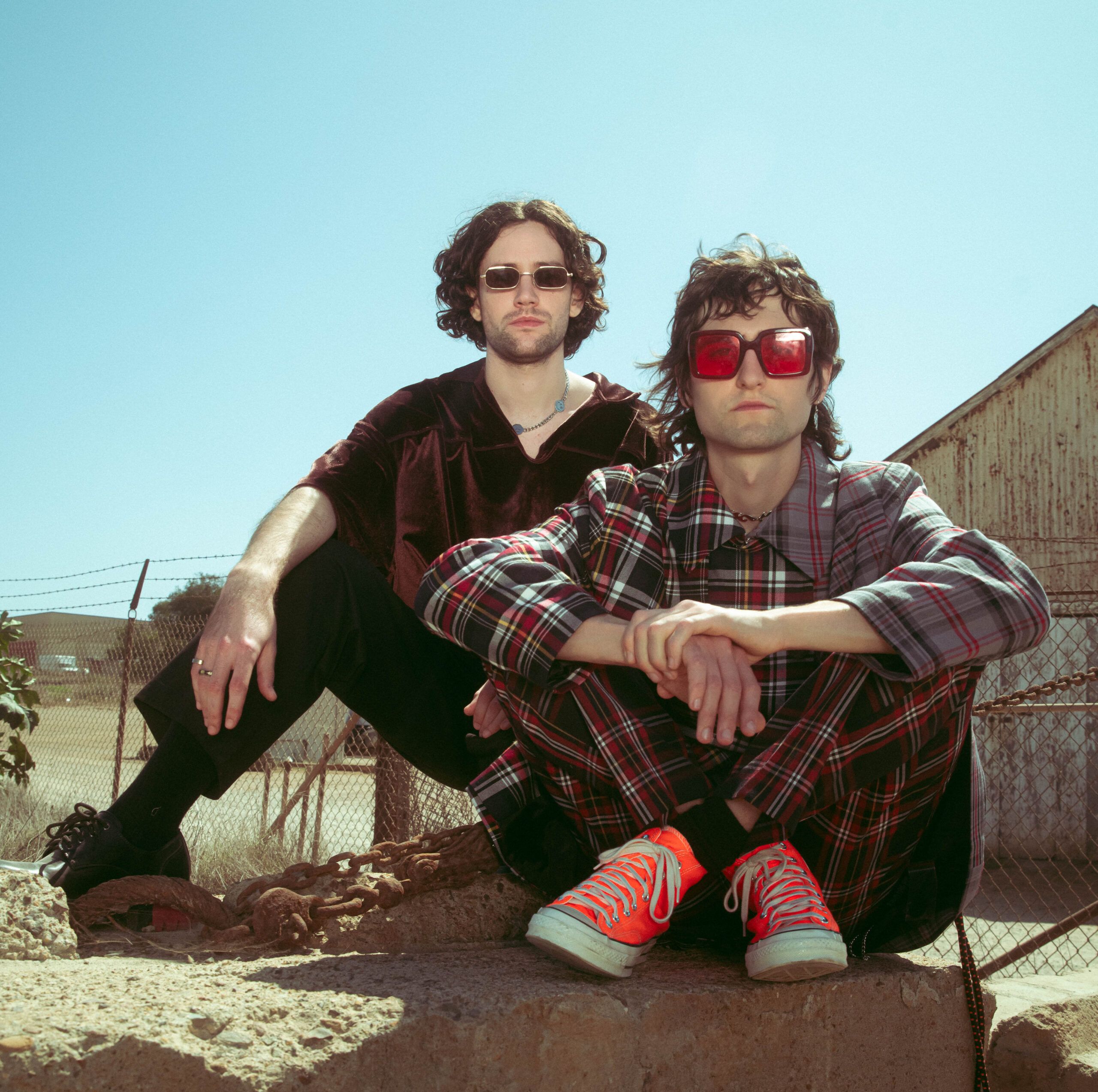 Sports
Oklahoma's very own dreamy indie-pop band Sports releases their first project in two years — the punchy 'Get A Good Look – Pt. 1' EP.
There's a reason why Cale & Christian from Sports self-describe themselves as a band of wizards crafting indie-pop music spells: their tracks are utterly entrancing. Their latest project — a 6-track EP titled 'Get A Good Look – Pt. 1' — is proof of that. Blending their signature DIY sound with an eclectic mix of dream-pop, the collection of songs showcases a new layer of depth with a better insight into Sports' lyricism & craft. 1883 had a chat with Cale & Christian from Sports all about their new EP, what changed since their first EP 6 years ago, and what people can expect from Part 2.
Your song "Tell You Something" marked the first release of yours in two years and this year it marks 6 years since your debut EP. How would you describe the way you've both changed as artists and how your songwriting process has developed and changed in that time?
When we first made 'Naked All The Time', we were working with our producer Chad for the first time. We were willing to let any song completely transform and a lot of them did. We didn't know how to produce our songs as well as we do now so I think we've gotten a lot better at it. Our production is a little more up to par I'd say! We think all of our demos are super rough compared to what they are now. You can hear a big difference in the last six years or so. We learned a lot from Chad — he's a genius.
The last single before you release your new EP is 'The Look', which critiques the LA lifestyle and cliches. Can you tell me a bit about the story behind that song? 
This guy stopped me to ask if I had an agent which does not happen anywhere else. It's such a cliche. The story sounds so ridiculous to say, it sounds fake! It's like what you'd expect to watch in a movie.
'Get A Good Look' drops today & I'm assuming the title comes from that song, but what can you tell me about the EP name and what the collection of songs mean to you both?
We were inspired by that song in particular because we felt it was the most memorable. I was actually in Paris when we came up with the title. We were speaking with our visual creator friends and he had this crazy good visual idea that worked with 'The Look'. I'm going to apologize in advance for how snooty answer this will sound but I was looking at an exhibit and I was just thinking about the word 'look' and I saw so much art that was focusing around that idea. We came up with 'Get A Good Look' and it felt like there were no other options, we found the title. It summarized all of the songs together. A lot of the branding for this record is around these two heads rotating and we thought it worked well; you're getting a good look as you look around.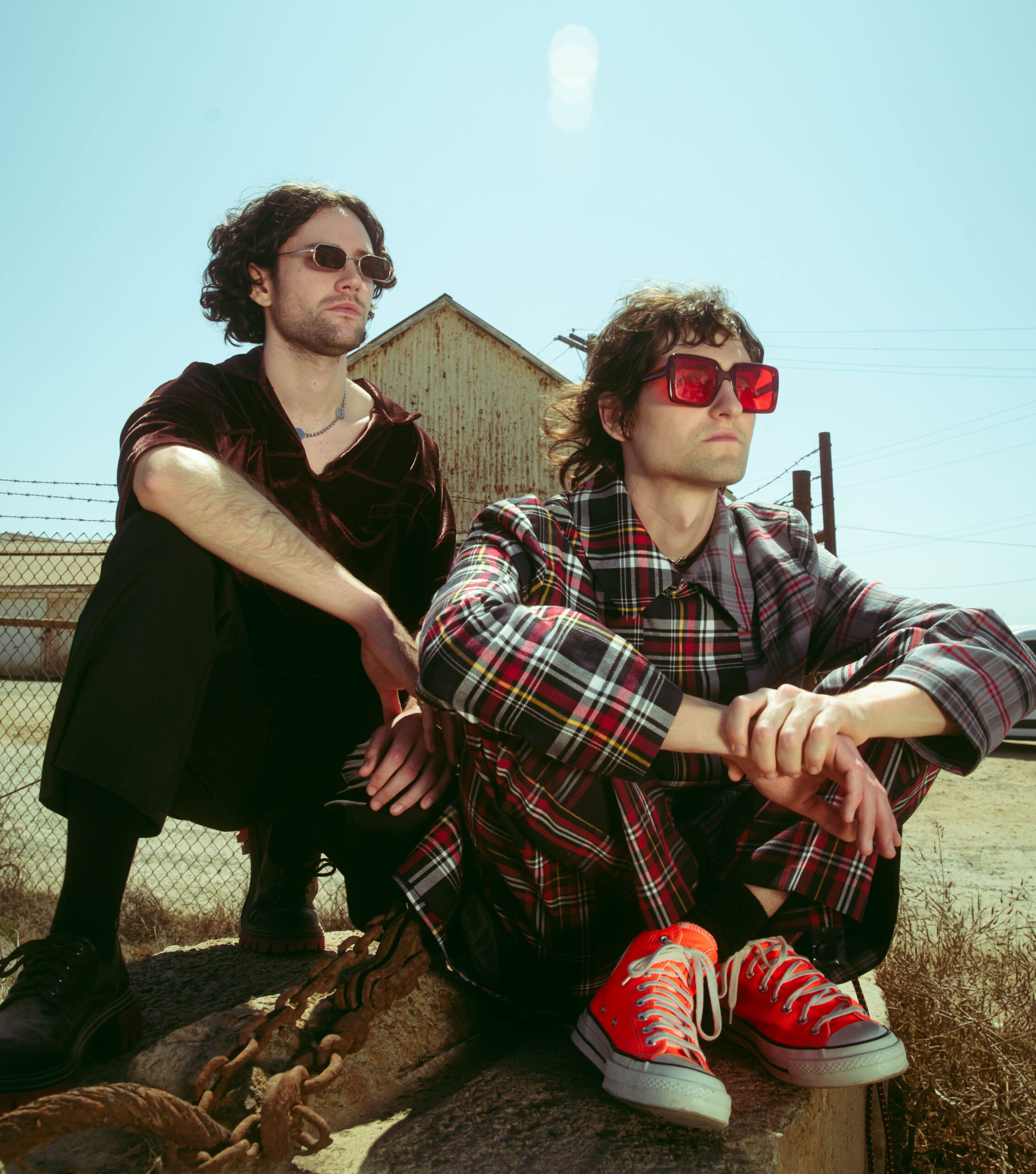 The two songs people haven't heard yet are 'Call Me Anytime' and 'Don't Get Me Started' — can you tell me a bit about those two songs? 'Call Me Anytime' in particular feels a bit darker like it could be in a Film noir movie.
'Don't Get Me Started' was a demo we recorded as a voice memo on an iPhone a long time ago. I was living in LA at the time and I always thought it was so funny how people would move to LA and you'd see their Instagram suddenly change and they turn into influencers with a brand. The lyric "I'm taking my Chevy and not bringing any friends with me" is me fantasizing about leaving LA and getting away from feeling so bombarded by the big city life. With 'Call Me Anytime' we were both thinking about a movie when we're making it. It felt like the last scene of a movie right before the credits with some nighttime driving after dramatically saying goodbye to someone and feeling free.
When 'Get A Good Look' comes out, what do you hope people take away from it after they are done listening?
We always felt part one and part two are different personalities. Part one is about people-pleasing and being a peacemaker, whereas part two is more about pleasing yourself and being less apologetic. I hope people hear that in the two parts when they listen! We're not trying to force any sort of message or tell people how to live, but we're just sharing our experience. If it sticks to people, even if it's in a completely different way, that's amazing. If it can make anyone feel anything… I'd be thrilled with that.
Something I love about your visuals, especially for all of the cover art for the singles you've released over the last little bit, is how cohesive everything is. When you're songwriting and making music, do you have specific visuals in mind or does it come after?
We usually do but this time is a little different because we've had a team working on the visuals. We wanted to see something completely different than what we would come up with; we think that's what makes it exciting. We left it up to them and we've been curating stuff together and it's been this incredibly weird consistent thing.
I loved the ASMR videos you guys made for two of your songs — where did that idea come from?
That was all from our manager. Sometimes he has great ideas and sometimes he talks us into actually doing them! It was pretty amazing and shooting them was just as fun. We thought we could easily do it. 
Lastly, if you could manifest anything at all for the band this year, what would it be?
Playing a show in a safe environment. Smaller shows will probably be the first ones to get back once this ends, which is great as a smaller touring act right now. We always talk about how good that first show back is going to feel… it's going to be so weird in the best way. We can't wait.
Listen to Get A Good Look Pt.1 now!
Interview by Kelsey Barnes
Photography by Max Alo