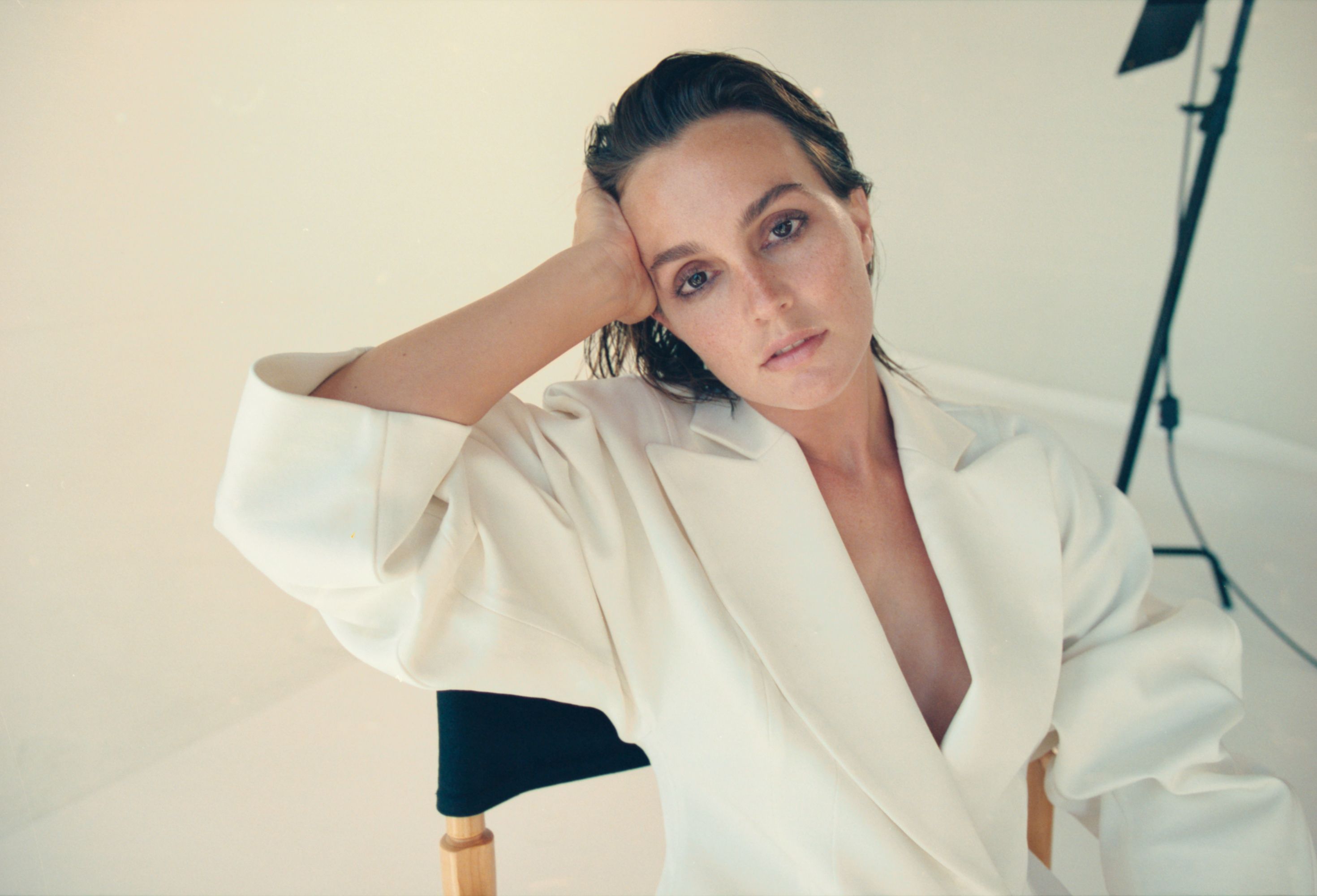 Leighton Meester
Single Parents' Leighton Meester happens to know a few things about acting.
And singing. And jumpsuits. And playing the guitar. And how to coax you into watching and rewatching just about everything and anything she's in until your YouTube recommendations are all baptized and twinkling with endless montages of the thirty-three-year-old. Oh, and philanthropy.
With the second season of the ABC sitcom welcoming audiences back every Wednesday this winter, 1883 sat down with Meester to rack her brain on unpopular music, the reality of single parents off-screen, and MAGA hats.
What was it that drew you to add something like Single Parents to your roster?
I mean, it started off with the character and the feeling that I had before I met anybody. Just reading the first script alone, the prospect of playing a single mom who is so well rounded and written to obviously be living in a sort of more broad comedic world was so exciting to me. There are very fun storylines. But also, she has such a sensitive kid and she's so in tune with him and that side of herself and her background and history, and how she deals with all of it being the full provider is challenging and fulfilling, and really fun.
Now last season, super rare thing to do but you had audiences actually enjoy listening to metal…so how's this season planning to top that?
Yeah! So, the first episode of this season we did karaoke. I'm sure [metal] will manage to play a role again. She's definitely a metalhead, something that I don't personally relate to a whole ton, but it's obviously a fun part of the character that I really enjoy. It gives it a lot of flavor. But yeah, I mean I don't know. I search far and wide for snow, I'm gonna be having interactions – for better or worse – with my son's father; I have some fun with Will and figuring out what that relationship ultimately is. So yeah, all of that is very exciting and lots of fun stuff – but not necessarily as fun as performing a metal song. I'm sure they'll come up with something.
Now your character Angie, did Slayer for her 30th, but what about you? What did you do?
My 30th…what was my 30th? [pauses] I didn't do anything. I was on location shooting something, and I think I had a nice dinner with some family. I'm pretty sure that was all. Not as fun as Angie.
That's still always fun. You mentioned earlier how Angie is going to be having more scenes with her ex who happens to be played by Adam Brody, so is it weird having your real-life husband play your ex on the show
Is it weird?
Yeah, or just kind of something that makes you go 'Whoa'?
No, I wouldn't say it's weird. It's definitely really fun and I love having him. It's my favorite job and work environment, and everyone that I work with is kind of like a family 'cause we see them so much and they all get along so well. So, bringing him to work on this thing that I really love with my sort of family away from home is really nice. And you know, for whatever reason, it seems sort of natural. It doesn't feel out of the ordinary to be working with him. It's really fun though.
How about the rest of the cast? Is it difficult to do scenes with such a funny line-up?
At times, yes. Definitely. And I'm not above breaking, so I definitely at times can't make it through a scene without laughing, especially when I'm on set with Taran. He cracks me up and he does it on purpose.
Moving to a more serious angle, lots of sitcoms can tend to really butcher whatever point-of-view they're trying to get across, whether it be within an Asian family or even a group of friends living in New York…So, how does it feel to be a part of a show that's actually not making single parents look, you know, like TV characters?
Well, first of all, I'm a big fan of Friends [laughs]. But yeah, I'd like to think that our show is definitely married – no pun intended – to the lightheartedness and sense of humor that you have to have to be a parent, with the truly heartfelt, emotional journey that it is being a parent. And then the fun and sometimes frustration of sometimes being single, it sort of puts all those together in a way that is at times funny and a relief to see. And then also, it sort of makes you want to feel closer to your loved ones and to appreciate your family and your friends and the people who you're close to.
Let's talk about another thing you're good at…For all the people still eating up your 2014 debut album Heartstrings – which has a lot of fans as well as that one song 'Good Girls Go Bad' you did with Cobra Starship almost a decade ago – this is pretty uplifting news: you've got a new album coming out, so I hear!
Yeah, I've been working on it. Sometime hopefully within the next year and a half, although nothing is concrete. But right now, I'm just in the process of recording, and yeah, that's the part of my work and my life that I'm excited to continue doing.
Any particular reason you felt like getting back into the studio now or did it just feel long overdue?
Well, it's been a long process. My first album was a really long process as well; it took quite a few years to find the right setup and make everything happen sort of the way that I wanted. And then the reason why I would say it's taken another few years is because I've been writing and working – and I also had a kid. So that's been a top priority, and I've had a lot less time to do almost anything else.
I'm curious to know: what kind of music does Leighton Meester like to listen to?
I listen to kind of everything. I listen to some, you know, like modern rock music. I love Deerhunter, and I just saw them live a few months ago…I love music that has sort of a touch of a country feel to it, and I love singer-songwriter music that has sort of a personal narrative.
Moving on, tell me about that collaboration you recently did with Christy Dawn – which, I should add, is completely sold out now, so congrats on that.
Aw, thank you. I met her through a friend, and we talked about doing a collaboration and what was most exciting was having all the benefits of the sale of our collaboration benefit the Downtown Women's Center of Los Angeles. And so, I worked with her over the course of about nine months – on and off – and I went to some of her headquarters where all of this happens Downtown, and I really got to know her and her team. And it was just such a wonderful process; it was very organic, it felt very involved and everything that she does and makes is with a lot of love and authenticity, and I was really impressed by her and her whole mission. And it was also really fun and creative in such a way I've never been able to express. You know, I've never made clothes or designed anything, so it was really interesting and really fun. Basically, I just thought of what I would like to wear and that's what we made.
Not that I'm knocking it, personally I think they're great, but why jumpsuits?
Uhm, the reason why I originally wanted to do a jumpsuit, is because she's very well known for her dresses and she also does make other pieces as well, but I just personally get a lot more wear out of a jumpsuit than I do out of dresses being a mom and the more casual dresser…
Is this the first of many fashion collaborations for you?
I don't have any plans for more, but I do love Christy so maybe someday we'll work on another project together. But I don't have any plans now.
My final question for you, what do you think is the single most distressing thing someone could wear?
Distressing?
Yeah.
That they could wear?
Yeah.
For them or for me?
You could do both parts.
[Laughs] I'm not usually put into distress by anything somebody wears except for if it were a Make America Great Again hat; I would be very concerned. When I see those, I get very concerned. And as for myself, I feel very distressed when I'm itchy in any sort of way.
Team Credits
interview by Hailey Johnson
photography Sasha Samsonova @ Exclusive Artists
styling Katie Bofshever @ The Wall Group
hair Clariss Rubenstein @ SWA Agency
makeup Bethany McCarty @ Nest Artists
casting + production Angeliki Sofronas
location Exclusive Casting Studios, Los Angeles

Season two of Single Parents is currently airing every Wednesday on ABC!