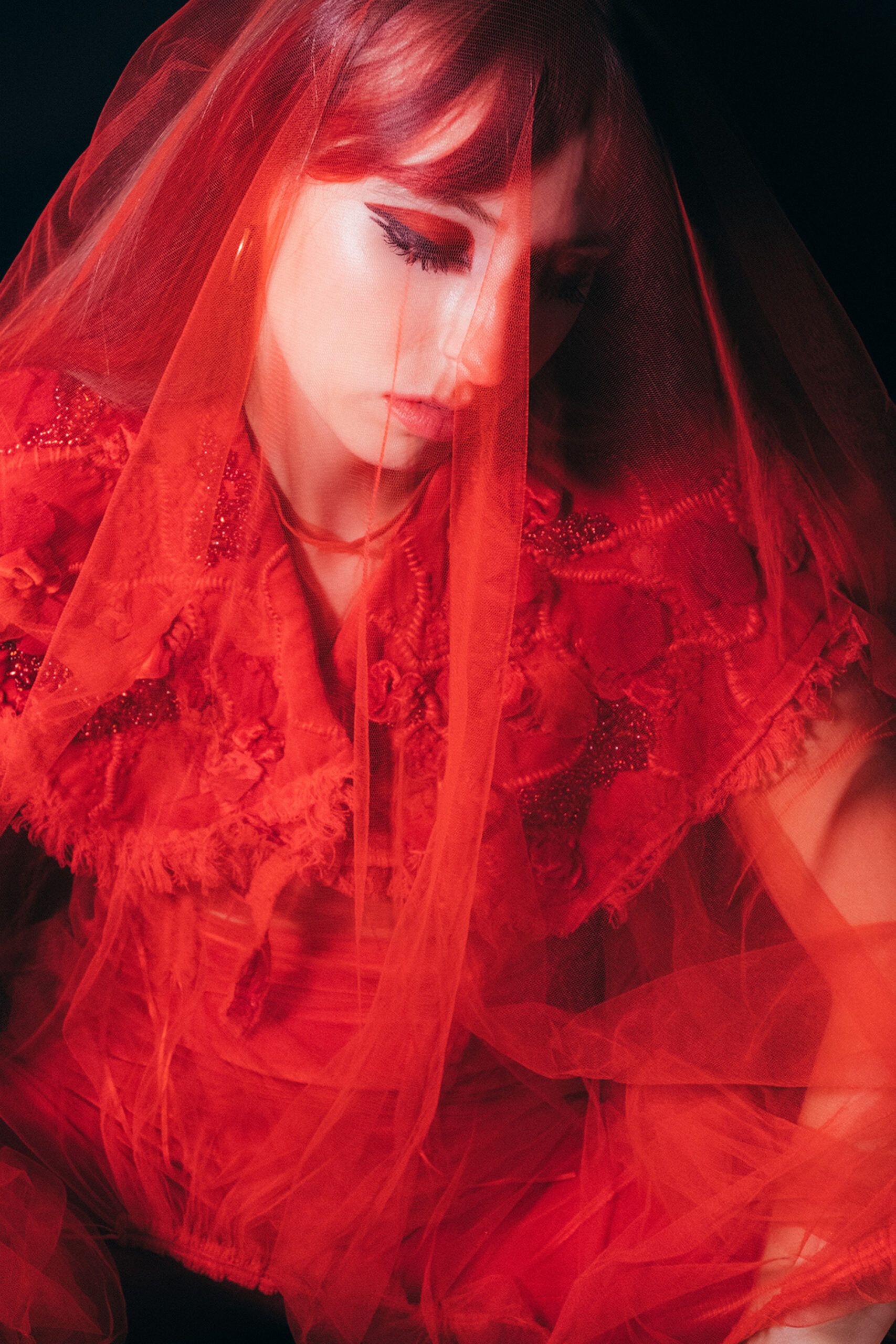 Tally Spear
A promising young name in the world of dark alt-pop, Tally Spear's enthusiasm to bring punk, rock and country elements into mainstream pop certainly paints her as one of those artists who is fearless enough to go all the way to the top.
With the recent release of her debut EP, Tally, we sat down with the intriguing new voice on the scene to find out more…
Let's talk about the colour red. It's in your hair, your Instagram feed, everything you wear. What does it represent to you?
It's just such a powerful colour! It represents so many different things — love, anger, passion. Just different strong emotions across the spectrum. Did you know, if you wear red on a first date, it's more likely to make the other person have romantic feelings towards you? It just inspires confidence. Colours can always be used in tandem with the emotions and feelings of music — Joni Mitchell was blue! I think the colour red represents the passion of my music and how strong the feelings of confusion and frustration were at the forefront of this EP.
There's an old video of you on Sofar Sounds from quite a long time ago, singing something very country. Do you see the roots of that genre in your current songwriting, which is very different?
Country and folk will always be at the roots of what I do. It's what I grew up listening to and it's what my parents brought me up on. But as I mature, the music comes with me. I was always going to evolve with every year I grow as a person — what I listen to and the production I admire. I was listening to a lot of folk music at uni so I wrote a lot within that genre, but going into my twenties, I started listening to a lot more modern production and dark pop and being influenced by people like Billie Eilish. My love of country and folk will always shine through, though my tastes have changed a lot since then.
Your music sits comfortably between the realms of pop and rock (especially on a riff-led track like 'City Girl'). What do you think about the blurring of boundaries between genres? How does this inform your songwriting?
Genres and labels and boxes often don't work when it comes to the arts in general. We're always asked to label ourselves because people want to know what to expect, but it's much more complicated than that. I have an image of myself as a pop singer with a rock-y, fiery undertone. I want to marry loads of genres together to create something fresh, but something that people can still relate to.
What led to you deciding to cover the Cream anthem 'I Feel Free'? How did the collaboration with King Charles come about and how did you both approach reworking such an iconic song?
That was probably the most relaxed recording session I've ever done. We met at a Sofar Sounds gig and chatted in the audience afterwards. Approaching the song, we just decided to have fun with a collaboration and we literally did it in his living room. I was lying on his sofa and I didn't even have headphones on! We just decided to spin a happy song to give it a laid back, dark indie-pop twist. I think it complements the EP as the last track, bringing it back around after the journey of confusion that the EP takes you on.
You speak very frankly about indecision and confusion throughout the EP, are these issues you've found you're able to work through with music?
It's about being completely honest. It's therapeutic but it's also just a way to share. I'm an open book. I will tell anything to anyone just to find a mutual understanding — music is another way to do that, but with strangers rather than friends. I feel like the EP is a slight coming of age story in music format. My favourite book is 'The Catcher in the Rye' [by J. D. Salinger]. It's so unique and funny and deep and melancholy all at the same time. I'm a lighthearted person but I like pairing darker topics with those fun riffs and melodies. I enjoy the conflict of light and dark.
You're very outspoken about animal rights and ecological concerns. When did that begin for you? How do you bring it into your music?
Music is only one element of being a musician these days — the image and the artist and the voice you have is all part of the package, so I just hope I can use my platform to spread the message about eating and buying vegan. I'm a lifelong vegetarian and my whole family went vegan together five years ago, so it's a message I want to continue spreading.
How much input do you have in terms of your own music videos and artwork, etc.? How has this changed during lockdown?
I worked as a video editor for a part-time job for the last few years, so I learned how to edit and got interested in visuals, did photography and editing. I've pretty much directed — and, in lockdown, filmed — all my music videos myself. I had a plan for 'Already Gone' before lockdown but then quarantine happened, and I had to use what I had in the house to create it. As soon as I start writing a song, I'm already imagining visuals to pair with it.
If you could film a music video on an unlimited budget, what would your concept be?
An unlimited budget… I'm so indecisive; I'd probably have to take about three months to get back to you! Maybe I'd go away — to New York. The tall buildings, busy streets, neon signs. I'd do something at night, observing people and buildings and nightlife.
How are you feeling about the launch of your first EP?!
Well, the Tally EP will be the biggest body of work I've put out. Some people have already heard some of the songs as it's been a little dragged out over the year, but I'm so excited to have it all out. The reception for [my latest single] 'Oddball' was good. It's a bit more theatrical and a bit different since I worked with a co-writer on that one. As for what's next, I'm going to do a live series with my band. Instead of a show, it'll be live performances in the studio. Post-EP I'll be looking at launching more tracks as singles, and I have something special planned for Halloween!
Featured Image Credits
full look Matilda Åberg
Team Credits
interview by Rosie Solomon
photography Antonio Eugenio
styling Martina Ghia
hair Tarik Bennafla
makeup Marisol Steward @ Stella Creatives
casting + production Angeliki Sofronas
location Mama Shelter London

Check out Tally Spear's EP Tally below!