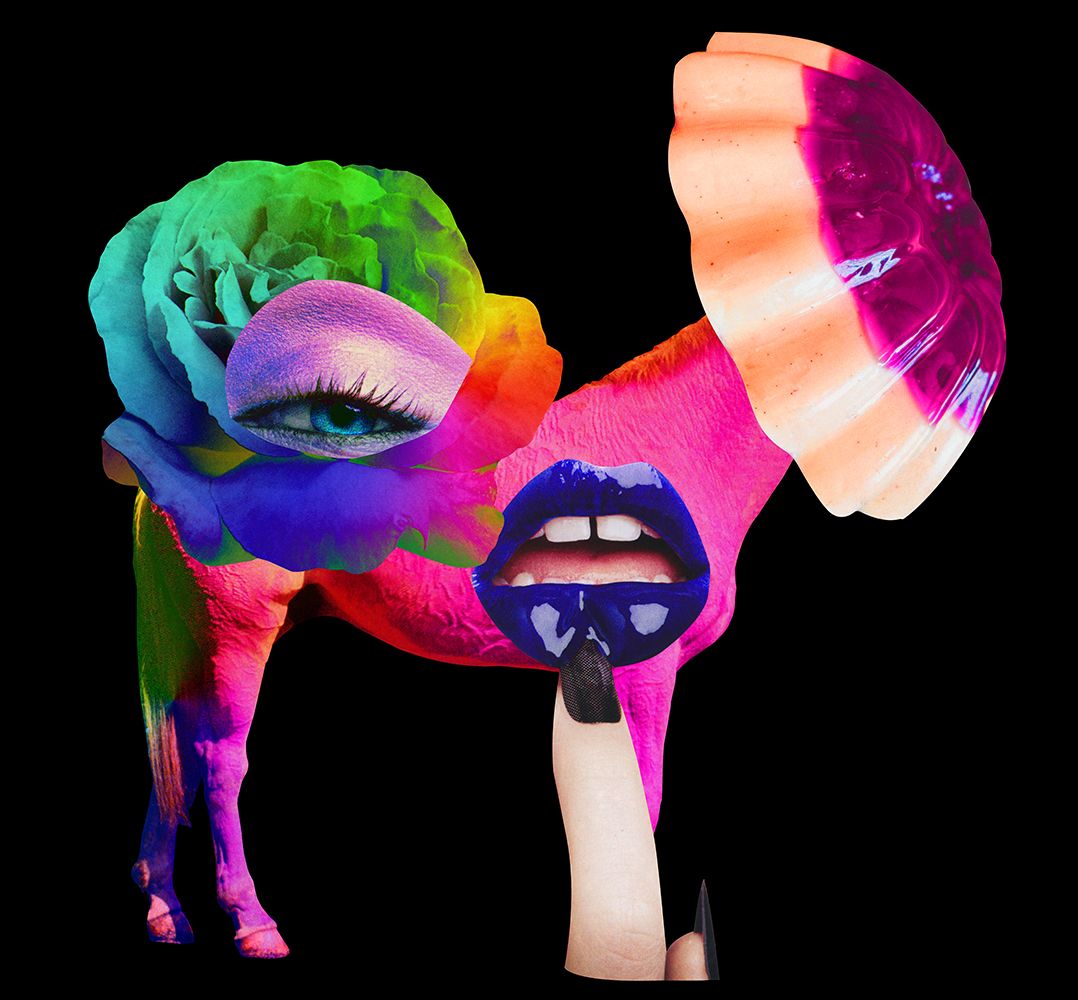 Holly-Anne Buck – Collagism
What is art? Has there ever been a more difficult question to answer than "what is art"? The conundrum has been bugging artists, critics and philosophers for centuries, and yet the answer still eludes us.
If we have learnt anything from the centuries-long debate around the nature, meaning and function of art, it's that it can be many things. A laboratory for experimentation, for example. A language, through which we articulate feelings, concepts and ideas. A form of community building. An instrument for subversion, a catalyst for social change, a moment of rupture within our ordinary lives.
And art can also be a refuge from the challenges life throws at us, a space for caring and healing. With lasting effects on our body and mind, making and experiencing art are beneficial in reducing anxiety and increasing psychological and emotional resilience.
Drawing on the idea that art can in fact relieve the stress and strains of living in a world faced with mounting challenges, London-based artist, collagist and Kundalini teacher Holly-Anne Buck aka Collagism has decided to put her creativity at the service of our emotional wellbeing.
A firm believer in the benefits of yoga and meditation to enhance mental and physical health, reconnect with our inner self and expand our consciousness, Ms Buck has created Inhale Dreams, Exhale Memes, a "how-to" video tutorial series presenting simple breathing exercises and meditation techniques that are accessible to all.
Released during the artist's month-long residency with Lateral Geographies – the online artist in residence programme curated by 1883 Arts Editor – the series blends performance and video art with a dash of DIY panache, a pinch of humour and a generous dollop of transcendental wisdom to help us cope with the uncertainty and gloom of our current times.
1883 Arts Editor sat for a chat with Holly-Anne Buck to discuss her residency and ask about her upcoming projects, including 5D FUTURES, a video art portal and pavilion curated by the artist for the 5th edition of The Wrong Biennale (1st November 2021 – 1st March 2022), the bi-annual worldwide exhibition of digital art launched in 2013.
Hello Holly-Anne, thank you for finding time for 1883 Magazine. How did you become interested in the art of collage?
I remember being introduced to Pop Art when I was a kid, I had a coffee table book full of iconic art images through the Ages. There was a colour plate of Richard Hamilton's artwork Just What Is It That Makes Today's Homes so Different, So Appealing that I was transfixed by. I spent hours with that image breaking it down analysing all the details.
Then as a teen I began collecting The Face and I-D magazines, which were hard to acquire in those days in Australia. At the same time I began going to illegal rave parties. I was a baby raver, and we found out about those parties through a friend who knew a friend, who knew a friend type of situation.
I collected rave artworks and flyers, and my first collages were cut ups of those, images from The Face and I-D, and letraset poetry. Around the same time I recall seeing a Barbara Kreuger exhibition with rooms of giant images and text collaged on all the surfaces. I fondly remember aspiring to be an artist who'd create exhibitions like hers.
What artists do you think have most influenced you and your work?
Such a mashup of influences from life: I was born in Australia and have lived in Tokyo, London, NYC and Mexico City, living and breathing each place has become part of my aesthetic makeup. The artists who've made the most impact are: Laurie Anderson, Penny Slinger, Andy Warhol, Grace Jones, Tadanori Yokoo, Frida Kahlo, Leonora Carrington, Yoko Ono, Judy Chicago, Sophie Calle, Le Tigre, Anais Nin, Henry Miller and Rainer Marie-Rilke… just to name a few!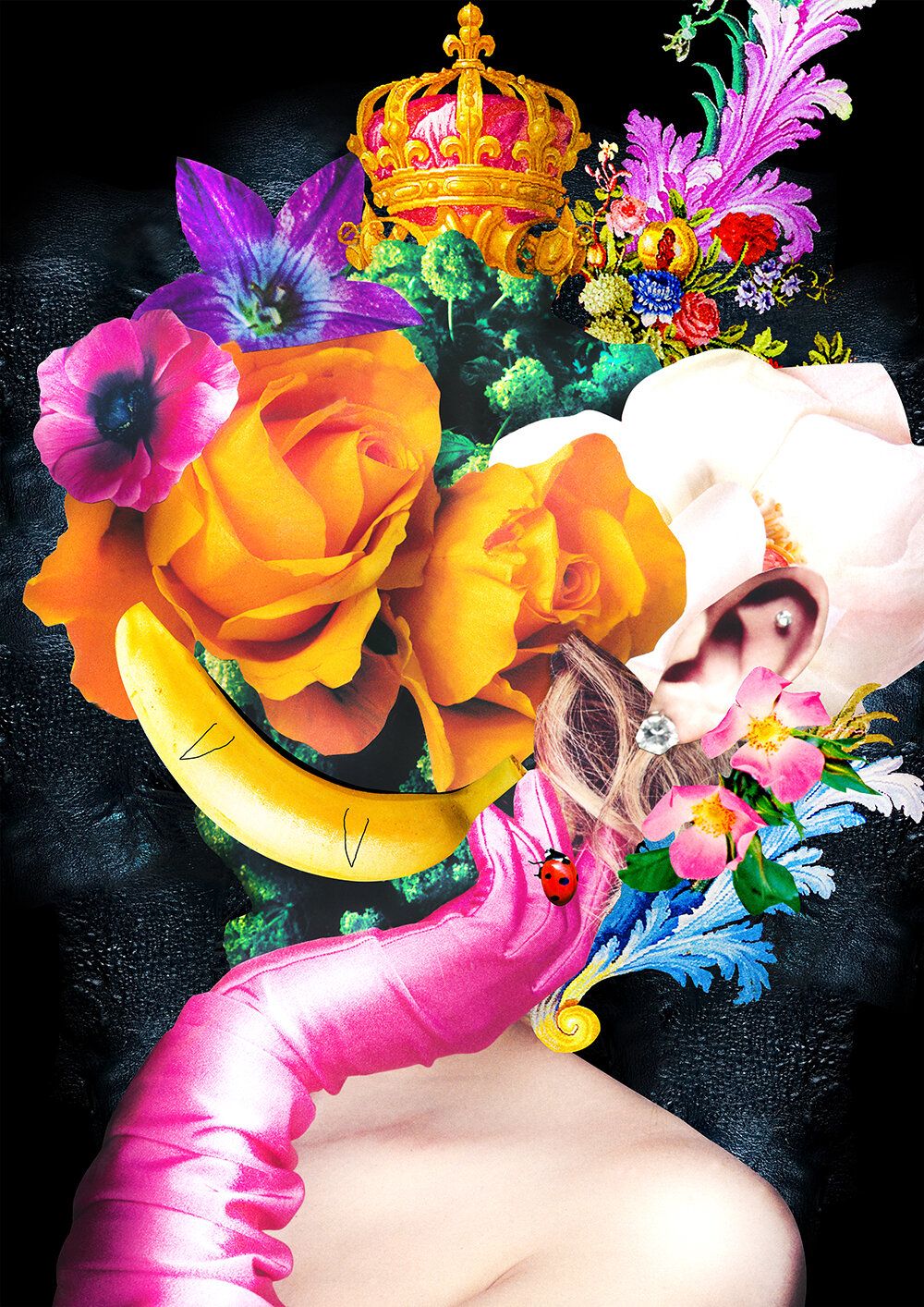 Collagism, Swoon Unit
Besides collage, what mediums do you work with?
My work centres around the medium of collage working with video, performance, site specific Installation and textiles. I'm always looking for new ways to create with collage, particularly through experiments with technology, moving image, sound and the body.
Tell us about Inhale Dreams, Exhale Memes, your project for Lateral Geographies.
This is a project I've wanted to create for a longtime. Through my exploration of the spiritual world and Kundalini yoga I noticed that the Wellness Industry can have an aesthetic that is hard to relate to. Although it's not limited to linen, dreamcatchers, perfect bodies and green smoothie in the hand 24/7, it can be a recurrent theme. I wanted to meld my art world and Collagism with my spiritual practice and to experiment with that format.
During the pandemic in London/NYC most people I spoke to had suffered from varying levels of anxiety. In these big, over-crowded cities where you can't find respite in nature and the dangers of catching COVID were real, the fear mongering was the virus that affected mental health of perfectly healthy people.
Creating meditation videos to give my audience some simple exercises that actually work was my plan. It seems so simple but our breath is the foundation of life. We start life on an inhale and end it on an exhale. Our breath is the foundation of everything we do. Usually when we are suffering from anxiety or stress our breath is shallow and simple breathing exercises can rapidly change our state. I wanted to share some of the basic meditations and breathing exercises that literally anyone can do, anywhere, anytime… they work!
Is Lateral Geographies the first online residency you have taken part in?
Yes it's my first experience of online residencies and I'd definitely love to do another one in this medium. I was curious to try the format of an online residency as I'd seen many appear during the pandemic lockdowns. Artist residencies are a big part of my art practice and I have done one a year since 2015 in many formats.
One of the things I love about residencies is going to a new environment and connecting with art communities. I wasn't sure how Lateral Geographies would be since I'd be working in my own studio in London alone. I worked out a plan and structure for the month where I would be creating and also working on curating my project 5D FUTURES. Within my studio complex is a photographic studio which I took the opportunity to use for the first time. It was great to experiment with the green screen and use that equipment in the creation of Inhale Dreams, Exhale Memes. I wanted to push my creative skills and learn new tricks in After Effects. I pushed that process devoting loads of time to Youtube tutorials learning alpha channeling, glitching and video editing. I used my Instagram for feedback – where we would have crits for feedback in a residency. Of course that's a completely different approach and I would say in person crits are better for critical feedback, but the instantaneous nature of IG to a massive audience gave me a quicker and better idea of what is working creatively.
Through the curation of 5D FUTURES I reached out to many artists daily and have expanded my network. Whilst that wasn't part of the residency, I created space for that and worked really well. It was great having a deadline each week to submit my videos which really got enabled me to streamline my process by the completion of the residency. Thank you for having me!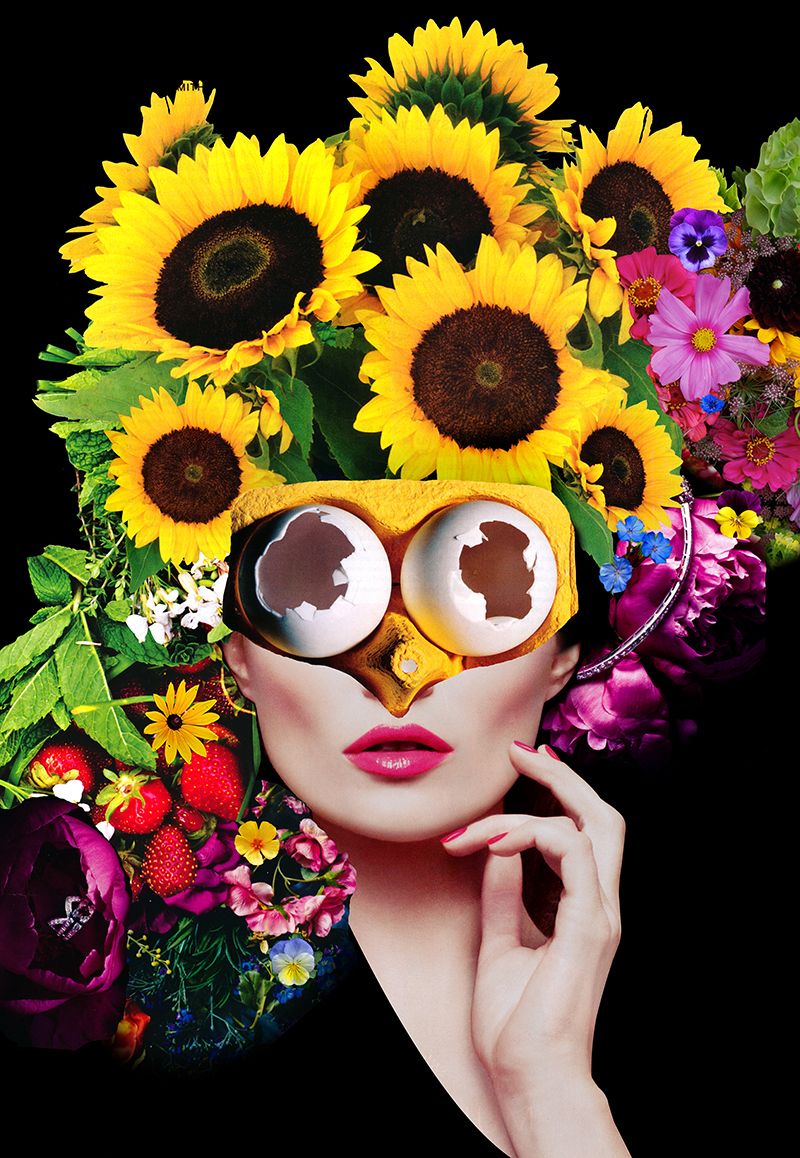 Collagism, Full Bloom
You mentioned 5D FUTURES, the video art portal and pavilion you curated for the 5th edition of The Wrong Biennale; can you tell us more about the project?
5D FUTURES is a portal to hardcore happiness! I wanted to create a space for the things I love – the intersection of video art, performance and spiritually. I felt compelled to give back to my art community as we'd become isolated and disconnected during the pandemic. Also, I aimed to create a project that brings together a group of intergenerational artists at different career points.
The theme of 5D FUTURES is The Elevation of Consciousness and works explore that from all different angles. It takes a close look at the current situation we're faced with and offers all sorts of alternate realities to choose from. Works range from CGI to performance art, how to's and documentary style films.
The woks include: Antonio Trimani's controversial film Spirit Cooking, featuring Marina Abramivić; David Henry Nobody Junior's Mushroom Man; Marjan Moghaddam's fantastic virtual worlds populated by her signature digital bodies; artist Yali Romagoza meditating her way out of capitalism; The Fandangoe Kid and Tara Darby's dance rituals as a way to navigate through death and grief; and my Collagism How to meditation guides for those with a sense of humour and aesthetic discernment.
5D FUTURES questions and provokes, and offers a flow of solutions. It's anti-establishment, ritualistic, truth seeking, meditative, subversive, chakra believing, made of neon colour explosions; it's a new paradigm, a wellness revolution, it's long slow deep breathing, imagined temples of healing, bold open hearts, soul stirring, intuitive minds, embodied bodies, ones to watch, it's about cellular beauty, Shakti power, transformations, self-sensory systems, introspection, uncensored ideology, futurism, we are the alchemists of change, it's poetry in motion, co-conspirators of joy!
There has been a lot of talking lately about the so-called digital revolution reshaping the art industry; what is your take on the subject?
I graduated from my post graduate as a digital artist in 1999 and we were ready to take the world by storm with a digital revolution in 2000, if we made it through y2k that was… the millennium bug was set the ravage computers worldwide! I devoted that decade (2000s) entirely to digital art, mostly video performance art. I lived in Tokyo for a couple of years so was immersed in tech art and the electronic music scene. I travelled the world and performed with my creative partner creating audio visual shows and making digital art. We created an audio visual album, a dvd, and I'd make wild audio visual performances. What we were doing was pioneering – these days it's completely common place which is I think why the mainstream has finally cottoned on to the digital revolution.
What we were doing back then is now equivalent to working with holograms and AI, so soon that will become common place. Now that a lot of our life is networked and reliant on our phones, laptops or whatever device, it makes sense that everyone is making art on these devices and that art will be consumed this way. Old mediums continue of course, people like what they know and with everything changing so quickly people cling more and more to old ideologies resistant to change. NFTs are exciting as this is finally a way for artists to monetise their digital creations and the block chain keeps a record of editions and pays royalties to the artist each time they resell. The future is awesome!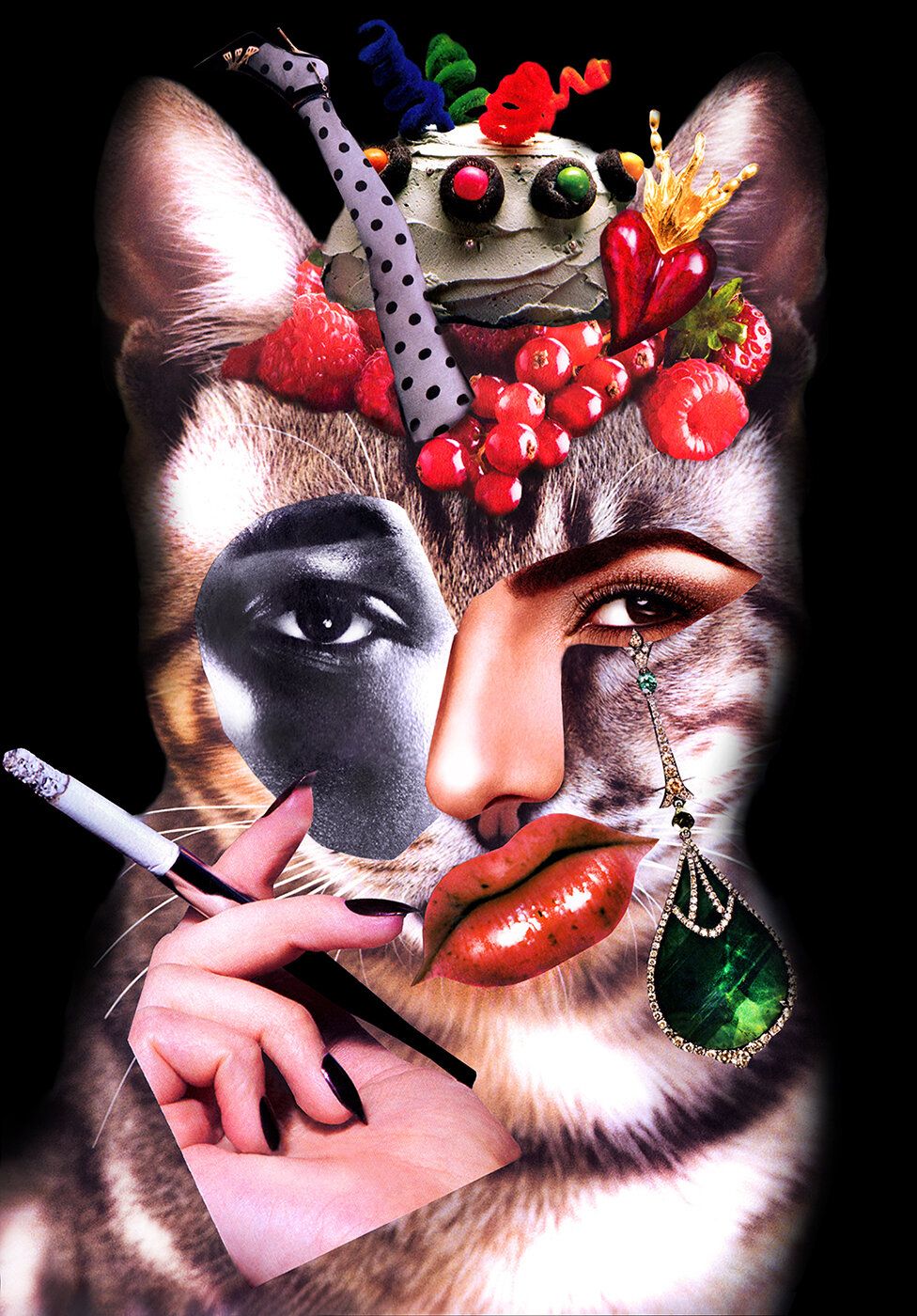 Collagism, Queen of Bethnel Green
And how do you think the revolution will affect your work as an artist?
This is the exciting moment I have been waiting for two decades so I intend to enjoy it!!! Naturally as more people learn about technology and digital art becomes more common place in the home it provides greater opportunity for digital artists. I intend to make more art, collaborate and have more fun, now and forever, this life and the next!
Finally, what does the future hold in store for you?
A lot of art making, the launch of 5D FUTURES into the stratosphere, releasing NFTs, brand collaborations and a solo exhibition coming in 2022. Also the release of more Inhale Dreams, Exhale Memes meditation and breath work videos and live classes! Love, adventure and plenty of dancing…
Inhale Dreams, Exhale Memes is on display on Lateral Geographies.
5D FUTURES Launches 01.11.21 – 01.03.21 as part of The Wrong Biennale.
Words and interview by Jacopo Nuvolari