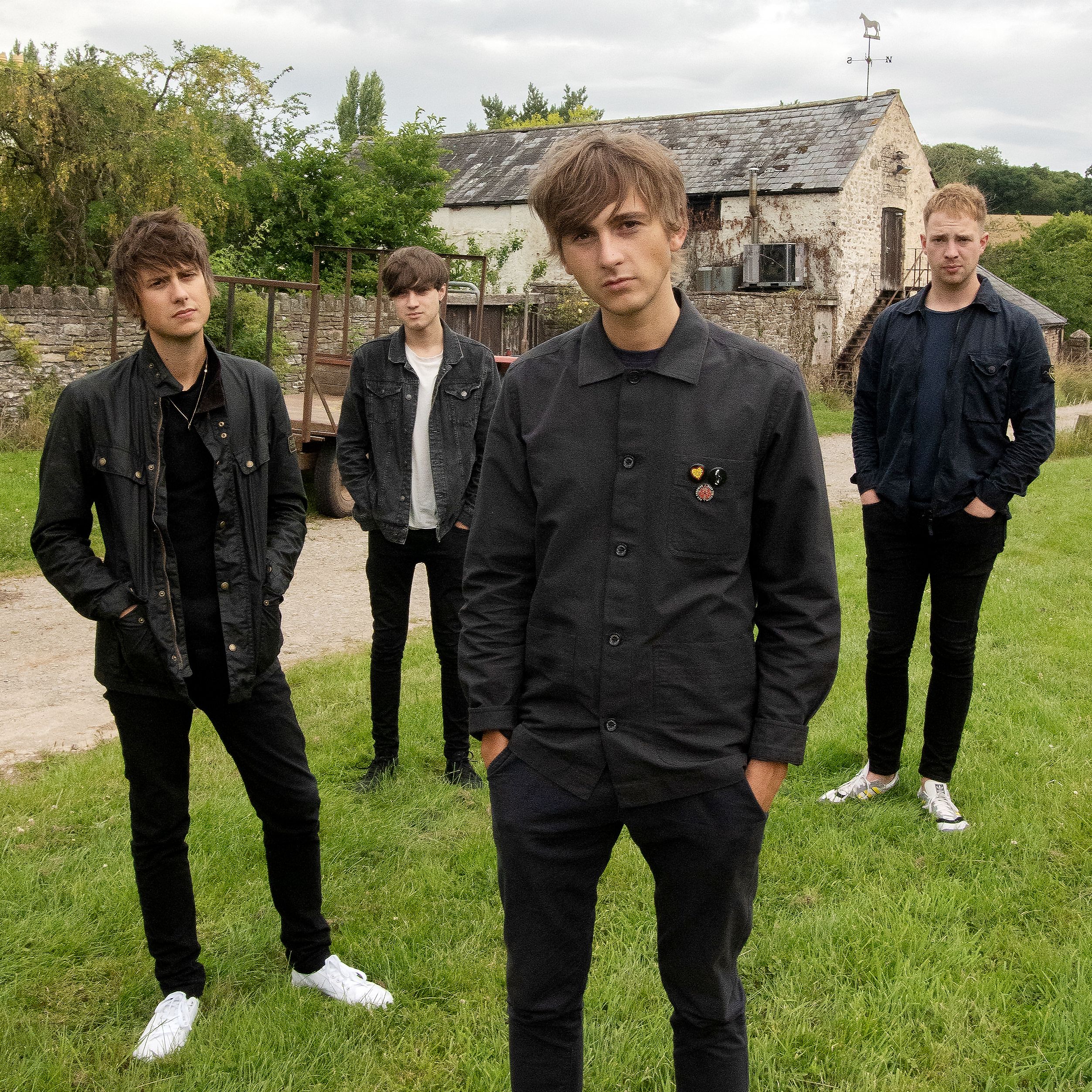 The Sherlocks – End of the Earth – Premiere
With a fresh sound, fresh line-up, and a new music video for End of the Earth, premiering today exclusively on 1883, there isn't much stopping The Sherlocks from dominating 2021.
It's been over two years since The Sherlocks' critically acclaimed UK Top 20 LP Under Your Sky. Today, the British Indie Rock band, made up of brothers Kiaran Crook (lead vocals, guitar) and Brandon Crook (drums), alongside new members Alex Procter (guitar) and Trent Jackson (bass), marks their triumphant return to the music scene with a video for their latest release End of The Earth. The long-awaited comeback record is described by the band as "quite punk rock for us, a slight change in direction." Yet, it is a direction with which their fans seem immensely pleased. The newest single announces the group's return with fanfare befitting the genre; the rhythm-led track, overlaid with energetic electric strings and accompanied by crisp vocals, is sure to catch the attention of any listener.
The music video is no different. While it isn't a flashy grand production, the black and white visuals focus on the band just being a band. With live music more or less on hold over this past year, it comes as a refreshing reminder of the talent that lies behind the artist. Shot in Eiger Studios, the band's practice room in Leeds, we get a glimpse, albeit on a small scale, of what is to come, when The Sherlocks can get on the road again.
End of the Earth marks the beginning of a new era for The Sherlocks. With 2021 UK Tour dates scheduled and on sale for the Fall and a third album ready to be released, the upcoming year looks like it is gearing up to be a big one for the band.
1883 caught up with Kiaran Cook to talk about the group's new music, what's changed in the past two years and what the future might hold—plus the exclusive premiere of the End Of The Earth music video.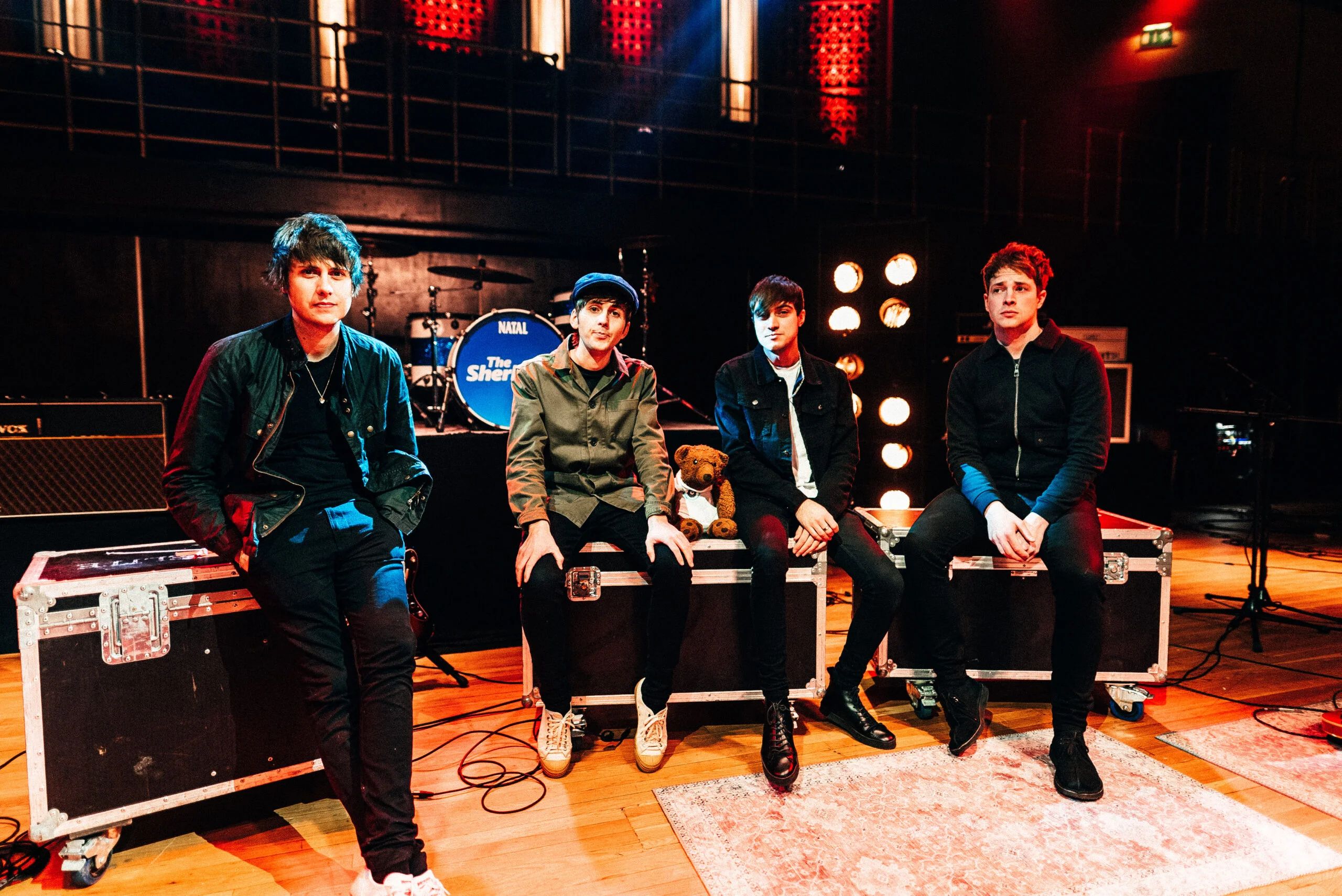 After 2 years since Under Your Sky, how does it feel to be releasing new music?
It feels mega!! Honestly, we're all so buzzed to finally have a new tune out with End Of The Earth. It's a proper tune as well, one that will be chaos when we finally get back playing gigs! But yeah, I'm just happy to see everyone buzzing over the new tune, we've got the best fans in the world. As far as new stuff, we've never been sat on as much new music as a band and it's a great feeling, our third record is by far our best yet!
How would you say the band has grown as musicians and songwriters since Under Your Sky?
I'd say not loads as musicians, well speaking for myself… Obviously we've got a new guitar player now and he's class on the guitar though! As far as songwriting, I've been writing more than ever! This time during the pandemic has really made me more creative than less I'd say!
End Of The Earth is a slightly new sound for the band, what, if anything specific, prompted this change in direction?
Nothing prompted the change in sound for this single to be honest, we'd already finished recording our third record by then and we just wanted to go back in the studio and have some fun with a track that wasn't part of the album. We didn't overthink anything with this one, we just smashed it out!
While it is different in tone, what about your new single do you feel fans will connect to as distinctly "The Sherlocks?" 
I'm not sure, I think we've just got a sound that's recognisable now… maybe my voice, along with our guitar riffs, Brandon's style of drumming all mixed in with the combination of a big tune… that's just us. I write big choruses and struggle to write tunes without a good chorus to be honest. Trent and Alex have definitely had an impact on the sound as well, so many good ideas were put into this track!
End Of The Earth is about how far a person is willing to go for someone they love. Love and relationship was also a common theme on your past albums. Has your experience with the emotion changed in the past two years?
Some have secret meanings, I just use the music to navigate which angle it comes from… I've always been more about the music and making good tunes rather than focusing on the subject of the song.
Tell us a little bit about the music video for End Of The Earth and the inspiration behind it.
The music video was shot in Eiger Studios our new practice room in Leeds. It was very quick to make and that's what we wanted. We didn't want it to be a flash video, we wanted it to look exactly like we were in practice, which we were… a little bit like Foo Fighters would do back in the day or someone like that.
This is the first big release since the band's lineup changed. How has it been navigating a new lineup while also figuring out writing and recording music together? Did it somewhat feel like you were starting fresh like a new band?
Yeah, that's exactly what it felt like. As far as writing, I've always wrote the songs myself, but that doesn't mean people can't add to them. As for recording, we literally had two rehearsals with Trent and Alex before going to Rockfield Studios, Wales for three weeks! That's madness! What other band would do that these days, we literally got to know each other through living together every day and drinking together every night. It was a class time for the band, and since then we're really close.
There are already rumors swirling about a third album. Is this new punk-rock sound, something fans can expect to carry on through your next album? If not, what can they expect? 
Yes, in spells… the new record has a bit of everything. Loads of different sort of songs, something for everyone… as an album it's banger after banger. Every tune is class, huge choruses, huge hooks! Honestly it's a MEGA album! Can't wait for everyone to hear it!
The energy of your live shows is something for which you're quite well known. With the upcoming Sessions live stream, are you planning anything that will help that energy translate digitally?
We played an out and out rock'n'roll gig. No tricks, just banger after banger along with a couple of new tunes! It was quality and everyone seem to love it!
With tour dates officially scheduled for the end of October, what about playing to a live audience again are you most looking forward to?
Just seeing everyone together again. We've missed that probably more than most bands as our fan base was literally built on the live scene. Something special happens at gigs that you don't get anywhere else, it's magical in a way. So yeah, I can't wait to see people on people's shoulders again and just having a crazy time again!
With it seeming like some degree of normalcy becoming attainable in 2021, what are you most excited about for the new year?
Dropping our third album will be a big highlight of the band's career so far. When you're sat on the album that we're sat on, you feel very confident that our fans are gonna love it. Releasing that album, and seeing the fans in gigs again… if they can happen then I will be buzzing!
Check out the video for 'End Of The Earth' below, follow The Sherlocks via @thesherlocks
Interview Sydney Bolen
[embedyt] https://www.youtube.com/watch?v=gVkjIM_GfAU[/embedyt]