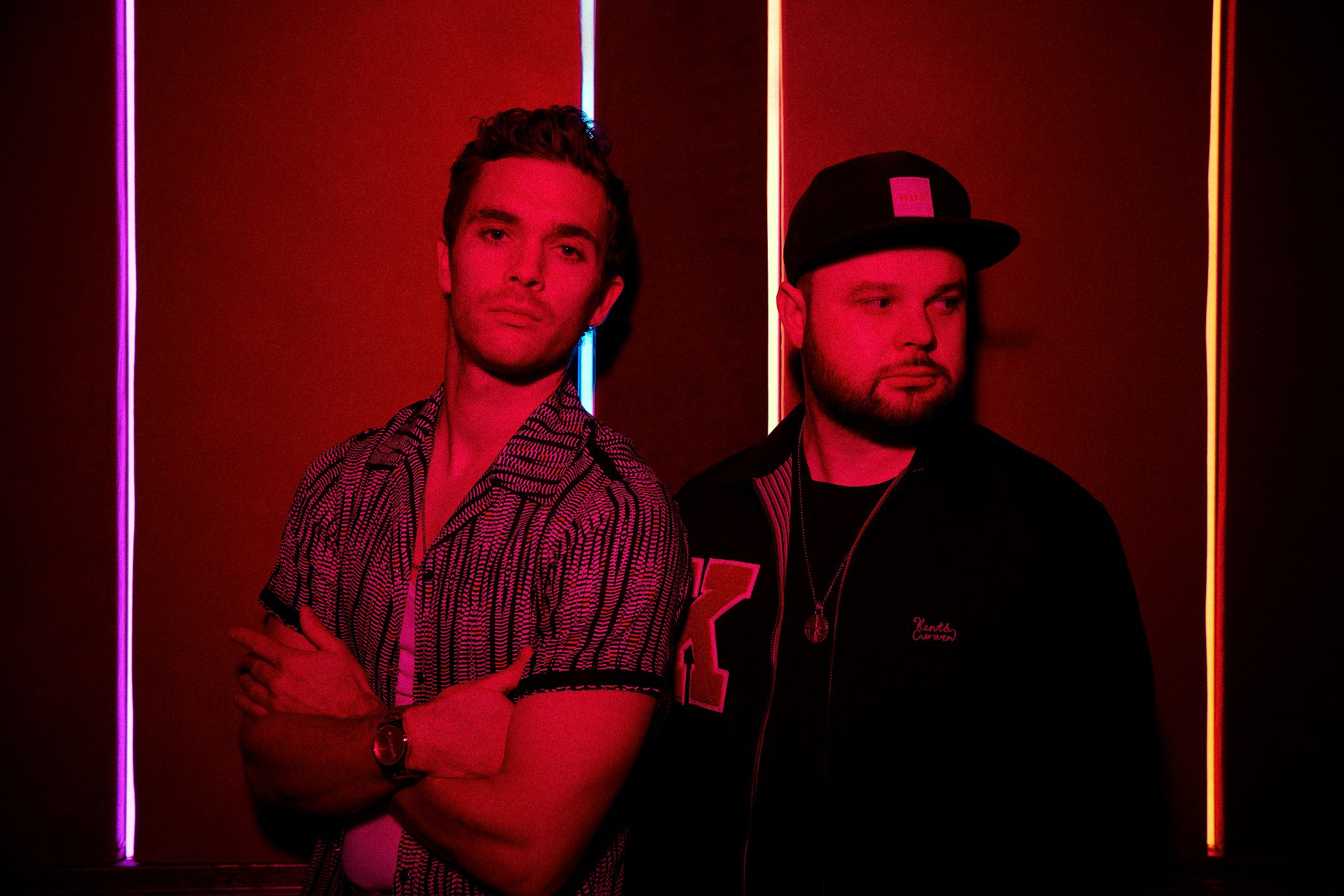 Royal Blood
Brighton-based rock duo Royal Blood are back with their forthcoming new record,
Typhoons
.
After spending their first album campaign in 2014 on what felt like a "ramp of insanity" and continuing their stratospheric ascent on their second UK no.1 album with How Did We Get So Dark? in 2017; Mike Kerr and Ben Thatcher have cemented themselves as bona fide rock legends. Touring the world, causing chaos wherever they are and boasting an impressive list of famous fans, Royal Blood has risen to a prominent status thanks to their inimitable sound. Heavy bass riffs, thunderous drumbeats and ferocious live shows are just some of the things that the band has become well-known for.
But now, the pair are finally descending from that ramp of insanity and putting their collective feet back on the ground, with the new record, Typhoons. Mixing up the Royal Blood formula and determined not to make a record that just sounds like the previous two albums, the pair have self-produced their "most confident" record to date. Typhoons taps into danceable grooves and melodies that the duo previously thought wasn't possible for a band like Royal Blood but they've pulled it off. It's a record that is both tremendously exciting and potentially their most reflective and honest album so far. Throughout the record, you can pick up lyrics that give an insight into the demons and battles Mike Kerr has faced over the last few years. Yet ultimately, it's a record that has helped Mike and Ben rediscover their musical roots pre-Royal Blood. If you had to sum it up: It's a big Royal Blood party with the addition of a gleaming disco ball.
In conversation with 1883 Magazine, Royal Blood's Mike Kerr discussed the new LP, traveling around Australia before the band took off, why they love Brighton and the extreme highs of performing live.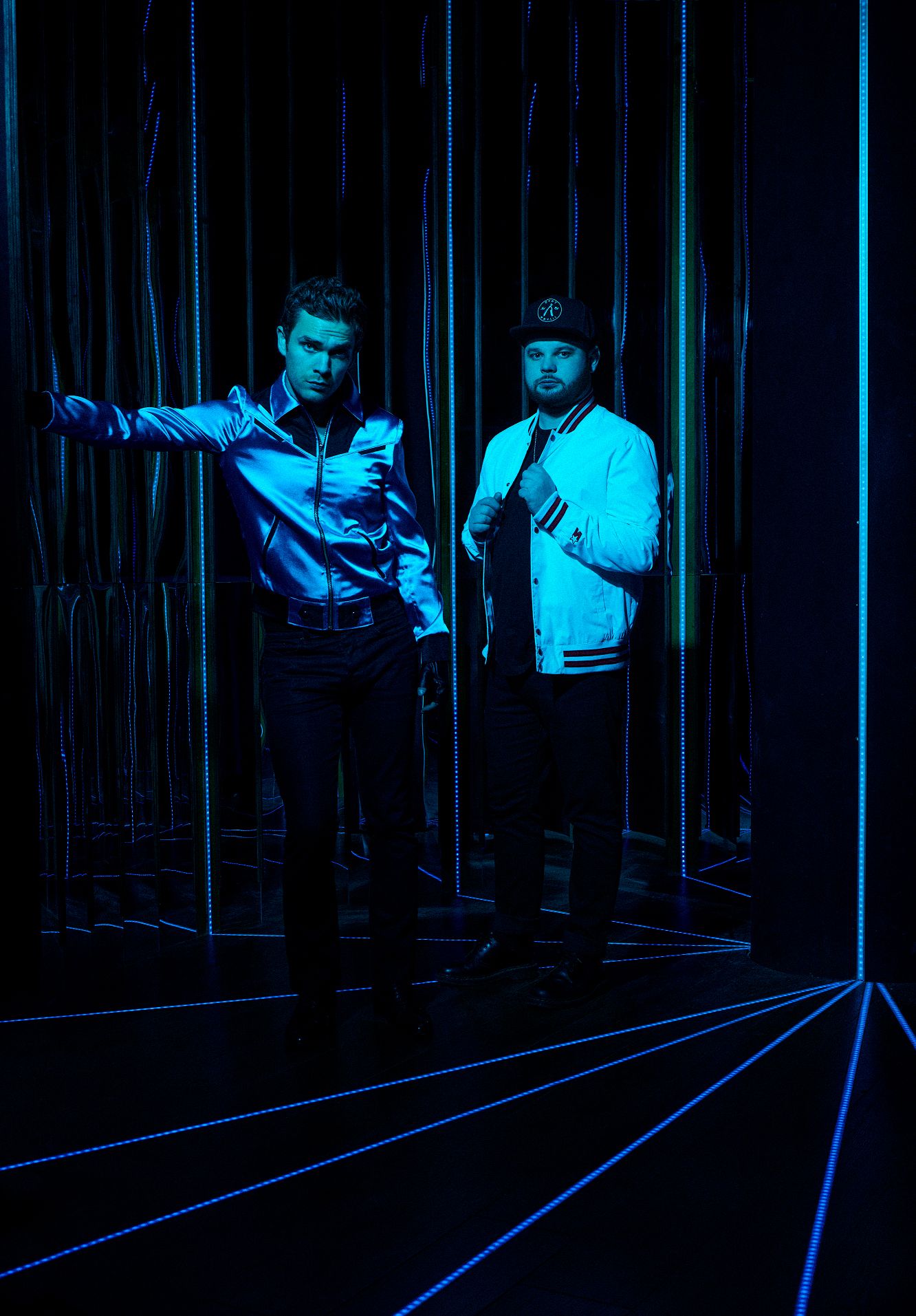 Hi Mike, the album is out very soon and congratulations on your recent personal milestones – you received your two-year sobriety chip and also completed a charity run for Chestnut Tree House Hospice. How are you doing at the moment? 
Yeah, I'm doing good thanks, thanks for asking. It's been a lot leading up to this part of my life and it's really exciting you know. There was a time not so long ago where the idea of being in the position of releasing another album seemed so far away. To have the album that we have and to be finally in this moment is awesome.  
It's a very exciting time and all the main singles such as Trouble's Coming, Typhoons, Limbo and Boilermaker have been well received. As the record spices up the Royal Blood formula, would you say you are more nervous to release it compared to the last two albums? 
I think it's the most confident that we've felt about putting music out to be honest with you. We've lived with it for quite sometime and none of these songs have lost their edge and I still go back and listen to them, it's not something I want to see the back of. Yeah I think it's the most fun-sounding album we've made as well and I guess we feel accomplished by it because I never thought we would be able to make music like this. It's music that is inspired by music that I didn't even know how to write songs like that and to be in a position making music like that, it feels good.
It has far more groove compared to the last two albums, so it's nice to see a new element to the Royal Blood formula… 
We've listened to Typhoons and it's a fantastic record. For us some of the highlights are Oblivion, Million And One and the long-anticipated track Boilermaker. As Boilermaker had its live debut before any other track off Typhoons, was it always intended to be on the record? 
We never wrote off the idea of that track [Boilermaker] being on the record but we also didn't want to decide too early as we didn't want to restrict what the album could be. But when it came to piecing the album together it just worked, I guess it's just a little bit of a stand alone track but to be fair, so is All We Have Is Now and Who Needs Friends. I think all these tracks do have a through line, I think the swing and the kind of big band inspired, bombastic, sort of Fresh Prince Of Bel-Air drum beat, it sort of fitted into the dance floor vibe of the rest of the album you know.
So yeah, it kind of had to go on the album and I think our fans would have killed us if we didn't include it as well.
This record is Royal Blood's first full self-produced venture and It's interesting to hear that some of the tracks on the record are the original demos. What original demos did you keep? 
So we kept Typhoons, Limbo, Mad Visions and I think that's it. Maybe those three are all demos really, except the drums which were then recorded last actually which is unusual but I think I just captured a lot of great guitar tones and vocal takes in the demos of these songs, that there was no need to re-record them. And if anything, the idea of chasing something that you did before is… I've done it before and it's not that inspiring. So, we kind of stayed true to the demos, I think we captured some magic with them. 
Can we talk about the outro track on the record, All We Have Is Now? It's an emotive piano-led tune that is beautiful and totally different for Royal Blood and it will definitely surprise some fans once the record is out. How did this track come about?
That track… I was working on a completely different song that didn't make it onto the record and I felt like I was bashing my head against the wall with this idea and I just got obsessed with these two chords. They're not particularly complicated chords but it was just a pattern I got obsessed with and it just got the idea going. I really didn't write the lyrics down, I think I just sang it all in one go on a voice note and it became this idea for a song.   
I eventually played it to Ben one night and he was like 'it's really cool, you should record that so we have it' and yeah, we didn't even mix that song, we just laid it down, roughly balanced it out, bounced it down and it just felt like it belonged on the record. I think we've always… well I've always certainly wanted to… I started out as piano player and I think there was a little bit of frustration as I felt like Royal Blood wasn't allowed to do that kind of thing. It's a really special song and I'm glad it's on the record.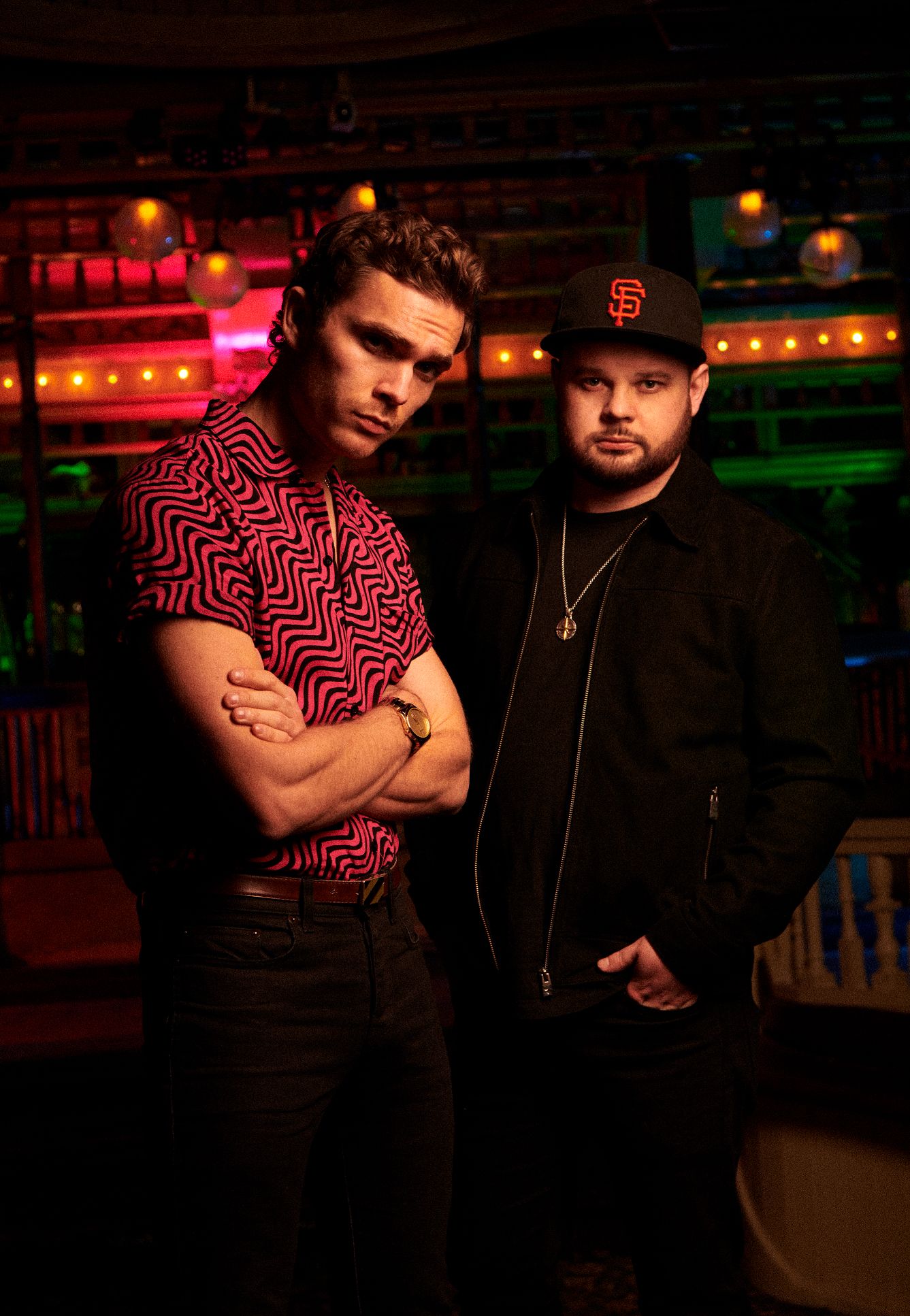 It's great that you and Ben are friendly and supportive of other bands, such as when Ben wore an Architects tee during your blistering and celebratory 2017 Glastonbury Festival set. You're also good friends with Brighton's Black Honey. How thrilled are you that Architects got a very well deserved UK No.1 Album and Black Honey's new record was a top 10?
Ultimately those guys are my friends and I'm so stoked to see my friends doing well. Izzy [From Black Honey] is someone who I love, we've toured together and I love writing with her. She's a genius and she is such a visionary and her imagination is unbelievable. And I think that is one of the cool things of being friends with creative people, you have this edge to your friendship which you don't have in other ones. Yeah, I'm so stoked that Black Honey are being heard finally and being understood the way they are.
Architects are also amazing, I have a very good friendship with Sam in particular and they are absolutely smashing it. They've been going a long time you know and put out a lot of records and it's great to see them where they deserve to be.
Let's go back to the start Mike, in the early 2010s you were traveling around Australia and you effectively started what could be called 'Royal Blood 1.0' with drummer Matt Swan. And you had the early version of Royal Blood classic Figure It Out and more, already made. The band started to build traction in Australia as Triple J premiered the song Leaving (later re-recorded and renamed Come On Over). What spurred you to go back home and restart the band in Brighton rather than continuing in Australia?
I think I had never really been a singer before, being that far away from home gives you that feeling of being able to step out of your comfort zone as it's around strangers. The truth is being in Australia was never a long-term plan for me and my friendship and musical chemistry with Ben was always something I meant to return to. I didn't know anyone in Australia as well, so I think I ran out of time there. Emotionally, I was ready to go back to where I belong and obviously it was the right thing to do.
Following on from that last question, it goes without saying that Royal Blood would not be what it is today without Ben Thatcher, drummer extraordinaire. You became best friends in your teen years and both played in the band Flavour Country. Mike, tell us about the moment when you and Ben realised that Royal Blood was different and special compared to the previous musical endeavours you guys went on and tell us what you admire about Ben?
I think I've always been fascinated by the whole reason that I met Ben. The context is that I walked into a venue and he was onstage playing. I've always been fascinated by his drumming, he's a very unusual drummer, it's so tight and he's influenced by so much that he's this chameleon of a drummer, he can shapeshift. Just his energy just behind the kit as well, I think you really are just as good as the drummer, and good drummers are hard to come by. As soon as I had a friendship with Ben, he's someone I've definitely cherished as I knew his value as a drummer and a friend. 
So that was really the context on how we met but the funny thing is that the first band we were in together, he wasn't even playing drums, he was playing guitar. I wasn't playing bass, I was playing the keyboard but I definitely sensed that between the two of us we had chemistry but maybe not an entirely musical one. It was more that he loved causing chaos at the venues. He would run into the crowd with the guitar and I also loved that thing of hanging off the ceiling, being disruptive, going too far and being somewhat of a nuisance.
I think Royal Blood was just a great vehicle for us to do that sort of thing together. There was no one else in the band that was gonna stand out by not being like that and it gave us a podium to be mental on.
What we love about Royal Blood is that even though you're up there with rock royalty, you both don't take yourselves too seriously. Whether it's introducing yourselves as Sting and Stew from The Police during your BBC Radio One Live Lounge performance or crashing Rise Against's photoshoot and Ben doing a handstand, there's always an element of fun and humour. What career highlights so far would you say you have both loved and had fun with? Are there any stand out experiences that your fans might not know about?
I feel like we've talked about a lot of them, I think it's the novelty of us just touring together again and going far and wide and just being recognised by really famous and successful people has always been funny to us. It still feels like a bit of an in-joke you know. In terms of experiences that fans might not know about, I feel like I've talked about all the ones that are appropriate haha, and perhaps remained protective of the much more looser moments…
I will tell you a good story though, I once thought it would be funny to go inside the food lift on a plane, on an A380. I managed to fit inside the lift and I went down the lift and was stuck for ten minutes but that was quite funny. That's a good PG story!
That is a good story, thanks for keeping it PG for us!
Undoubtedly, two pivotal moments were your 2017 Glastonbury and 2019 Reading & Leeds Festival slots. But what doesn't get talked about a lot is the massive highs and lows that touring musicians go through. When you play something incredible like those gigs, it's going to have a huge effect on how you feel afterwards right?
Yeah, that's a good point. It's going to be strange going back to it but it is definitely something you get used to and climatised to. But yeah, you're right, it is a very strange dynamic. It's an extreme high you know and to come down from that is quite a weird feeling. Usually the answer to coming off stage after something big like that is an attempt to maintain that level of energy by whatever means possible. For me, that just meant falling into a lot of trouble really. The way I am on stage, it's an appropriate context for me to be like that person but when the show is over, you know, perhaps it's not as appropriate to continue on that frequency haha.
Whether it's hanging out with Queens Of The Stoneage's Josh Homme, Led Zeppelin's Jimmy Page, Metallica's Lars Ulrich or the legendary Dave Grohl, Royal Blood has gained some well-known famous fans over the years. Have you guys received any solid advice from anyone in particular?
I think the reason we've got on so well with a lot of our heroes and inspirations is because we just understand completely that everyone wants to just be treated normally. Any good advice for me has always been from example really, particularly my experience with touring with Queens Of The Stoneage, they never sat us down and gave us advice but the way that they treated us on that tour and to be honest, everyone around them, was advice in its self on how to really conduct yourself. They're so friendly and so accommodating, having been on lots of tours where you're the support band, it's not always like that.
So, it really had an effect on how we then conducted ourselves on our tours when we had support bands. Not that we were like dicks or anything but it made us realise the importance of being inclusive.
As you both champion other musical acts, which bands and artists do you both think are criminally underrated and deserve more attention – who would you recommend? We'd recommend Nova Twins and Arxx.
Yeah, I'd recommend Tigercub who are a Brighton-based band, we've known them for years and toured with them quite a bit, particularly in the beginning for us. The singer and kind of main creative, Jamie, is just a monster writer, an amazing riff writer and just a really creative guy. Whenever I hear them, I'm always amazed that they're not bigger really. I'd say them and Black Honey as well and I'm not just saying this because we know these people and because they're from Brighton. Tigercub in particular I was a fan of first and then we became friends and even though they probably live like a stones throw away.
I think Izzy is a genius, I think what she represents and I think her attitude towards creativity and her output is so underrated and under appreciated.
Speaking a bit more about Brighton, it's where you both call home, it's a truly special place that boasts BIMM Brighton (Brighton & Irish Modern Music Institute), Brighton Electric Studios, The Green Door Store and many other great places that nurture musical talent. Why do you love Brighton so much?
I think that reason has changed as I've been here longer. Initially it was to do with how many other bands there were here, we'd all rehearse in the same space and everyone knew each other and everyone was kind on the same side you know. But as time has gone on though and I think after going on tour and coming back here, I've learned to appreciate it a lot more. Having the countryside and being right by the ocean makes Brighton an inspiring place to be. It's a very like dramatic place, I think that side of it I never recognised until recently.
With the new record, you mentioned earlier that it's the most confident you've ever felt when it comes to putting out music, but what unreleased songs from the LP are you most excited to play live?
I think Either You Want It I'm excited to play live, the feel of the track and the atmosphere to it is like a flavour that doesn't exist in any other song we have. I also feel like… I don't know… a lot of songs on the record, it felt very easy to surprise people, which is a fun feeling and it became quite addictive after a while. I feel that one might take them by surprise.
Definitely, I think a lot of bands have that fear of when they get to the third album, fans will expect or even demand that things are drastically different or some people might be scared that the music will be exactly the same as what has come before. Has that sort of thing weighed on your mind at all? It's great that Typhoons mixes things up but it also has some of that Royal Blood sound that fans have grown to love.
Yeah, particularly once things got going, there was no worry about how it would be received or what people would think. It was really led by chasing the buzz of these new ideas you know. The same cannot be said for the second record [How Did We Get So Dark?] which to be honest with you, was made under circumstances or just concern really about what people were going to think. I'm really proud of some of the songs on that record but it wasn't a fun record to make.
Finally, you're headlining festivals (Truck Festival & Victorious Festival this year!), touring the world, putting out new music and rightfully enjoying yourselves but after achieving so much and smashing all of your goals, where would you like to take Royal Blood next – what's the next step? Your vision for the band must surely change with each new achievement?
I think that making this record has pointed out, it's a really good Rick Rubin point, "Don't decide on the direction, take the first step forwards and see where you are going." I think that is exactly how Typhoons came to be, it was really by taking some steps forward and not being afraid and allowing the direction to reveal itself. For me to kind of sit here on this interview or later on and try to think of where it's all going to go… I've just realised that it's not really up to us. It's about following wherever it's supposed to go.
Following whatever feels natural then!
Exactly, whatever feels good, that's the instinct that began the band, it created that first record and it's certainly the instinct that created this one as well.
Typhoons is out Friday 30 April. Pre-order the record by clicking here.
Interview by Cameron Poole