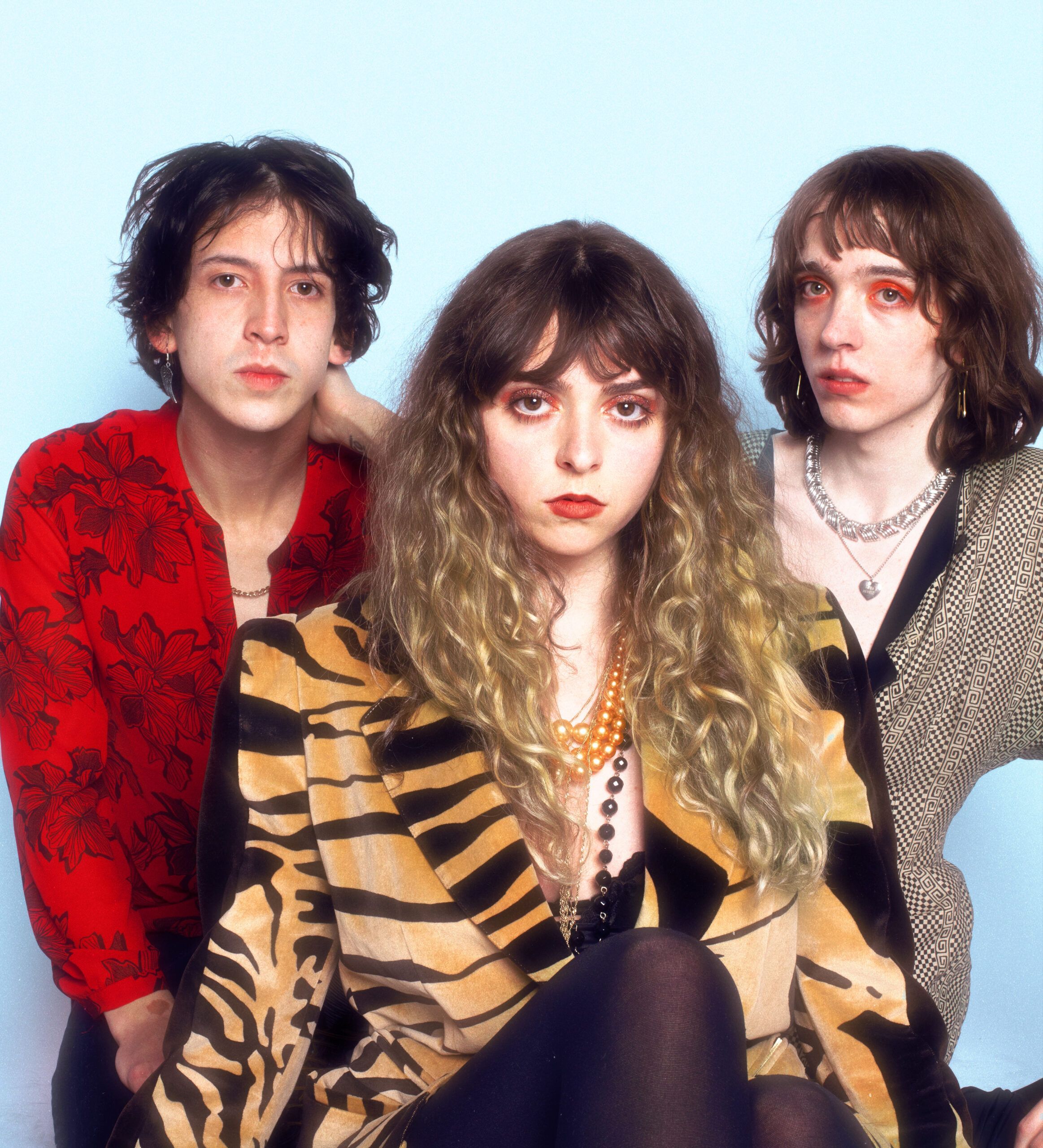 The Velveteers
American rockers The Velveteers aren't afraid to try new things when it comes to achieving their vision.
Originally starting out as a two-piece band founded by Demi Demitro and Baby Pottersmith, The Velveteers have always been perfectionists when it comes to making music. Their project started in their teen-years but admirably Demitro and Pottersmith didn't want to release any music until they knew it was good enough. Throughout the next few years, the rockers released a slew of singles and have been relentlessly pursuing their vision which resulted in the addition of a new band member, Jonny Fig. Now a trio with two drummers, the band is on the right path and thanks to their killer sound, hard work and touring efforts, they've grabbed the attention of the Black Keys frontman, Dan Auerbach, and signed to his label, Easy Eye Sound.
Finally Demitro, Pottersmith & Fig are ready for the world to hear their debut album, Nightmare Daydream, which releases next month. So with October fast approaching, 1883 Magazine's Cameron Poole spoke to Demi & Baby to chat about the forthcoming LP, their Guns N' Roses support slot, and more.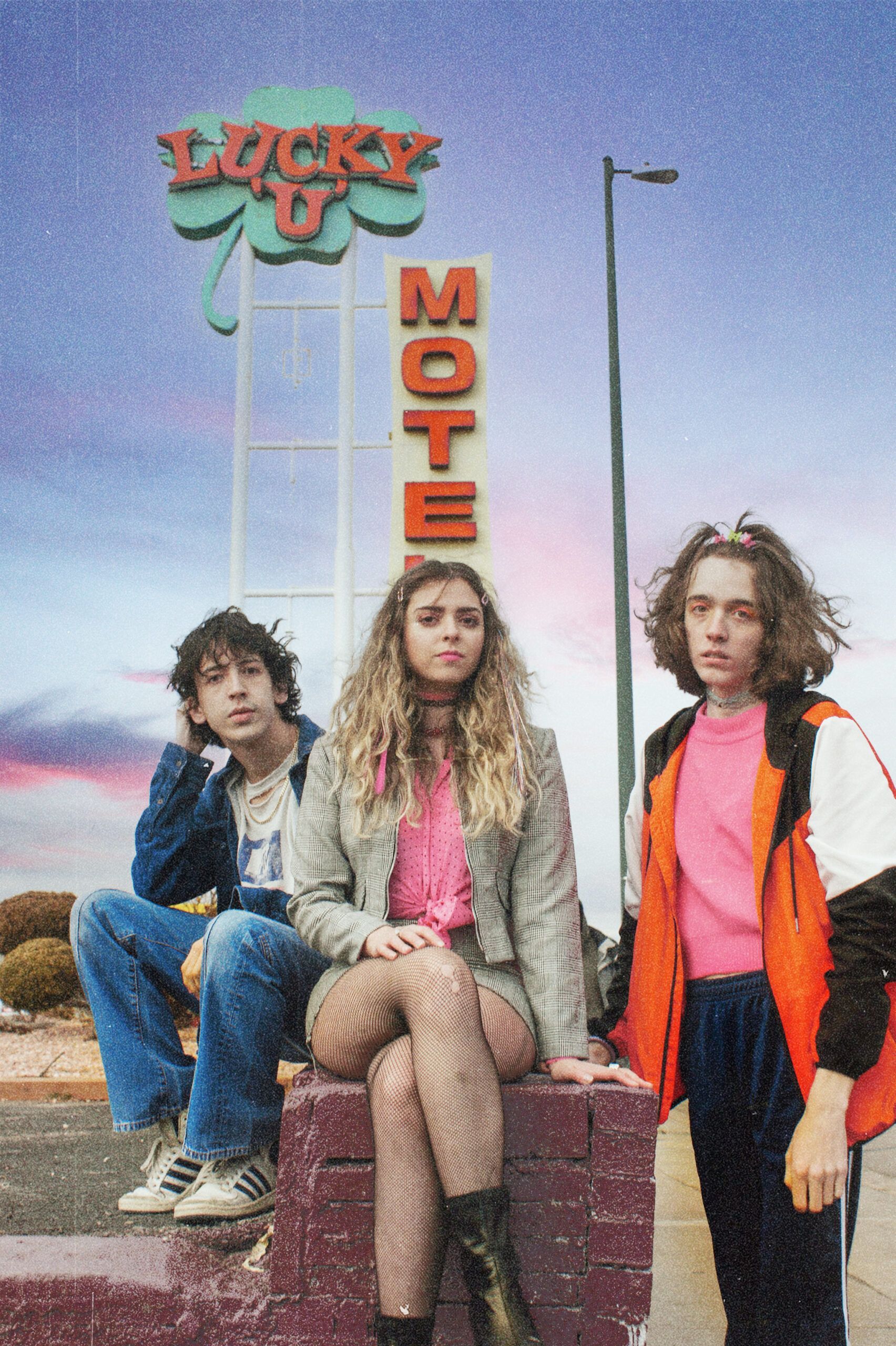 Hi Demi and Baby, can we just start by acknowledging that The Velveteers's debut album, Nightmare Daydream, is out next month on October 8th via Easy Eye Sound. Is the excitement setting in yet?
Demi: Um, it's definitely started kicking in, I'm still  processing everything. So I think on the day the album releases it will feel a little more real.
 Baby: Yeah, I agree. We've been so busy preparing stuff and making music videos that we haven't had a chance to think about it at all.
For sure, the band has been busy, shooting the video for "Motel #27" must have been really fun…
Baby: It was fun, we shot it a motel which is soon to be changing into a different motel, but it was a one star motel in Denver. There were  cockroaches everywhere and we spent two full days there and were there long into the night. It was definitely a strange experience, being in there with no air conditioning and it kind of felt like we weren't even being creative, we were just filming ourselves existing at this motel haha.
Either way, the end result was cool!
For anyone who doesn't know, when you started the band, you and Baby were quite young right? And you wanted to only release music when you knew the band was ready and when you had found the right label/team. I bet you didn't imagine that the Black Keys's Dan Auerbach would sign the band up to his label and then produce your debut LP. Tell us all about it… can you recall the moment when he first got in touch?
Demi: Yeah that was a crazy experience. I think we were just hanging out on our couch at home and playing our acoustic guitars, it was just a regular morning and all of a sudden we get a call saying that Dan Auerbach heard our music, and that he wanted us to come to Nashville to hang out with him. And we're like 'Oh what? That's so weird?' He wanted us to go to Nashville and hang out, they didn't really say too much besides the word 'hang out'. So, a couple weeks later we were headed to Nashville on a plane and we got there, we then got to see the studio and then we started realising that they were interested in signing us. So we all just start talking about music and what we had in mind for the future and it all just felt really right.
I'm glad it felt like the right match then, the music industry can be so fickle and you definitely need a team behind the band that appreciates the music and that is genuine. It can be such a big decision to bring someone into your art.
Demi: Yeah, totally. I think it's just that knowing feeling that Dan was the right person to work with. So that felt reassuring because like you said it is a big decision to kind of, you know bring someone into your creative world.
Baby: As far as that goes, he's an artist as well. He's been through it all and he knows what it's like to be an artist dealing with the label. I feel a lot safer working with him and the label that he started.
The band's got an interesting dynamic as there are two drummers. Why was it important for the group to have two drummers/percussionists? It must make live shows even more fun!
Demi: We started off as a two-piece so it was just Baby and I. Baby was on drums and I was doing lead guitar and vocals, and I feel we had kind of seen so many different versions of like the two-piece band. And I think when you're in a two-piece, it's very easy to  get labelled and then people will be like 'they're exactly like this band or they're exactly like that band'. I had seen The Oh Sees live and thought it was so cool that they have two drummers and then my head I was like it would be really cool if we kind of made like a loop hole within the two piece-band where we had two drummers, and then one guitarist and a singer because I hadn't really seen that before. We started trying it out and I just feel it opened up so many doors for us and really gave us the unique sound that we were always wanting.  And there is just so many weird things we could do with two drummers.
Baby: Yeah, and I always like to say we got tired of people telling us that we needed a bass player, so we added another drummer instead.
It's definitely a cool dynamic. Baby, as a drummer yourself, how has it been playing with Jonny? Was this the first time you've done something like that?
Baby: To adjust to having two drummers in the band, for me, I kind of had to really work on putting my ego aside. Usually there's one drummer in a band and you're the drummer. I had to let go of that. Myself and Jonny had to practice all the time, so we just became one, where we can predict what each other is going to do. And after putting in the time together, it really started to become this special beautiful thing that I'm really grateful for. It's really fun having another drummer you can drum with. You're jamming with someone who's also got the sort of musical brain as you.
Speaking of live shows, you recently opened for Guns N' Roses in Denver back in August. That must have been such a surreal experience, how did you both find it?
Demi: It was very surreal and it happened at the very last minute because they had this other band on tour with them that had to cancel because one of the members got COVID. So it was early one morning and we got this phone call from our manager and they said 'hey, you guys are opening for Guns N' Roses on Monday' and we were like what?! It was crazy. And so we had basically  a day and a half to get ready and we had to get COVID tests and  they were super strict about that which was cool. But it was just hard because we had to get a COVID test in time before the show so we were rushing around town  trying to get into all these clinics to try and get the COVID test in time.
Demi: We did that and then we were just practising like crazy and then it was time for the show. I think one of the nice things about it being so last minute was that we didn't really have time to like psych ourselves out. It all just happened so quickly, we got there and we had never played in a venue that big before, so we didn't really know what to expect but I think it went really well. We had a great time.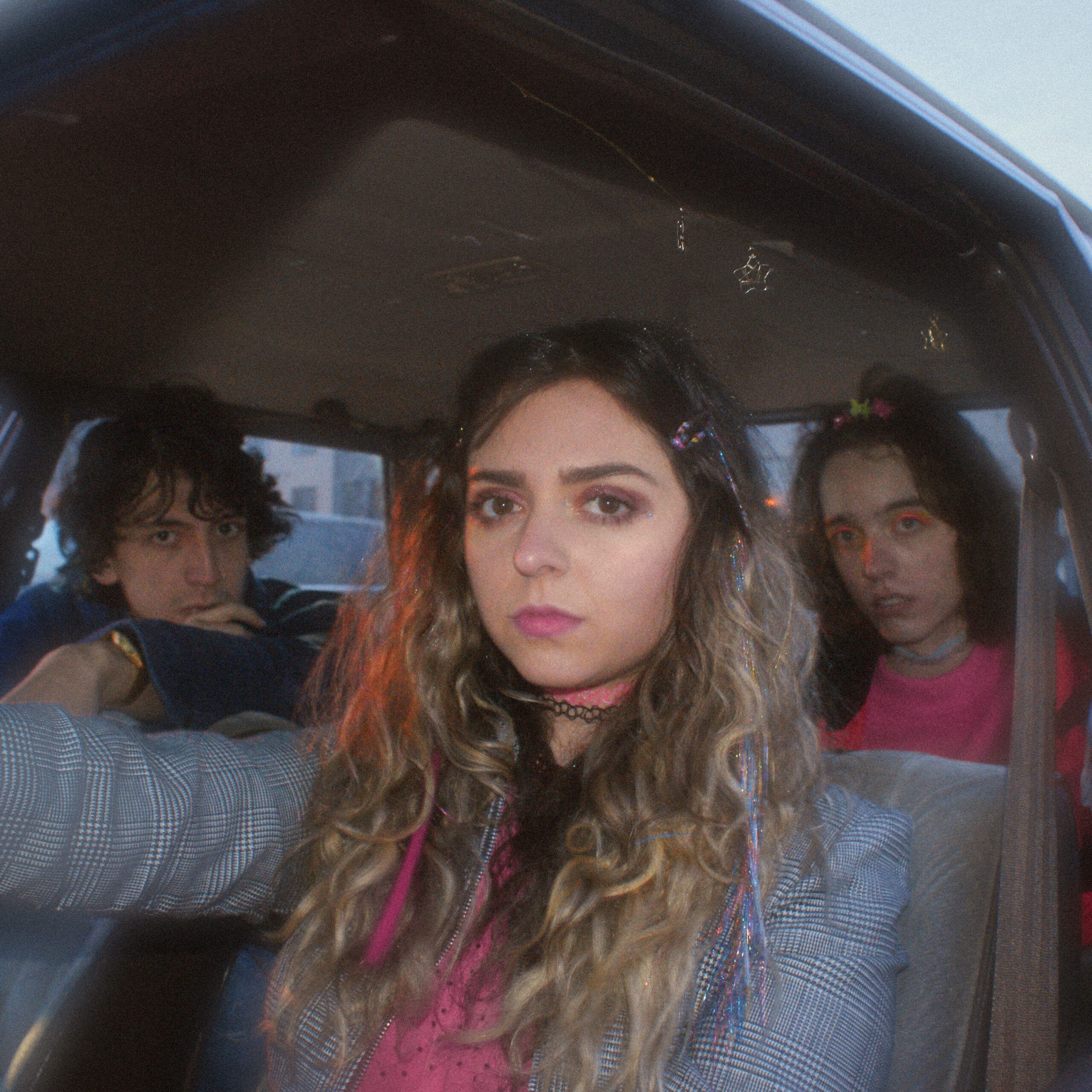 Let's talk about that band's early years, as I previously mentioned, you both didn't want to put any music out till you knew it was just right. Was it more just a case of you both wanting to experiment and find your musical identity? Or was the material at the time just not up to your standards? 
Baby: Maybe a little of everything you said. I think something that was largely guiding that mindset we had was the fact that we didn't want to have any regrets five years down the line. There was just a lot of other bands around us that were local and we were friends with, who whenever we talked to, they would express regret over the first couple of things they released. We just  work so hard to show that we care a lot about the music we're putting out. So the last thing we wanted was to not be proud of the first thing we released. Outside of that factor, it was a lot of just perfectionism and not thinking we were ready yet.
Demi: I think the other thing that we were so young when we started. I think we just knew that there was going to be so much growth in all aspects of the band from how we wanted to be perceived and to our playing.  I think when we started I had only been playing guitar for a couple months, so there was a lot of room for us to grow and we just wanted to make sure that we could release something that we would be really proud of.
If you could curate your own music festival, who would be on the lineup? Obviously The Velveteers would headline!
Demi: Oh my gosh that's a cool question…
Baby: The Marías,  Bockhampton….
Demi: PJ Harvey, Queens Of The Stone Age, Nick Cave, The Stooges, Twin Peaks, they are all really cool bands. 
Baby: And Starcrawler!
I think the UK deserves another Velveteers tour, can we expect the band to make it over here anytime soon?
Demi: I mean there's no official plans yet but I'm really missing the UK. I've been talking about it a bunch this year. I just wish we were in the UK right now! But we're hoping for next year at some point. 
Fingers crossed, do you notice many differences between the shows you do over here in the UK compared to the gigs the band plays back in the US? A better way to describe what I mean is if you take Reading & Leeds Festival in the UK, the crowds go absolutely crazy for live gigs, but at Coachella in the US, it's the complete opposite, it's more tame and less wild.
Demi: Yeah, it's definitely been different for almost every show we've had so far. We went on tour with Deap Valley, that was our first UK tour, and those shows were crazy. Everyone was really rowdy. And then we've played shows here in America where things have also been really rowdy but we've also played shows where everyone's just standing there, so it's definitely different. We did two headline UK tours a couple years back and again, it was always different. But one thing I did notice is that a lot of people like like to videotape In the UK, at least at the shows we were playing. There was a whole group of these guys in the front row that just had cameras.
Like proper cameras, not just phones?
Demi: Yeah, there was a bit of both. There were guys on their iPhones, there was other people that had actual cameras, and then there was this one guy that had an old flip phone. He was taking pictures and videos the whole time and then he uploaded it online and you couldn't hear anything haha. So that was interesting, that's not something we usually get over in the US.
Baby: The two festivals you mentioned, there's definitely a clear difference in the audience. At Coachella, it's not even a music festival anymore. At the forefront of it obviously more people go there so they can brag and tell friends they went to Coachella. I think a lot of the festivals in the UK, like Reading & Leeds, people go there because they love music and all they want to do is rock out and sing the songs and dance which is awesome and very refreshing compared to a lot of festivals here in America.
Finally, when it comes to debut records, there can be pressure on it to do well as it's sort of the main introduction to a band. With Nightmare Daydream, what do you hope fans and music listeners take from it? Is there a certain message or philosophy behind the record? 
Demi: I wouldn't necessarily say there's a certain message behind the record but I I think we really believe in the album and all the songs on it. And we believe in what we're doing, so I think the most we could ask for is just that people enjoy it. But if they hate it that's fine too, you know, just as long as people listen to it that's cool with us.
 Baby: Yeah, I don't think there's a clear cut message that guides each and every song on the record but I know that something that was in our heads when we were making, and preparing the songs for the record was that we wanted to dwindle the songs down to their simplest forms. And we just really wanted to focus on the songwriting of each song and trying to eliminate any bullshit surrounding them. We just wanted to get the songs on this record to their clearest cut form and deliver just that.
Nightmare Daydream is out October 8th. Follow The Velveteers @thevelveteers
Interview by Cameron Poole