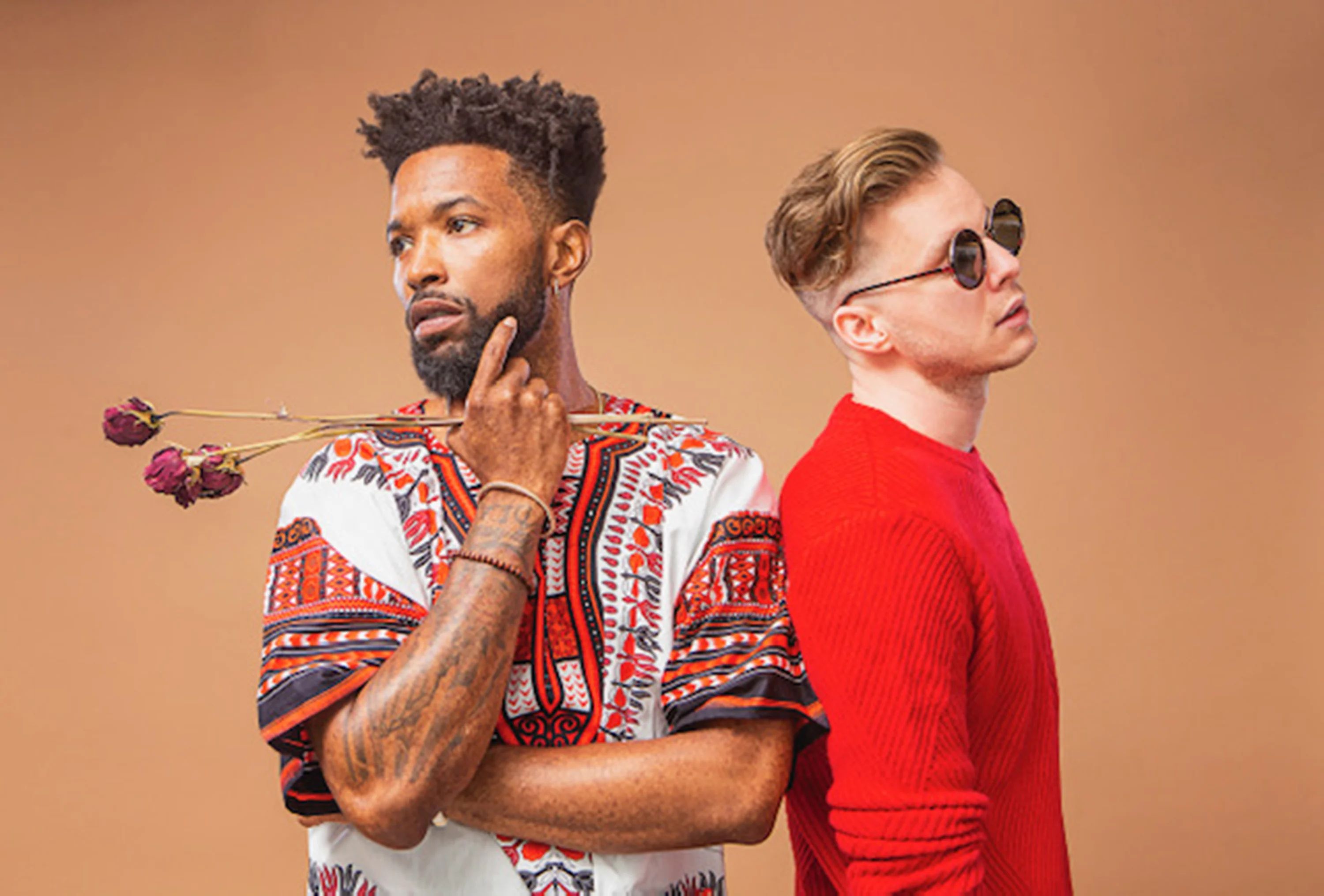 WOLVES
Meet WOLVES, a band whose infectious melodies will quite literally leave you howling with joy. Consisting of Marc Avery and Sean Carney, the Los Angeles based duo have fashioned their own unique sound, dubbing it "Surf Trap".
With each member hailing from various cultural backgrounds, WOLVES has developed its own style, leaving a distinct paw print across the plains of pop culture.
The band's name was inspired by the characteristics of a wolf; majestic creatures bonded by an innate sense of the pack that move in harmony as one unit towards common goals. This is an attitude reflected both in their music and the way the pair live their lives.
Having already earned top spots on the Billboard charts and overwhelming support from radio station Sirius XM Hits 1, the band aspires for its music to inspire global audiences, with memorable melodies that are notably refreshing whilst giving a nod to the past.
WOLVES has just unveiled the lyric video for the lead single 'Say The Word' from their highly anticipated EP of the same name, which is out now.
You describe your music as "Surf Trap".  First of all, where does the term come from and secondly what does that actually mean?
Marc: We have a lot of different inspirations including Queen, Coldplay and Michael Jackson. Our sound is a culmination of beach boy harmonies and that new-age freeness you hear in trap music. "Surf Trap" is really just marrying old school soul with a new school flair.
How did the two of you meet?
Sean: Through a mutual friend of ours. He actually used to be a member of the band, but he left to pursue a career as a novelist. Marc met Rocky at Dave & Busters, which is the bar where he used to work.
Marc: Right, so I'm working and there's this guy at the bar. He's a little drunk. We get to talking about music and realise that we both are songwriters. Eventually, we worked on some things and he mentioned this idea of a band. That's when he brought up Sean to me, so I thought 'okay let's try it out'. I think 'Animal' which is probably one of our most popular songs, was the first song we worked on together. It was a magical experience, the chemistry was craaaaazy.
Sean: Finding something like what we have is so rare. It literally transfers into everything we do.
So, you guys are based out in LA, what do love most about the music scene out there?
Sean: Oh man …so many things! I was actually born out here, went out to Michigan for a while, but I made it back [laughs]. I love the sun, the food, the people, the vibe. Everyone is very chill and easy to get along with. We kind of live in a political bubble here. It's nice to not have the confrontations and the prejudice for being different.
Marc: Exactly. I'm a black guy with freckles, I've had to deal with not being accepted due to my appearance on a micro-level. I'm originally from Chicago and this is not a diss to my city but I feel like when I moved out to LA the colours of life were added.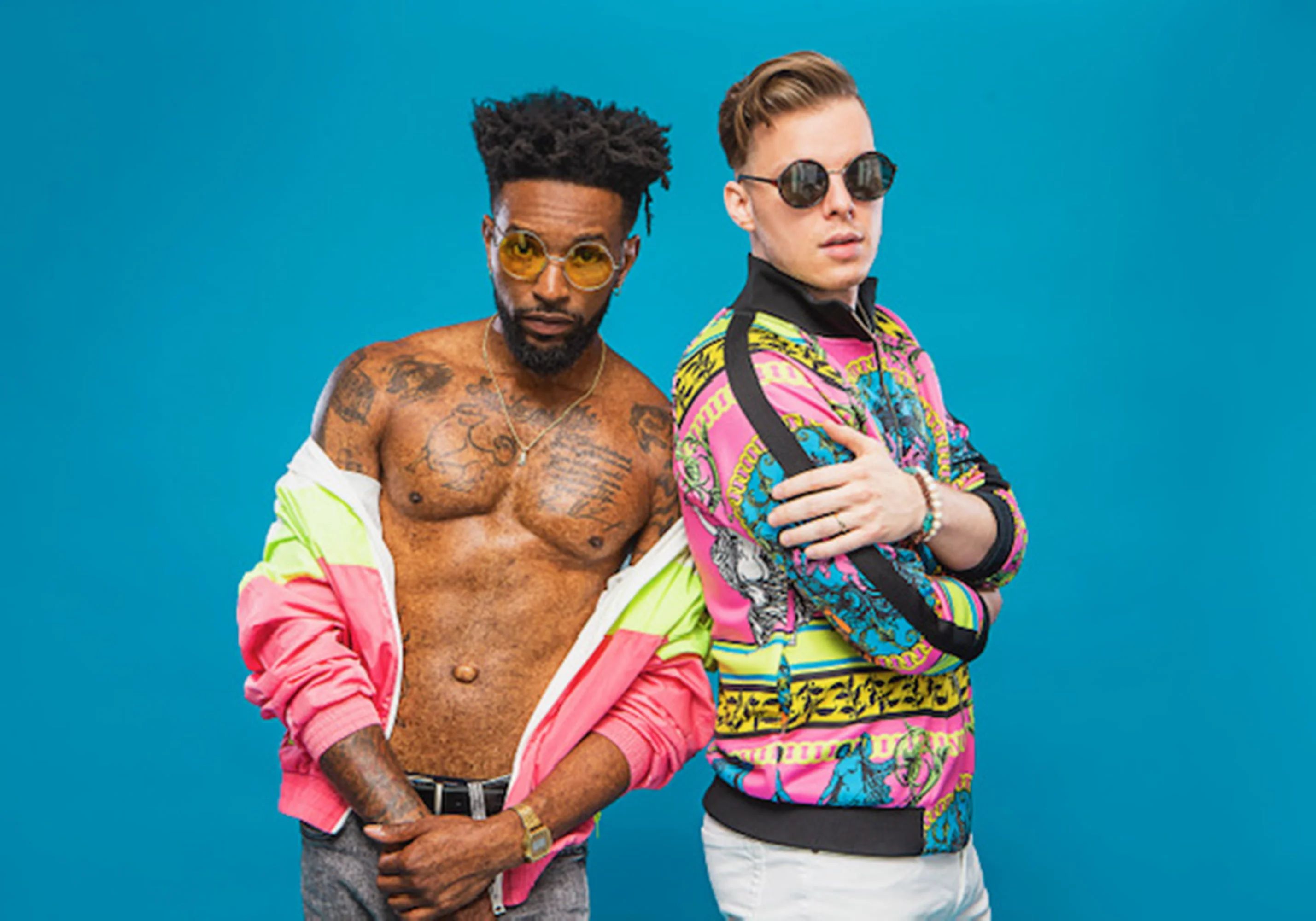 Okay, so we should probably talk about the fact that there are now only two of you due to Rocky's departure from the band. Are you in touch with him at all?
Sean: Yeah, for sure we will always be great friends. He didn't see the path for himself being music and that's okay.
Marc: That's a homie for life! At the end of the day, we are friends first. As his friends, we totally supported his decision. The door is always open for him if he ever gets the music bug.
When this happened did you ever think about calling it quits and saying maybe this is it?
Marc: Hell no!
Sean: Definitely not. What we have is magic, you can't really deny magic.
Marc: Sure, when you're a member down there's added responsibility, but we kept swimming harder. New skills have come to light as a result of the experience. So for me, I took on a larger role production-wise and we've been collaborating more too which has been extremely fun.
The two of you seem to have an incredibly strong bond, what are the benefits of working with someone who you are such good friends with?
Sean: Honesty. We can tell each other at any point if we feel something is terrible …or equally if it's great.
Marc: There's something to be said about being in the trenches with someone. We have each other's back. WOLVES is more than just a cool logo, although it is pretty cool right? [laughs]. It's an actual pack mentality and we feel really lucky that others want to join.
What would you say you each bring to the table?
Sean: Well Marc, as far as a frontman, there is no stopping him. I have NEVER seen anybody work at the pace and with the depth of how he writes. As a vocalist, he's got so much passion and power. Oh, and his energy on stage! I mean I have people come up to me all the time and say 'your lead singer is nuts, man'. [Laughs] Him on stage, there's really nothing like it.
Marc: Sean is one of the chillest people I know, but there is a fire that lies within him you don't want to mess with, in a good way of course. Something that I have always admired is that despite being a teacher, he is always learning. There is something very powerful about being so humble that you are always willing to learn. He also has wicked hair [laughs], that helps too!
Marc, rumour has it that you also dabble in acting. What sort of roles can we expect to see you in?
Marc: Well, I recently appeared in a music video called 'Crime Stoppers' by an artist named Peezy, in which I play a detective. I was also in a short film called Changes.
I am always thinking about the future though, so my dream role is to play Marvin Gaye in a biopic. I'd also love to play a superhero of some kind. Maybe something paying homage to Miles Morales as Spider-Man. I think it could be pretty fun to play a villain too.
What would your villain name be?
Marc: The Wolf, of course [laughs].
Somehow, I think I should have seen that one coming.
Okay, so let's get into your new music. You have a new EP entitled Say The Word out on August 30th, tell us a bit more about that.
Sean: We are absolutely stoked about the release of the project. We have actually been sitting on these songs for about a year. Of course, a bunch of things happened and we had to rebrand after losing a member. I am so excited about sharing it though. I truly believe that some of the best work we've ever done is on this project – everything we did was so meticulous!
Oh, and we had one of the best audio engineers work on this with us. He's actually from London and goes by the name of Hank Kaleen. Outside of that, the project has some awesome storytelling.
Marc: To piggyback off of what Sean said. This EP is for the ladies, let's stop playing around here [laughs].
You have songs like 'Kick The Habit', which is a love song that details the perils of passion. It's essentially about love being a double-edged sword. A reminder that everything that feels good ain't always good for you.
The last track on the EP 'Hold On For Tonight' ends on a high, yet sombre note. It talks about life and the issue of depression, actually, Sean do you want to speak on this…
Sean: …Yeah, sure. That song is actually very close to me. It's special in a big way. So, there was a friend of mine who took her life about a year and a half ago. We all saw her fighting but never thought that it would get to the point it did. The lyrics of this song reflect the words I wish I could say to someone who was in her shoes. My hope is that this song will at least give them another day.
That's really beautiful Sean.
I've got to ask. Will this EP include any of the rap elements we saw on previous tracks like 'Freaky'?
Marc: Well, you are just going to have to listen for yourself.  What I will say is that on the lead single 'Say The Word' I am rapping…
Sean: …No doubt, Marc brings it for sure!
Marc: We may or may not have another EP in the works, that may or may not feature some more rap. You'll just have to wait and see.
Anyone, in particular, you would like to work with?
Marc: I mean you've always got to put Drake and Beyoncé out there right? Another one that would make sense would be Chance the Rapper, especially because of that Chicago connection. In addition to that, we're trying to get out to London. The dream is to play at Wembley Stadium…
Sean: …a UK tour would be really cool!
Marc: Yeah …it would kind of be like what The Beatles did to us but in reverse. We'd call it, The American Invasion Tour.
Okay, final question. You've released several memorable singles including 'Animal' and 'Black Lingerie' and you're getting ready to drop a new EP, but is there anything else you want to achieve before the end of the year?
Sean: We want to lock in some tour dates with a major artist, which is something I believe is totally achievable.
interview by Ray Sang
photography Jeremy David
For the latest on WOLVES, visit www.thebandwolves.com