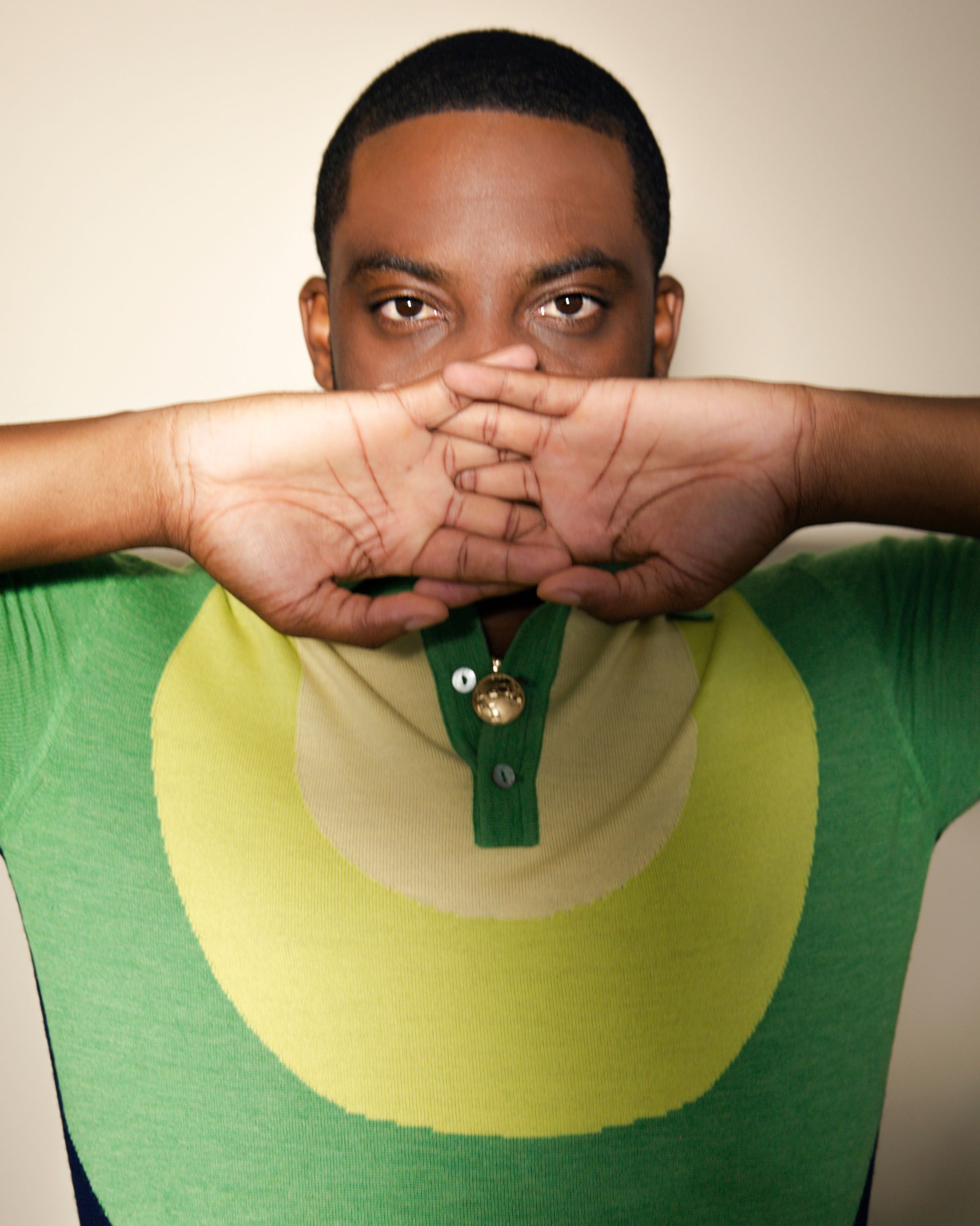 Woody McClain
A deserving beneficiary of social media's undeniable force, Vine sensation turned actor Woody McClain has positioned himself as one of 2020's most exciting rising talents. 
Starting as a professional dancer, performing with the likes of Chris Brown and Fifth Harmony, things began to change when a video highlighting Woody's comedic ability went viral. After catching the attention of Kevin Hart, Woody was offered a deal to produce content under an umbrella of Hart's company before shifting his focus to acting in 2017.
Woody's first acting venture proved equally successful, wowing audiences with his nomination-worthy portrayal of 'Bobby Brown' in BET's The New Edition Story and later reprising the role in The Bobby Brown Story.
He now takes on the character of 'Cane Tejada' opposite Mary J. Blige in Starz's spinoff Power Book II: Ghost which is scheduled to premiere 6th September.
Woody sat down with 1883 ahead of the show's premiere to reflect on his acting journey, the healing power of comedy and his plans for the future.
Talk to me about your transition from dancing into acting — what originally lead you down this path?
Social media played a big part in my acting. When I got to LA, the number one goal for me was dancing with the best. My friend Splack was the one who was doing Vine videos and was like 'Yo, you have to do these Vine videos with me' and I kept telling him 'No, I don't wanna do no Vine videos, I'm serious about this dance life. That's all I want to do.' Until one day, I got on Facebook and saw that he had a video that went super viral. It had like 20 million views. So, I called him the next day and was like 'So, about those Vine videos…' [Laughs] 'I kinda wanna do it now.' From there, I kept doing Vine videos and got into acting that way.
As someone who built quite a big platform on Vine, what advice would you give to someone wanting to leverage social media for their career?
I feel like they're different avenues. People think that just because you get loads of views online, you're automatically supposed to get certain roles or do certain things but that's not the case. You have to actually get into acting classes. It really is wise to learn from the people that actually do it, if it's something you want to do. Get in classes, stay active and read.
With that being said, is there anything you learned in your career as a dancer that helps you with acting now?
Umm… as a dancer you're always behind the scenes, right? Even when it comes to watching certain artists talk to people, you learn how to do that. I feel like dancing taught me how to treat people. How to be on time and be prompt. As a dancer, you can't be late. If you're late, you're fired [laughs].
Power Book II: Ghost is coming soon, so you know we've got to talk about that.
Very soon.
I know you are trying to keep everything under lock and key right now, but what can you tell me about your role in Power Book II: Ghost?
Oh my God… I'm trying to see how I can say it without actually…
Saying it?
Yeah [laughs]. Hmmm… what can I tell you? Well, my character is Cane Tejada. He's super unpredictable…
I can see that's all you're going to say on that, so let's get into you playing the role of 'Bobby Brown' in BET's The New Edition Story. Did you have any inkling as to how the role would alter the trajectory of your acting career?
Nah, I didn't. I didn't know how big Bobby Brown and New Edition were before I got it. I just saw it as another door that God had opened for me to go through and succeed in, and that's what I did. It was a lot of fun!
How have things changed for you acting-wise since then?
For the better. I'm getting a lot more opportunities and my confidence with acting has been building as well. That's what I really do enjoy about acting. Coming from being in the background, being able to play different people and different roles allow me to unlock these parts of me that I didn't know I was capable of.
What piece of yourself would you say is a consistent element you bring to all of your roles?
Um… we're all human and we all make mistakes. I love to grab and seek characters that are not perfect. Just because you're not perfect doesn't mean that you're not a good person. I like to get into those characters and show people the different sides of that.
In addition to Power Book II: Ghost, you also have two other upcoming projects: Death of a Telemarketer and The Restaurant. What can you tell us about those?
Ooo… The Restaurant is a show that I created along with my partner Brett Osinoff. I wrote and executive produced it. It's a show that I'm doing with BET, so I'm excited to start the casting for that.
Death of a Telemarketer stars Lamorne Morris my homie; great guy, amazing dude, he kills it! The character in that is completely different from anything I've ever done. I play a guy named Barry in that project, and I'm really excited to see that.
Speaking of things we've yet to see you try, what's one genre of film or TV that you'd love to do?
Sports! I'm a big fan of Remember the Titans and Coach Carter and I'm a big fan of working with an ensemble cast. That's always been dope to me, which is why I love Power. Power has such a great ensemble cast. It's just fun working with strangers that end up becoming family — I love that aspect of it!
Of course, I'd love to give a try to the superhero realm; that's every guy's dream. I'm in the gym all the time getting my 8-pack ready. I'm trying to have abs on my neck [laughs]. Is that too much?
I'm sure everybody would appreciate the visual. Outside of acting I know you're also quite heavily into comedy.
Yeah, I love comedy! I grew up watching Eddie Murphy, Adam Sandler, Martin Lawrence and I love those guys, man. I feel like we need more comedy today. Everything is so dark right now, and I feel like we need laughter. Laughter heals. So, I'm hoping that Hollywood will start doing some more comedies.
From my understanding, comedy actually led to your deal with Kevin Hart's production company Hartbeat Digital. How did that come about?
With the Kevin Hart situation, when I was doing my videos, I came up with the idea of taking Kevin's stand-up and acting to it. So, we still used his voice, but really told the story. We did it, posted it, and the next day it had 10 million views. The next day I got a call from Kevin Hart's people saying, 'Kevin wants to meet you.' We met and from there he was like 'You've gotta come do this series for my Laugh Out Loud network.' We did it, and that was a great experience. He gave great advice. In real life, he is so business and I thought it was super dope to see both sides of Kevin.
If someone gave you a huge budget to produce your own film. Who are the first three actors you are casting?
Oooo… oh my God… why did you do this? I have to go with one of my mentors, my homegirl and my acting coach… a great friend of mine Laila Odom; I have to call her, she's an amazing actress. She just did the Salt-N-Pepa movie coming out on Lifetime — I'm super excited to see that. I'd also have to call Mahershala Ali and Shia LaBeouf. 
Finally, what can we expect from you for the remainder of this year and beyond?
Man, I'm excited to see how the Power universe takes on the Cane character. Even going back to what we were talking about before, Cane is just a kid who is trying to follow in his father's footsteps. You'll understand what that is when you see the show. He's just trying to protect his family; he's that guy. He's all about family; family over everything.
And I'm just excited to produce more. I really want to work with my friends. That's the full-on goal for me. I want to be able to give these opportunities to my friends. I love how Adam Sandler was able to do these movies, and you see his friends in his movies. There's nothing better than going to work and working with your friends; that's super important to me. I believe that when you get the opportunity to reach back and pull somebody up, you should.
Team Credits
interview by Ray Sang
photography Taryn Anderson @ Exclusive Artists
styling Michael Fusco @ Exclusive Artists
grooming Chelsea Gehr @ Exclusive Artists using Hourglass Cosmetics

Power Book II: Ghost premieres 6th September on Starz!