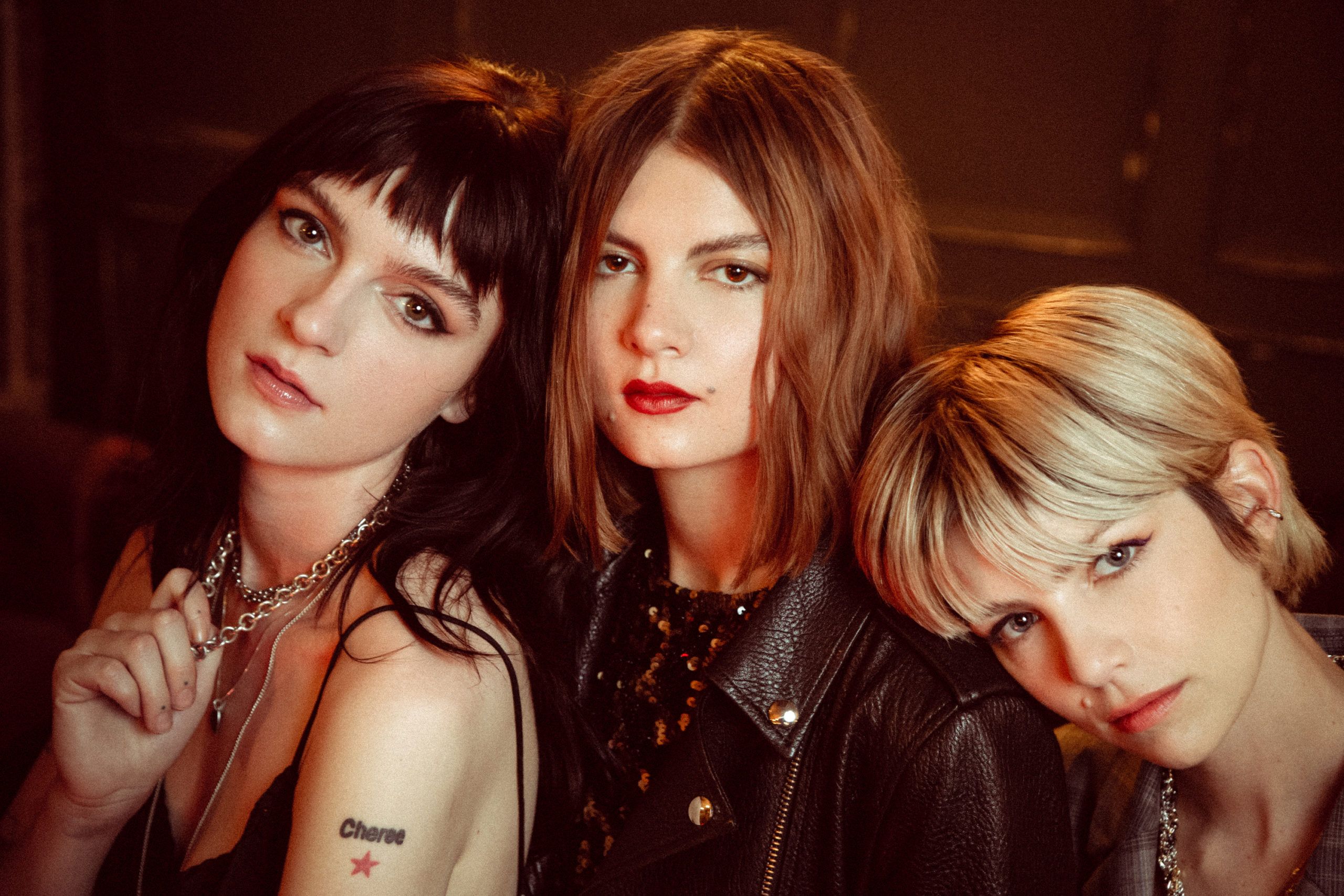 Automatic
Punk's not dead. In fact, it's alive and kicking through the likes of all-female group Automatic. You can take one look at the LA-based band to know that they're absolutely badass—and that's before you've even listened to their rocking music. 
Comprised of Izzy Glaudini (synths, vocals), Lola Dompé (drums, vocals) and Halle Saxon (bass, vocals), the trio released their debut album, Signal, and have recently announced a European tour starting next February 2020. Even if post-punk isn't your thing, it's hard not to get drawn into Automatic's compelling sound. Laced with hard-hitting bass, drums and cutting synths, their music tackles zeitgeisty millennial topics in spades.
We spoke to the band about making music people can relate to, quitting their jobs, and what's next for them.
You've just released your debut album, Signal, which features themes of anxiety and alienation throughout. What did you want to communicate through this record?
Halle:  First of all, we just wanted to try and make something that sounded different than what we were hearing but not too hard to digest either because we wanted to experience that connection with people through music. Each song started with a bit of a different story in our minds based on personal experiences, which I think people relate to as isolation and anxiety, but they're meant to be open-ended so you can draw whatever meaning you want.
You've said before that film has had an important role in the creation of your music. Which movies have had the biggest influence and why?
Izzy:  As a band, we're drawn to anything atmospheric and dreamy. I have a pretty big obsession with silent film and German Expressionist filmmakers like G.W. Pabst and Fritz Lang. I feel like there's an underdone of noir in our music.
Halle:  I had just seen David Lynch's Twin Peaks: Fire Walk with Me when we were writing and the mood and images from that movie heavily influenced some bass lines.
Which is your personal favourite song from the record, and why?
Lola: 'Strange Conversations' because it's fun to play and the song has many different meanings to me.
Izzy:  I think 'Humanoid' because it's pretty spooky.
Halle:  'Suicide In Texas' is my favorite to play and listen to. It's a homage to the band Suicide.
How did it feel when an extended version of your debut single was used by Hedi Slimane, Artistic Director of CELINE, for Paris Fashion Week this pastt September?
Lola:  It was so exciting. The women all looked so empowered walking confidently to our song.
Izzy:  It was a bit surreal and made me giggle.
Halle:  Such an honor to work with them and be noticed by Hedi. He is so cool.
Your sound has previously been described as 'brooding pop with post-punk lashings, best listened to in the darkest corner of the club'—but how would you summarise it?
Lola:  I like that description! I would also say that it's 'driving, atmospheric apocapop'.
Halle:  I second Lola's comment.
What was it that attracted you to creating this kind of music, above all others?
Izzy:  We're all drawn to similar genres and bands. I think we wanted to pay homage to our favorite records while adding something fresh and new.
Lola:  It happened very organically. We decided to have no guitars and that served as a fun creative challenge that I think ultimately inspired the sound.
Halle:  Yeah, it was somewhat of a choice and somewhat not. We knew going in, what kind of music we 'didn't' want to make. Then drawing from our influences and limited by our skill level, this is what came out.
So much of what you do in Automatic seems to centred around female empowerment. Do you feel that the LA music scene is forward, or behind on this?
Halle:  I'm from Texas so I can say with certainty that LA is ahead of the game with issues like equality and environmentalism. I've learned so much myself about it from the community around that here. It needs to focus a bit more on the housing crisis though.
What's next for Automatic?
Izzy:  Writing more tunes, traveling the world!
Lola:  Will someone send us to Japan, please!
Halle:  Quitting our jobs so we can write more music!
Team Credits
interview by Aimee Phillips
photography Yoshitaka Kono
styling Ella-Louise Gaskell
hair Nadia Altinbas
makeup Hannah Brooke @ Gary Represents using Clarins Everlasting Fluid
casting + production Angeliki Sofronas
photo assistant Adri Ayala
styling assistant Annabelle Field
location Looking Glass Cocktail Club, London
Check out Automatic's debut album Signal and European Tour Dates below!
FEBRUARY 2020 TOUR

1st February – Aalborg, Northern Winter Beat Festival
4th February – Cologne, Bumann & Sohn
5th February – Geneva, Kalvingrad
6th February – Baden, One Of A Million Festival
7th February – Leuven, Het Depot
8th February – The Hague, Grauzone Festival
9th February – Amsterdam, Paradiso
11th February – Brighton, Late Music Bar
12th February – Manchester, YES
13th February – Glasgow, Flying Duck
14th February – Leeds, Belgrave Music Hall
15th February – London, Peckham Audio
17th February – Hamburg, Hafenklang
19th February – Stockholm, Hus 7
20th February – Malmo, Plan B
21st February – Berlin, ACUD
22nd February – Offenbach, Hafenfestival
23rd February – Munich, Import/Export