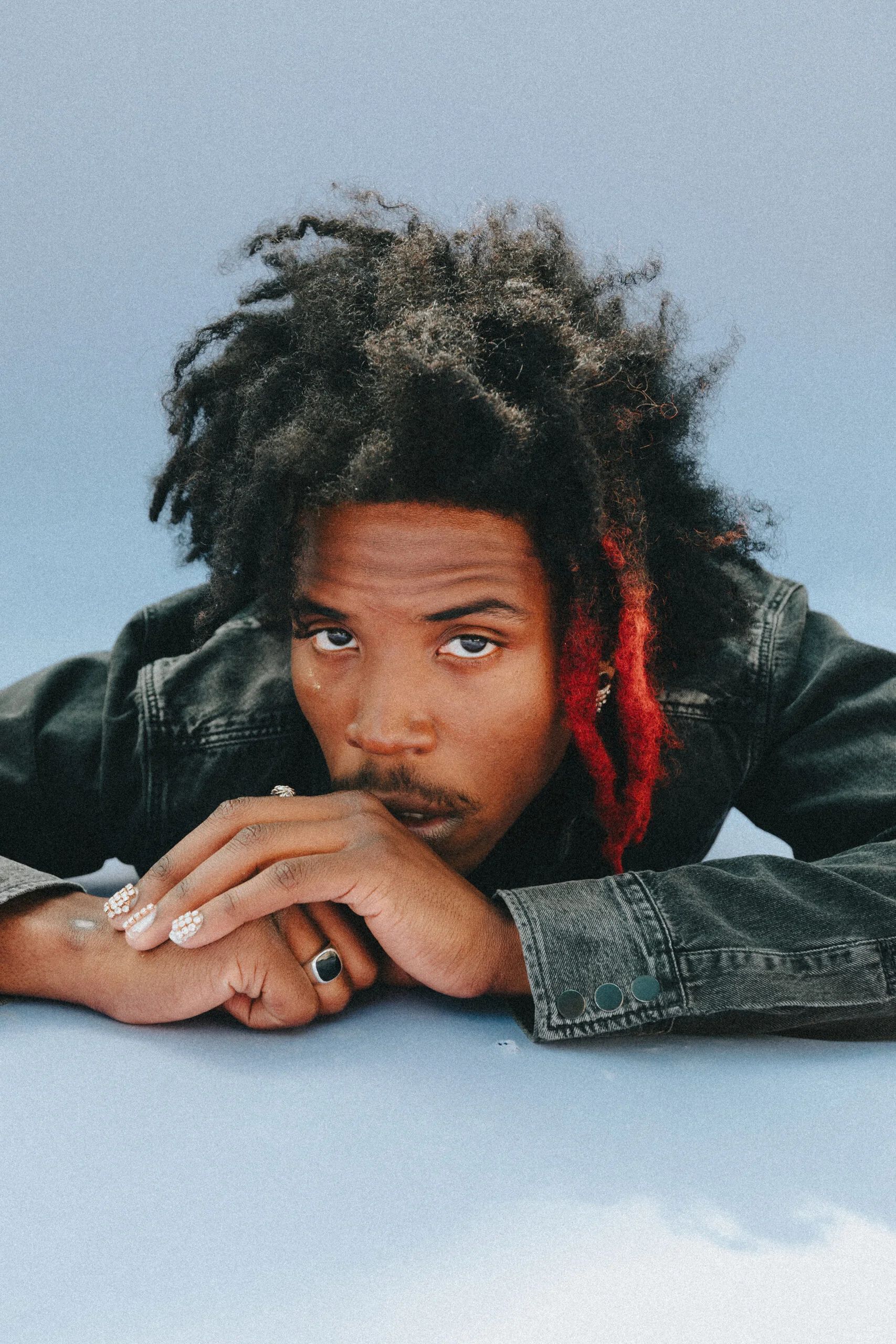 DE'WAYNE
Alt-pop star DE'WAYNE has realized his potential with the debut album, STAINS.
It's not always easy to release a debut album. It is often the case that it takes years of artist progression, hard work and reputation management before an artist or band can finally release a body of work which represents their true artistic vision. The Houston-native alt-rocker DE'WAYNE is celebrating the last few years of hard work as he's just dropped his debut album, STAINS, a record that showcases what the LA-based artist is all about. It's an ambitious body of work which oozes energy, confidence and charisma. From the get-go, you can instantly tell that this fast-rising artist isn't afraid of trying different things; the album doesn't just stick to the rock sound but boasts an eclectic range of styles, scenes and genres.
DE'WAYNE has done incredibly well for an artist who hasn't even been on a headline tour yet — he's been featured on a billboard in Times Square, received radio and tastemaker support in the US & UK, and collaborated with Waterpark's Awsten Knight. But it hasn't always been this good; whilst working on his art, he's previously been passed on by record labels because of his genre-defying sound and his family didn't understand why he was pursing music. Despite any challenges he's faced, DE'WAYNE has remained a clearly ambitious individual that wants to continuously achieve and leave an impact (or in this case — stain) on the music industry.
To celebrate the release of STAINS, 1883's Cameron Poole chatted with DE'WAYNE over Zoom and talked all about his debut record, moving to LA, and musical influences.
Hi DE'WAYNE! Congratulations on the release of your debut album STAINS. Can you tell us what it was like to make the record and how does it feel to have it out in the world right now?
First off — to make the record was like a dream come true because I've been wanting to do music for a long time. I feel like when you make your debut album it is such a big part in your artistic career, it's a moment where you feel the most liberated, appreciated, and you feel like you've worked so hard for this moment.. even if you don't get anymore moments. That, alone, was very beautiful and I took it very seriously. I think people can tell that I've put my whole life into this debut record and it's cool to see people enjoying it.
The fact that its out now is just… I can't stop smiling and I can't stop listening to it because it's fucking good! I think people know I'm an ambitious person and I'm like 'yeah, this shit is jamming' and that makes me happy.
After doing some research, I really agree with the general consensus that STAINS doesn't feel like a debut record because you have fine-tuned your artistry and vision so well; a lot better than some other artists have on the first album. For people who are discovering you for the first time, how would you sum up DE'WAYNE?
I would sum DE'WAYNE up as just as a very raw, liberated, rock & roll artist who's not afraid and is out here to make really great music and really great art. I really don't want to be here for all the bullshit, I want to be here for a really long time because of my art and I think if people listen to my music they will truly understand who I am. It's very raw and very free, I really stand behind it and I hope people can dig that.
You've previously talked about how this album has been somewhat inspired by the fact that several labels passed on you as they didn't understand your music and where to place you in the musical landscape. Do you think moments like those push you to work even harder and prove the doubters wrong?
Totally! Just getting the chance to make the record when the pandemic started gave me so much inspiration because I wanted to use my voice more as an instrument because so many people's lives had changed and so did mine for the better so that inspired me. But having people pass up on me… I was like 'yeah, they're going to come back to me right after the album drops' and it happened even before the record dropped. I grew up playing sports so I'm very competitive, I don't really care though it is what it is. But yeah that inspired me a lot, I also thought it was hilarious that they were like 'no, this is not rock music' and I was like 'what do you mean?' So it was beautiful, bro, because I think we're making some of the best music out there right now. It's dope! [Laughs]
Your track, Super 8, which is taken from the record, Its music video looked like a lot of fun to film, can you tell us about the shoot?
It was great, I did it with my director, Joe Misho, who's also done the videos for Walking To Work, I Know Something and a few of the other songs. I had my partner in the video and it was a fun time because me and her just like to have fun on a daily basis and I think that is why we're with each other; we don't like to lead a boring life. We just got to kiss each other and be close to each other on film and I think the best part of it was filming on a 16mm film camera. I just think using that camera helped bring the Super 8 vibe. I think it's a great song and the fact that we got to shoot it on film made it really fun. It all went fast, I got to dress up in chains and have my Iggy Pop influence with my choker on, it was really sexy to me and really fun.
Yeah, it looked like a fun shoot and filming it on a 16mm film camera definitely made it even more authentic. It's cool to see when an artist really cares about both the music and the aesthetics/music videos.
Totally and just being authentic, period. I think you know and my listeners know that being authentic is so important these days because you have this revival of different old genres coming back which is amazing because rock music is my favourite genre and I love that it's going back to the top now. But I think you have to be authentic when you have a million artists and some of them are doing a similar thing. I think the fact that you can stay in your own lane whilst making rock music and just be yourself is the best.
Moving to LA at the young age of nineteen must have been a big deal for you, as you moved from Houston. When was the moment you knew that moving to LA was the right decision? Do you think you could have built your career from Houston? 
My honest answer is right before I graduated high school I knew I was going to go, so about the age of seventeen I knew. From the age of twelve, I didn't go to school mentally; I knew I wanted to be a musician. I only graduated because I was a nice kid and I was playing shows in Houston but there artists that are based there… they talk about women, they talk about cars and money, I was considered a very weird and alternative kid in Houston before I was even making rock music. I would wear different coloured vans, I was just a little off-kilter compared to the other artists in the area.
I was opening for big acts but I knew that if I wanted to be a big artist which is something I've always wanted to be, I was like 'I have to go somewhere bigger' and go somewhere where people would be a bit more like-minded like myself. Even though when I got to LA I still felt a little bit outside of the box, which I think is great. I always knew from seventeen that I needed to come to LA to make the splash that I wanted to.
We can imagine there are so many diverse characters in LA and it has such a varied music scene. There must be so much going on, musically.
Totally, there are so many characters here that you have to get on with. But what I find beautiful about what I'm doing is that I tend to be accepted, loved and appreciated and be friends with all these different types of people, I love it. It's right where I want to be and I don't have to dumb myself down to be accepted or loved, it's really cool.
Some of your musical heroes include Iggy Pop, Patti Smith & Matty Healy. What is it about these great musicians that inspire you?
We can start with Patti Smith, I mean Jesus… Horses. I found out about that album a year ago and I read her book Just Kids and just fell in love. I know a lot of people have different answers but I think her Horses album did a lot for punk music. And I also want to do that for rock music and I just think Patti Smith is one of the best lyricists. "Jesus died for somebody's sins, but not mine"… that is how she started off her debut album, not to nerd off right now but that is a bar to me. From that alone, she is a queen!
Iggy Pop is just a raw performer, he was like one of the best performers and he totally inspired Super 8… "I wanna film a porno on a Super 8"… "I wanna be your slave", I was just trying to make a song like I Wanna Be Your Dog. I covered Iggy's song as well, I just wanted to make it a bit more sexier.
Matty Healy inspires me because… I name dropped him on the album but I feel like he's not even a rock artist, The 1975 does every genre but I think they look the part and they're beautiful white men and all that stuff, so they get to be rock & roll artists. But I think they're unashamed about just being pop artists and that is where I'm trying to go and I'm truly inspired by how they are just liberated. I really want to break out of that box of like 'this is this genre because of this'. I think The 1975 are a hot band that are just hard and cool.
STAINS has a lot of standout tracks like Perfume, National Anthem and our personal favourite, I Know Something. But which track on the record would you say means the most to you and why?
Man, that is a tough question! Right now, I've got to say Jungle — "look how we've come, And watch how far we'll go"… in the last few days I released my debut album, been on a Times Square billboard, just announced a magazine cover, we're on the radio in London and over here… I haven't even been on a headline tour yet. I can't say what festivals we've been booked for but we've just been announced for some big festivals, I haven't even really broken through yet. I've just put out my first record, so that song and that line alone shows me that if I keep working my ass off, then I'll be here and stay here. That's my favourite song right now.
You've mentioned previously that even before getting to this point, your family would look at you as if you were an alien and not really understand. But how have they reacted now that STAINS is out?
They are so excited! For a long time they just didn't get it at first and once again, I've just got my record deal, so for a long time I just didn't have it together. My family were like 'what are you doing?' But they are so happy bro and it makes me so excited. It's a little annoying sometimes because they will call me just to interview me sometimes [Laughs]. They'll be like 'so what's going on now? I've just heard it on TV, what are you doing?' And I'm like 'hey, I'm trying to hang out with my girlfriend right now'. They are very into it and the billboard was a big moment for them as they can now brag to their own friends and co-workers and be like 'I told y'all he was… look at this'. So that's what they're doing now, it's a little embarrassing but they like it [Laughs].
The family support is all intended in a good way [Laughs]! It's very sweet.
100% [Laughs].
It's so great to see that you're not afraid to try everything and anything when it comes to music, some people can be too obsessed with labelling an artist, but as you have such an eclectic sound, is there anything you haven't tried yet musically which you would love to have a go at next?
That's a really good question, I don't know at the moment because right now I'm just focusing on doing what I'm doing and making it bigger and better. Hopefully I'll have an answer for you in a few years or so. I don't know where else I would go because I really want to be good at what this right now but we will see!
Everything seems to be going really well now anyway, so that's all that matters!
Yeah, it's really exciting.
We also read that you're a big fan of Bloc Party and Kele Okereke. I'm not sure if you've seen but they've just updated their social media with a new band press photos so that could potentially mean more music is on the way soon! You guys should collaborate — that would be huge!
Yo, my song Walking To Work is clearly inspired by them… I went to the studio and asked could we make a song like Bloc Party/The Clash. That's the sort of musical shit where I ask myself 'can I do this'… And then I think 'yeah I can, it's me'. I'm so influenced by them, it's just the way they make great pop songs and melodically, they make me so happy. I didn't know they might be making new music, I've been listening to fucking Silent Alarm for so long now that I don't know what to do with myself. I do have an idea for him, like in my head already, I really do. I want Kele to do this intro for a song.
We've got to make the collaboration happen now, let's get a huge petition going!
Exactly, England has given us love. I hope I can get over there and see them or he can be over here, whatever!
Speaking about the UK, do you have any plans to get over here for a tour when it's safe to do so? We think you'd go down really well at a lot of festivals over here, like Reading & Leeds Festival for example…
Yeah it's hard with the pandemic right now but I know next year, we'll be over there 100%. And I want you to take this down and slap me if it doesn't happen… I will be on the Reading & Leeds lineup next year. I'm telling you, I will be on there, I know I will. It hasn't even happened yet but with the festivals we're being offered, that one is next. I was a little mad that I didn't get it this year but I hadn't even had my debut album out yet and people couldn't see what is going on. But mark my words, I will be there. I fucking love England. Last time I was in London I played Electric Ballroom and it was outstanding. 
Ok, here's a deal: we will tweet you or DM you in a year's time whenever the Reading & Leeds 2022 Festival Lineup gets announced. Fingers crossed [Laughs]!
For real, I appreciate that too [Laughs].
For anyone's who's discovering your art from this interview, is there any sort of message you would like to convey with your music?
For this music at least right now, it's just about being liberated and about really going after what you want to do. I know that is a really basic message but it's not as easy as some people might think it is. To just go out and believe in yourself and do what you want to do… I think that is a constant theme in my music. I'm trying to get to a place where I'll be happy musically and life-wise. I've always had to work really hard for things. I hope people understand that if you work hard, don't give up and you're a little crazy to do it, whatever it is you want to do, you can do it. That's all I want to say to people — be free and don't be scared.
Finally, following on from the album launch, what's next for DE'WAYNE?
Playing shows! I know this is a bit egotistical but I want to play really big shows, we've been getting really good reviews lately which I'm into, I want to be on the end of year lists and do all the articles. I hope to do some headline shows as well. Just make the circle grow bigger, the fanbase grow bigger and be able to buy my mom some nice things, they're sort of my goals for this year. But next year, I want to get some nominations for awards and things like that [Laughs]. I also want to get Super 8 charting on the radio, I want to see that happen. We're doing it at the moment, radios are playing it but I want it to be playing ten hours a day, we're working on that!
Interview by Cameron Poole
Photography by Jordan Knight
DE'WAYNE's debut album STAINS is out now.