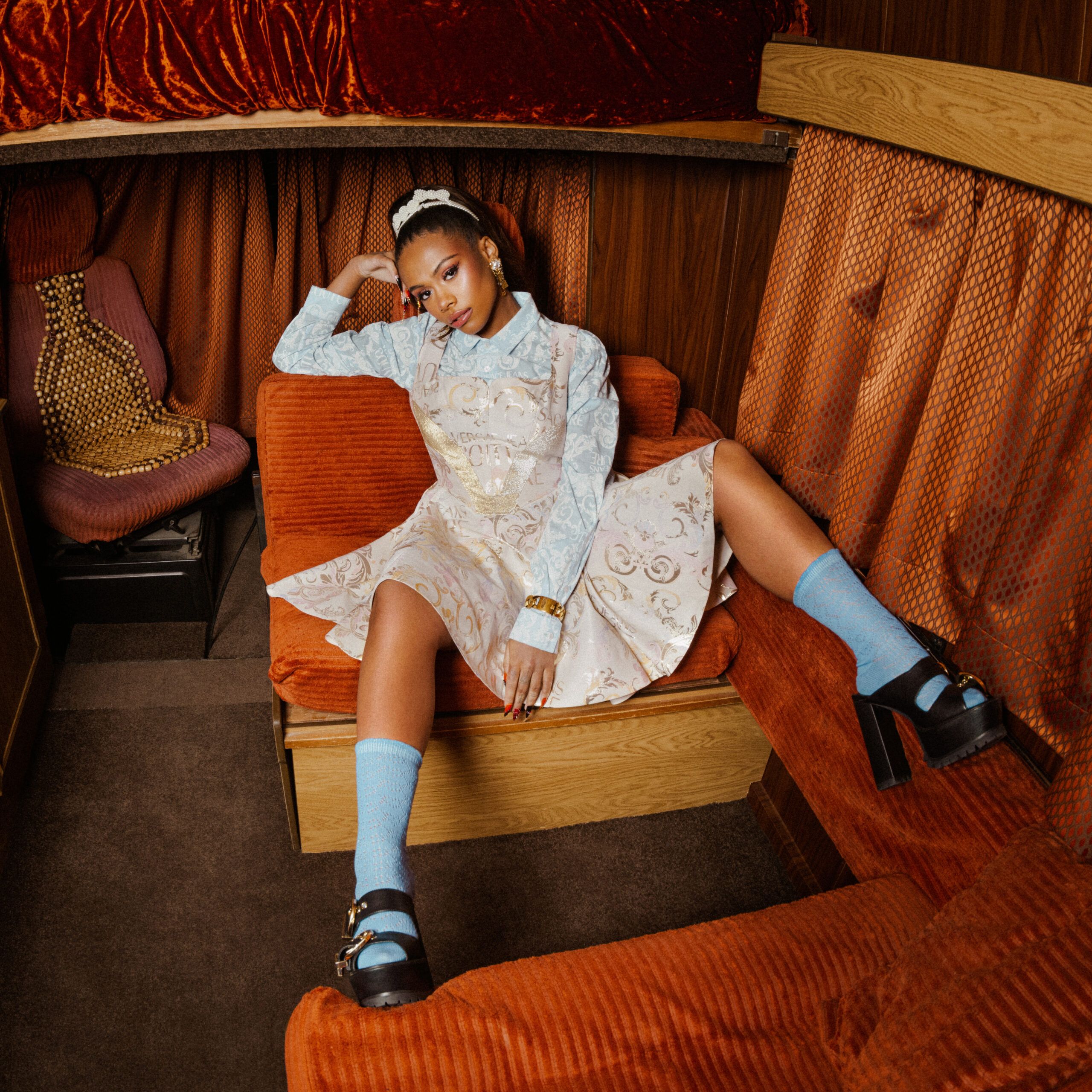 MORGAN
If you're an avid follower of the UK music scene, it's likely that you've come across the soulful vocals of MORGAN on an array of your favourite hooks.
Inspired by the likes of Rihanna, 6Black and Michael Jackson, the budding songstress has proven herself to incredibly versatile charting her path as a well-respected writer and artist.
With a wealth of accolades, including over 20 million streams on hit record "Be the One", under her belt it's hard to believe that MORGAN is just 20 years old.
Watching the careers of the greats that came before her, drove the singer to focus on developing her craft. As she continues her journey MORGAN's hope is that her own path with inspire the next generation of musicians coming up behind her.
Following the release of her latest single 'Behave' featuring London rapper Jevon MORGAN sat down with 1883 to discuss her career so far and exciting plans for the future.
Your first-ever song was a Rudimental track with a Preditah feature, and since then you've gone on to collaborate with the likes of AJ Tracey, Digga D, and more. I think saying your career so far has been a whirlwind is a fair statement to make. 
Everything…especially working with Digga D has been a completely different lane to the one I'm in, so, it was interesting to get into the studio with him and come out with a garage tune. Everything's been so good even down to the tours. It's very overwhelming to think that I was only 19 when I did most of these things. As I grew older things just got better. Sometimes you don't realise when you're in it but then you look back and you think, oh my gosh I really did achieve a lot.
Staying on the subject of collaborations, you seem to be the go-to person for hooks for a lot of the UK Rappers. I'd love to hear a little more about what your writing process is like, especially in that sort of setting? 
Sometimes I'll get in the studio and just write, and I'll have in mind what rapper I want. Other times I just get in the studio with the rapper, and we'll just make the song together. Sometimes that's a little more authentic because you're both in the room and together in the same environment. Sometimes the songs come out better when you're actually in the room with that person. Some producers give me beats and say "just write to this" but I prefer to be in the room with the producer when they're making the beat so I can kind of navigate how I want the beat to be. I am very creatively involved with all of my music. I write all of my music. It's important to me because its coming from me. When I am singing on stage and stuff, it feels like I am actually singing something I created, and I'm connected to it.
For you what are the key ingredients of a good hook?
There's not really a set formula. You need to show diversity in your hooks. It's just about getting strong lyrics. A lot of the time people are just stuck on melodies, but it is important to have messages within your songs. So strong melodies, sick lyrics and make sure you're singing what you feel. You can't force your ideas otherwise they won't come out well.
You've sort mentioned this a bit, but we've seen you on Garage, R&B and even Drill, so it's clear you thrive across a number of the genre. I'd be interested to know how you define yourself and your sound as an artist?
I am a pop artist but that comes under a different category to me. I am pop artist with my own twist and my own edge.  I do any genre. I don't believe that pop is a genre I believe it's a category. When you look at the charts now it's dominated by rap music. That's how you know that pop is not a genre. When we say pop, you think of artists like Dua Lipa, but the pop charts are full of rap music now so that's why I put it as a category. I say I am a pop artist but that could come under so many different things. I don't want to define my sound because I am up for anything.
You toured extensively with Rudimental for about a year and a half before going on to sign with their label. First things first how would you say that experience helped you develop as an artist?
It just put me into the deep end straight away. When you are nervous on stage, you don't have stage presence. I'd danced on stage from the age of 3 until I was 18 but I'd never really sung on stage. It pulled me out of myself a bit more, not just as an artist. It really helped with my confidence as a person. I've always been a confident person and an extrovert, but this made me even more confident. How you are as a person really shows on stage. I don't have an alter ego so when I'm going on stage, I do it as myself. There's still so much to learn but we're going to be touring soon. As an artist it's just made me realise that the most important thing and the thing that makes everything worth it is being on stage. You can sit behind your screen and look at your streams go up but when you see these people in real life and you see how they respond to you on stage it's a whole different experience. That atmosphere is crazy.
What was it about Major Tom that made you want to sign?
They don't make me do anything I don't feel comfortable with. I am very creatively involved. Everything I do comes from me. Some artists you'll find its not coming from them and it's because they're being forced by certain people to do things that they don't want to do. My label's never been like that. Rudimental have given me the opportunity to find that space on my own. When they signed me, they didn't judge me on the music I already had done. A lot of labels want you to have this album and then they push it. With Rudimental I didn't have anything, I was only 16 when I started to communicate with them. I signed at 19. They just wanted to hear my voice and that's how I knew it was genuine. They knew they had work to do and still put in the time and the effort. So yeah, that's why I love them.
Of course, the journey is not all glitz and glam so something I wanted to ask you about were the challenges you've had to push through to get to where you are?
Stage fright was a big thing for me – I couldn't sing in front of my mum without turning away! It was to the point where I would shake. I would say to my parents, "I want to be a singer" and they were 100% supportive and would say "you will be able to do it, but you've got to get over your stage fright". When I started touring with Rudimental, they kind of threw me in the deep end and put me in front of a couple thousand people and then the stages got bigger. We've done like a 20,000-capacity venue, festivals, arenas…it's crazy! That was the biggest struggle for me. When I started to go on stage, I had a habit where I would sing with my glasses on because I couldn't face the audience fully. So, every performance I'd put my glasses on and hide behind them. Then Kesi from Rudimental pulled me to the side and said "the more you put these glasses on the more you're going to rely on them. Take them off, do a show without them and stop relying on them because it will make you more confident in yourself". So, I took them off one show and that was it I didn't need them again. That lack of confidence on stage is completely gone now and I'm so grateful that they [Rudimental] put me in positions where I was uncomfortable but still able to face my fear.
I hear that Drake is a fan, that must feel a little crazy to say? 
Yeah, he liked one of my singing videos! I was so shocked; I didn't even see the notification because that video was kind of blowing up at the time. Someone sent me a screenshot and I was like "Rah…that's sick!". Obviously, Drake gets involved with quite a lot of UK artists now, but for me growing up Drake was, well still is, the biggest artist in the world. That was just mad to see.
Your covers/mashups seem to be garnering quite a lot of attention as you've mentioned. What is it about them that you enjoy doing the most?
Seeing the feedback and the love makes me want to do it more but I actually love giving people my real voice. Sometimes on tracks you have a bit of autotune, or the way you deliver the vocals on a track is different to how you sing them in real life. To be able to give a raw vocal with no effect is really nice. That what I love about it, it's just very authentic. That's why people react to it because they can see the real me in it.
Before you go, we've got to talk about the video for "Behave". Talk me through the concept and what inspired the video.
When we made the track, I wrote it with producers Zdot and Krunchie. I was in the studio, and I just thought I wanna write a hook for a rapper. We didn't know who it would be for at the time, but we knew we wanted a rapper on it. I wrote the hook and then because I knew I wanted it to be my song I laid a verse down as well. Then we got Jevon in expecting him to rap and he started singing. It just worked! It was nice to hear a different side to him as well because usually he does straight rap. He's actually a really great producer too. He brought a different dynamic to the song and kind of responded in his lyrics which made the song make sense even more. 
In terms of the video, I'm so lucky I have a really good team. So, with my director when we played her the song, she just had the vision straight away and that made me feel good actually. It made me feel like my song must be telling a good story if she could just come up with the storyline for a video straight away.
What are you currently working on that listeners can look forward to?
I am going to be doing a lot of collaborations. A lot of singles. I am focused on singles right now. If we get a project out of it then we'll start working towards on a project but for now it's singles. We're making sure everything I drop is really strong. More live performances more touring. Actually, I have a few live performances coming up, I can't say them yet, but I've got a few exciting things coming.
Ooo exciting! Finally, what's one thing you know now that you wish you knew when at the start of your career?
Hmm…it's weird but I wish I knew how far I would come. I've always been confident, and I never really doubted myself, but you never know what's going to happen. Sometimes I'd lack a bit of confidence and get down and think why is it not happening for me yet?. But actually, when I look at how much I have developed vocally, performance wise and as a person, I grew a lot faster than a lot of people around me because the industry forced me to do that. So, I think that it's very beneficial that I've gone through this journey so far and I've matured in the process because it's made me much more confident as a musician. 
If I could talk to my past self now, I'd say just go with it, whatever happens happens and keep working hard.
Interview by Ray Sang
Watch the video for Behave below. Follow Morgan @morganconniesmith
Top Image Credit