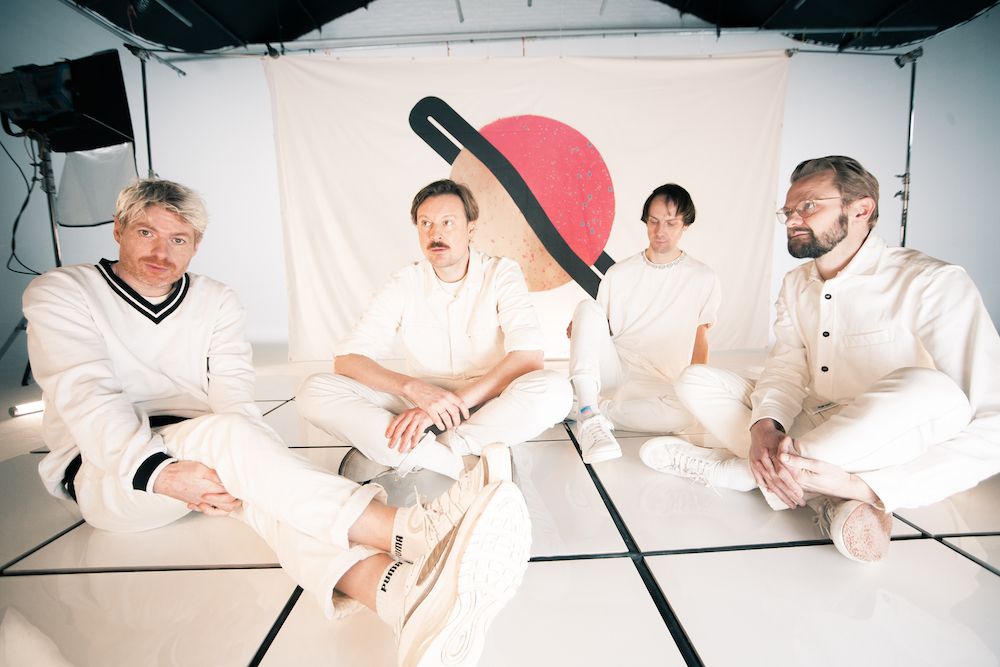 Django Django
Django Django interview reveals "The Prodigy changed their life and Thomas Bangalter is a genius."
I caught up with Dave Maclean from Django Django, ahead of their live gig at Meltdown Festival at the Southbank Centre, to talk about how electronic music influenced their new album.Maclean's first love was DJing "I played, rave, hardcore, jungle, electro. But was never into super clubs, I preferred back rooms of pubs. But I did run a club night in a warehouse with my brother John. There are great clubs in Scotland (such as seminal Sub Club) and Optimo (Sub Club residents) were my favourite DJs for a while."
Dave continues "growing up I was really into industrial techno and gabber, hard stuff, like Lenny Dee. But I also listened to Gilles Peterson, Justin Robertson and Errol Alkan. Now I like Footwork, and it's good to see Jungle is having a come back, especially as I still have all my old records."
Coming from Dundee, Dave couldn't always make it to the clubs he wanted to go to, so instead he used to collect flyers from all over Europe and still has thousands from all the clubs he dreamt of going to. When asked if he'd every been to the rave Mecca of Berghain in Berlin he said "I probably wouldn't get in, as I don't think they let gingers in".
Dave was also a big fan of Radio 1's Essential Mix "Gilles Peterson did one of my favourites, I still have the tapes of Derrick Carter and DJ Sneak's, and the Armand Van Helden Essential mix, I tried to collect every track from that, that's how I got into Chicago's Dance Mania record label. And obviously the Daft Punk one. I was a Daft Punk geek. I was obsessed with the Homework album, and also Trax on Da Rocks EP was full off absolute slammers which I played to death. Thomas Bangelter is a genius and everything he's done is amazing."
Off Planet, Django Django's new album began with Dave's instrumental electronic tracks he created in lockdown, which were "very specifically to be not Django Django" but as the writing process went on and tunes were passed to the rest of the band, Dave's more ravey or hip-hop beats suddenly got "Djangofied".
The term Off Planet comes from Dave's obsession with ufology "it's a term for hyper-advanced technologies kept secret from the populace, old school conspiracy theory" as "a way to go beyond". Released in four parts, the plan was to treat each as a separate planet and effectively to deconstruct the band's identity. "The four vinyls were going to have four different sounds – ambient, dub, disco and dance floor, but it all got mixed up in the end."
Off Planet was delivered via a harum-scarum creative process that produced a kaleidoscope of bluesy pop, Middle Eastern cabaret goth, Afro acid and piano rave, and as with most Django Django albums, it's a grower "I don't try and make club bangers, we're more into slow burners, bumbling music." Flowing through the album is the emergent sense of cosmic wonder, as Dave puts it, "just about everything we love, whether that's old psychedelia or Detroit techno, has that futuristic or outer space feel, and I think we can't help putting that into what we do."
Django Django would love to curate their own MeltDown Festival line-up, hint hint, which has seen greats such as David Bowie, Lee 'Scratch' Perry, Massive Attack, Yoko Ono, Nile Rogers and Grace Jones all take up the mantle. Alongside a lot of the DJs that have already been mentioned their line up would include "Daft Punk, Paul McCartney, Kraftwerk, Can, Missy Elliot, Santigold, Steeling Sheep, Wolf Alice, Self Esteem, Bernado, Toya Delazy, Josh Cafe, Claire Efif and to close off the festival hardcore DJ – Bass Generator, oh and possibly the Prodigy as they changed my life as a kid."
The French musical phenomenon, Christine and the Queens, have curated Southbank's 28th edition of Meltdown Festival for 2023 which will run from 9th – 18th June. Django Django kick off the festival on Fri 9th June where you'll be able to hear songs from their new album. Artists playing the festival also include Warpaint, Kokoroko, Bat for Lashes, Totally Enormous Extinct Dinosaurs and Sigur Rós. For more info visit www.southbankcentre.co.uk/whats-on/festivals-series/meltdown.
Django Django's album Off Planet is out on the 16th June on Because Music. www.djangodjango.co.uk
You can also catch Django Django live at Kite Festival www.kitefestival.co.uk
Words by Woody Anderson