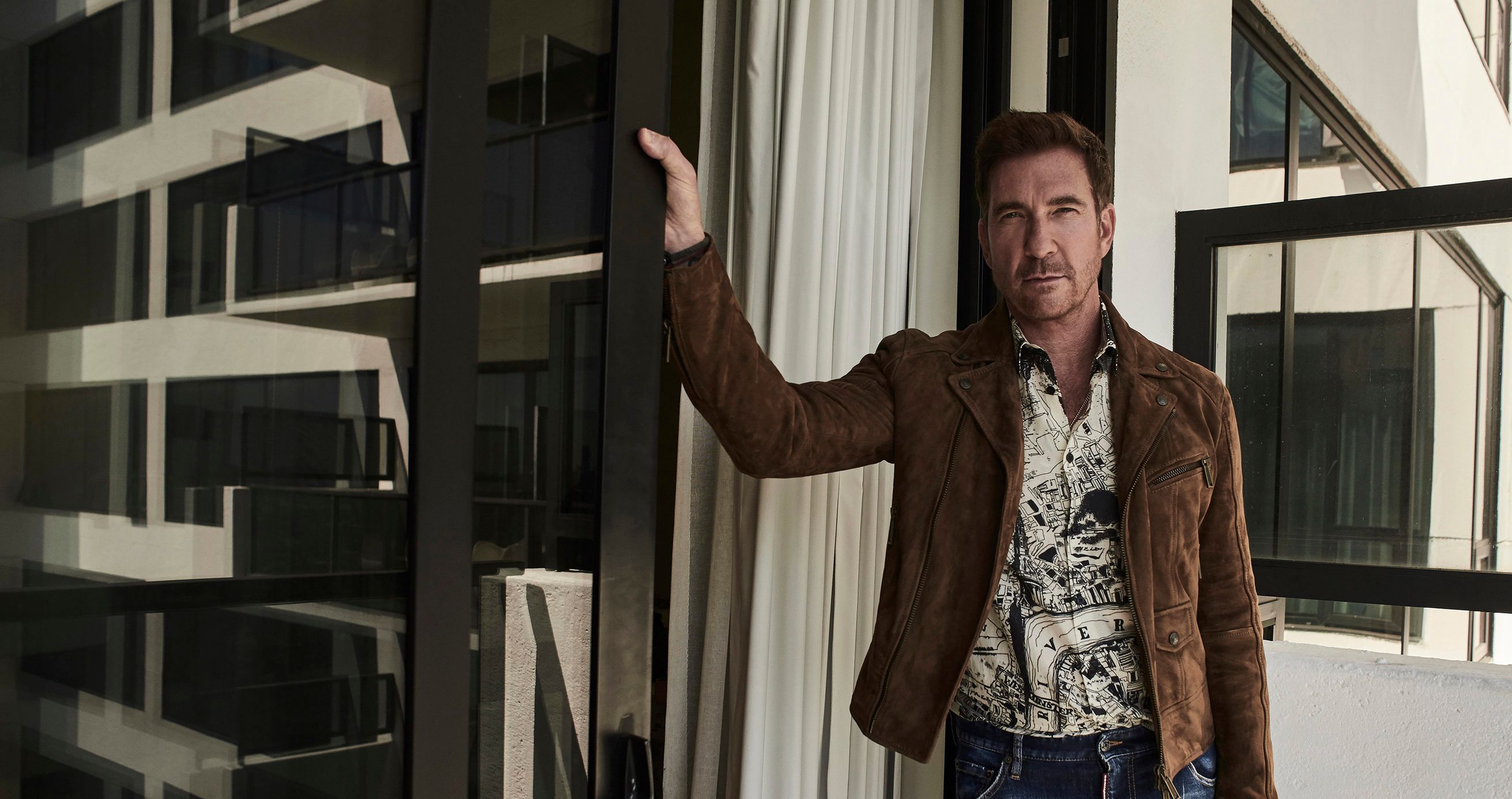 Dylan McDermott
Golden Globe winner Dylan McDermott has been a recognisable face to many for over 29 years, and after a stint as the estranged Dr Ben Harmon in American Horror Story, he'll be returning to our screens as the sociopathic father to Astrid in Ryan Murphy's Netflix comedy The Politician.
Dylan McDermott took the time to open up to us about his own experiences of fatherhood, the urgent need to save Mother Earth and how Eve Ensler saved his life.
You'll be starring as the father of high school student Astrid in the upcoming Netflix comedy The Politician, were you ever involved in student body politics in high school?
Oh no, absolutely not! I was just lucky to get through without politics.
Were you a rebellious student?
In high school I remember seeing my dad – who was living in New York while I was in Connecticut with my grandmother – and he told me that I could have anything that I want so I told him that I wanted a blue, suede suit. I wore that thing into the ground and wore it every day with long, black-feathered hair so I was very different from everybody in school. This was around 1977 in this little hometown, so I was the oddball in school.
What is the relationship between your character and Astrid? She seems to be very determined and cut-throat, is her father the driving force behind this?
Yes, I think he drilled into her a toughness. It was brutal what he did to her, he shaped her and moulded her. She is his Frankenstein and he thought, in his twisted mind, that the only way to survive and win in this world is to be as hard as nails. This is detrimental to their relationship as he does everything in his power to instil in her that fighting quality, but ultimately he does do it out of love. Even though there is a sociopathic quality, he does love her and sacrifices a lot for her which I really like.
Did that make it tough for you to draw on your own experiences of fatherhood?
I'm the polar opposite of my character, but it really did turn out to be an interesting dynamic in the series which I do really enjoy.
January Jones plays your on-screen wife, what are the parenting dynamics between your two characters?
Well, we'll start with the fact that she was a hooker! That wasn't a great start to their relationship…
The series itself is based around politics but in a high school setting, are you actively interested in politics?
Yes, I think if you're alive today, you have to be interested in politics. The world is such a mess and we're all trying to make this world a better place. What can we all do to change the direction which we're going in? We really need to start heading towards the light and not the dark; there is a cloud over the entire planet right now. Whatever we can do to change that course, I'm happy to involve myself in because we have to save this planet; we're destroying Mother Earth.
What would be the first thing you would change if you were a politician?
Wow, there is just so much to change! Obviously we have to start with the climate, we have to start with pollution, we have to start with gun control. There are so many ways to make this place better, safer and to take care of the planet. There would be a lot on my agenda certainly.
You recently opened up in an Instagram post about troubles in your past with alcoholism and publicly thanked Eve Ensler. What guidance did she provide for you to help you get to 35 years of sobriety?
Eve saved my life. I met her when I was fifteen years old and we actually had a long conversation last night. I always feel like all you need is one person to believe in you, to change the course of your life and Eve was that person for me. I think that's all people need. If I can give that to my kids, then I can give them everything I can possibly give them because they can go out into the world and feel like they're loved; therefore they can do anything. Unfortunately, most people don't feel loved; they don't feel supported so they feel invisible and depressed. Eve was that person who gave me support; I wouldn't have success or anything without her so I'm always sure to thank her because I don't think I would even be here to tell you the truth.
She sounds like an incredible woman!
She is, she really, really is. I went to the Congo with her when she opened a safe house for women who are abused. I have travelled the world with her and seen the good work which she has done and instilling hope in so many people.
Having starred in American Horror Story, what would a storyline based around your own fears or phobias look like?
The only phobia I have is indifference. I think it's better to have an opinion and have contempt than indifference.
Team Credits
interview by Nicky Lee-Delisle
photography David Higgs @ Exclusive Artists Management
styling Douglas VanLaningham @ Opus Beauty
grooming Michelle Harvey @ Opus Beauty using Amika Haircare
casting + production Angeliki Sofronas
location Mondrian Los Angeles 
The Politician premieres the 27th of September on Netflix!