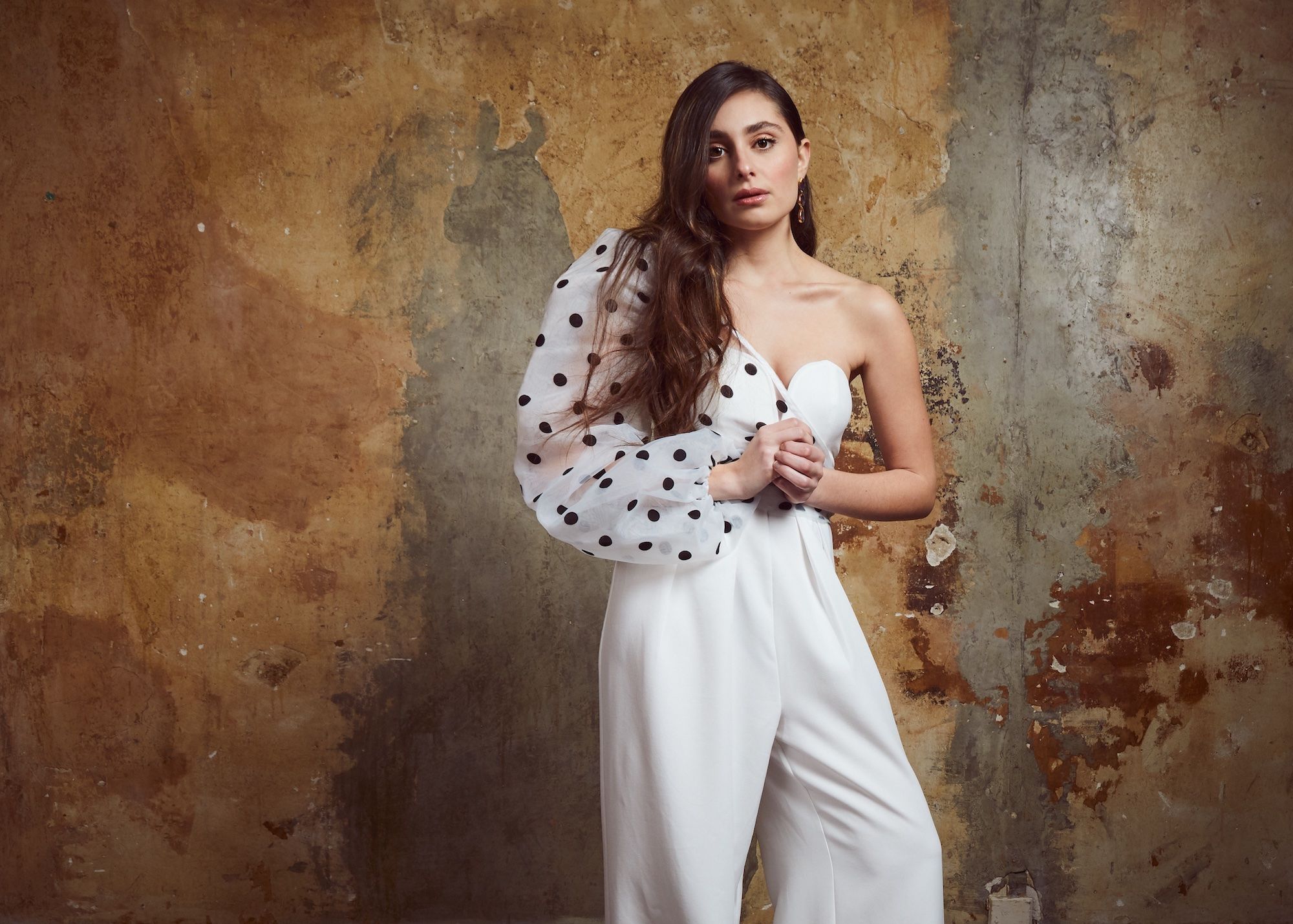 Esther Abrami – Romance for Violin and Piano, Op.23
Violinist Esther Abrami continues to champion female composers with the release of her rendition of Amy Beach's Romance for Violin and Piano, premiering today on 1883 Magazine.
When you think of viral TikTok moments you likely think of 'Savage' by Megan Thee Stallion or 'drivers license' by Olivia Rodrigo, but there's one artist who is using her TikTok fame to make an unexpected genre go viral: classical artist Esther Abrami. After spending years honing her craft and getting her very own viral moment on TikTok, violinist Esther Abrami is making her genre more accessible to listeners who, in the past, might never gave classical music a listen before. Along with introducing new audiences to the emotive & powerful genre, Abrami's biggest goal is to spotlight female composers, as she did with her debut single, composed by Clara Schumann and released on International Women's Day.
Her new single is by renowned pianist Amy Beach called Romance for Violin and Piano, Op.23, a romantic composition that has infectious & melodic undertones and what Esther describes as "the classical equivalent of a hit single!" Understanding the power behind visuals, Esther aims to tell a story through her music videos. The Romance for Violin and Piano, Op.23 video, which premieres today on 1883 Magazine, juxtaposes four characters in bold outfits, scattered throughout London, and separated by the mood of the piece Esther is playing at that moment. 
1883 spoke with Esther about the creation of her new single and music video, her intrinsic desire to champion female composers, navigating the male-dominated classical music genre as a passionate young woman, and more.
Hi Esther! Thank you so much for taking the time to speak with us today. I'd love to hear you tell us about the exact moment you decided to pursue music, and classical music in particular, as your career?
My pleasure! It was during my first violin lesson when I managed to hold the bow and violin, I played a few notes and suddenly I said to myself, that's it! That's what I want to do, I want to be a violinist! I was 9 years old. The years following, this feeling grew even stronger, I became extremely passionate about classical music. Even if I was just playing easy little pieces, I took it so seriously!
You're incredibly passionate about uplifting women's composer's work in the classical world. Has it been difficult navigating the classical music sphere as a young woman?
During my entire music education which took over 10 years, I have never played a single piece of music composed by a woman. The truth is it did not even cross my mind for many years. In my head composers and conductors were men and that was it. When I realized how wrong that was, I decided to try and change things around. I discovered some absolutely stunning pieces written by women like Clara Schumann and Amy Beach, pieces that are so underrated! I wanted to record them and put them on my album because I want more people to listen to them, to get to know them and hopefully more musicians to play their works. 
Navigating through the classical music sphere today as a young woman has its part of challenges; of course there has been a huge amount of progress but I sometimes still find it hard to impose myself and my opinion. I remember I once turned up for an event I was invited to play and give a talk for. Right before me, there was a group of teenagers playing. When I arrived I got told off because I was late and was asked to quickly join the other teenagers on the stage. It was, of course, just a mistake but it represents well what I sometimes feel arriving in a meeting or a place which will usually be directed by older men. 
Why do you think classical music has been such a male-driven genre for so long?
Classical music like all other art forms requires years of education to master and this like many other things just were not offered to women for a very long time. The few women that did have access to it, including Amy Beach and my own grandmother, stopped their music career when they got married. 
Tell me a bit about your new single, Romance for Violin and Piano, Op.23?
It has become one of my favourite piece of music. It holds so many emotions, you feel as if you're going on a journey when playing or listening to it. It is a very romantic piece. With instrumental music, there are no lyrics which means you can make up your own story from the music that you hear. I see this piece as a love story; the piece starts from a very innocent, pure kind of emotion, just like a first love. It then goes into more passionate all the way to angry and after calming back down, it brings us to the height of the piece, the moment which holds the most tension, it goes extremely high on the violin and arrives at a high point which to me represents total freedom, a moment where you are not holding back on anything. 
Despite being the first female composer to have a symphony published and premiered by a major orchestra, Amy Beach isn't as well-known as a lot of male composers. Beach, along with your piece composed by Clara Schumann, are two female composers you've highlighted as part of your work to uplift other women in classical music. Why is it so important for you to shine a light on women in classical music?
As you have said, they're not as well known and yet the works they have written are so beautiful! I just find it so sad that these two women who were stars when they were alive and who both after their husbands passed away started their solo career again have been forgotten! I think girls who are just starting to enter the classical music world need to have role models. 
When you hear a song like Romance for Violin and Piano, Op.23 or any others, what is it about the song that moves you to the point where you want to record it? 
It is hard to explain it rationally but when I listen to a piece of music some of them will just feel closer to me, I feel like I understand them better. There are some pieces on which I want to put my own interpretation on, tell my story them. 
What other female composers are you interested in recording? Are there any artists in other genres, like pop, that you'd like to collaborate with? I'm thinking of a Taylor Swift & Esther Abrami collaboration…
Definitely! I have collaborated with modern women composers on this album too, including one of my big inspiration, the film composer Rachel Portman. I love collaborating with artists from different genres, it brings so much both on a musical and human side! I would absolutely love to collaborate with Taylor Swift! I had fun during the lockdown learning one of Griff's songs and it would be great to collaborate with her in a real-life at some point. I also hope to be collaborating soon with my music label sister Chloe Flower!
The video is stunning and it tells a story, even without having any lyrics. Can you tell me a bit about the inspiration behind the video & what it was like to film? I feel like when you're standing on top of a rooftop, playing violin, in a huge gorgeous blue dress, you must feel like you're on top of the world!
I am so happy to know that this is what it felt to you because this is exactly what I wanted to express! I think classical music pieces can sometimes be hard to understand for somebody who isn't used to it because it can be hard to imagine a story. I wanted to use this music video to portray my story of the piece. As you can see I change from different outfits and surroundings in the video — each of them represents a different character and is directly linked to the music. 
The pink dress and white surroundings are to represent innocence, simplicity and maybe just a memory of these times where everything especially in love was simple. There is also a black outfit with a much stronger light which I selected for the passages of the piece which are angrier, nearly resentful at times. The blue dress which was filmed on a rooftop is, like you said it so well, representing that feeling of being on top of the world. In the video you can see mostly just the sky which gives this feeling of freedom, I reserved this setting for the highest points of the piece musically, you can feel the tension building up and up until it reaches one of the highest notes on the violin. 
When you're preparing a treatment for a video like this, how do you work out telling the story? Is it difficult or do you already have things in mind during or after you've recorded the song?
I already have the story in my head usually but it is real teamwork with the artistic director and the camera team for what I have in mind to make sense and work behind the camera. It is also very useful sometimes to hear other people's opinions about the piece & hear what they see when they listen to it. 
A lot of people hold biases and cliches against classical music, mostly because they haven't gone out of their way to listen and take in the music. What's something you'd say to someone hesitant about diving into the world of classical music?
It can be hard to go out of your way for something you don't know and that is why I try to create a bridge with my social media and the stuff I post on there. I think I would say that classical music can make you feel new emotions that you might have not yet experienced with other types of music and the more you get into it, the stronger these emotions will get. 
Through TikTok and Instagram, you've introduced a new generation to classical music. I've read some of the comments on your posts and some say they want to learn more and maybe even pursue classical music as well! What does this mean to you?
It means everything. On the days where I feel down, I go through comments like this, it makes me feel like what I do has a real purpose. 
The incomparable Julian Lloyd Webber named you as one of the '30 under 30′ classical artists to watch' — what was it like to hear that?
It felt pretty surreal! Seeing my name alongside this list of absolutely amazing musicians, I took a moment to remember where I came from and all the ups and downs of this journey so far. I know I have a very long way to go but sometimes it is nice to realise how many of your dreams you have already accomplished. 
Lastly, what else can we expect from you this year Esther?
My very first album! I think for every artist your first album is something very special which you remember all your life. I am excited and super nervous at the same time! 
Interview by Kelsey Barnes
Check out the premiere of Esther Abrami's new video for "Romance for Violen and Piano, Op. 23" now.