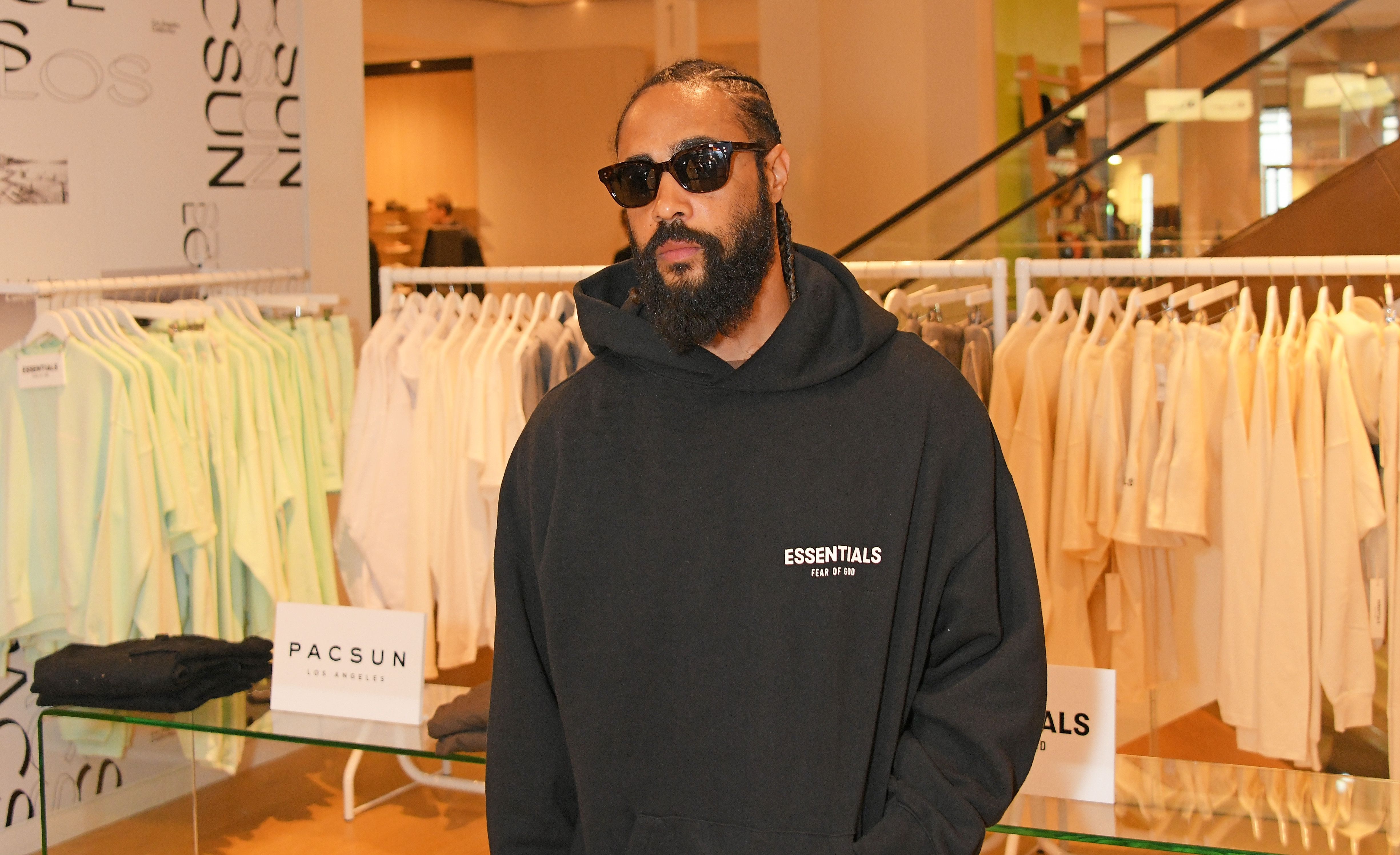 Fear of God ESSENTIALS Pop-up at Selfridges London
Jerry Lorenzo, the creator and designer behind Fear of God, doesn't walk into a room and command all the attention. He's understated in his Fear of God ESSENTIALS track pants and hoodie worn with CELINE sunglasses.
But once you start talking to him, you soon realise that's his character. He's honest, humble and likes to take his time to make sure what he's offering to the fashion industry is perfect.
He admits when he's not in the know and has made mistakes and goes about correcting them to make the best and most authentic version of the brand he can. Such was the creation of the Fear of God ESSENTIALS collection. He didn't want his followers to have watered down versions of the mainline collection, so instead he chose to create ESSENTIALS and focus on creating the best hoodies, track pants and t-shirts in the best fabric with the best fit at affordable prices with simple branding that complement the mainline and his vision.
Linking up with Californian-based PacSun in a pop-up shop at Selfridges in London, Fear of God ESSENTIALS launched on Friday, 10th May 2019.
Can you tell me a little bit about where the name Fear of God came from?
Fear of God just came about, 6 years ago now. I was doing a morning devotional with my parents and we were talking about clouds and darkness surrounding the Kingdom of God. Clouds and darkness in a way that if you know God it's kind of scary but if you're in a relationship with him, then you're kind of at peace. I liked that juxtaposition; it felt peaceful and gangster at the same time.
At the time I think there was a lot of religious symbolism in fashion, but there wasn't anything that was really rooted in something truthful. So I thought I could root a brand in something truthful with a deeper meaning to it.
And talk me through Fear of God ESSENTIALS and how that addition of the brand came about?
I approach it now not necessarily as a diffusion of the mainline, but something that supports the mainline and what I'm doing with Fear of God. It's essentially the best hoodie, the best pair of sweatpants, the best proportion for shorts. So FOG ESSENTIALS to me has evolved to a more honest space versus this diffusion space where it could become a little watered down. I've always put a lot into everything I do and a lot into ESSENTIALS just the same way that I do the mainline. If you follow me, I mix and match both of the brands a lot as I've always been a high-low type in the way that I dress. Where I can just throw on a hoodie that I can throw in the washer and not have to worry about it, in the same way that I would a thousand-dollar pair of jeans.
You mention accessibility, is that something that's important to you?
I never had access growing up, my dad was in professional baseball but we were a cheque-to-cheque family. I didn't have access to Jordans, but I was able to find $125 to get what I wanted.
It's very expensive to come up with the ideas and to develop the product that we make and because I'm a new designer I can't afford to compromise my idea for price. So my mainline, it's going to cost what it's going to cost. And what comes with that is a lot of people who don't understand that and I'm looking at those people with grace and saying, 'Hey I'm going to try and provide something for you through my lens.' That was the original idea of what FOG was, but again it felt a little dishonest cause it was watered down and it wasn't 100 per cent my idea. ESSENTIALS is closer to 100 per cent how I would wear something. And it's important for me when I'm putting pieces to the market to not be compromised.   
So yes, accessibility is important but compared to someone on the street it's still luxury. I was a kid growing up and I wore the same thing every day and didn't have the luxury to buy a $100 hoodie so it still is luxury and it just depends on how you look at the product.
And how did you come to Fear of God without technically training as a designer?
I was working in the nightlife and was out five nights a week. We started a movement, although I hate that word. But we created something that was missing a place where designers, actors and actresses, professional athletes, (the word is a little overused now but) influencers when influencers was a real word.  There wasn't a place where we could all go party and hang out, so we created this scene and a lot of the scene was made up of designers and streetwear owners such as Nick Diamond, Crooks and Castles and some of the guys from Supreme. The idea of having a clothing line was tangible because I was hanging with these guys. So with my background working in retail I had my own perspective on fashion and thought, hey if they're doing it I could do it too. I think my perspective is still valid and I can figure this out. So I started downtown and taught myself how to make a short-sleeve hoodie and then how to make a longer t-shirt. When I looked up, I had a collection of six pieces and I thought I've got something here.
The brand started six years ago; when you started did you have a plan?
My plan was always a solution. Like I can't find a longer t-shirt that's masculine. It was always Ann Demeulemeester or Rick Owens or something that was super feminine, or it had the length and it had the proportion but in the end wasn't what I wanted. All the hoodies that I had living in LA I was cutting the sleeves off. There wasn't a piece that was exactly what I wanted. Back then it was just solutions-driven so it wasn't a plan from a business standpoint; it was just to provide solutions for what I felt like the modern generation's closet was missing.
You reference music a lot in your designs, which have featured Slipknot, Marilyn Manson and other bands. Was it quite a musical house you grew up in and was that music you listened to when you were younger?
I think if you talk about music I'm deeper into the soundtrack and the emotion of our campaign films and collections; that's where you get a really good idea of what I'm into musically. But a lot of the times the art on a vintage tour t-shirt is what is attractive to me. So I can't name ten Slipknot songs, but I can tell you this Slipknot t-shirt is from '86 and it's printed on a certain blank. It's more of finding the perfect t-shirt, which is why for me four years ago we printed on rock tees. That's me saying I'm not a graphic artist, but I can identify what is the best t-shirt. You'll never see me in a Hot Topic t-shirt that's slim fit and crispy. I love digging and finding fabric that's been worn and art graphics that have been washed and worn. I love the fact that when you talk about concert tees, there are stories behind them and purpose. There's a reason for the t-shirt, it represents a moment when someone was at a show. It's beyond just slapping a logo on and that's one of the reasons I was attracted to vintage tees and why we incorporate them into the collection. And the shape of it is so much better than t-shirts of today.
You don't release collections as Spring/Summer or Autumn/Winter. How do you decide when you're going to release a collection?
Up until now, it's just been because I'm self-taught and it does take me longer to realise my ideas. Because I'm self-taught, there was an ignorance that I didn't know I needed to be on calendar. I don't shop on calendar, I just go to Selfridges or wherever when I have time and I buy what I like when I like. So my understanding was so long as I offer the customer what he wants, it doesn't matter what time of year it comes out. Again my focus has always been on making the product to the best of my ability, telling the best possible story and in doing that we have consistently landed outside of the calendar.
Last question, how does it feel to be launching at Selfridges?
I'm excited we've done a lot of work together with PacSun and as the PacSun customers are changing, our customers are changing too. Just as we have kids in America who have needs and desires for accessible fashion; I believe that kids here have the same desires. I'm excited; I believe we've worked hard to elevate the collection so it's at a place where it can hang on the Selfridges floor and stand alone and I'm excited to finally have it here and for people to have access to it.
To view the Fear of God ESSENTIALS collection, visit www.selfridges.com
interview and words by Hollie Lacayo @ LHA Represents