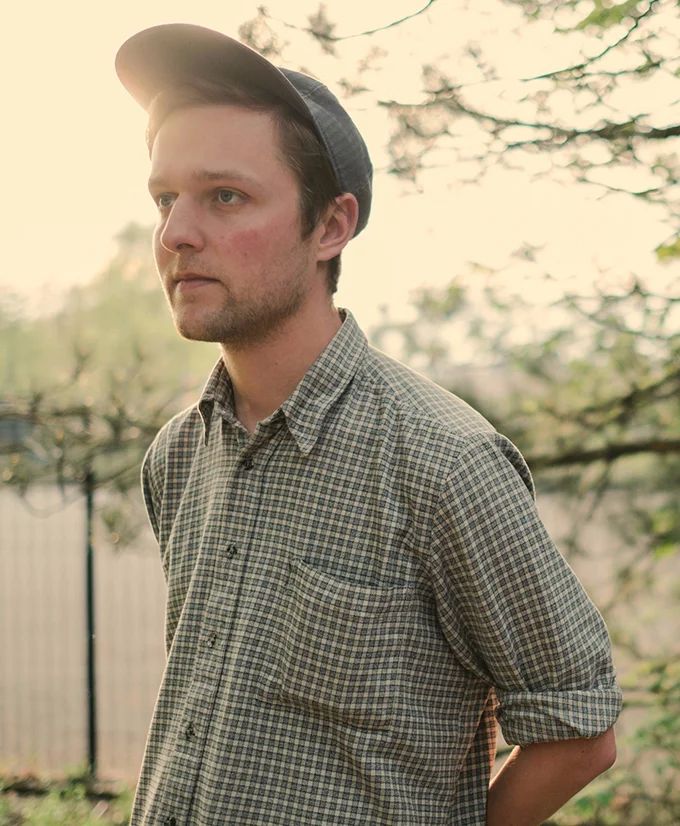 Joshua Burnside
The phrase singer only really displays the very tip of the iceberg with Joshua Burnside.  He's a multi-instrumentalist who takes the deep-rooted traditions of Irish music and gives them an ingenious spin via modern technology. 
1883 chatted to him ahead of his show at the Waiting Room in Stoke Newington on November 22, part of this year's London Roots Festival which brings a whole new generation of artists re-inventing the roots genre – see also Trampled by Turtles, Sound of the Sirens and John Smith – to the capital's stages.
Tell us about your first musical memories?  The music you grew up hearing around you, the first music you discovered for yourself and your first experiences with making music etc.  Feel free to include any details that are embarrassing and cringeworthy now!
The first music that really grabbed me was the musical Joseph and his Technicolour Raincoat. I listened to it on repeat when I was 3 years old, the story was as important to me as the music, maybe this is why I've always been drawn towards clear narratives in songwriting. After that it would have been whatever my mum and dad listened to, scratched CDs by Paul Simon, Johnny Cash, Fleetwood Mac and so on were always in the car.
And who are your musical heroes now that you're a fully-fledged artist? 
There's so many artists and bands that have been my hero for a while – Tom Waits, John Martyn, Paul Brady, Sufjan Stevens, Joanna Newsom, The Band, Talking Heads, I couldn't choose between any of them if I had to pick favourites.
With such a rich musical tradition on both sides of the border in Ireland, do you have to work hard not to be contained and restricted by that as well as inspired?
Well, for now the border is invisible and let's hope it stays that way! There is however a bit of a cultural disconnect between the north and south, probably more so in the protestant communities like the one I grew up in. I had to discover traditional Irish music after I had left home for example, whilst others were brought up with it all around them.
Likewise, you obviously love the sound of traditional folk instruments like the accordion and banjo, but you've also used modern technology like sampling and distortion in your music making.  Have you encountered any resistance to that with folk and roots audiences, or are they more open to it than the stereotype would suggest?
I haven't had any problems with that. I have never committed to being any one thing, be it a folk artist, or an experimental artist, an indie artist, a singer songwriter, and my music has always been fairly diverse, maybe to it's detriment.
Your song 'Northern Winds' references the writing of Oscar Wilde – what a dude he was! What other writers, painters and other non-musical influences do you find creeping into your music?
Local history from my home county in Northern Ireland has been a huge source of inspiration for me, especially stories that are largely forgotten. Its hard to say how much authors and painters have an impact on my song writing but two of my favourite novelists, Brian O'Nolan and Kurt Vonnegut have probably contributed to the way I think about story and words. I've always loved the Surrealists of the 20th century like Rene Magritte and Max Ernst and maybe their philosophies have influenced my way of making music. A friend of mine recently pointed out how often I sing about dreams and dancing.
I gather that geography, or at least, travel, is another key influence on your sound, for instance recording in Indonesia… How did the surroundings there affect you and how does travel and different environments etc shape music, if indeed you are able to put it into words.
It's impossible to quantify the value of experience when it comes to making anything, as you are the product of everything that has happened to you. So it seems logical to me that the more variation in your life, the places you go, the people you meet, the jobs you do etc then the richer and more original the art you could potentially create. It doesn't always work out that way though.
You've also travelled extensively in South America….  Where else have you been that had a big impact on you, and where are the places you'd like to visit next in an ideal world?
I would like to go everywhere and see everything! Recently I have been thinking about going back to Colombia for a while, but I'm also absorbing a lot more traditional Irish music than I ever had, maybe I needed to go away to appreciate what was here already.
I would like to go everywhere and see everything! Recently I have been thinking about going back to Colombia for a while, but I'm also absorbing a lot more traditional Irish music than I ever had, maybe I needed to go away to appreciate what was here already.
Your videos are very striking and usually seem to add an extra dimension to the songs – is that an area you enjoy being involved in creatively and see as important?
Yeah I love good music videos. I take a big role in my own, which is difficult because I get these ideas in my head of what I want it look like way before the songs come out and if it doesn't match exactly what I had in my head it feels like a failure, even if it's a great video.
You've developed from multi-instrumental solo recording to collaborating with a handful of other artists – such as Alana Henderson on 'Holllllogram' – how does that change the dynamic and will you be doing more of that?
Collaboration is vital to me and how I make music, so much so that I sometimes feel bad for taking so much credit! I've been playing with my brother Connor on drums, and Sarah Martin on Trumpet for a long time and they have been have an enormous impact on the development of most songs. It was great working with Alana as there are few Irish singer songwriters I respect more than her.
And while we're on the subject, what's with that spelling of 'Holllllogram'?!!!
Well there are two reasons for that. It began as a typo from when the early mixes were being sent around online. It was typed 'Holllogram'. I liked how this looked, maybe because I am fan of band called the Olllam, but I also thought it worked well as a metaphor for repeated duplication. These days a lot of our experiences come to us via our phone or laptop, which present us digital copies of images and music, and the song kind of alludes to that idea.
It was reported that you were beginning to record the follow up to your debut album 'Ephrata' almost a year ago -is it still in the pipeline or have you changed plans in the meantime?  I mean, we can see you're fond of the EP as a format…
I have almost finished my second album and I'm in the process of tidying it up a bit. I love the album format, it's what I was brought up on and it's still the way I consume music, but I think for my next project I might try something different. The EP is a great format because I don't feel as much pressure to make it any more than a collection of songs that I wrote around the same time. Which can be liberating in a way.
What can people expect when they come and see you live? It's quite a privilege to be the closing act of the London Roots Festival – probably because you seem to represent the new tide of acts bringing the genre up to date….
It is absolutely a privilege and I am very grateful to the all the guys involved this year for inviting us to perform.
We tend to rock everything up a bit when we play the songs live. I jump around like an eejit a lot of the time. But I think people come to 'see' gigs as much as they do to hear them, so we like to get ourselves riled up and work up a frenzied atmosphere.
And finally, apart from the ton of live shows you have booked, what else is next for Joshua Burnside?
I have a tour lined up in the US next year and a new album on the way so plenty to keep me busy.
You can see him at The Waiting Room, Thursday November 22nd www.londonrootsfestival.com
For more on Joshea visit www.joshuaburnside.com
Interview by Samia Nightingale