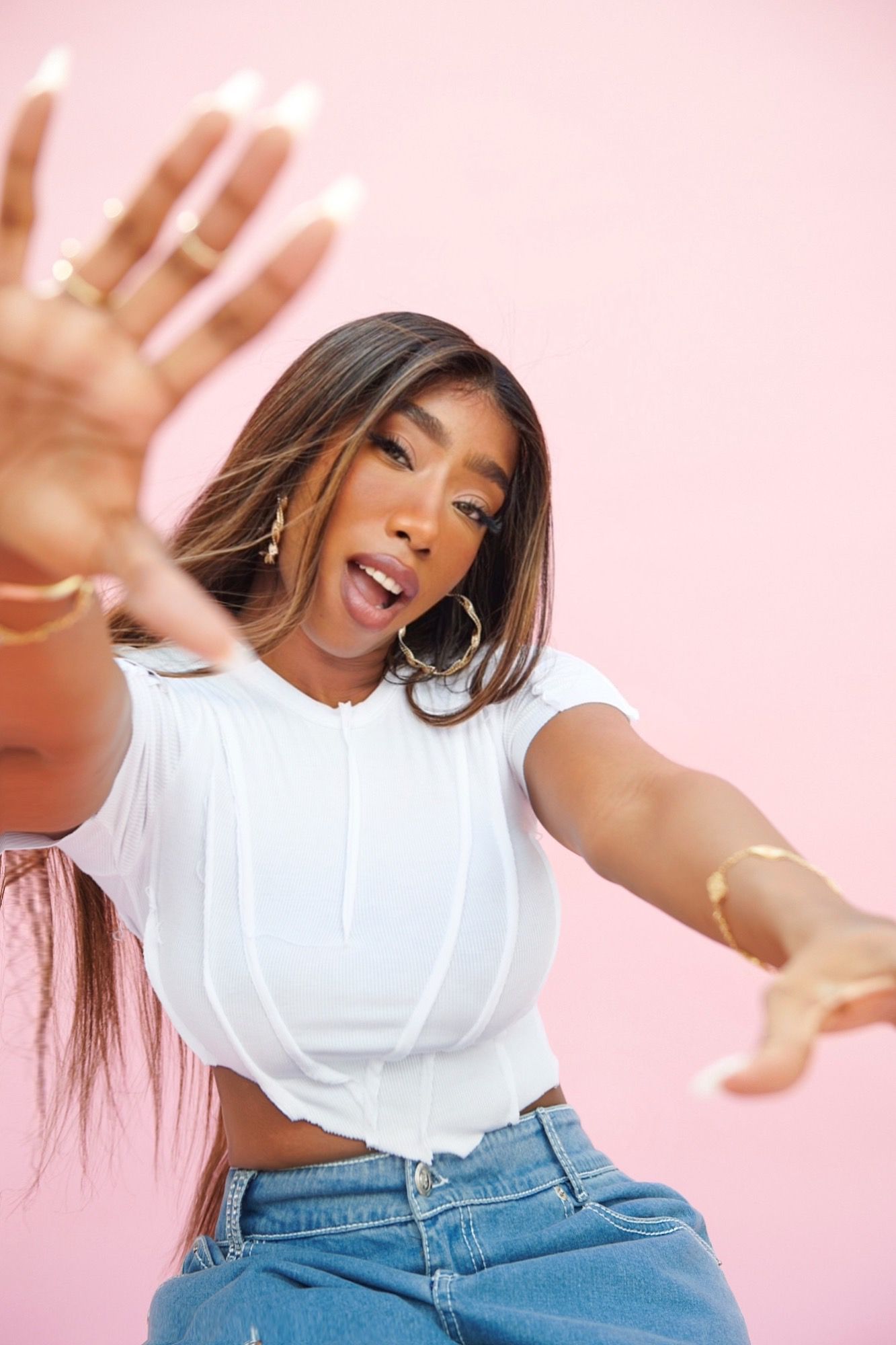 KAMILLE
KAMILLE is undoubtedly one of the UK's best songwriters and she's finally getting the attention she deserves with new single, weight loss.
Over the last decade, Camille Angelina Purcell AKA KAMILLE has written some of the biggest pop songs around. If you can think of an artist, then it's likely she's written for them. The BRIT award-winning singer-songwriter has penned tracks for Little Mix, Dua Lipa, Mabel, and AJ Tracey to name a few. If you really want to get into the facts and figures KAMILLE's work has surpassed more than 6.8 billion streams on Spotify alone, and has racked up five UK No.1 singles and 20 UK Top 10s, while also receiving 31 UK platinum certifications and a Grammy Award along the way. It's seriously impressive. Although the talented creative entered the music industry via crafting infectious tunes for other artists, it's always been the plan for KAMILLE to step into the spotlight as her own artist and rightly so. The artist always puts her heart and soul into each release, recording the vocals, writing personal and thought-provoking lyricism, and even producing each project. Her latest release weight loss is an empowering break-up anthem with a drum and bass-tinged sound, it's a prime example of why KAMILLE needs to be on your radar.
In conversation with 1883 Magazine, KAMILLE spoke all about her latest release, being a role model, the KamGang, production tips and more.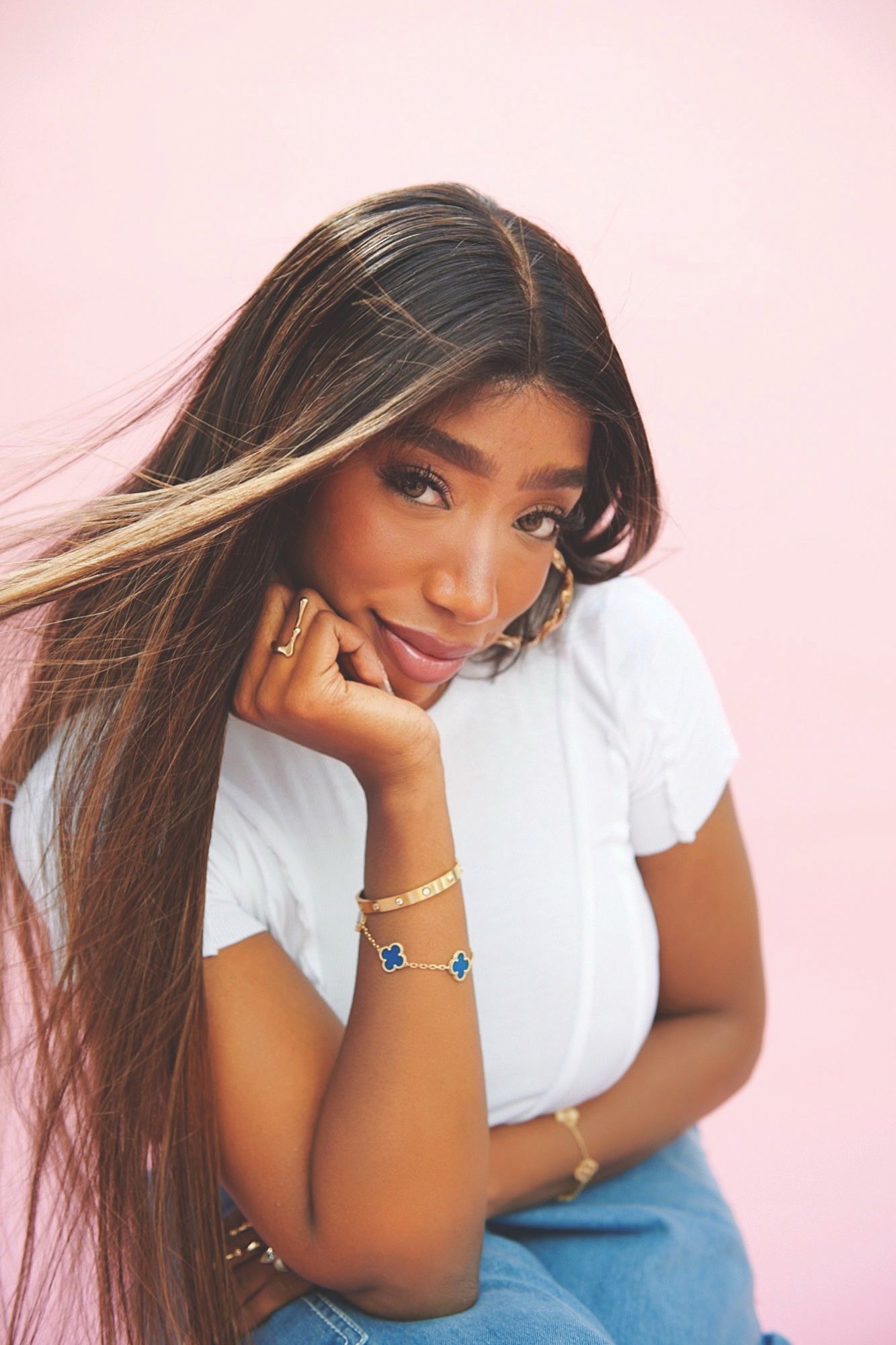 Hi KAMILLE, your new single weight loss is out now. It's such a positive and uplifting song as it focuses on getting out of a toxic relationship and realising how you're now better off. Can you tell us a bit about the writing process for it? Like when you wrote the lyrics, did you straight away know you wanted to use a drum and bass-tinged pop sound for the production?
I think it was a really organic thing. We weren't even thinking about necessarily making Drum and Bass but when we were last producing it with Jon Shave from the invisible men, we use this little interesting percussive hook to start off writing the song and it just fell into Drum and Bass areas. So it's so funny actually, no one's asked me that yet so I haven't actually thought about how it happened. It was just such an off-the-cuff kind of moment where we were like, "This sounds like Drum and Bass", and I was like, "Yeah, I love that". I'm obviously obsessed with drum and bass, I always have been and I love that that's been able to be an influence in my new music, which is really exciting to me because I haven't touched on it yet. It's a really exciting moment.
As a well-respected songwriter that's written some huge songs for many well-known acts, I know it's been a tough but extremely rewarding journey for you as you've mentioned it was hard to make all these great songs that you put your heart and soul into but then labels would give them to other artists instead. Do you think being primarily a songwriter for other acts at first has given you more confidence and experience for when you started to release your own art? Do you feel things would have gone differently if you only worked on your artist career first?
Honestly, I would never want to do it any other way. I'm not gonna lie, it's been tough. It's been a real test of character because you have to become a really altruistic person to be able to give up something that's really special to you. I have these moments where I would love to have certain songs have that success in my own artists' career, but I've had to learn to give and I think that process has made me a better person. It's made me much more generous and kind, the patience I've learned has been incredible for me and also to have faith in knowing I'll have my time and I'll have my moment. I actually think by doing it that way, I've gained so much experience, there are so many lessons I've learned and I have also gained amazing followers along the way because I feel like people come across me from writing songs for others and have championed me a little bit and supported me as a bit of an underdog. It's meant that I have now got an incredible group of fans who I love so much, so I think it was definitely the right way to do it.
Sure. I'm just curious thing for now. Like you said, it's, yeah, it has been tough, but obviously, undoubtedly worth it, you know, your journey, how it's been. Do things like do you think it would have been drastically different than potentially if let's say you, you weren't songwriting at the start for others and you were just focusing on your own career? Do you think things would be drastically different now or do you think would will keep in the same so far?
No, I think the scope of the industry is a lot different now. Black women are so supported now which is such an exciting thing for me to see and watch the growth in this country. I think now is definitely the perfect time, I'm not sure how it would have been a few years ago, but I can say that now I definitely feel a lot more confident to release music. I feel like not only am I supported by my black female peers, I'm supported by everyone and as a woman, that's just an incredible feeling. I'm so excited about that. I love that for this country. I love it for us. I'm here for where music is right now in this industry and it's a beautiful thing.
Definitely oh no I completely agree like compared. I'm so glad to say that I've been in the industry myself but just being whether it's music fan or whatever and seeing the landscape change is it's I would argue obviously getting better or more acts that deserve the limelight like yourself because you've always been an underdog in terms of, you know, like, the amazing content you've and music you've put out there and it feels like now's your time to you know really be appreciated for the hard work you've put in.
I just don't want to let anyone down. I've actually got an opportunity so I want to make sure I'm putting out the best music of my life. Weight Loss is definitely one of those moments where I'm getting to really speak from the heart, some of these lyrics and the emotions I've had and a lot of people experience. It's nice to be able to share that and do it my way.
Either way, you've achieved so much over the last decade and it's all thoroughly deserved. When you previously worked as a stockbroker, how did you keep your passion for songwriting alive whilst working full time? And can you tell us about the moment that you knew you had to leave that job to pursue music? It surely wasn't a decision that you made lightly.
I used to leave work as a songwriter and go to a studio my dad had actually found for me through a friend. He connected me with a producer there and said, "My daughter wants to work in music". My dad was so supportive and even though he knew I needed a nine to five to support myself, he still wanted me to go after my passions so I would literally go there after work and spend all hours of the night just trying to learn and figure out what making music is and just trying to find any way I could get in at all. It got to the point where I would feel so sad when I left or the next day when I had to be at work, I felt like I was living a lie. That moment in The Matrix where Neo chooses a pill was literally how I felt, that film really resonates with me because I feel like that was my life.
One day I didn't want to go to work because I wasn't happy so I just never went back. Which is so bad! I don't encourage anyone else to do it without an option or a backup plan but I just had so much conviction in myself that no one could tell me otherwise. The first song I wrote in this studio with my producers was What About Us for The Saturdays and it went to number one. I think it was that conviction I had in myself to write the best song I could ever write, at that point I was just not going to give up. I was really lucky, however, I did have a lot of faith in myself. I think sometimes when you're presented with two options it can help to know what you definitely want to do in life and for me, that was making music so I'm glad I did it. I'm glad it worked out and I've never looked back. 
Yeah, you follow the right path and it's really lovely to hear that because you know you're right. It's not a decision that can be like lightly made can it because, you know like you said you've got to be able  there to support yourself and whatever else but it's really lovely that obviously you know, your dad and family have always been like, encouraging of your talents anyway.
Definitely 100% I think that's exactly what it's about. I think anyone in life should go after what you love. It's so much easier nowadays to follow, the education system back in the day was more "You have to do this" and "You have to do that". But now it's so much more about what you love and following your interests. I would always encourage anyone else to study and do what you love as it will pay off later when you're actually flourishing in what you love the most.
You mentioned obviously like you said you've been a big fan building up that, you know, really solid fan base and rightly so. But how? Because obviously, you know, you've got to acknowledge that you are, you know, a role model for your fan base, you know, young songwriters and producers, women in general and anyone who wants to get into the creative industry and you know, follow your dream, if you will. So is this something you sort of think about because even like, there must be do you feel pressure when it comes to being a role model?
Not pressure as such, I feel more responsibility. I think that's the way I look at it because I do feel like a lot of people are looking to me and so many others for advice and for a safe space, which is something I naturally wanted when I was looking at artists and I don't know I just take that on my shoulders really seriously, actually. So many of my fans are so young and so impressionable and they're so in need of advice or comfort and I love to give that, it's the person I am. I wouldn't say every artist has to go out there being a therapist or anything but I'd say I take that title really well. I love helping people, I love giving advice and I literally just set up a Telegram account just so I could talk to my KamGang. There are hundreds of them and all I do is voicenote them every day and give them advice and we talk all day long. It is just something I love doing but no definitely not, I don't think it's a pressure it's definitely more something I want to do, something I feel like I should do.
You really are giving the fans the content they want and this isn't even speaking about the music, I'm talking about the weird food combination' jam and cheese' video for example. Are there any interesting fan interactions that have really stuck with you so far?
Yeah, they tease me all the time. There's a couple of them in particular, one's called Simra and one's called Shauna and they literally just tease me all day long. I did a TikTok live the other day and I was trying to pin a comment to it and they were making fun of me because I couldn't pin it and now they call me granny and that's how my fans are, it's so funny they just tease me all day but I love it. I think they feel like they can just talk to me like I'm their big sister which is really sweet and actually, I feel like it allows the music to have a deeper connection to them because they know me and I definitely feel like I know them. They're crazy, chaotic, and so loyal it is unreal. All they want to do is make edits and pictures and stream my music all day so I love them with all my heart, I wouldn't change them but they are crazy.
It's amazing that you were able to work with Timbaland as I know that was such a big deal for you. We're now going to manifest the collaboration between yourself and Pharrell, it needs to happen and when it does, the world won't be ready for it. Have you two crossed paths yet?
I think our teams are both connected and said we should work but it still hasn't happened. I think if it wasn't for lockdown it might happened a lot earlier but I've had to be really patient and wait for the moment. So many people I know really well and am really close to have worked with Pharell so it's getting really close, my dream is still there. I have to work with him in the next year otherwise, I think I will lose my mind. I'm gonna go really hard and stalk him, beg, and do whatever I can to try and get in a room with him because I agree, I think we would make such magic in the studio. I cannot wait for that day.
I'm a big fan of the fact that you and your partner Tomi are both musical/producers. When you're both working on projects do you ever give each other little nudges of encouragement or tips? And for the production nerds out there that might read this, what is one piece of advice that you swear by when it comes to producing music?
I love it. Tomi and I are always in the studio together. I wrote something for a DJ the other day and I can't really say who just yet but Tony was so helpful with the writing side. He's an amazing songwriter as well. We have an amazing little home studio downstairs in the house so we're always hearing what the other ones doing, I might go in there and be like turn up the snare or something so it's really funny, we don't take anything personal at all. If we say something is good or bad, it's never taken personally. We have had so many beautiful experiences, getting to make Good Luck together for Mabel was an amazing experience through lockdown. It was one of the hottest days of summer in lockdown and we just made Mabels' song together, I love that. I love that we can do it as a couple which is so beautiful, he's so supportive. 
I love producing so much, one of the best things you can do now as a producer is to have a really great strong, melodic, hook. Something that will inspire a writer for example. When I get beats sent to me with a really good top line in the hook of the actual production it really helps me to find my best top line as well. So finding a really catchy, melodic part is probably the best thing you could do as a producer right now. For example, TikTok is all about a catchy rhythm and melody, just little ear-worms people can hold onto quite easily, that's the key nowadays.
With TikTok, if that 15-seconds grabs you, it can just blow up and then impact everything else…
The funny thing is, it might not even be the part that you expect. It could be the intro where you're not singing anything but it's just a tiny piece of something really weird someone has found individual meaning to with their TikTok which can just suddenly trend so it's really opened my eyes as a producer to the things that might grab people I wouldn't necessarily have thought of. It has definitely broadened my perspective as a producer for sure.
Where would you like your record label and publishing company Pure Cut to be in five years' time? 
I would love to see an amazing roster under my record label and publishing company and just have amazing people that want to create really incredible music. I definitely think in five years' time I would have made a mark with my artists, fingers crossed. So as an artist, I feel like that would be the next progression for me to help others even more, in any way I can. I just want to see a lot of people who feel maybe underrepresented on the label, because I want to keep equal opportunities. So yeah, five years' time fingers crossed I can make it happen.
I read in a previous interview that you think an album isn't always necessarily the right way to release a body of work. The tried and tested model is normally: dropping a single, then maybe a few EP releases and finally a debut album once you've built up a lot of momentum. But with the landscape we are in today, I think you can potentially have more creative freedom just to release a slew of singles as you can pivot to different genres or put out exactly what you want without the constraints of having to follow a tone or direction of an album. What other ways would you like to experiment with, when it comes to dropping projects then?
This time last year, I went away and basically made an album. I write very quickly and produce very quickly so I made the album really, really quickly. I was ready to go but it was only when I had put it together I realised I wasn't sure if I should put it out yet because I didn't want it to fall on deaf ears. I feel like I had a lot more building to do as an artist which is a really key part. It depends on what stage of your artist proposition you're in, as in whether an album would fit for you at this point in time. For me right now, I don't know if the world is ready for an album but I know that when they are I will have so many songs to drop. I know I'm going to be ready to make an album immediately because all I want to do is give everyone a lot of music. It's about timing, growth, and also about giving your fans what they need at the moment and I think right now my listeners just need more discovery of who I am. I'm going to keep dropping songs until I feel like an album is right. I might drop an EP which could be a bit more doable for me right now, but an album is definitely on the cards. It's just going to be a case of when I think.
That makes perfect sense. Um I guess I can only like imagine like how crazy good your vault is in terms of like, everything that's like not released and all these amazing ideas which you know, safe inside the vault
It's painful because all I want to do is leak everything. It's even harder as a songwriter when you want to leak clips from other artists but you just can't. One of the hardest things is keeping my music on my laptop safe and not leaking it myself because I'm so excited about everything I make. I get home, send my music to my managers and I'm so gassed about it and they're like, "This is amazing". That's the hardest thing, to keep it to yourself. Trust me, when I'm ready to come with the album it's gonna be incredible.

Finally, breaking America is one of your next goals and if anyone can do it, it's you. Has anything been planned yet for this long-term goal of yours?
Oh my gosh, that is definitely the goal. I think it's everyone's goal ultimately. I want to go out there and make a mark. I'm from here [The UK] so I think this country has to embrace my music first before I could think about going overseas. As an artist and a writer, that is the goal so if I get a chance of ant success over there, I will run with it. All these amazing platforms we have now like Spotify, TikTok, and Apple Music make artists so much more discoverable. I am planning lots of trips to LA with lots of writing trips on the cards very, very soon. I'm going to connect to a lot of the producers I already work with for future artists which I'm so lucky to be able to do. Having now worked for these incredible producers, I'm lucky that a lot o them want to work with me which is still an incredible thing that I can't get over. I've been in the studio with Steve Mac this week working on my music so it's a dream to be able to work with all these friends I've made from my own stuff swell. It's a beautiful thing. America is on the cards, I'm not going to stop until I get it. 
weight loss is out now. Follow KAMILLE @kamille
Interview by Cameron Poole