Kodaline
After their breakout success back in 2013, Kodaline has only been on a steady incline ever since. Now, after the release of their third album, the four-piece band is heading on a massive ten date tour of the U.K.
Unless you lived under a rock six years ago, you most likely have heard the melancholic, deeply moving song 'All I Want' by the Dublin based alternative rock group Kodaline. The song is their most streamed on Spotify with over 300 million plays and was even featured on the soundtrack for the film adaptation of The Fault in Our Stars. But the band is certainly no one-hit-wonder; their following two albums, Coming Up for Air and Politics of Living both lived up to the precedent they set for themselves early on.
Their most recent album, Politics of Living, keeps to their original heartfelt lyrics, while also taking a fresh spin on their sound. We caught up with the band's drummer Vinny May to talk about the album, their upcoming tour, and what's next for the lads.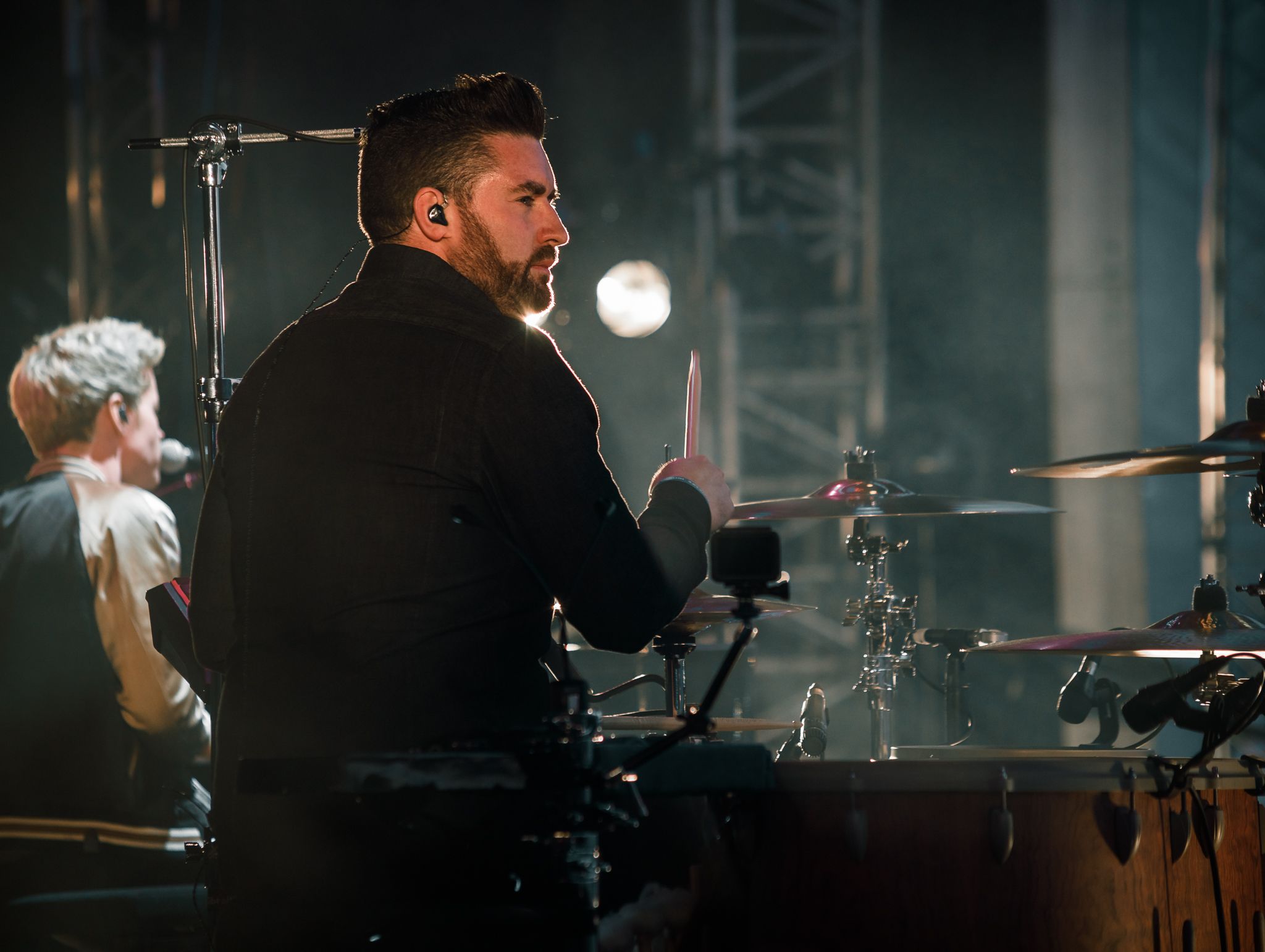 Hi Vinny, how are you today?
Good, yeah, just in my back garden at the moment. Nice sunny day.
So you guys are heading on a big U.K. tour in November, yeah?
Yeah! We haven't done a tour in the U.K. in maybe two years now. We started touring for our third album and just went straight in and did a big European tour and a North American tour and finished up in Southeast Asia in March this year, and now we've just been doing festivals. So we haven't done any U.K. dates and we're excited to get back.
That's awesome. Is there a city or venue you're most excited to play at?
All the shows are pretty good. We used to live in London and Birmingham and those are two cities we're going back to, and we have some fans there so it'll be fun. But Manchester is great, and a lot of our crew is from Scotland and we're playing a show in Glasgow, and they bring all their families and friends and stuff like that.
So are you going to be mostly playing stuff off of your last album, Politics of Living?
We've kind of worked out a set for the past 18 months now, with a good mixture – like the thing is when we go and see shows of bands we like, we don't just want to hear new material, so there's a good mix of the three albums, and the reaction we've been getting so far from the shows has been amazing. But yeah, there's maybe five or six tracks off the new album, but people want to hear the songs they've known for a long time, and we just want to give people a good time, so we think we've struck the perfect balance.
I was going to ask that too, cause I know sometimes artists like to focus on what they've just put out, and other times people like to bring throwbacks in, so that's awesome that you guys have found a good middle ground. I know the third album was a little bit different in sound than the first two albums, I've actually been a long-time listener myself so I noticed that when I listened.
Aw, thank you.
No worries! So was that kind of purposeful? Like did you go in with the mindset of "Okay, let's do something really different" or did it just kind of naturally evolve that way?
A bit of both. We didn't want to make the same record again, and we've always been a pretty insular band in terms of who we work with, either songwriters or producers, and it's mainly kind of been just the four of us in the band, and we've had two producers that have worked pretty much 90% of our first two albums. So I think going into the third album we were like "Well, let's open it up a little bit," cause we get requests to do writing sessions with other people all the time but have never really done them, so I think with this album we were like, "Alright, let's give all of those sessions we've turned down a shot and see what comes out." So it was a learning experience for us, really. It got us out of our comfort zone of what we're used to. I think it's good to push the boundaries every now and then and experiment a little bit.
Absolutely. I think it's important for creative artists to try new things, so it's awesome you guys were able to do that. My next question actually was what does the title of the album, Politics of Living, actually mean?
Haha, yeah, so we have a track actually called 'Politics of Living' that didn't make the album because it wasn't quite finished, but it's a really good song and we really liked the title. And trying to think of album titles… I don't know, sometimes they can be really deep meaningful things. Like with our first album, 'In a Perfect World', we had a song called 'Perfect World' that wasn't on the album either, so it was a nice symmetry to have, an album title of a song that isn't actually on the album. Like history repeating itself. But I guess, for us, the meaning of the song [Politics of Living] is about relationships and people, and the relationships you have growing up with your family and friends or boyfriend or girlfriend, and those relationships and the politics of "Oh this person is talking to this person" or when you want to hang out with one person but you can't because another person hates that person, and family members and all of the politics and bullshit in that sense. So that's what it really means; it's not a political album at all.
Speaking of relationships growing up, I know most of you guys have known each other for years. Do you think that kind of bond is really important in the music industry? Because from the outside it can seem really draining and cutthroat. Do you think musical acts that have that kind of bond maybe do better, or handle the pressure better, than people who are just kind of thrown together?
Yeah, I mean we can only speak from our experience, but I do think that, yeah, people who are put together in a manufactured way… I don't know, I suppose they can probably bond being in the exact same scenario. But for us, we've grown, you know me, Mark and Steve, have known each other since we were fourteen, and we've known each other for almost half of our lives, so we've got a pretty strong connection between the three of us, and now with Jason as well, and all being on this kind of mad journey over the past six or seven years. As well as our crew; we've pretty much had the same crew since we started, so we really kind of keep a tight circle, and we don't let anybody get too big for their boots. Like if somebody is trying to be a bit of a diva, they kind of get dragged back down to earth. And it's all in good fun, and because we've known each other for so long, we know each other's boundaries so we can respect them, but also piss somebody off if we really want to.
When people reach the kind of success you guys have, do you notice people start to think of themselves more as, quote on quote, famous? I know you guys are very humble, but has there ever been a moment where you were like, "Wow, maybe I am kind of famous?"
There are definitely bits and pieces here and there, but we've never really thought of ourselves as famous or celebrities, especially in Ireland. I don't know, Irish people have a way of just not really giving a fuck about who you are or who you think you are. They're just kind of like, "Oh, it's your man from the telly" or "your man from the radio," you know? They just don't really care. But for us, we've met some amazing people and that's the biggest kind of thing. We were in L.A. about two years ago, doing some writing sessions for this album, and we were picking up some guitars from a Fender showroom, and U2 were in a rehearsal space beside where we were. And I guess our managers were talking to them or their people, I'm not sure how it happened, but we got invited down to a rehearsal and got to hang out with U2 for the day, which was pretty sick, especially us being from Dublin and them being from Dublin. So that was definitely a big moment. And we hang out with Ed Sheeran; he asked us to play a song with him when he had two big Dublin shows at Croke Park Stadium, and that was kind of like "Holy shit, Ed Sheeran is the biggest artist in the world at the moment."
Speaking of Ireland, how does it feel to be one of the acts to really break it from there, alongside Niall Horan, Picture This, Hozier, etc, and who else from Ireland do you guys really support or listen to?
Yeah, you've got Gavin James, The Script, and then obviously U2, so like it's incredible that there's so much talent coming out of such a small country. We're only a country of about five million people, and yet we produce some amazing singer-songwriters and artists, which is just incredible. And the Irish music industry is so small that everybody knows each other, so it's way more friendly than the U.K. industry. Like Irish people are really happy when they see another artist do really well, like watching Dermot Kennedy over the past few years is incredible because we're a massive fan of him. It's like everybody is just really happy for one another. When you see each other at festivals or around Dublin, everyone's just amazing and high fiving one another. I think that's quite unique to Ireland because we're such a small country.
I know you guys are playing a lot of festivals at the moment; do you have a favorite song to perform right now?
We're working on our fourth album, with just the four of us, which is really nice, and we've been performing a track we've written about two months ago called 'Wherever You Are' and it's really fun to play a brand new song that nobody's heard of, so we've all been enjoying playing that; we've been getting a good reaction from it. It's really fast and upbeat and has a really good message behind the song. We have a bit where we try and get everyone to jump up and down, which is fun because we've never done that before.
That's funny because I was just going to ask about a fourth album, but you've already kind of answered that! Any specific timeline yet?
We're hoping to have a single or an EP out before this U.K. tour in November, so definitely something new before the end of the year. And I think trying to release new stuff every month or every couple of months, and then the fourth album out next year at some point. We're working away! In between festivals we've been getting in the studio, so it's coming.
That's very exciting to hear. And now my burning question, which is totally off-topic, but I'm super curious. Have you guys watched Derry Girls at all?
Yes! We're massive fans of Derry Girls. It's an incredible show, just the music in it, the acting in it, the storyline, it's so good. And it touches on some serious issues, and not make light of them and really kind of discuss them, and it has some really poignant moments. But yeah, it's such a well-written TV show and so well constructed, and awesome to see something else from Ireland blow up like that.
Tickets for Kodaline's upcoming U.K. fall tour are on sale now.
Interview by Lauren Ablondi Olivo