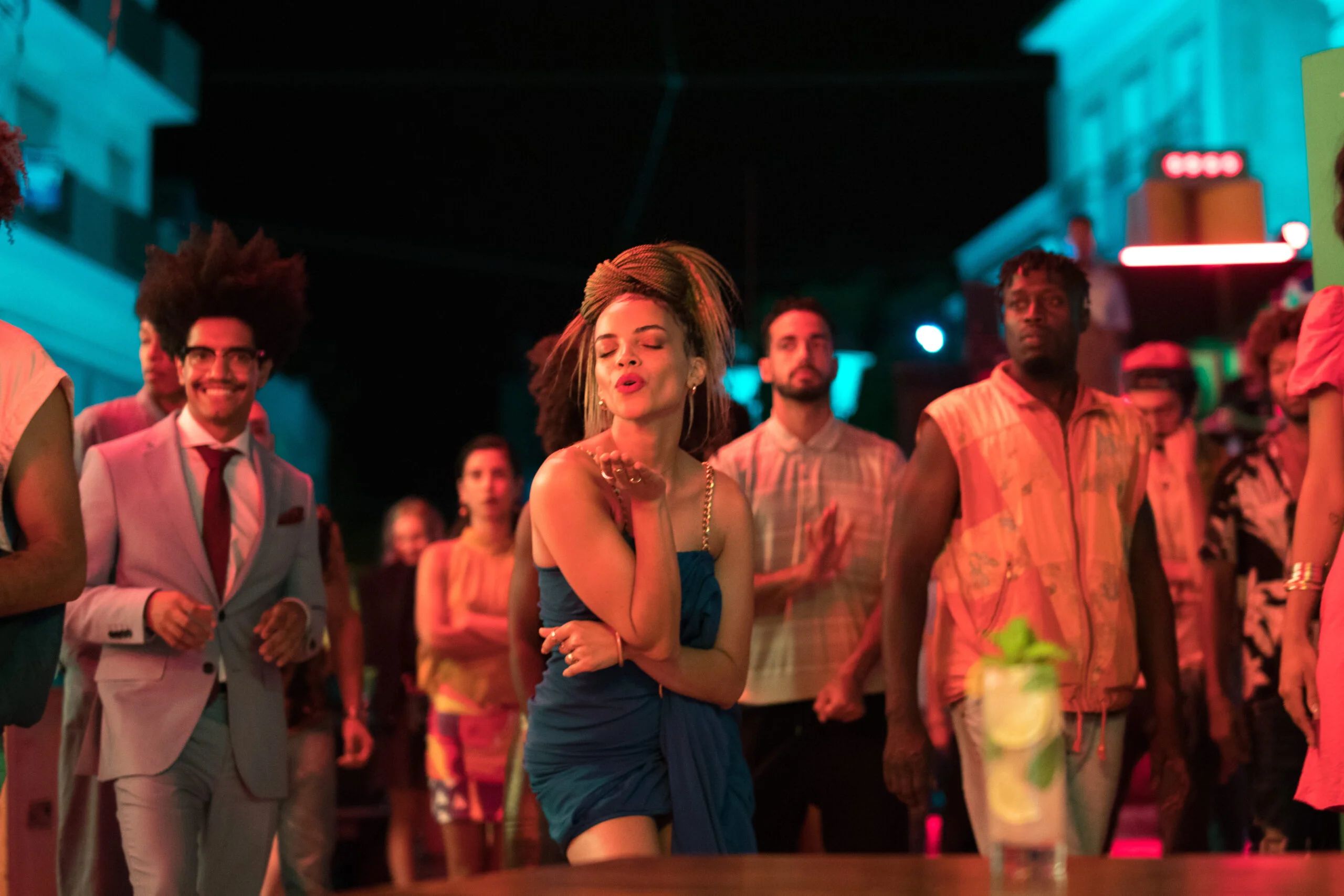 Leslie Grace
With a reimagining of the 1985 hit "Conga" and her first acting role in the film adaptation of Lin-Manuel Miranda's Tony Award-winning musical In the Heights, 2021 is shaping out to be Leslie Grace's breakout year. 
After gifting the music industry with her talents for over a decade, it feels like fate that American singer/songwriter Leslie Grace would be given the chance for her dream project — a reworked version of the 1985 hit "Conga", a song that brings up nothing but positive childhood memories for Grace. Collaborating with Meek Mill, Boi-1da, and with the help of Bacardi, the three artists received Gloria Estefan, Emilio Estefan, and Miami Sound Machine's blessing to give their hit a 2021 spin. After the year we've had, it will be warmly embraced.
2021 marks a huge year for Leslie Grace; we finally see her become the triple threat she was born to be when she showcases her dancing, singing and acting talents in the film adaptation of "In The Heights". It's a longtime coming but in the summer, it's looking like we are going to get to visit our friends in Washington Heights this summer. Leslie will play Nina, a first-generation Latin American college student returning home to surprise her parents but is also dealing with an inner conflict trying to figure out who she really is.
1883 spoke with Leslie Grace about her 'Conga' collaboration with Meek Mill, Boi-1da, and Bacardi, her first acting role in 'In The Heights', and why a certain part of the set in the film made the experience a full-circle moment for her and her family.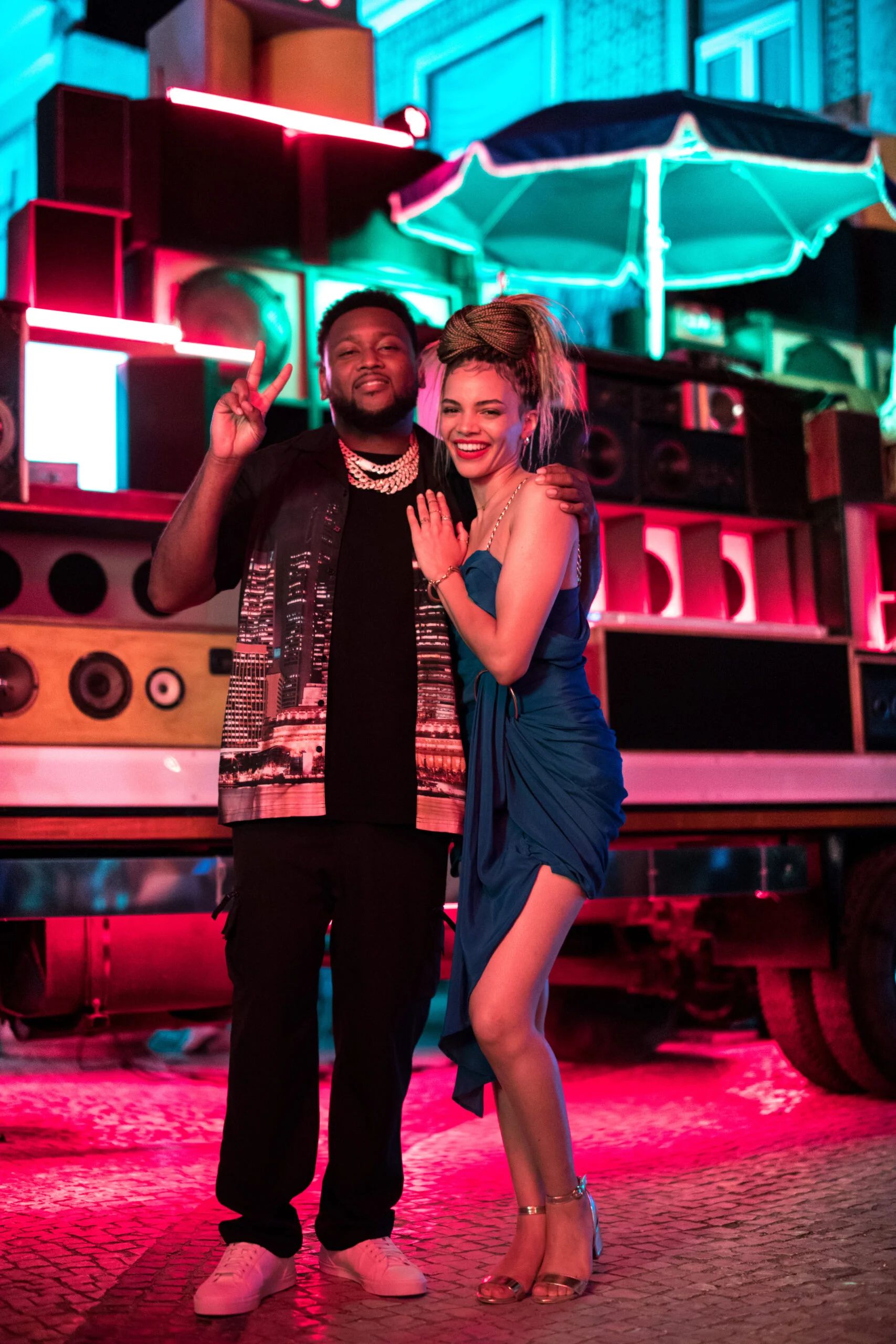 Today is the release of "Conga", a retelling of the 1985 song by Gloria Estefan, Emilio Estefan, and Miami Sound Machine. You've teamed up with Meek Mill and Boi-1da for this and it's incredible. What is it about 'Conga' in particular that has resonated with you to the point where you want to put a new spin on it?
It resonates with a lot of people from my generation. I feel a closeness to "Conga" because growing up I was always dancing to it at family gatherings. I remember being tiny and it being on and just dancing and spinning around to it at every party and every wedding. I've always had this amazing amount of respect for Gloria because she was the first Latin artist that was able to go mainstream and sing in both languages — a true international superstar. I wanted to do that. It was inspirational to me, especially since "Conga" was such an international hit. Having the opportunity to recreate the track was a true blessing. When the Bacardi team reached out and asked if I could be a part of this incredible campaign and recreate this iconic song, I was shocked! [Laughs] I had to make sure it was okay with Gloria and Emilio and Miami Sound Machine, they needed to be down with it!
And they were down with it! 
Yeah, they've been amazing through this whole thing. We asked if they trusted us to do it and they were all for it which means I couldn't say no! [Laughs] As soon as the idea was presented to us and we had their blessings, we knew we had to make this the best-reimagined version of "Conga" as we can for our generation to enjoy today.
Yeah, I saw Emilio gave you his blessings on Twitter the other day. It feels like they are passing the baton in a way. 
More than anything, it was so important that we had their blessing to recreate a song that was so huge for them and revolutionary for the rest of the world to a point where people are still listening to the original at gatherings that you can do the conga line at today. That was a huge factor to the project itself and important to me and all of the team; we wanted to maintain the integrity of the original song and the essence of it. Gloria and Emilio felt good about it and were part of every step of the process in regards to the lyrics I wrote and the different tweaks we made in the track. The heart and essence of the original song are there and it is a great reflection of what "Conga" was in the first place.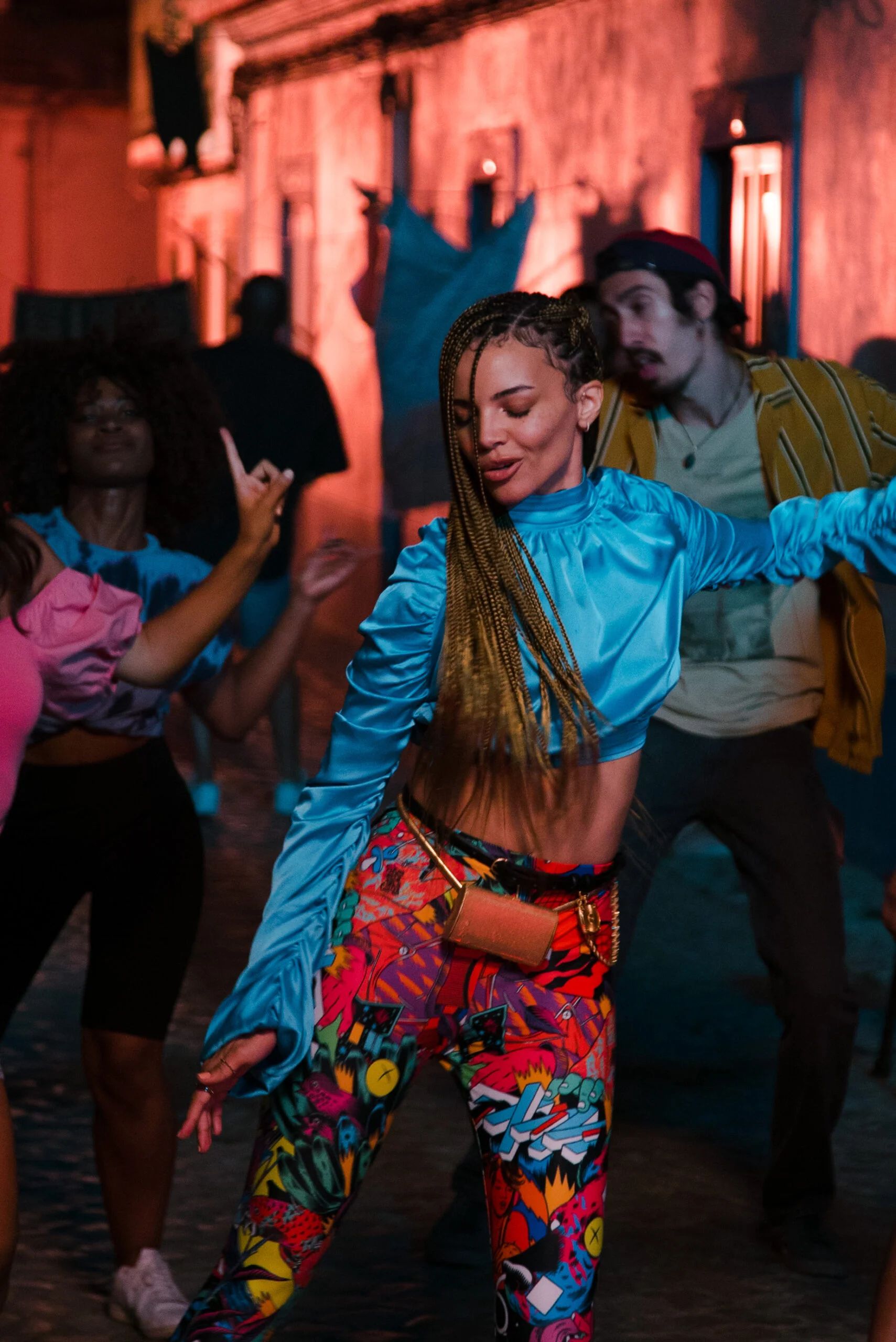 BACARDÍ Rum is working with you for the project and I feel like you can see the brand in the very colourful and fun music video — it looked like a party. What was it like to film the video?
It was the most creative thing I've done in ages — it felt like a mini-musical. It really shows "do what moves you" beautifully. It had an amazing director and he had this amazing set already drawn up frame-by-frame. When we saw the video proposal and the set and we saw how he was going to get this done between shooting and the choreography, we were blown away. I was in dance training for a few weeks too to get all of the dancing perfect, too. All of these really important pieces came together and it was very much a labour of love with a real intention to make all of these people come together with a purpose. When you see the video, you'll see I'm all over the place but you'll understand — it's a world of dance happening everywhere in the video. Somehow, he pulled it all together and it all worked out! 
That's amazing, especially given that you shot it during the quarantine.
Yeah, it was! Thankfully we were able to do this beautiful thing at a time where a lot of people are at home and unable to do what they love, we understood the gravity of that. We were able to shoot something so celebratory and beautiful in a place that was safe [Portugal] and got everyone tested. On-set for the first time after the year everyone had was just an incredible experience and memory.
It looks like something everyone needs to start the year — bright, light, and full of life.
Oh yeah, definitely! That's what we were saying all along. We've been working on it for so long and we knew by the time it came out, people will need it after the year we've had. If you're above ground, life calls to be celebrated right now. "Conga" is one of those tracks that needs you to get up and celebrate life.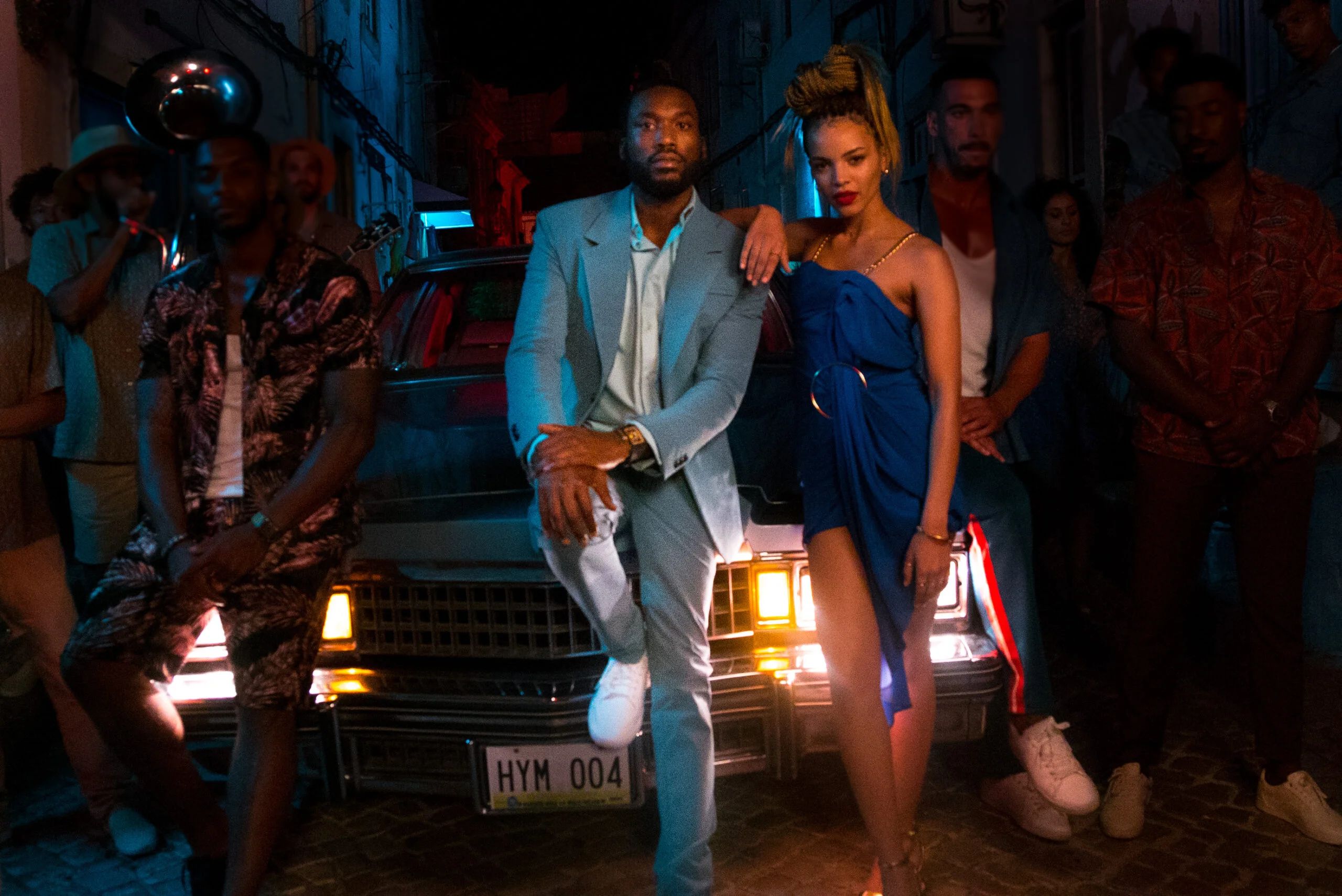 Speaking of musicals — this summer we will FINALLY see you star as Nina Rosario in the film adaptation of Lin Manuel Miranda's play In The Heights. For people who don't know about it, can you tell us a bit about the project?
Listen, I could go on and on about this project! [Laughs] As I said before, while we were shooting "Conga" it felt like shooting a mini-musical and this is the first musical release I've done since shooting "In The Heights". Shooting something like this was very reminiscent of my time shooting in Washington Heights with all of the team. One of my favourite parts in the film and the musical is "Carnaval Del Barrio" and that is one of the liveliest numbers and it is a celebration of life and the possibilities of whatever life may bring after a really hard time in the storyline of "In The Heights" and that's really what "Conga" felt like for me. 
I bet! Especially when the film was pushed back a whole year. What was it like to play Nina?
I can't wait for everybody to see it. It became a personal experience for me because it was my first gig as an actress after auditioning for years and working silently on that side of me for years, along with working on music at the same time. There were so many full circle moments that happened while I was shooting, too. I'm also from New York and a lot of our storylines crossover. Being able to play what feels like a version of myself as my first opportunity as an actress is something I will always remember. I felt like I learned so much about myself from Nina, I learned so much about life from Nina. I had a lot of empathy from where she was and the pressure she was experiencing trying to make everyone proud, which I think everyone feels at one point.
The story highlights trying to conform or break free, something everyone struggles with.
Definitely. Specifically, as a first generation Latina-Americana being born here and trying to make your parents who migrated here for you to have a better future, I could relate to the pressure she was going through. She's the first one to go to college, she makes it into Stanford, and she comes back home to the heights to tell everyone about it, but she's been having a really hard time. She's not having an issue assimilating, but she's grappling with who she is, whether she's conforming to somebody I'm not to fit in or do I stay the same Washington Heights girl that everyone knows and loves? You see her work through that throughout the film in the music, the dance, and all of the beautifully woven stories that Quiara Alegría Hudes and Lin-Manuel Miranda built and Jon M. Chu shot. It's the movie we'll need! I can't wait for you to see it.
Last fall I spoke with the lovely Ariana Greenblatt who plays the younger version of Nina. We talked a lot about Latin representation in film and how it's slowly been getting better. How has it been for you to finally be seeing proper representation in the media and being part of a cast like the one in 'In The Heights'?
Ariana is one of my favourite people ever! I love her. I felt honoured to be part of the cast. "In The Heights" is an anomaly of a project to have as your first acting role; it was a beautiful thing to be able to do but made me think "it shouldn't be like that." I was fully conscious of that. It's a huge project and I thought a lot about the fans of the musical a lot. My first opportunity to act on-screen, I know this doesn't happen to people every day. It made me think about how a blessing like that should be available to people who can properly represent themselves and their community. You want people to play their story. Across the board, down to every dancer that was cast, you will see every skin tone. We properly represent each story that's told in "In The Heights". 
That's amazing and must feel so empowering.
Yeah, it was. One of the most powerful moments for me was bringing my mom and dad to set. I was born in the Bronx but my parents are Dominican. My mom is a hairstylist and owns a salon and has owned one for over thirty years. Her first one was actually in the Heights, a block away from where we shot all summer. When she arrived to visit me on set, none of us knew there was a schedule change and somehow it ended up being the rehearsal inside of [the character] Daniella's salon. It was such a full-circle moment; the fact that she was there, on the same day we shot the salon scene, was meant to be. She looked inside and said "this looks like my salon!" [Laughs] There are so many moments like that that made me feel reflected and the stories feel universal, but the people that are really from the communities will love it. There's truth at the heart of the story. When you have people that care about reflecting what's true, it comes through on-screen. 
I know we need to wrap up, but I wanted to say how much I loved your letter you wrote for the Recording Academy. When you said "how we do what we do is what gives us meaning, not what we do." in the letter, it resonated with me. Thank you for that. 
Oh man, that means the world to me. Thank you so much. I hope it resonated with people. I know it was a lot of words so thank you for reading it. It's been a learning lesson for me, too. I'm taking your words with me for the rest of the day.
Watch "Conga" feat. Meek Mill, Leslie Grace, and Boi-1da now & check out "In The Heights" later this year.
interview by Kelsey J Barnes