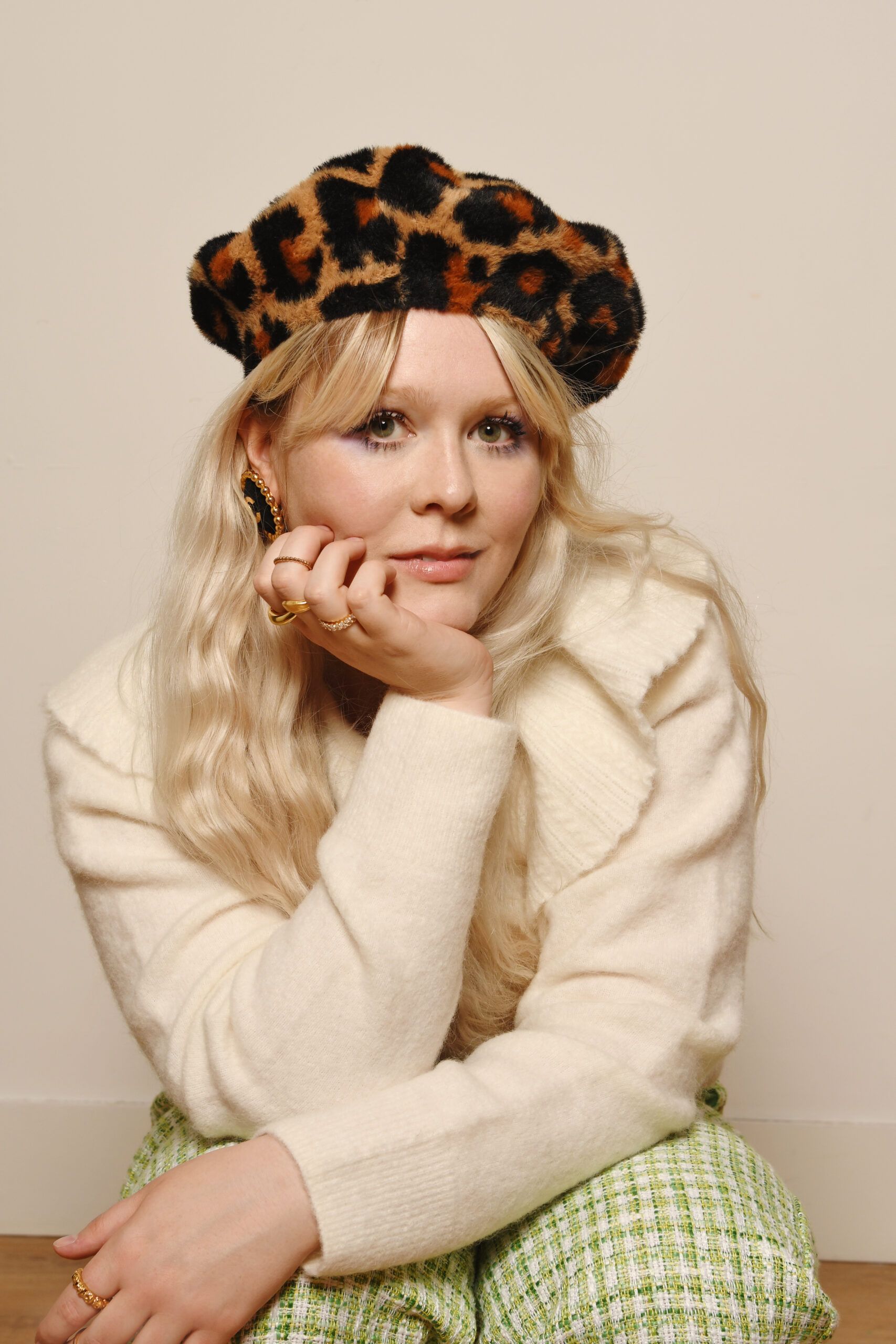 Litany
London-based singer, Litany, is on track to be your new favourite artist, thanks to her collection of catchy feel-good pop tunes. 
Originally from Harrogate, North Yorkshire, Beth Cornell AKA Litany has gone from strength to strength over the last few years. It all started when her breakthrough 2017 hit Bedroom gained 30 million streams on Spotify. Since that moment, she's reinvented herself as a solo artist (Litany was originally a duo), moved to London and gained some famous fans along the way. What really makes Litany stand out as a songwriter is her ability to pen lyrics that hark back to nostalgic memories once forgotten with her witty references. She explores topics in such a fresh and exciting way and then it's all topped off with stunning vocals, melodic hooks and slick production.
Most recently, Litany has shared infectious tracks like Uh-Huh, a fantastic duet with Oscar Scheller on Playlist and the newest addition, Cream. So to celebrate, 1883 Magazine caught up with Litany to discuss her latest music, collaborating with renowned UK comedian Joe Lycett and her upcoming sold-out show at the Jazz Cafe in London.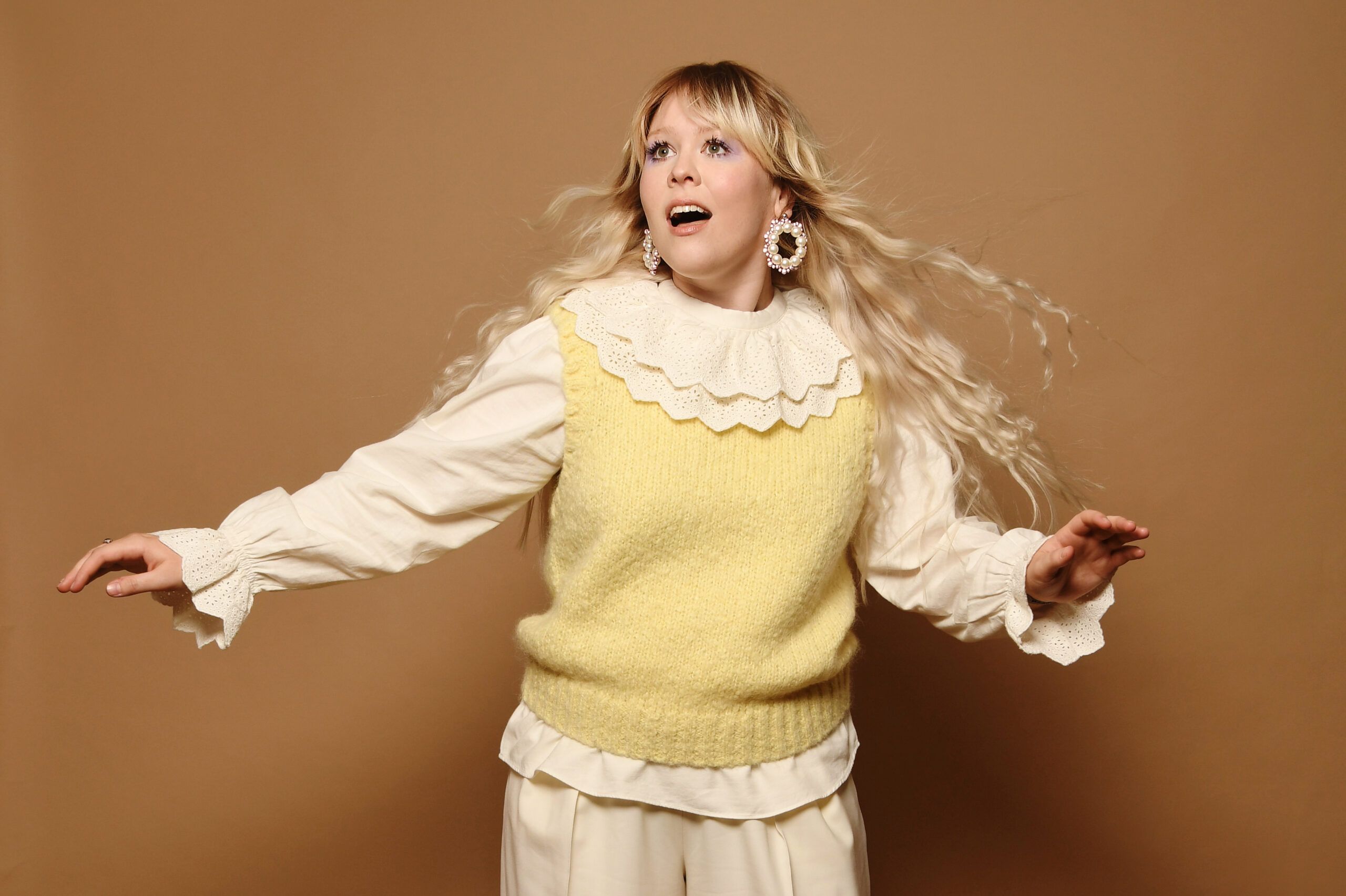 Hi Litany, congratulations on releasing your latest single Cream, can you tell us a little bit about the meaning behind the song and why people should check it out?
Thank you so much! This song is probably the anomaly in my otherwise sunny discography as it's about being in love with someone who is battling chronic depression. In my case watching someone once so full of life, spiral and no longer be able to see the wood for the trees is difficult – all you can do is assure them that you're not going anywhere and try to be a light at the end of the proverbial tunnel. PSA: Boys CAN cry.
Let's talk about Playlist, it is a collaboration with fellow musician Oscar Scheller, how did you both come to work together on this single?
Well, we met through a friend at a party and it was one of those situations where we both knew who the other person was through liking and being a fan of their music, respectively. I had a couple of drinks and thought: "right, I'm going to go over and introduce myself." When I went over he was like "oh my god, I've got to run but you're Litany and I love you, get your calendar out on your phone…". We basically swapped numbers, put a date in the diary and started to work with each other for a couple of weeks after that date. 
I think it was three sessions in that we realised quite quickly that we had an amazing chemistry anyway as friends. But then I was having a bad day vocally, I think I was coming down with the flu or something and I just said to Oscar "can you lay down that melody because my placeholder isn't going to be as good as yours" and he sung and then I got the track and I sung my part over the top of his voice, it just jelled so beautifully. The two different voices worked really well together, so when it came to writing a second verse I said "how about like we both write a verse each and maybe do a collaboration kind of thing." He was really into the idea.
We've been sat on Playlist for a while but the song has been one of those tracks that we both kept coming back to and despite releasing our own music in the interim, we couldn't stop thinking about that little duet. So that's kind of how the song came about. We're very fierce friends now and it's been amazing to release a song together and the reaction to the track has been really great. People are enjoying the voices together just as much as I am!
We love that this track was inspired by the fact that a guy sent you a playlist and you weren't sure whether there was a hidden meaning behind it! What sort of tracks were actually on the playlist and was there a hidden meaning behind it in the end?
Haha, I'll address the final point first, I was definitely wrong to think that there was a hidden meaning behind it haha…
His loss!
I think actually in hindsight, which is a wonderful thing, he just really tried to show off his pretty good music taste. It just so happened that a lot of the tracks were 70s funk and soul and you know, even if you just listen to Heart 70s, you'll realise that a lot of 70s soul music has the word 'love' in the title. So I maybe took it a little bit too literally. I'm trying to think what tracks were on it off the top of my head, but there was Teddy Pendergrass on it, Ronnie Laws and they were all kind of sensual. There was a track called Imaginary Playmates which is just the most sexually weird song ever and I think I went into the studio with Oscar that day and said like "would you put this on a playlist for someone? Is he trying to say he wants to be my playmate? Is that a thing?"
It definitely wasn't… but Oscar at the time loved that idea and this sort of existential crisis I was having over this guy. And he was like "that is what we are going to write about today, it's such a good topic." He'd only just a few previous days before sent a playlist himself to a girl which did have a hidden meaning. Oscar spelt out 'I think you're great' with title tracks. We both aligned at the same time on the topic, so that is where it came from. 
It's also great to see that you've taken this one step further by encouraging fans to add to your collaborative playlist on Spotify, so they then send it to their potential romantic interest and by doing so, they could win an iPod Nano – what a throwback! Has there been any success stories so far?
I haven't from this song yet, it's a bit too early to tell because if their crushes are anything like mine, they play the long game. So they might just be sitting around with this playlist, waiting for the right time. But I've had it before where fans have sent tracks of mine to their crushes and then they're like "we're now engaged and 'Ps2' is our wedding song" and all this kind of stuff. It's kind of mental. Oscar has a fanpage which was set up by a fan and they followed the playlist and shared it from every account they own on Instagram. They said that "well I've got these guys that I like but I don't know which one I like more. So I've sent them all the playlist and waiting to hear back." She's just playing the field and this playlist is going to be the deciding factor for which guy she goes for haha.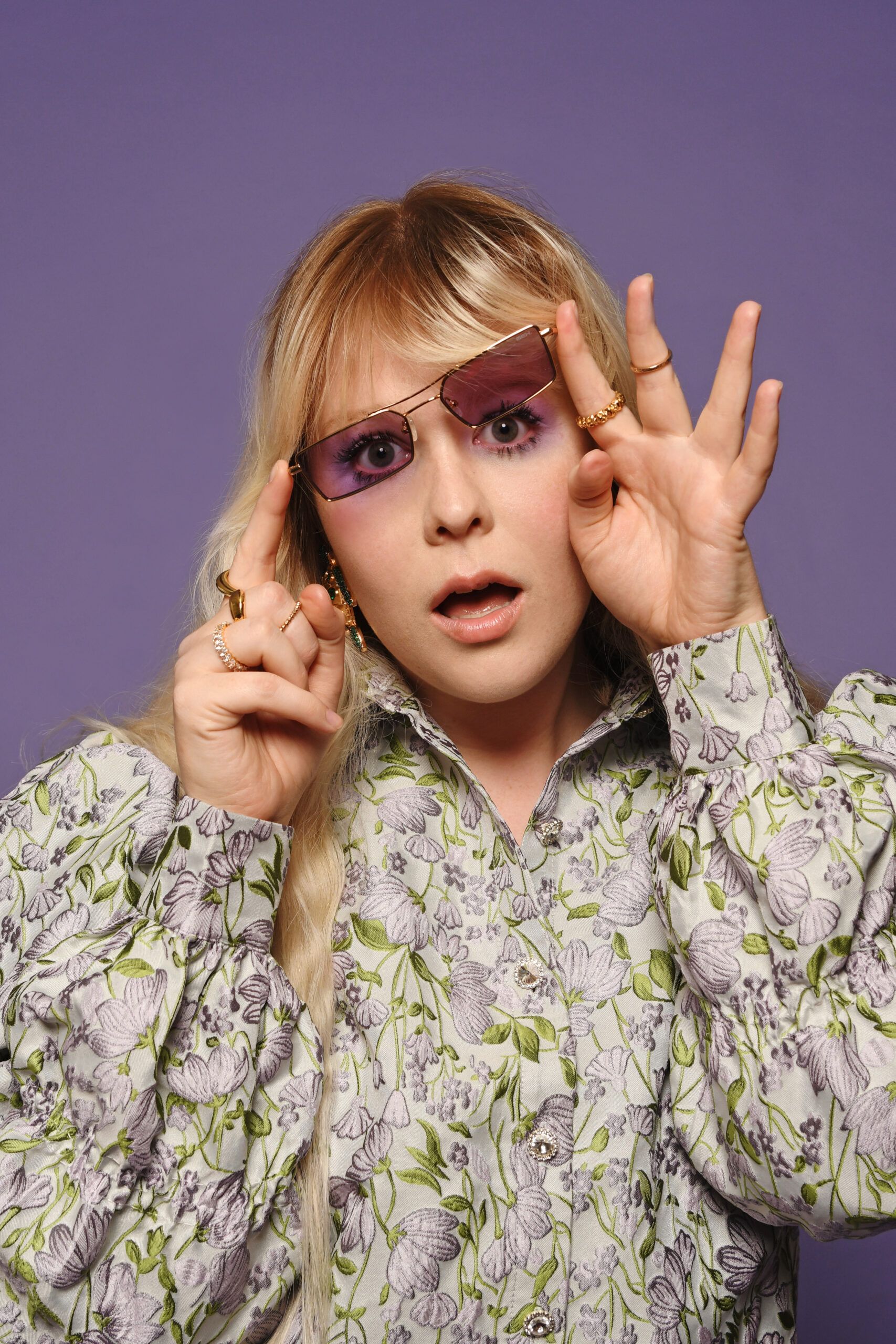 Good for her!
Your previous track Uh-huh had quite the reception with tastemakers and the accompanying visuals were directed by comedian Joe Lycett and it featured some well-known people such as Katherine Ryan and Billie Marten. What was your favourite moment from shooting the video and did you expect for the song to get as much support as it did?
Well my favourite moment from that video is my brother's boyfriend Matt. The designer Ruby Kirby had lent Joe and I these extraordinary outfits she makes. These outfits represent all these different parts of the human body through the fabric she uses and everything. The best creation in my opinion was the willy dress that Ruby calls it. It's very phallic and it was Matt's job to wear that outfit. When we got to shooting that scene, Matt was lip-syncing to the song and kind of swaying from side to side and Joe just shouted "do the helicopter!" Everybody on set was just howling with laughter and I think at this point we had been on set for about eight hours. It was a really long day.
It made for such an incredible shot as Matt was just laughing and in the end it just had to go into the final video. So that was probably my favourite part of the shoot. That and winning over the chicken which was in the video, I had a really strong bond with the chicken. 
In terms of the reception of the track, I really hoped that it would do well, I think the minute I wrote that song I felt really proud of it and confident with it. It's a confident sexy song and I've never really put out anything music like that which is so self-assured. All my other songs are kind of self-deprecating in one way or another and this track was the first one where I'm like 'nah, do you know what? It's about really good sex and I had that, so here's a song about it, deal with it haha!' 
To have the support from Radio One best new pop, it's the first time I've ever had the honour of that title. To have NME putting my name in a headline on their homepage was just mental. So I didn't expect all that but I had hope that it would connect with the fans, especially given that the song came out in a time where people weren't able to go out and they probably weren't able to see their loved ones. So at least they could live vicariously through this song a little bit haha. 
The track definitely shows off your more confident and self-assured side, so it's great to see that. It's also good to see another song that champions sex positivity, Uh-Huh is a great example of that positivity, just like Lil Nas X's Call Me By Your Name.
Yeah, I think women get a lot of bad press for singing about sex. Especially if you're doing it so brazenly, like say, Cardi B would in WAP. 
What a song!
It's a brilliant song, absolutely legendary. But we do for some reason get held to a higher account when we sing about sex. For me, it's really obvious that Uh-Huh is about sex but to others it might not be, as I've made innuendos rather than perhaps singing about it directly. But it just felt really great to release a song that millions of people could hear and it was about a really great shag haha. Why should I feel embarrassed about it or not talk about that kind of stuff, men certainly don't feel embarrassed about it. It was a really great moment and the video was so much fun, I just wanted the entire experience of that release to feel really whimsical, joyful and I didn't want anyone to take any part of it seriously. I just wanted everyone to have a good time listening to it and watching it. 
I think it worked, Joe did a really great job with the visuals, so I'm dead chuffed.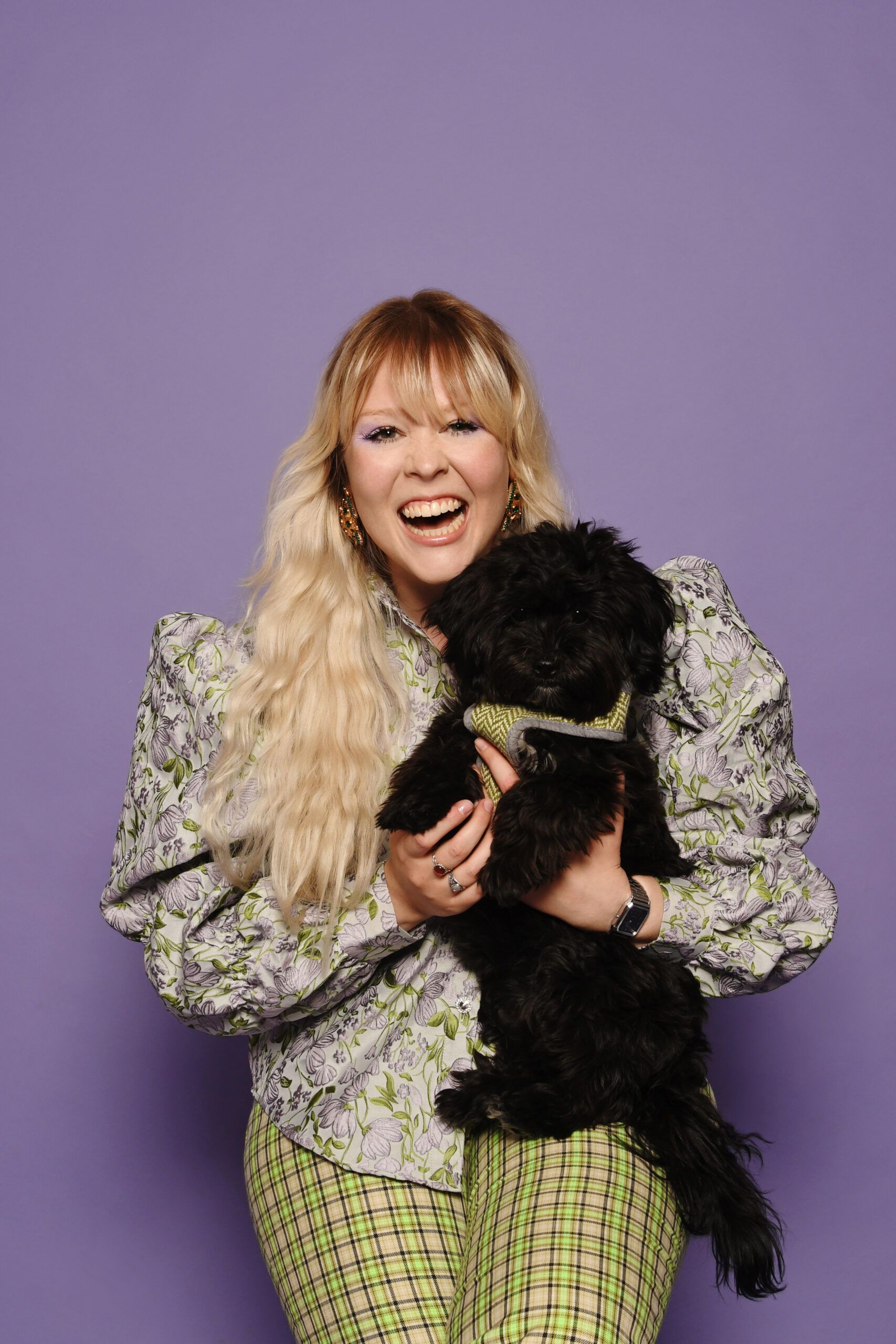 How did people like Joe Lycett and Katherine Ryan come to be in the music video and work on the visuals with you? 
Well, It was all because Joe had reached out to me on Instagram, he instigated it which was mind-blowing for me. Anybody that knows me, knows that I'm obsessed with Joe Lycett, I think he's the best comedian in the country. I've said it, it's my opinion haha. I just think he's wonderful and I was reading his book at the time and I'm not joking, I was sat in bed with my then partner, reading his book and I then get a message from him saying: "congratulations on 'Bedroom', absolutely love that song, I always listen to you when I'm on tour." I couldn't quite believe it!
I didn't really want to let that go, I just thought: "right, this is my opportunity to befriend him maybe". I don't know haha, I think I just admire him so much that I wanted to start a conversation with him. I had no idea it would then lead to him offering his services as not just a cameo in a music video but directing it as well. So I sent him the original demo for Uh-Huh back when we first started talking and he said: "this is it, I've got a vision, give me a couple of days and I will come back with an idea." And sure enough in my inbox, a couple of days later, Joe Lycett had emailed me a twenty-second clip of him in wigs, in glasses, with flamingo heads, horse heads, literally everything. And throughout the clip he's changing the camera shot. It's really similar to our end product and I just loved the idea instantly.
We just started riffing on it over the months that came and I think initially we were going to have a couple of other people in it. But Joe said that "Katherine is free now, let's have Katherine in it." So I was like "if Katherine is up for it, let's do it!" And Joe had met the drag queen Vinegar Strokes when he was doing some kind of TV thing and so we asked her to be involved. Billie Marten is my best friend, so I just said to her "well look, the world and its wife is going to be in this video, do you just want to make a cameo for a laugh?". It all just turned into this really lovely joyous day with so many wonderful personalities involved. It's so different as well, everyone on set was so dramatically different and it was a really good laugh. 
How are you feeling about the return of live shows? You're performing a sold-out headline show at the Jazz Cafe on 26th June, we can imagine it's going to be so emotional and euphoric!
Yeah definitely, I think that I'm not alone in saying that a lot of us feel out of practice and out of touch with the world of performing live. Although we miss live shows, it's still quite a daunting thing to think that we are so out of practice. It's mainly the build-up which is the worst part, when you're on tour there is that fear of messing up or things going wrong or not selling any tickets. And that side of things is terrifying when you haven't been exposed to it for over a year. Selling out the Jazz Cafe was a triumph and a really welcome one haha. It's actually going to be the most intimate show I've ever played in London since the start of my career. Given that there are still restrictions in place right now, we wanted to keep it quite low-key.
The Jazz Cafe is amazing as it has tables and you can sit down and it's really easy to socially distance in the venue. So it felt like the right move for the time, I think the bar sold out in like seven minutes or something, so obviously people want to see it which is great. Even though when I get back on stage there will be a different dynamic to what is usual, with people being seated, every time me and my band perform we just have such a party. It's a really feel-good atmosphere and the crowds are usually wonderful and there to have a good time. That's what it is, a party!
Congratulations, it sounds like it's going to be a really fun show.
As it's a seated show, we've done things a bit differently, for the first time ever, we've got an all-female & non-binary string quartet that's going to perform with us for about a third of the set. It's incredibly exciting, I've never sung with a string quartet, they are called Her Ensemble. It's going to be incredible, very much looking forward to that.
There's a real playful and fun aspect to your sound, how do you keep the songwriting process fun for yourself?
I guess being a collaborative writer means that it depends on who you are in the room with. For me, there is definitely no one way to write a track. For the most part if I'm ever writing on my own, I tend to focus on the melody first as melody tends to inspire what I'm going to sing about. A lot of artists do the lyrics first but I'm definitely more of a melody-based writer. Once I start assigning the lyrics, I call them 'nuggets', I have like nugget words that I want to incorporate into the song. So say that I really want to write about a song with a magic eight-ball in it, or I really want to write a song with a Tetris block in it, there is quite a lot of nostalgic references in my lyricism and I think that is because I loved that time period. It was a simpler time… haha!
Even signing about it or hearing about it, nostalgia just makes you feel warm and fuzzy. I'm creating music first and foremost for myself to enjoy and that is what I want to hear about. I don't want to hear about modern day things that stress me out, I want to hear about nostalgic items that brought me a lot of happiness back in the day haha. Hopefully a lot of other people do too!
What would you say your favourite childhood possession from back in the day was then? A Furby would be a good shout for a lot of people…
I did love my Furby, I had three of them, they were all named after types of curry because throughout all my childhood I didn't know if a Furby was a bird? I thought they were a bird so in quite a sadistic way thinking back on it, I called them like Bhuna, Jalfrezi and Madras haha. That is really awful! My dad liked curry you know, so it seemed natural. So I loved my Furby. I also had a silvery/metallic robotic dog with blue flashing ears and it would walk along and yap.
I loved the toys but my favourite possession which you could interact with was my PS2 if I'm honest. I even wrote a song about it and I just love it. I loved the PS2, primarily for playing Simpsons Hit & Run a lot and also Max Payne which is a very violent but fantastic game. I spent hours on it, If I was ever dating a guy, I would bring him to my parent's house and we'd just play for hours on the PS2. No funny business, just gaming!
Wholesome stuff! And Simpsons Hit & Run was a fantastic game.
Originally, you're from Harrogate in North Yorkshire but you made the move to London a few years ago. How do you think moving to London has impacted your music career so far, what have been the benefits?
Firstly, where I'm from is really quite a quiet place and it's not particularly renowned for contemporary culture I would say. So even as a teenager, I was massively into discovering new musical acts myself. I just wanted to be at the most indie gig you could possibly imagine, So I'd head to Leeds with my friends. When it came to the point when Litany separated as a duo and I was a solo artist all of a sudden, I couldn't quite imagine managing steering the ship on my own from somewhere so isolated from the music industry.
The main thing for me was… rather than being closer to the industry side of things in London, it was to be more closer to other creatives. As they were going to be key for me to move forward. And I had to, there was no way in hell that I was going to leave music that easily haha. I had to make it work, so moving down to London meant that I was burning the candle at both ends. Where I work through the day trying to find producers and creatives to work with and in the night I'd use the few contacts that I had to network and go out and meet as many people as possible. You can't do that anywhere else in the UK, not to the same extent. 
The wealth of gigs you guys have down here is just crazy. Every night of the week you could be seeing someone else incredible, so having that opportunity to learn constantly was vital for me. I love it, I love being a Yorkshire person in London, I think my accent has got stronger since coming here. London has entrapped me and I won't be going anywhere!
Who are your dream collaborations, who would you love to work with?
I would love to work with jack Antonoff…
He's quite busy working with Lana Del Rey at the moment…
Yeah! Lana Del Rey, Lorde, Taylor Swift, Carly Rae Jepsen, he's worked with so many incredible female artists and I feel like he squeezes gold out of these artists. He's like a component that you need in order to have an incredible album it seems. But yeah, I'd love to work with him, I just think he's amazing. So he would be my no.1 producer collaboration for sure.
In terms of an artist collaboration, it was Oscar Scheller and then I did it. I'd really like someone like Empress Of, someone like that. I could make a dance track with her or something, I think that would be really exciting. 
We're going to have to start a national campaign for you, let's get Joe and all your best pals involved and we need to make a collaboration with yourself and Jack happen!
Manifest it!
Finally, can we expect any more new music this year? Is the world ready for a Litany debut record yet or do you have anything else planned first?
I really want to do the first album right. As everybody knows, my fans are so patient and I'm so much of a perfectionist but it does take me a minute to write a record that I'm proud of. So for now, I'm going to continue to do singles but also add a visual element to them, which is something I've never really done before due to the budget or not knowing the right people. But I have seemed to of found myself in a position where I know enough of the right people to create these nice wholesome visual moments. 
So I'm going to release a lot more music with those and come at you with a new EP around the time of my first show in London. I think it's my best work yet from my perspective, lyrically, it's a lot deeper and a little bit more melancholy but in a good way. Warm and fuzzy melancholy! 
Cream is out now. Follow Litany via @litanymusic
Interview by Cameron Poole
Photography Jack Alexander using broncolor
Styling Morgan Hall
Hair and Makeup Lucy Gibson at Frank Agency