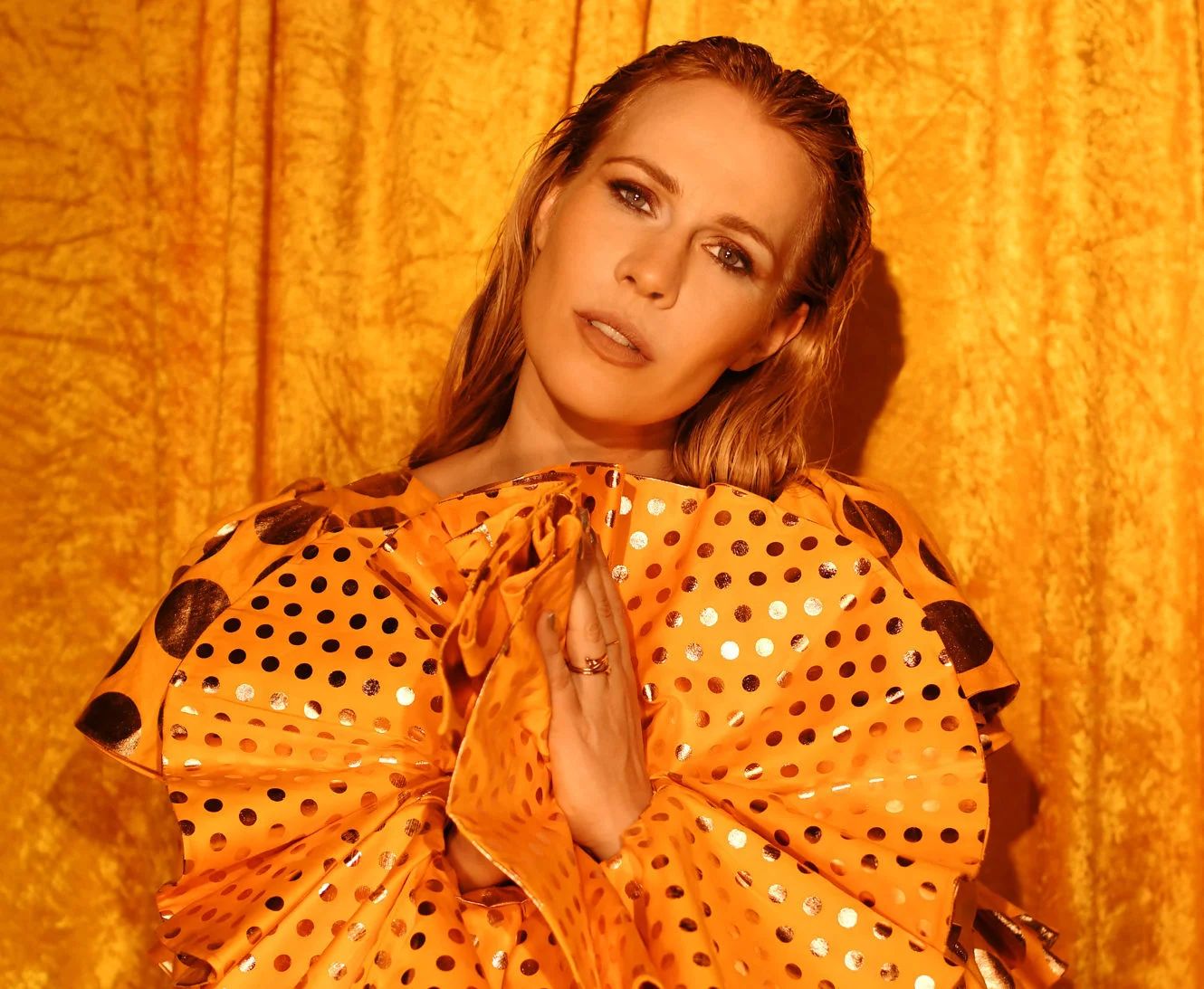 Natasha Bedingfield
When she burst onto the scene in the noughties, Natasha Bedingfield's soul-searching hits became the soundtrack to many millennials' lives – and a little show called The Hills. Now, almost a decade since her last project, the singer-songwriter is back again with new album Roll With Me.
The past nine years have seen Natasha writing tracks for the likes of Cheryl, Brandy, The Corrs, Nicki Minaj and the Hillsong London Church. But when it came time to bring her latest solo project to life, the 37-year-old buckled down with legendary writer and producer Linda Perry to create music that, once again, speaks to the world.
While new singles 'Roller Skate' and 'Kick It' see her continue to explore the complexity of relationships, the singer also touches on hard-hitting topics like American's gun problem in tracks like 'Hey Papa' and 'Everybody Come Together'.
1883 caught up with Natasha to discuss her musical influences, the confidence that comes with experience, and how motherhood has shaped her creative process.
I would say 'Welcome Back', but you've never truly left! What have you been up to in the past nine years?  
I've been doing a lot of songwriting and touring. One of the reasons why I live in LA is because it's a kind of songwriting mecca. There are just so many incredible songwriters there, and it's a kind of community on its own. Songwriters tend to be quite deep, soul-searching type of people who also have a lot of fun. It's the most fun job in the world because you turn up and you talk about things, and then you write a song about it. You have to be quite honest with each other because you want to write songs that are true, so it's great.
You also got married and became a mother. Has this changed the way you make music?
I was just writing something down in my journal today. When 'Unwritten' says 'Open up the dirty window', that was the feeling of being a 20-something where the future is scary but exciting; you just need to clean the window off so you can see what's ahead. Whereas now, I feel like I've got a different kind of window opportunity where I have to grab my moments. There's a lot of things competing for your attention, so you have to prioritise. But it actually helps you to prioritise and focus on what's really important. Also, I feel really experienced, and I like it. It's different going on stage now because there is an ease that I love, and I think that comes through at my shows. I don't feel like I've got anything to prove. In my whole career, my team would say maybe when you get another one, then you'll be taken seriously and chasing that gets addictive. You feel like you have to keep climbing. I'm still climbing, but I feel like my motives have changed; it's more from a place of fun and growth.
Roll With Me definitely sees you try out some new things and having fun with your music – was this almost like working on your debut?
I have always wanted to lock in with one producer and really get my teeth into an album like it's a project. I really wanted to give it a fingerprint all the way through. Production-wise I feel like this album feels more whole thanks to Linda. Working with her also gave me the freedom to express the other sides of me. When I was younger, I was like 'Love me! Show me that my feelings are worth something! Let me prove the worth of my existence!' But I just don't feel that anymore. Instead, I focused on how amazing it feels to enjoy this gift of music. It's interesting how life changes you.
Your early experience with music involved singing in a church – do you think that still plays a part in how you create music?
Yes, definitely. I feel like I've been tapping into that even more because it was so powerfully touching to me when growing up. I found it powerfully touching the way music can really open you up and help you to connect to each other. There's a feeling when you're in a group of people, and it creates an extra sort of energy, and the music directs you somewhere. You feel built up with your energy, and it's like where do you put it? Church kind of takes that energy and directs that to God. But all good performers are able to change the state of the energy in the room and use it to enable people to connect to what they need at that time. We are so disconnected from ourselves these days and so disconnected from each other, so I think that it is so powerful.
Tracks like 'Hey Papa' definitely touch on the issues we are facing in society today – were those issues playing on your mind while creating Roll With Me?
There is so much going on with the world, and so many changes in society; kids are just like 'What's going on?' It's a really weird time, so that's the time when people want to feel stuff and get some answers and talk about things that matter. So I want to talk about things that matter. When they put that mic up to my face, I don't only want to entertain. I want people to feel something.
That much has been clear to see from your biggest hits. Is it weird for them to be regarded as pop classics?
It's so encouraging to me because it takes a lot of vulnerability to be open about yourself. A lot of times when we struggle with stuff, we think we are the only ones and we get isolated. But I found that the more I talk about those things, the more I realise I'm not alone. That's what is happening with social media now as well. We have all these airbrushed, perfect pictures of everyone and now people are getting sick of that. And now people are like 'Actually, I have cellulite and that's okay. And I have depression, so everything isn't all perfect.' It's great because it means people who see that know they are not alone. I think that's how it is with my songs when someone can listen and think 'Oh wow, it wasn't just me'.
You've worked a lot with Bebe Rexha and Anne-Marie over the years. Are you proud to see new singer-songwriters in pop get their shine?
Yes. Both of those women reminded me of myself when I first started because there's this kind of audacity and realness to their lyrics. I think the cool thing about being a singer/songwriter in the pop scene is that when you've written a song, it just won't be a hit for anyone else. It resonates with you as opposed to a song that someone wrote for you. There's an extra authority you have by writing it yourself. If I tried to sing a song like 'Rehab' by Amy Winehouse, people would be laughing because I obviously don't have the same issues, and it wouldn't feel real.
Do you hope your son, Solomon, will have the same connection to music as you do?
I often wonder what he must think about his mum. I guess for a child, how you grow up is normal; so, for now, he thinks everyone's mum sings. A song that he already really loves is called 'Hey Papa' because he was in the studio when we made the album. He'll just say 'Papa, Papa' because he wants me to play it again and again. I was raised in a family where everyone sings, and it was just a normal thing. So, I want him to feel like it's a normal thing as well. Singing feels really good for the soul, just the vibration of singing a song. There's nothing better.
Team Credits
interview by Nola Ojomu
photography Jack Alexander 
styling Thomas George Wulbern 
hair Patrick Wilson @ Caren using ghd hair and Bumble and bumble
makeup Mario Brooksbank @ Carol Hayes Management using NARS Cosmetics, Anastasia Beverly Hills and Rodial
special thanks to Drink, Shop & Do, London

Top image fashion credits
full look Poppy Simone Dowsing
Natasha Bedingfield's latest album, Roll With Me, is out now. For more info, visit www.natashabedingfield.com.