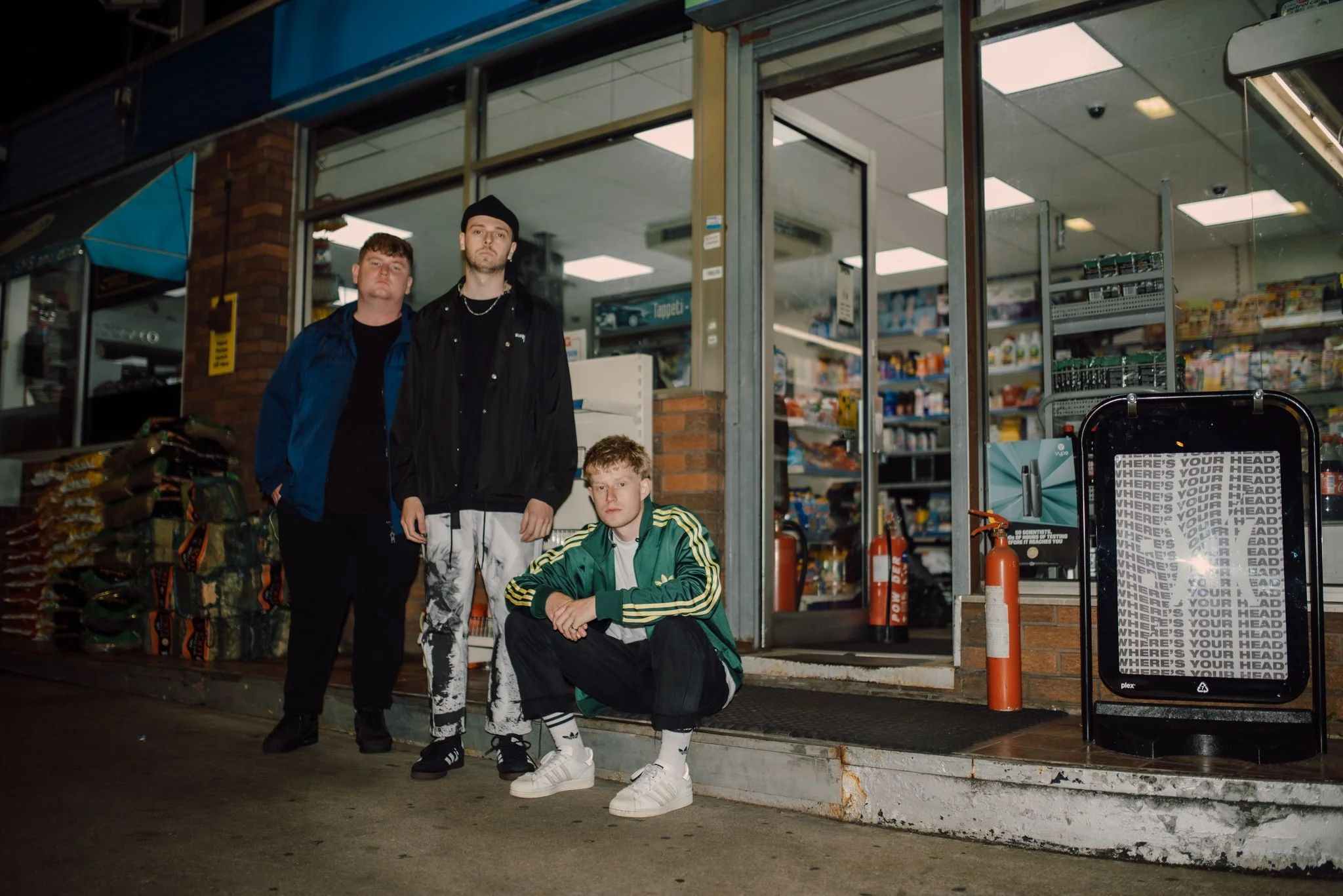 Noisy
When Noisy released their debut EP Press Space To Play at the beginning of 2020, like a lot of us, they never expected the year to take the tumultuous twists and turns that it had.
In times of social unrest, political division, and the creative industry being actively undermined by the government despite creating over 30,000 jobs and is worth 1.1 billion to the U.K. economy; Noisy have been proactive. Working for the NHS during the day, then hitting the studio in the evening- the boys have been wasting no time.
Making music with no boundaries, Worthing-based NOISY comprises singer/rapper Cody, guitarist Connor, and producer Spencer, a three-piece hybrid of hooks, beats, and escapism. Having spent the majority of lockdown in their makeshift studio in Spencer's house, the band are more than ready to release new music and have also developed a newly found appreciation for life. With the release of their newest EP I Wish I Was… A alongside an accompanying music video with the same title, Noisy are developing their sound. Laced with rap rock and alternative pop, the new EP is littered with certified bangers.
So ahead of their live performance at petrol station,  we caught up with the new band to talk about their latest EP, avoiding burnout and dreams of collaborating with Skepta and M.I.A.
First off, can you tell us about the band name, and what made you decide to come up with NOISY?
We always wanted a simple one-word name that people could remember easily. Also wanted it to contain only 4-5 letters, so we didn't give ourselves a lot of options! We had like 50 names that we whittled down to 1, which was Happy Sad. Although it wasn't the short snappy name that we first wanted, it seemed to create a buzz between us for a few days. Thinking back now, I'm glad it was an option as the logo we use today wouldn't have been created. After realising Happy Sad wasn't for us, "Noisy" quickly came around and stuck immediately. We felt like it fit our whole vibe and everyone seemed to be hyped on it from the get go.
You all worked within the NHS when you were signed. During these times that must have been an interesting experience. What was it like working such an important role while also pursuing creative passions?
It was actually a really good time for us. There was no pressure on writing back then so we were smashing out 2-3 songs every week whilst discovering what we wanted Noisy to be and sound like. People at work knew us as "the boys in the band" so it felt like a constant news update on what was happening and what we were up to. Working 7.30-4 and then going to the studio after to track in some lyrics that I'd snuck off to the bathroom to write that day, was the norm for me.
How do you all keep motivated and created but also avoid burnout?
Let off a LOT of steam at the weekends. We've got a great group of mates that love a big party so there's always something happening down here. It's also something to write about for the rest of the week. I think staying locked up in a studio for months on end without creating other memories around you is unhealthy. What would we write about?!
Congratulations on the new EP! How did you feel about releasing this body of work?
Can't actually believe it's out in the world. We've been sitting on I Wish I Was A… for well over a year now as it never felt like the right time for it to drop, and I'm glad we waited. This release feels like we've really arrived now. From start to finish it sums up our band, lyrically and musically. We've built the Noisy foundation with these last 2 EPs and now it's really time to go.
Can you tell us about the EP title and the creative process behind I Wish I Was A… ?
We wanted to throw everything at the track "IWIWA" so naming the EP after it felt like the right move. The track originally started with that rumble in the intro, inspired by Twenty One Pilots. I felt like it needed some angsty and fast sounding lyrics to open it, throwing it back to when I was a kid and what mindset I was in when I was young. As the track develops lyrically, I started to touch on how social media can warp the idea of what you want to be and what you want to be doing with your life. Is everyone stuck to their screens, not living in the moment and wishing their life away? Musically, we love the sound of 90's house pianos, so when the track arrived at the chorus it felt like a fresh and exciting thing to do whilst also carrying the pace from the verse. We love to play with dynamics a lot in our music, surprising the listener at every corner. We don't want people to know what's coming next.
The music video is insanely cool too, very Black Mirror-esque! You had apparently shot this in an art gallery? Talk us through the visuals.
So far this is the only video we haven't directed/ co-directed ourselves so was a whole new experience for us. Joao Retorta took this one and really created a visual dream. It was shot in Ukraine so everything just has such a cool vibe. From the location to the actors/ models. We think it takes the song to a whole different level.
Earlier this year you released Press Space to Play, a lot has changed since the beginning when you initially released that. What would you say has been the largest difference between then and now? Both sonically and as a band?
Even in January, I feel like we were still trying to find out what Noisy was. We always knew I Wish I Was A… was going on the second EP so sonically, we knew the vibe. We just wanted bigger and better tracks. I feel like now we really know what we are doing as a band and are getting a good idea of what this band is going to be. I'm excited. I think also the drive from all of us has gotten even bigger, we want it even more now. We're writing music I never thought we'd ever be creating, I just wanna get out on the road and show everyone.
A lot of artists are currently angry at the government's outlook on the creative industry as well as the future of live music venues. Do these concerns ever get to you as a band? What's your outlook on the future of live music?
Yeah, of course! We're a new band, so without small independent venues how are we going to grow ourselves? I think live music will come back bigger and better than ever, it has to. I feel like people, especially at the start, will go to a lot more shows than they would have done just because we've been starved of them for so long. It's like the main reason I wanted to be in a band, live music is the best kind of drug.
Any artists you're hoping to collaborate with?
Kenny Hoopla, Prodigy, Grandson, Skepta, M.I.A.
What are you most looking forward to in 2021? What can we expect next, word on the street is that you're hoping to start your own club?
Shows hopefully. It's getting boring now haha. Feel like everyone just needs that release. We also have a lot of new music to share with the world, so we need dark rooms to play it in. Fast FWD To Friday is a club night we started back last October and was a huge success. The plan is to put more on around the country in the future. Less of a gig and more a messy night.
The  EP I Wish I Was A… is out now and check out the petrol station session below. Follow Noisy via @theworldnoisy
Interview by Ashley Morris
[embedyt] https://www.youtube.com/watch?v=RdcOkkGS9KQ[/embedyt]