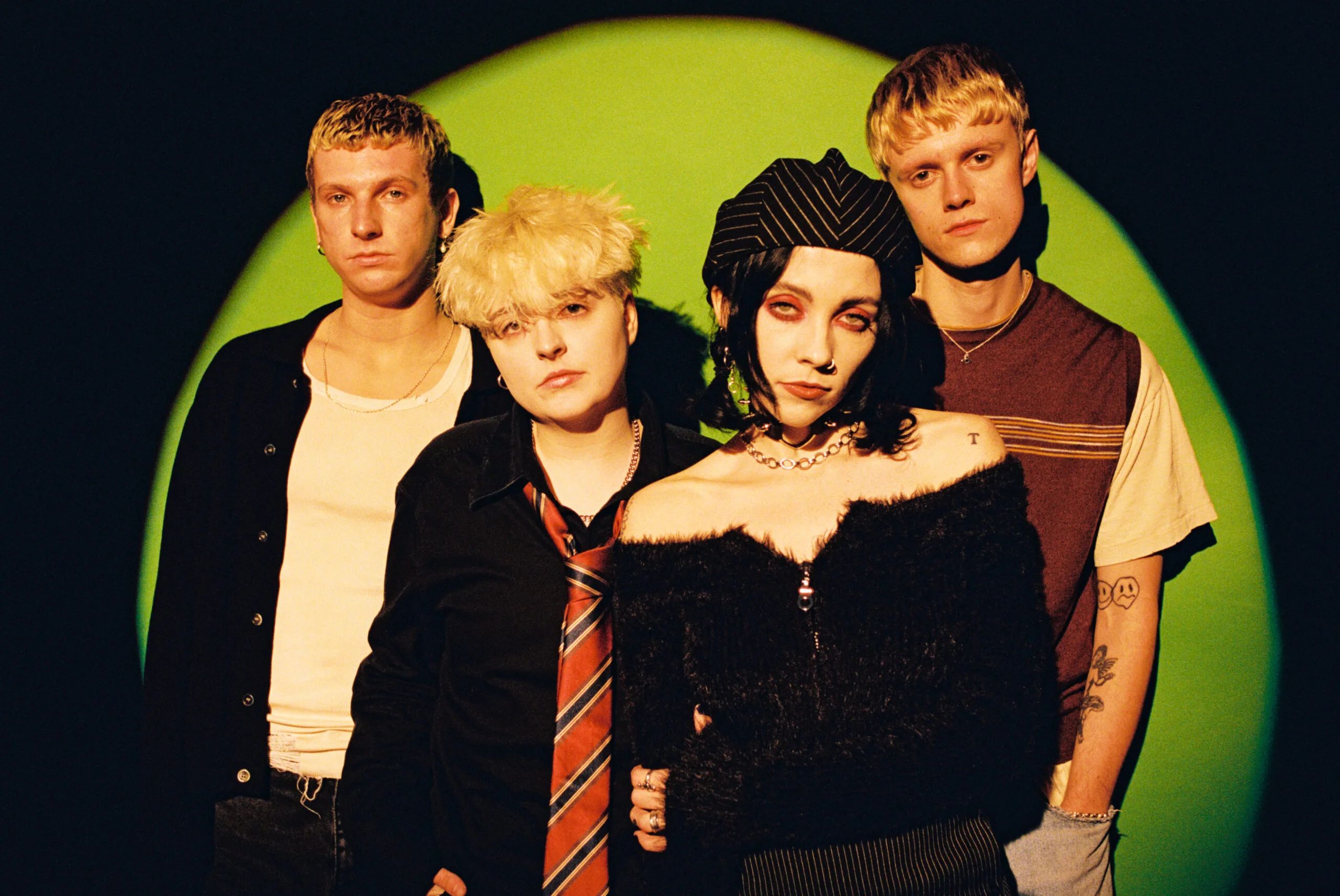 Pale Waves 
Manchester's finest, Pale Waves, are back with their new album, Who Am I?
Originally formed under the name 'Creek' when Heather Baron-Gracie met Ciára Doran at BIMM Manchester in 2014, Pale Waves wasn't made whole until Charles Wood and Hugo Silvani both joined in 2015. Since that moment, the four-piece have undoubtedly established themselves as an important group thanks to their 2017 breakout hit There's A Honey. Signed to Dirty Hit Records, Pale Waves quickly received universal acclaim and their 2018 synth-pop debut record, My Mind Makes Noises, confirmed that you could believe the hype.
Racking up numerous sold-out headline shows across the globe, support slots with the likes of The 1975 and Muse, Pale Waves have gained a vast legion of fans due to their distinctive sound. Now, the band is expanding the immersive world they have created with their new record, Who Am I? It's an album that is raw, heartfelt and mature. The band has previously been doubted by naysayers because of their gothic aesthetics and musical similarities to labelmates, The 1975, yet this record proves the doubters wrong.
Recorded in LA, Who Am I? intrinsically discusses identity, sexuality and offers messages of hope and solidarity to women, the LGBTQ+ community and those that are deemed outcasts. If you held any doubts about Pale Waves, it is now time for the band to be viewed on their own terms. In conversation with 1883 Magazine, Pale Waves's Heather Baron-Gracie spoke about the new record, their fanbase and more.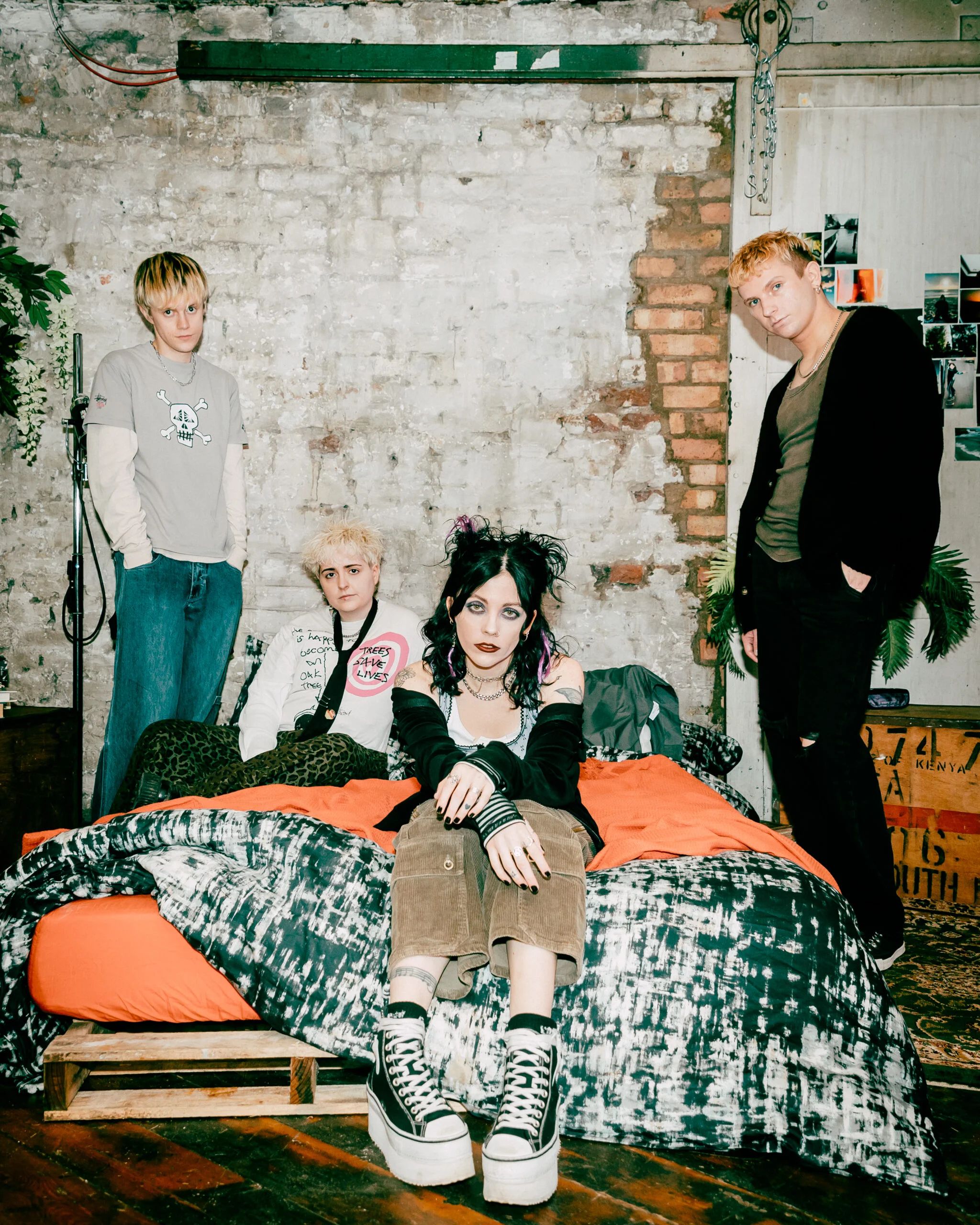 Hi Heather, thanks for chatting with us and congratulations on the release of Who Am I? It's a sprawling record and it feels like a step-up for Pale Waves. How does it feel to finally have the album out? And how has the writing process for this album compared to when you wrote My Mind Makes Noises?
I feel like I've had this album personally for nearly a year and a half, maybe a bit longer. I've been so absorbed by it and so consumed by it that I'm really grateful and thankful that it's not only in my hands now. It's finally in everyone else's hands, it's a weight off my shoulders. I've been dying for people to hear it. Releasing the singles for Who Am I? was amazing but I just want everyone to hear the full body of work now.
The writing process was drastically different actually, the first album [My Mind Makes Noises] was more of like a partnership in terms of songwriting, with myself and Ciára. But then we were just going round in circles, sort of writing the first record again, that's how it felt really. We were just exhausted too, mentally and physically from touring. We decided that it would be healthy for us to have some separation as artists. Ciára went off and started producing for some amazing people and really honing in on their craft. I went and started to write some new songs which then turned into Pale Waves's second record. 
Who Am I? is far more vulnerable, raw and stripped back compared to Pale Waves's debut, the record feels mature and more confident than ever. The album boasts a lot of brilliant tracks, what would you say your favourites are and why? Are there any tracks from this record which you think you'll still be playing in 20 years time?
My favourite overall is Wish You Were Here, it's a track that nearly didn't make the album, it just got on the album because we had extra studio time. I thought that we'd finished the album but because we hadn't used up the full period of recording time, my manager was like 'You have extra time, so just go and record another song'. So we did and that happened to be Wish You Were Here. I'm thankful that I finished that track and put it on the record because it is my favourite. There's something about it that is so emotional and it is so stripped back, raw, honest and authentic. It's one that if I opened the record up on my iTunes, I would listen to first. I don't know why, it really just resonates with me.
My other favourites are You Don't Own Me because I feel like that is a really important song and it's an important song for society to hear. It's a song for women and for women to feel represented, it's a song for them to feel like it speaks for them and it represents what it's like being a woman in this day and age. 
Finally, She's My Religion because I feel that is an important song too, it's been there for the fans and they have genuinely connected more to that song and its music video, than any other track that Pale Waves have put out there. They feel like they finally have a healthy representation of the LGBTQ community and they feel understood. I'm really thankful that I can do that. I think those songs are my top three.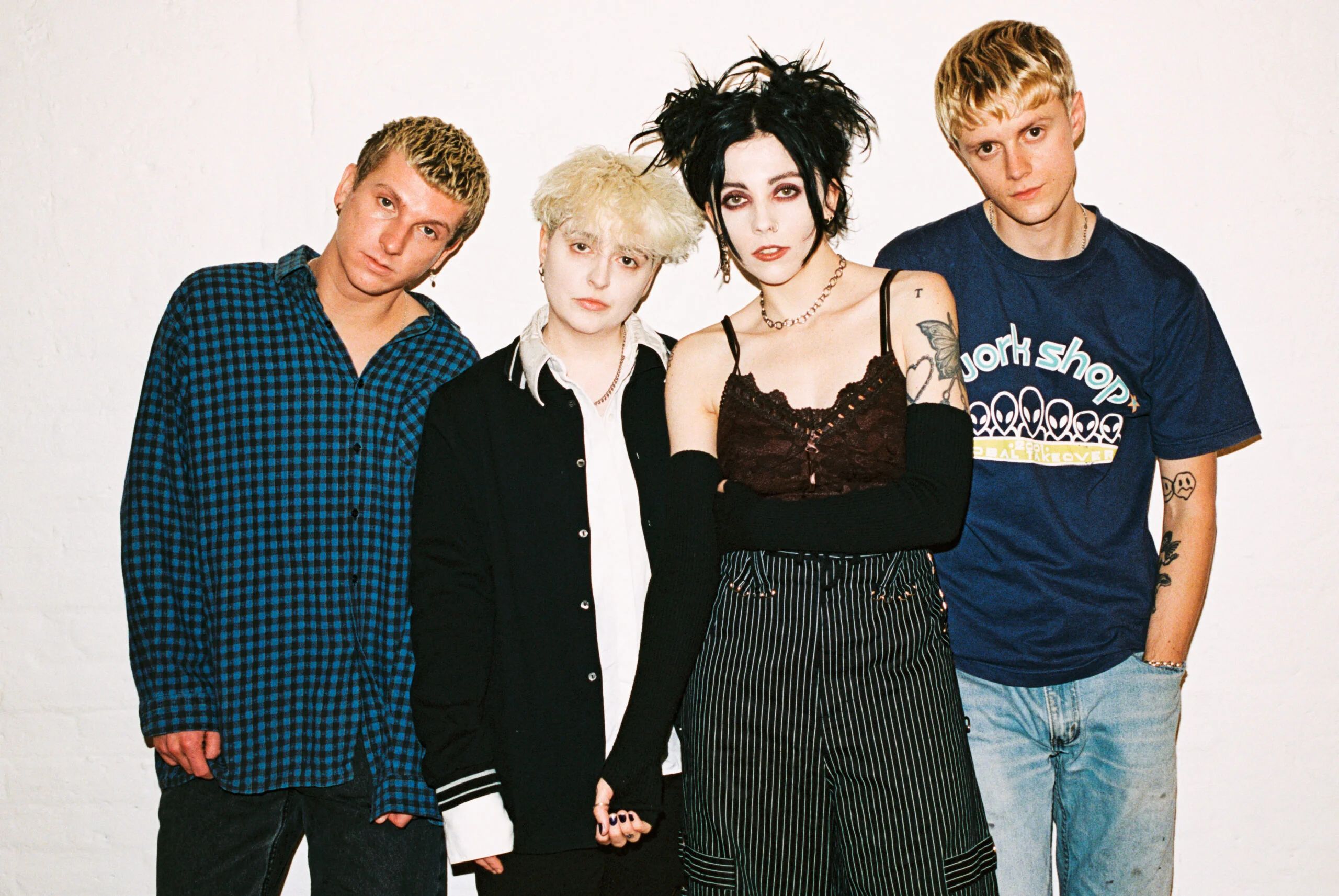 You're definitely right about She's My Religion being a healthy representation, we remember a few years ago when you teased its demo on Twitter, people were like 'we need it to drop', the fans are so funny.
I know! It wasn't even a tweet, I was responding to a tweet, I didn't want to make it so obvious and they found that fifteen-second clip of the song. There is literally a social media account run by four girls and they would direct message me or post about the song every single day, up until we released the track. They were like 'release She's My Religion', 'we need She's My Religion', they would even make funny memes, it was hilarious! The commitment that they have to try and pressure me everyday, is really actually quite inspiring, as well as humorous.
They had the best intentions!  
Fans will be getting to experience the album today for the very first time. For us, we adored tracks like Tomorrow, You Don't Own Me and I just Needed You. Each of these songs offers up its own little message. For example, the anthemic Tomorrow is all about keeping faith that things will work out even when you face adversity, You Don't Owe Me is unapologetically fierce and sticks a middle finger up to being told how you should act, especially for women. Finally, the sweet I Just Needed You teaches the listener that you don't need certain materialistic things to be happy. 
Did you intend for these messages to be for the fans or was it more directed at yourself?
It was both really, it was a combination between what I wanted to express but also songs that I felt like society needed just in general. I also wanted to put guidance out there and to express my own opinion, which is an opinion that I know a lot of people, especially women, will relate to, they need that representation. So this record was a combination of my own needs but the fans' needs too.
Speaking a bit more about the Pale Waves fanbase, they're constantly supportive of you all, with gigs not being a viable option for the time being, how has this changed your relationship with the fans? And how would this new relationship effect how you connect with fans at future live performances? 
The fan relationship has moved more so to the internet obviously. There is a lot more of a reliance on the internet and social media, you have to sort of stay connected that way rather than playing shows and meeting fans and taking pictures. So I'm trying to be more active on social media, I'm not huge on social media personally but I'm kinda trying to force myself to be very active, open and present online. It's not exactly my thing but it's required for me as an artist to stay present and to stay active. I feel like that the relationship has moved to being more online and connecting with fans over social media.
To be honest, especially with most shows, we would really put in the graft with staying behind and meeting fans when it was safe to do so. If it was a big show, like a London headline show, it's not exactly safe to come out afterwards because there is a lot of people and we don't want anyone getting hurt or anything. The shows that were a bit more smaller, we would always try and meet our fans afterwards, especially in America. 
I remember on all of the American tours, every single night pretty much, we would stay there for sometimes two, two and a half hours and meet every single fan and talk to them, take pictures, sign things, we would really graft hard after shows. I feel it's important and fans would really value that and respect that when artists actually come down to their level and just like you know 'let's just have a normal chat'. We're both the same, I don't like to put ourselves on a pedestal or I don't like to pretend that artists are of higher worth, we're all just human beings at the end of the day, I just make music and songs.
So I try to meet them as much as I can and have a normal conversation with them, I'm sure we will do that again but we've always done that.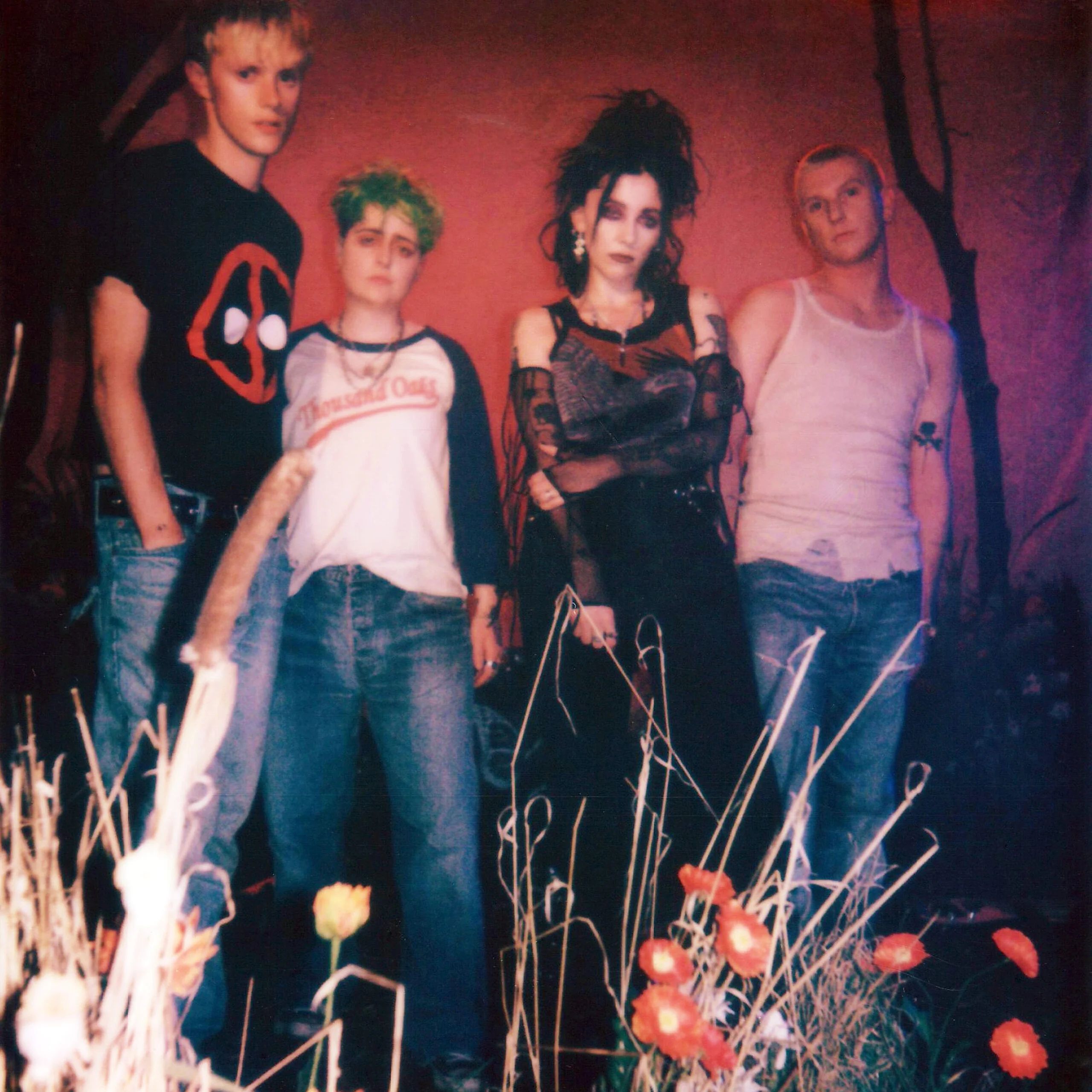 Fans do appreciate those sort of things and obviously, any artist or band loves to meet and interact with their fans when possible, it's lovely and kind of crazy that any sort of small interaction that you have with a fan, even if it's just saying 'hello' to them, could completely make their day. 
Oh yeah! It really does and it's something so small to you, like myself just saying 'Hi, how are you?' to them. That doesn't require much effort and it's literally so easy for me to do, it can make their day so much better or it can completely turn around their day. I'm really grateful that I can do that. 
Let's talk about the rest of Pale Waves, Ciára Doran, Charles Wood and Hugo Silvani are all fantastic musicians. Tells us about what you admire in each of them…
What I admire about Ciára is that they are very authentic and not shy of being who they truly are. They are good at representing being true to who you want to be and I really respect that because I feel people can shy away from that because society is very judgemental. Ciára is really strong and is an inspiration to a lot of people and has even inspired me to be more myself. So I really respect that about Ciára.
What I love about Charlie is that he's very comforting, in the sense that I'm a very nervous flyer, even though we've flown around the world and we've been on various flights, I get really nervous but this is a prime example of his character. When turbulence hits and I'm like 'Oh my god, we're going down, kill me, this is the end of my life', I look to him and he always says to me 'Chill out, it's fine, it's normal, you're ok' and I get that comfort from him. 
I remember when we performed at the Live Lounge for BBC Radio 1, I was really nervous for that, really nervous. I don't get that nervous much playing live shows, especially when it's your own show, because you're like 'I can mess up and the fans will be fine with it, they know I'm only human'. But playing live on Radio 1 is a big thing and you don't want to mess up. Charlie was like 'Chill out, it's fine, we're gonna be good, we've got this' and that is something I really admire about his character.
Hugo is always there for you. I feel like I could really just call him up at anytime and he would answer and he will just give me what I need. He's always there to help, he's just a genuinely kind person and he always wants to make people feel better about themselves. He will basically do anything for you if you need it, you can rely on him and I love that.
That is all so heartwarming, understandably when it comes down to the media, if there is a band, the media will mainly focus on the vocalist for example but it's always lovely to give a nod to the whole group. 
Of course, I agree, I think it is good to give everyone their say and their time in the spotlight.
It has been well publicised that the record and its artwork is influenced by the iconic Avril Lavigne. She's a childhood hero of yours and Avril has inspired so many people with her music. In 15 years time, how would you hope to inspire future musicians with your music and artwork?
Just by being myself, that's what I found about Avril Lavigne, just by being herself, she inspired me to realise that I didn't have to conform to the typical girl stereotype, I didn't have to wear makeup or I didn't have to wear dresses, I didn't have to play with dolls, I didn't want to do any of that. I wanted to go play outside with my brother and I wanted to roll around on a skateboard and not brush my hair for a week. Avril created that understanding, she created a sense of belonging for me. So I hope that what I create and what I represent and who I am, will just influence others and other artists to stay genuine to who they are and not have to conform.
I'm sure there are a lot of people out there that would love to see my fashion sense change because people can't comprehend me, who looks like a scary vampire, playing pop music.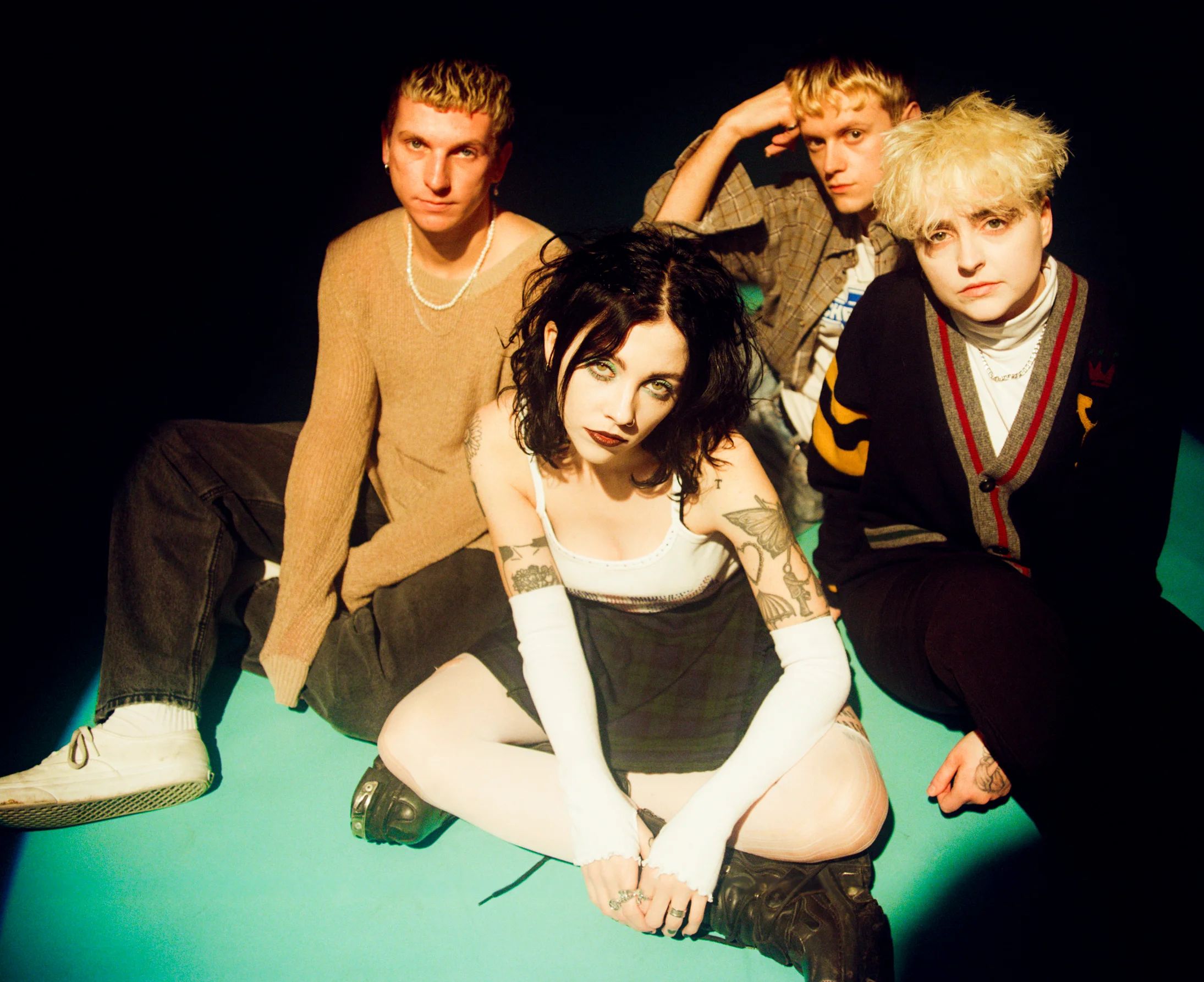 It's a look! 
I know, it is exactly haha! It shocks people and I'm not going to change because that is what I feel comfortable in and that's my actual fashion sense. I'm not doing it for clout and I'm not doing it for attention. I will always dress like this.
Rightly so, how can some people be so narrow-minded and be like 'Pale Waves look like goths, why aren't they making that sort of music', it's ridiculous. You can dress however you like and do whatever you want.
Exactly! We need to stop putting people in boxes and allow them to be themselves.
Who Am I? marks a pivotal moment for the band and for yourself as well. You've previously mentioned that being open about your sexuality has been difficult, has this album helped to make you feel more comfortable? Yourself and Ciára are seen as role models in the LGBTQ+ community, How have you handled the responsibility as being role models?
This album has allowed me to become myself because the whole record is about expression. Music is a way of me generating my true feelings and putting them into the world and putting them down on paper and allowing them to exist. And then I'm able to understand myself and what I'm going through even more. When you sort of create something you're able to listen to it back and to understand and then clarity appears even more. Just being able to express myself and I'm grateful for being even able to create an album, that's amazing. 
We have a lot of fans that look up to us and it is a lot of pressure. I don't want to fuck anyone up and I want to make the right decisions but at the same time, I am human and I am going to make mistakes, I have made a lot of mistakes. So I can just stay true to who I genuinely am and if I don't fake it, then I'll never regret anything because that's just who I am. I guess you just have to stay true to who you really are and you will be happy with the outcome.
Mental health is extremely important and it's been a topic you've written a lot about. Simply, how are you feeling right now and are you feeling optimistic for the future?
Right now, I would say I'm in the best headspace I've ever been in. It has been a journey for me getting here and understanding that change was needed. I feel like that I've neglected myself a lot in the past or I didn't have an understanding that I needed to care for myself a lot more than what I was. I was blinded by a lot of toxic things in my life and I've been able to realign my priorities and rejig a lot of things. By doing that, it's allowed me to become a lot more comfortable in myself, love parts of me that I used to despise, so it's been a real process for me. But I'm the best I've ever been right now.
I am hopeful and try to stay as positive as possible, I mean with what's going on in the world right now, everyone's in the same position. I think we all just have to try and remain strong.
Your label, Dirty Hit, has a vast array of amazing new talent. Who would you love for Pale Waves to collaborate with from the label? And which artists and bands from the label are you really into at the moment?
They keep adding more artists all the time, to a point where I'm like 'Who is this?' And my manager tells me and I'm like 'Wow, there is someone else'. There is literally what feels like a new person every month. It's like 'Wow, we are really expanding'. When we joined Dirty Hit, there must have been five artists on there, I'm not too sure. But artists that I love in particular from Dirty Hit are, they're all great, but the one that really sort of resonates with me would be, The 1975. 
I think The 1975's music is so great, they are amazing writers and genuinely nice people. I really love Viji, she's a new artist signed to Dirty Hit, she started releasing music, it sounds American and quite grunge which I like. It would be cool to do a track with her eventually at some point. I also love The Japanese House, I think she is incredibly talented. She's so creative and impressive.
Identity and finding yourself is a key theme in the new record, now after achieving so much and releasing this album, who would you say Heather Baron-Gracie is?
I know I've set myself up for this question because of the record title. But it is such a hard question to answer because I feel like as human beings, we are constantly evolving every day. It's too difficult to define and to know who you truly are because you are constantly working on yourself. But I feel right now in this moment in time, I'm mentally healthy, I'm proud of my sexuality, I'm proud of what I've done in life, I'm grateful that I can write the songs that I do and they can inspire and comfort other people. 
I'm constantly evolving and constantly wanting to better myself.
Imagine – you're forming a supergroup, you've got Courtney Love and Avril in the band, who else would you pick and what would you call the band?
Oh my god, I would add The Chicks (formally known as The Dixie Chicks) because they are just incredible, they're one of my favourite bands ever. I would love to collaborate with them. It would be insane, it would be so amazing. We'll name it The Super Five. So we have obviously Courtney Love, Avril Lavigne, The Chicks, Alanis Morissette and Abra Moore. Now that's a concert that I would love to see!
At the core of Pale Waves is your friendship with Ciára, you both met at university and started the band together, you even went to watch the Jeremy Kyle show together years ago, What does Ciára mean to you? They are such a talented drummer and producer.
Haha! We had an obsession with Jeremy Kyle at one point…
The fans love that Jeremy Kyle photo, the internet is crazy…
Yeah it's mad what they find!
Myself and Ciára go way back, we have so much history. We started this band together and we've been in one another's lives for a very long time. I think that maybe it's been like seven or eight years now, it's insane and we've watched each other grow and we've been through a lot together. We've been there for each other and you know there is an unbreakable bond there between us. Despite everything that we've been through or everything we will go through, I think that we both know that we will have each other's backs. We always just want the best for one another and we inspire each other and encourage one another.
We go back, there is just an unbreakable bond there.
Finally, what can people expect from Pale Waves throughout this year?
I think it's apparent that touring won't be possible for a while and I'm hoping that at the end of the year, we will be able to go on tour. But if not then next year, and so with that time period of nothing going on, we might embark on the journey for the third album and I might go and start writing it in a month or so. We might record it later this year or it will be an EP, there will definitely be more music. The fans will never have to wait as long as they did for our second album, Who Am I?
Fantastic, either way, they'll keep making memes and that's what you want.
Oh yeah, It really keeps me entertained!
Pale Waves' second album Who Am I?, is out now via Dirty Hit Records.
Interview by Cameron Poole
Photography by Jordan Hughes
[embedyt] https://www.youtube.com/watch?v=NzQ0dkcXLxI[/embedyt]